Rome might be the Eternal city for all of its incredible antiquities, but there is also a fair other amount of reasons to continue visiting Italy's vibrant capital (besides to eat the addictive trapizzini). We return at least once a year – and normally more - and every single visit brings about a delightful new discovery in a city where I leave feeling like I should have stayed more. A decadent house museum with head-to-floor mirrors lining a single hallway, a chance to see the pilgrim pathway of Via Appia, and of course my favorite bit – chowing down on hearty Roman cuisine.
The only tricky part can be where to stay.
Granted, there is plenty of variety when it comes to apartments and hotels-- but when you are traveling with 7 people and want to stay central, your choices can be decidedly more limited. 
Luckily I had the chance to stay in the of the beautiful apartments offered by the company Treasure Rome a year before and it was a really wonderful experience. This time they suggested a renovated four-bedroom "grazie" apartment not far from the Spanish Steps and just a stone's throw from the Trevi fountain (literally the Travertine marble 17th century fountain is just a two-minute walk away).
Normally I would embrace staying a little further but when you only have a few days in a place, location was essential and I was grateful to discover a new neighborhood. The Spanish Steps and Trevi fountain are very close to the apartment with Piazza Navona, the Pantheon, Campo de' Fiori and Piazza del Popolo an easy 15-20-minute walk nearby.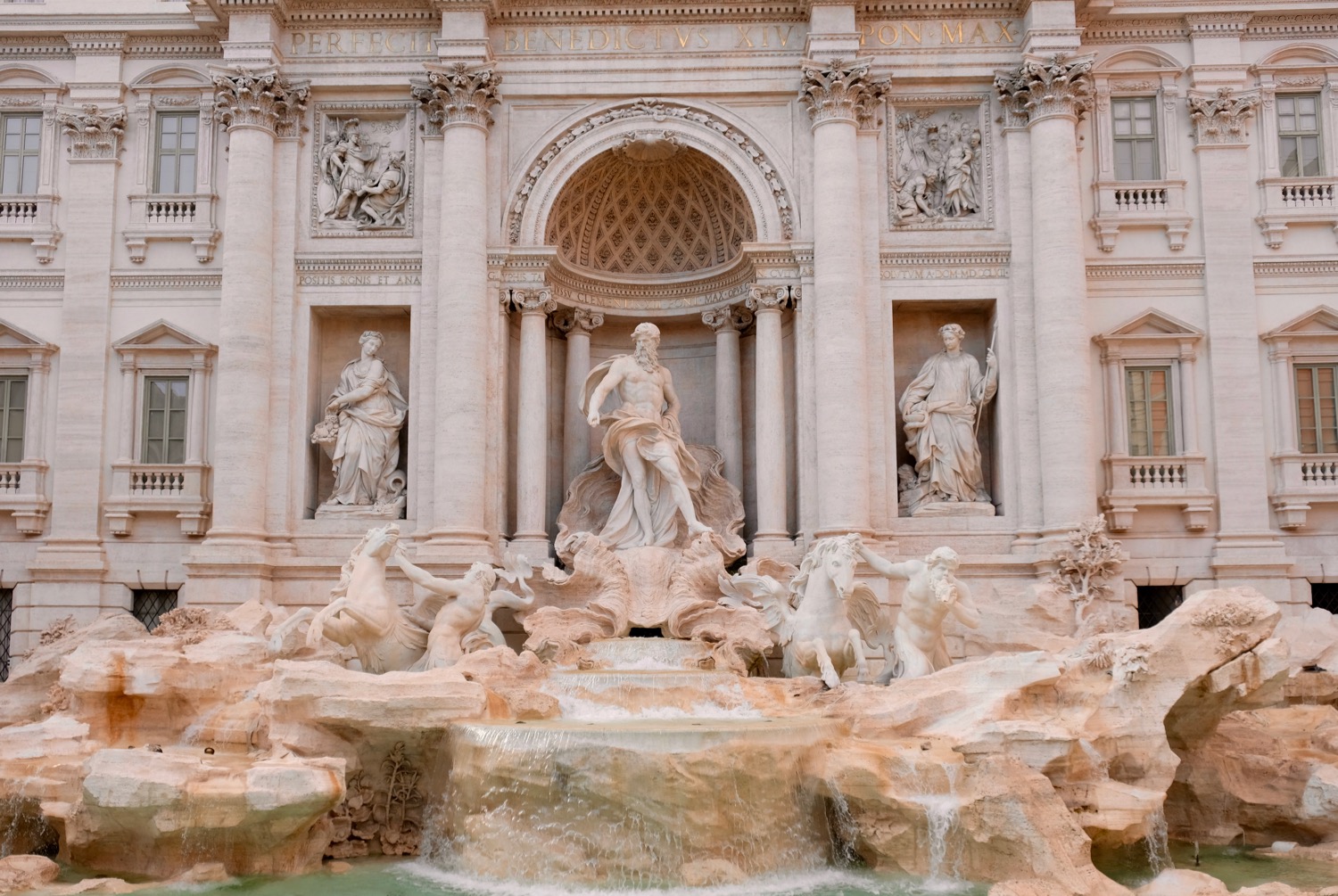 [Trevi Fountain, Photo by Georgette Jupe-Pradier]
What stands out about Treasure Rome is their ability to source not just an apartment, but actually find ones that boast plenty of old world charm. I felt myself wanting to get to know the people who owned the apartment. What was life life like for them and what do they think of Rome today? 
Our last stay in Monti was in the apartment of an astrophysicist, with awards and interesting knickknacks lining the living room shelves. This time we were no less disappointed, our beautiful grand apartment was the home of a former Roman prefect, accessible via a charming wrought-iron elevator off of one of Rome's main streets.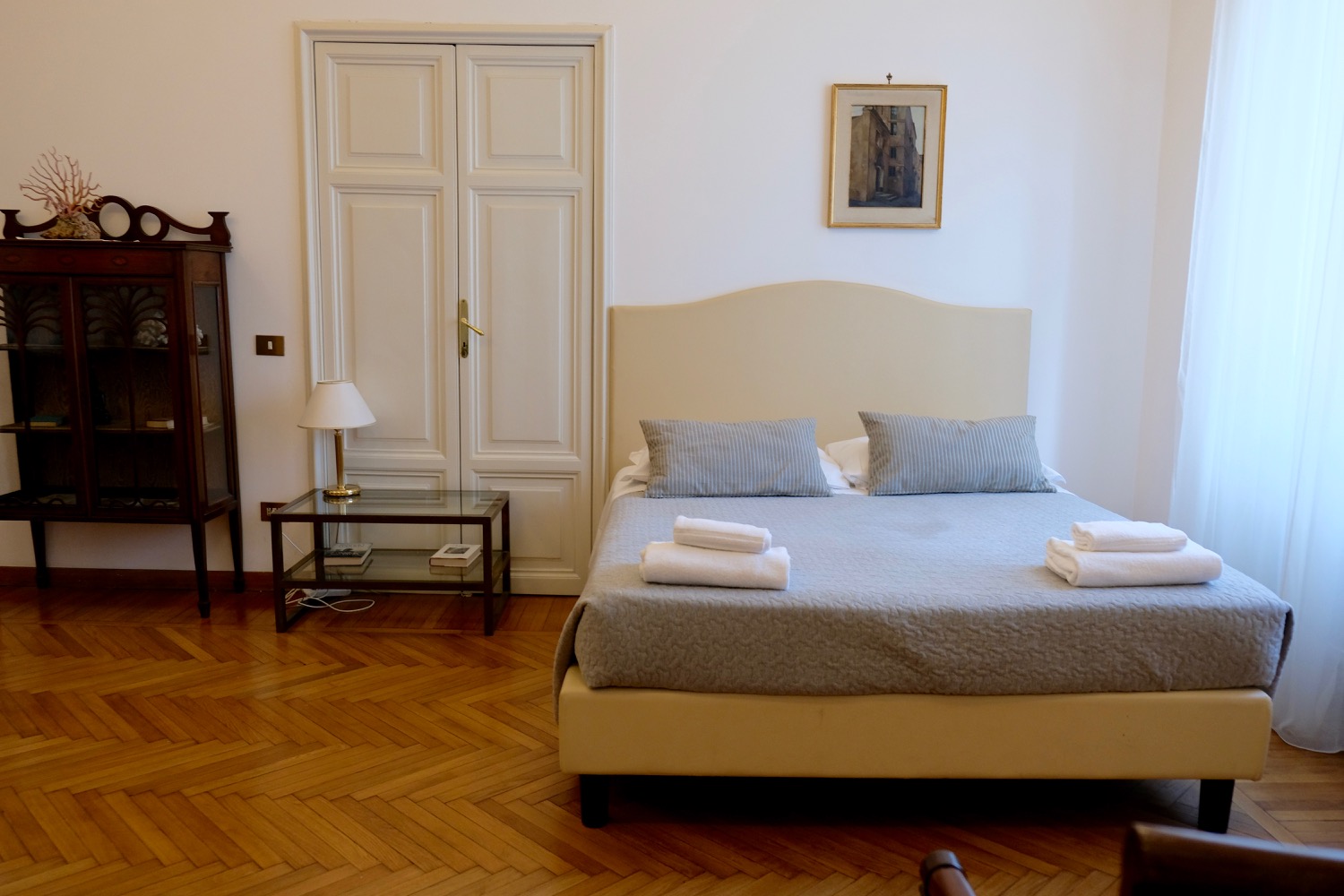 [Apartment stay in Rome, Ph: Georgette Jupe-Pradier]
Once inside we were greeted to hardwood flooring and the unique furniture of someone who clearly loved his space dearly. There was nary a Ikea dresser in sight (thankfully) and the room that my husband and I slept became even more desirable when I spotted the in-suite bathroom, beautiful desk and bookshelf, soft light gleamed in through many windows that gave the apartment a warm, cozy feeling. Every nook and cranny was well-explored by our group in no time and we were happy to have plenty of space to spread around after long days walking around a crowded city.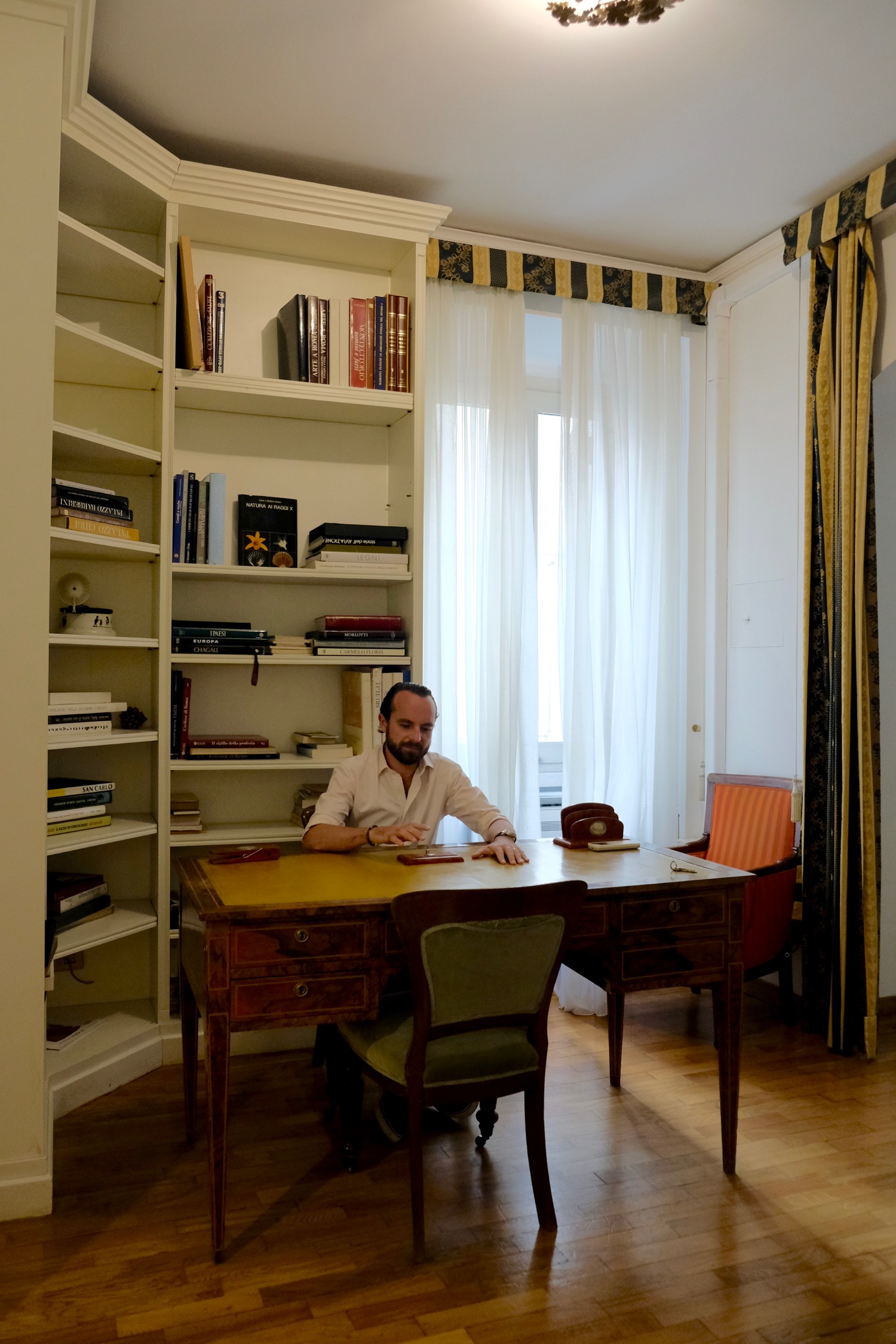 [Treasure Rome apartment by the Spanish Steps: Ph: Georgette Jupe-Pradier]
Throughout our time in Rome, we got to know the apartment quite well. It's quirks and nuances were the perfect introduction to my American family and friends on the two-sided charm of Italy that can include blowing a fuse when using too many electronics at once or hot water running out after a few showers. By Sunday, the day we had to come back, we lingered a little too long in the apartment. It felt like a loss once the keys were tossed in a gilded tray and we slowly shut the door for the last time. 
Indeed, an inspirational stay in the imperial heart of such a dynamic city as Rome that even in one lifetime, you'll never stop exploring. 
More details 
For those concerned with more modern elements, apartment grazie comes with air-conditioning and a WiFi router (though it was admittedly spotty at times). The apartment can be rented for up to 9 people in total and I absolutely recommend this to a family who wants to enjoy a comfortable place brimming with character. Prices per night range around 349 per night, which is roughly 50 euros a person per night if you're in 7. 
In regards with getting around Rome for non-Italian speakers, I also highly recommend downloading the "My Taxi" app which is very similar to Uber. You can reserve a taxi via the app and even pay online which will save you a lot of time from looking for taxi stands.
Where to eat nearby? 
While I am far from a local in Rome, my favorite places are Da Cesere in Casaletto and Pianostrada, both of which aren't super close and require a taxi ride. This area can be a bit tough on the food front, however Katie Parla, a local food writer and cookbook author suggests historical trattoria Al Moro, a favorite among well-heeled Romans located in the area and we have created this helpful list of where to eat by Rome's most famous attractions. 
When to come?
Rome is beautiful any time of the year but if you have the chance to visit during the Fall season you will get enjoy what is known as the "Ottobrata romana" sunny days and warm weather that typically occurs in Rome. The phrase historically stems from the Sunday trips out to the countryside surrounding Rome that the Romans used to go on until the first decades of the 20thcentury.