What if you could combine lazy summer days lounging by the pool or sunbathing on the beach with cultural visits to historic hilltop villages and art towns, with bike rides and hiking excursions amid rolling hills offering charming coastal views? If this sounds like an ideal Italy vacation to you, then the Hotel Posillipo in Gabicce Monte makes a great base to do just that.
Located on a verdant cliff overlooking the Adriatic Sea, Hotel Posillipo is at the very northern tip of Le Marche, right at the border with Romagna, and just next to Montefeltro, an area dotted with castles and fortresses, the background to some of Piero della Francesca's paintings and even, some say, to Leonardo's Mona Lisa portrait.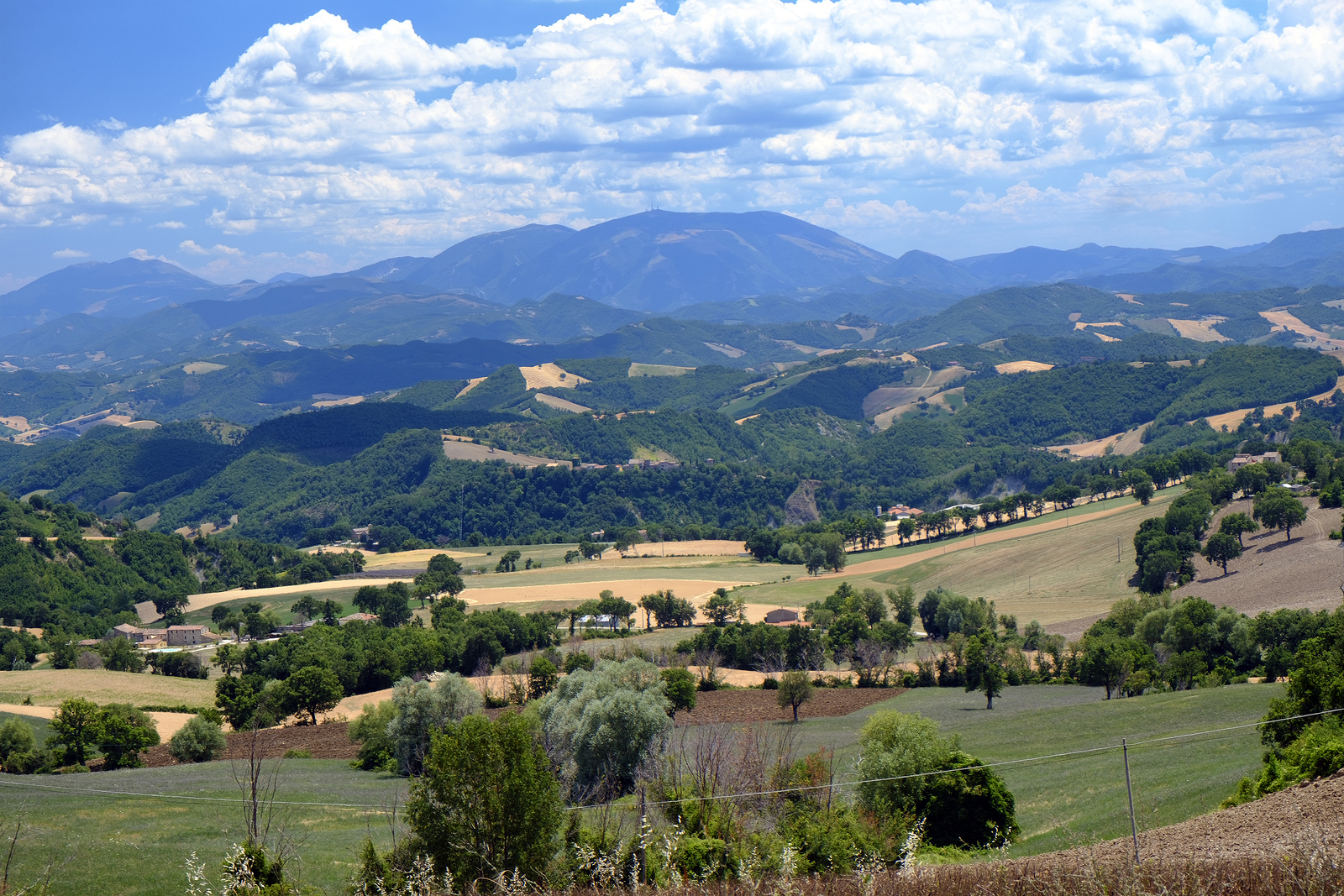 [Countryside view in Le Marche.]
Just below the cliff, Gabicce Mare is part of a small bay called Baia degli Angeli (Angels' Bay), at the end of the Gulf of Rimini, on the northern slopes of Monte San Bartolo, home to a natural reserve of the same name, where trails lead on to fantastic views or pristine coves, dominated by the blue of the sea and the yellow of the blooming broom. For those who like a bit of action, the Riviera Romagnola beaches, including the one at Gabicce, are a quick train ride away, with all their convenient facilities, including chairs, umbrellas and beach cafés (a small road train runs every hour).
A family-run, 4* establishment, Hotel Posillipo features a beautiful, airy pool with views of the bay; a high-end restaurant on the rooftop terrace whose cuisine is inspired by proximity to the sea with a focus on local flavors and what's in season; rooms with balcony and sea view; a rich buffet breakfast that includes homemade pastries and breads; and a welcoming, familiar atmosphere, the main reason why guests, both Italian and foreign, keep returning year after year. Some have even gotten married at Hotel Posillipo, which can help arrange a program of activities and sightseeing for wedding guests; others ended up buying property in the area. Possibly because this is an area that sums up all the good qualities about Italy: cultural and historic sights; active pursuits in beautiful natural settings; excellent food.
During a vacation at Hotel Posillipo, you can mix it all up.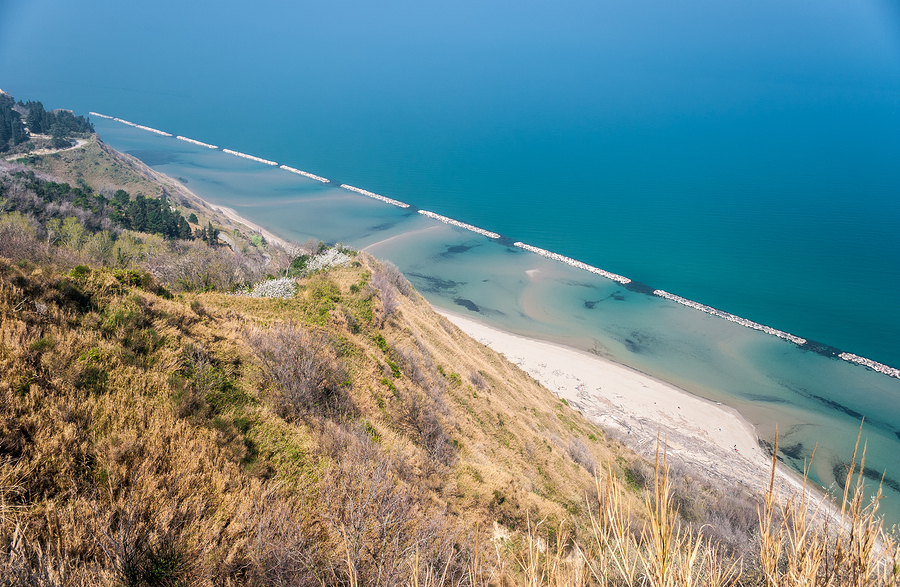 [The coastline along Mount San Bartolo, Marche.]
Those who enjoy nature and active travel should head to nearby Monte San Bartolo, home to a natural reserve with numerous trails one can either walk or bike, and delightful quiet villages and pristine coves. Eight kilometers from Gabicce Mare is the small medieval borgo of Fiorenzuola di Focara, 200 meters above sea level. Cited by Dante in his Divine Comedy, it has Roman origins; an uncrowded beach is 20 minutes away. Nearby is the medieval village of Casteldimezzo, at the highest spot of the Monte San Bartolo reserve, offering a magnificent panorama of the coastline, with the rugged slopes of San Bartolo gradually being replaced by the regular succession of the Adriatic coast beaches; on clear days, you can see all the way to the port of Ravenna. No less beautiful is the landscape when you turn your gaze toward the hilly countryside, with the Gradara Castle, one of the best preserved medieval fortifications in Italy, the fortress of San Marino, and the Apennine mountains. A bike lover's paradise! (Biking enthusiasts can bring their own bike and know they can safely leave it at the hotel's bike storage.)
Those in search of cultural pursuits can reach Pesaro in 20 minutes, home in the summer time to a major opera festival dedicated to composer Gioacchino Rossini, who was born there. Ruled during the Renaissance by the houses of Malatesta, Sforza and Della Rovere, small town Pesaro is graced by the 15th century Ducal Palace, and the massive Rocca Costanza castle. Rimini , 30 km away, is one of the most famous seaside resorts in Europe, featuring a 15-kilometer-long sandy beach, but also ancient Roman and Renaissance monuments, including the Arch of Augustus, the Tiberius Bridge and the Tempio Malatestiano. Bologna, with its renowned cuisine and lively atmosphere of a university town, is an hour and a half away.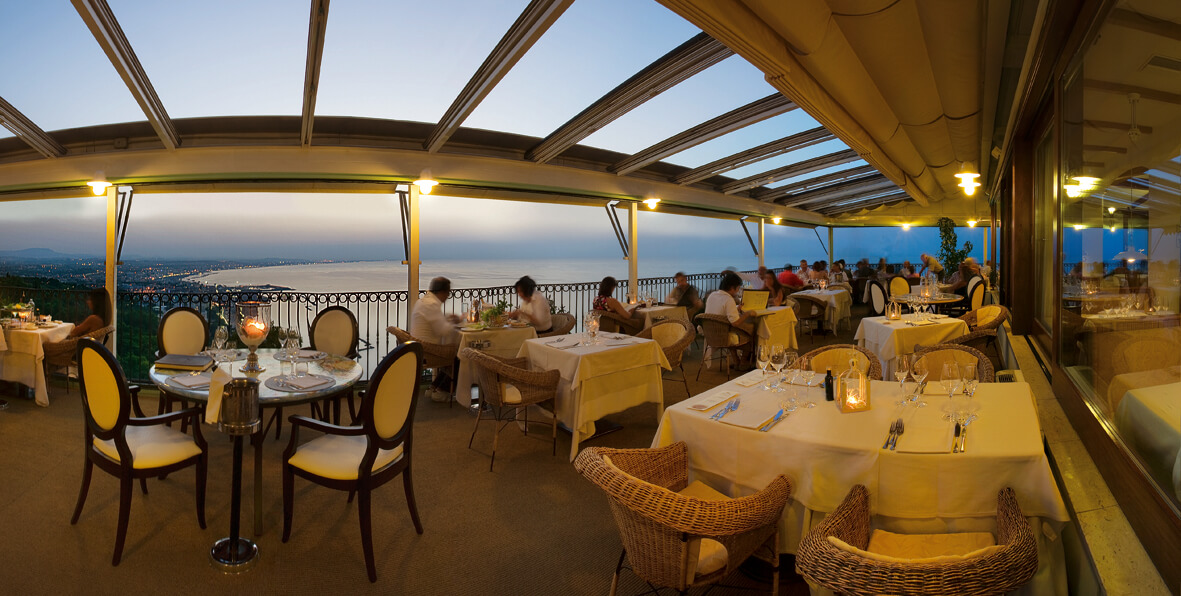 [The restaurant at Hotel Posillipo in Gabicce.]
However you decide to spend your days on the Marche Riviera, you'll know that you have a welcoming place to return to where the hotel's staff is happy to look after you. In the evening, relaxing at the end of fun, busy days, order a glass of wine, sit on the terrace as you watch the sunset over the Adriatic coast and fall a bit more in love with this part of Italy where hospitality is a way of being.
---------------------------------------
Hotel Posillipo https://www.hotelposillipo.com/en/
Via dell'Orizzonte, 1 – 61011 Gabicce Monte (PU)
info@hotelposillipo.com