Naples' Sorrentine Peninsula is the insta-famous stretch of coast that Italian summer dreams are made of. If you can count yourself among those fortunate enough to have driven across this magnificent coastline, your next jaw-dropping adventure awaits when you set sail for the Isles of the Amalfi Coast! 
Whether you are visiting for the day or a week, one island or all three, make the most of your island time with these helpful guides. 
CAPRI
With the glitz and glam of a chic resort town and an abundance of natural splendours, Capri's beauty reigns supreme. For more than half a century, royals, artists, intellectuals and actors have all come to Capri to experience the quintessence of La Dolce Vita. 
Sailing around the island provides many photo-worthy opportunities of the famous Faraglioni rocks, limestone cliffs and numerous sea caves, among them the well-known Grotta Azzurra – its azure waters are incomparable. Once you arrive at Marina Grande, take the famous funicular up to Capri town while relishing the views. Then set out on a passeggiata through the town's picturesque streets, where vibrant bougainvillea frame designer boutiques and the sweet scent of lemon blossoms fill the air. Treat yourself to a citrus granita from a local stand or a gelato at the renowned Gelateria Buonocore, both deliciously refreshing. At Canfora, browse the island's bejewelled handmade sandals made famous by Jackie Onassis.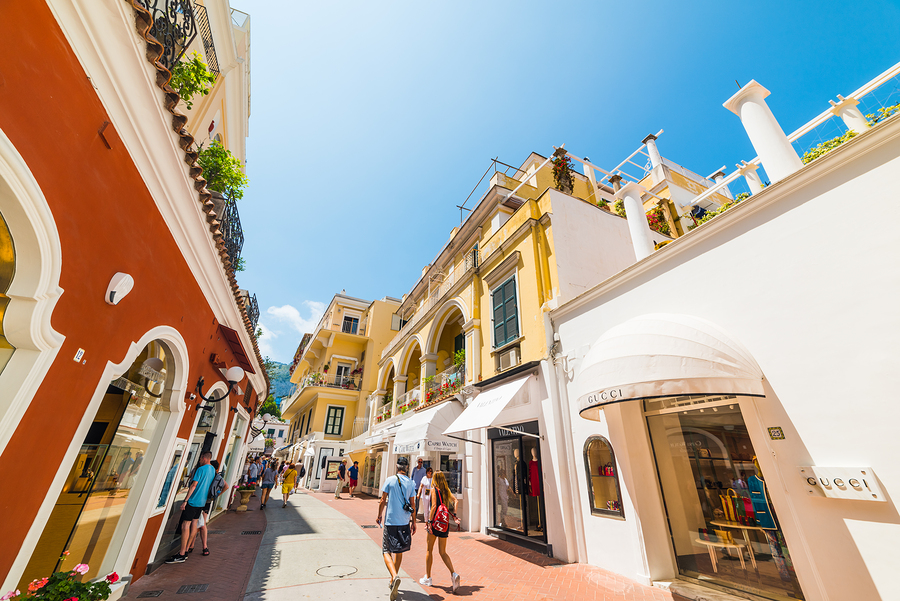 [The world famous Via Camerelle in Capri island]
Capri is home to many beautiful gardens like the Gardens of Augustus that offers splendid views of the Via Krupp criss-crossing its way to Marina Piccola and the jutting Faraglioni rocks. Take it all in from the terrace of Il Geranio for lunch. At Carthusia, purchase a fragrance scented with local flowers - it's like taking Capri home in a bottle! In the charming Piazzetta, savour a glass of local Limoncello and immerse yourself in the art of people-watching. Afterwards, set out to Anacapri to ride the one-seater chairlift to Monte Solaro, the highest point of the island. Keep your camera close as the aerial views are amazing! Later, stroll through the gardens at Villa San Michele and take in the panoramic vistas of Capri town and its harbour. For an unforgettable dinner alfresco under a canopy of lemon trees and lights, head to Ristorante Da Paolino to soak in the island's atmospheric vibes.      
Like this article? Don't miss "Day Tripper - Capri"
ISCHIA 
Unlike its famous neighbour on the Bay of Naples, the volcanic island of Ischia is everything Capri is not old-world, rustic and authentic. The biggest of the islands, the Isola Verde (Green Island) is covered in greenery and bordered with white sand beaches. It is home to more than a hundred thermal springs and therapeutic muds said to have healing powers. At the Thermal Spa Negombo, spend a day sunbathing, swimming, relaxing in one of the thermal pools or rejuvenating with a spa treatment. Embark on exciting adventures like hiking to the top of Monte Epomeo (789 metres high) from the village of Fontana for a bird's eye view of the island and ocean beyond. Explore Castello Aragonese – a medieval castle built on a rock near the island in 474 BC, and take in the magical view of the sun setting over Ischia.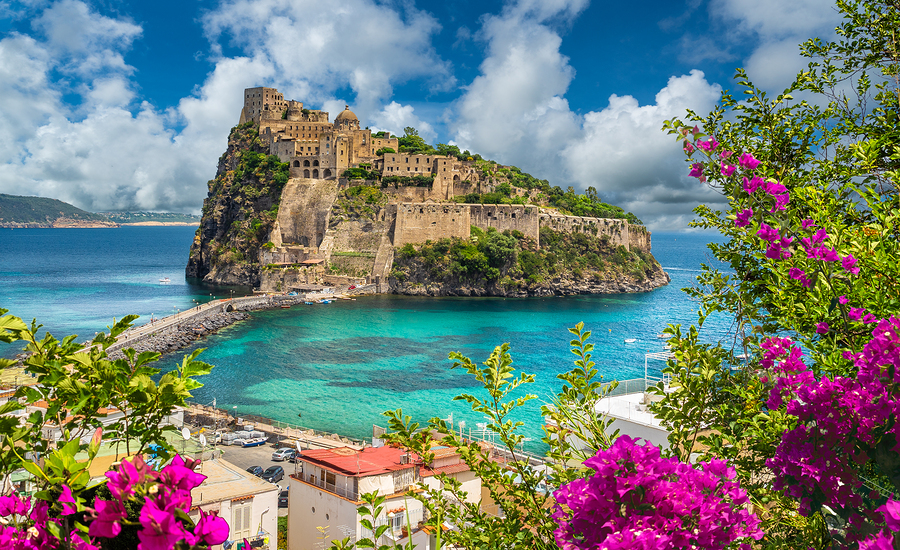 [Aerial view on Aragonese castle across coastline, Ischia, Italy]
Taste local wines at Casa D'Ambra, one of the island's oldest vineyards, or take in a leisurely stroll through the island's craft shops and boutiques, eating Coniglio all-Ischitana a local rabbit stew and fresh seafood, and enjoying everyone's favourite pastime—boating around the island, diving into crystalline waters and swimming into a grotto. End your day with dinner at Il Gabbiano Beach that serves up nautical nosh with FOMO-inducing Instagram sea views. 
PROCIDA 
The smallest of the Isles of the Amalfi Coast, Procida may be the most enchanting, in part because it remains untainted by mass tourism. Procida was created by the eruption of four now dormant volcanoes and is located between Cape Miseno and the Isle of Ischia.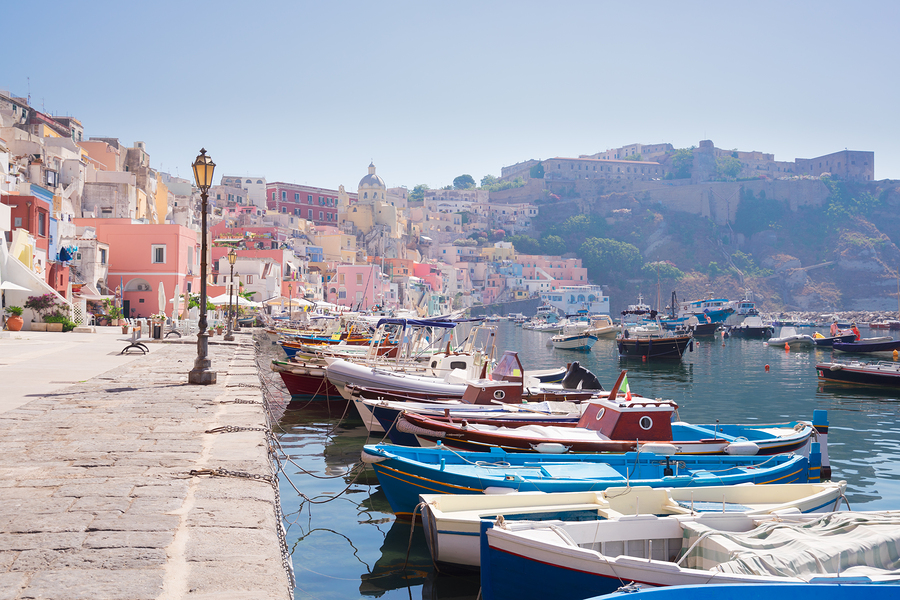 [Procida island, a colorful town]
Small enough to explore on foot, this sleepy Mediterranean fishing port provides visitors with an opportunity to witness authentic island living, a place where young children are out playing on its weathered streets and local fishermen return with the days catch. Marina Grande, Marina Corricella and Marina di Chiaiolella are where you will find most of the action, along with an array of quaint seaside trattorias serving local fare. Take your pick and take a seat. 
Procida is not an island you visit for cultural attractions, though the Abbey of San Michele Arcangelo is worth seeing. You come for l'ambiente, its charming atmosphere, which served as the backdrop to several cinematic masterpieces including the classic Il Postino and The Talented Mr Ripley. Be sure to visit the beach at Pozzo Vecchio featured in Il Postino and the more popular Chiaiolella Beach and swim in the isla