'Diciamo insieme grazie'
'Let's say thank you together'
2020 will be remembered as the year we were made to change our lifestyle, restricted from the freedoms we have been used to. The year we have relied on nurses and doctors to save our lives from a war with a virus. 
The Lazio region promoted the project 'Diciamo insieme grazie' in 2020. Twelve artists were each given a medical facility to create an artwork and at the Gemelli Hospital in Rome artist Alice Pasquini expressed 'I wanted to represent a hug'. 
A hug! Something that has been hugely absent in these times because of the risk of transmitting the virus. Alice created two huge pieces of work situated a 'safe' distance apart and she described them as being able to 'communicate with each other thanks to the gesture of a little girl who gives a flower to a resting doctor'.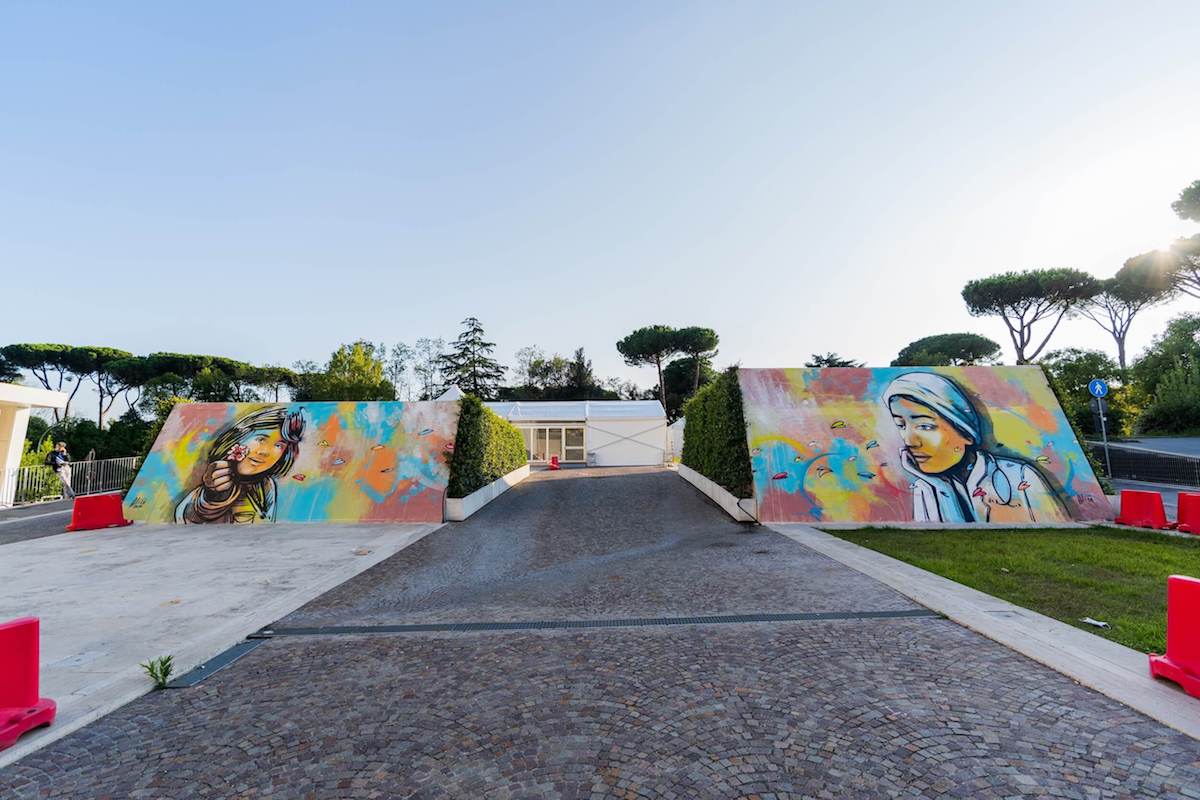 Alice comments that sometimes there are no words to understand a feeling, and in this piece, she has painted a feeling, perhaps of gratitude and thanks that we feel to those who have worked tirelessly to save lives.
2020 has been an emotional year, for many it has meant loss and sadness, for others isolation and separation from loved ones. In times when the human spirit suffers, art is not a luxury but a necessity. Alice's work is relevant. She brings a gift, in her words 'a moment of life brought into a public space'.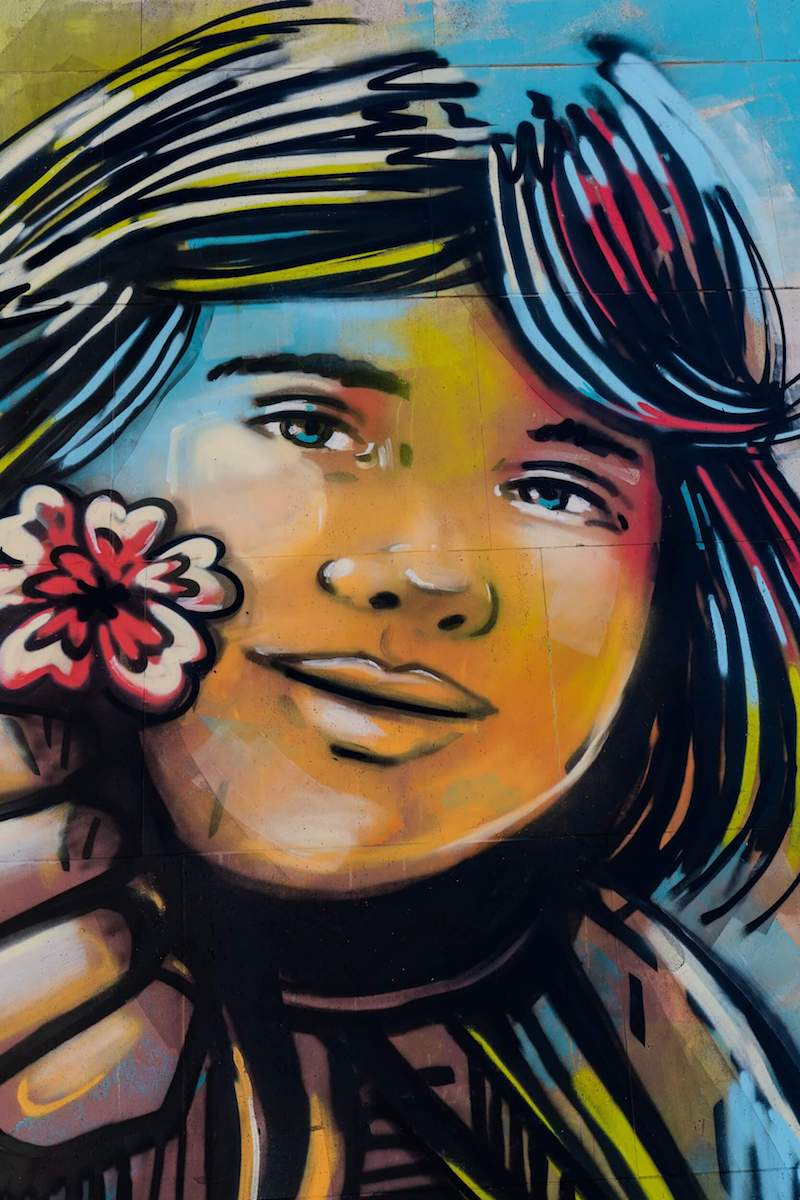 Perspective
Alice is an artist and a painter and often referred to as a street artist and though many of her murals have been commissioned it is true that she has painted freely in many a street! If we look back in history, humankind has been painting on walls since caves had walls, in the Mayan temples, in Egyptian wall art, in Greek and Roman temples, and right through the Renaissance period with frescoes depicting religious stories. 
The Mexican muralists such as Diego Rivera and Jose Clemente Orozco remind us that painting on walls can be a powerful message. In this context Alice's is a muralist too with a more social message, shining a timeless light on life and relationships. Mostly her figures are female or children and she has said that she likes to paint 'real' women, not as portrayed in the sexual and glossy images in advertising but rather as capturing the feelings and gestures in their everyday life.
Alice did not start out in this direction. Alice Pasquini (who signs her artworks AliCe) was born in 1980 in Rome. She chose to study art, though apparently her parents would have preferred otherwise. She graduated from l'Accademie di Belle Arti di Roma after which she attended the Ars Animacion School in Madrid and also did an MA in critical art studies at Universidad Computense. When asked about the direction she has taken she suggested it was a 'reaction to my fine art studies'.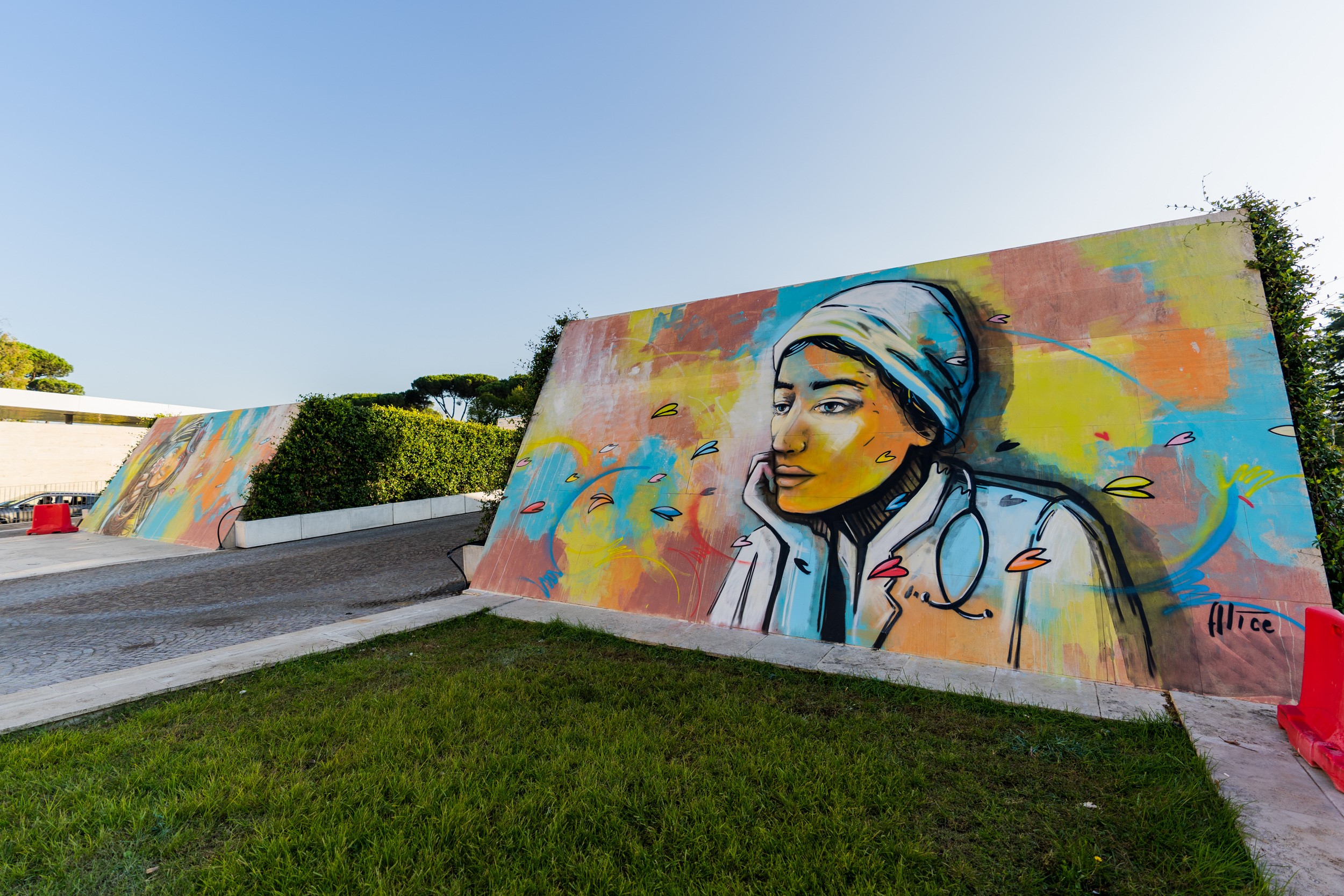 Alice Pasquini has a real passion when she paints. Watching her painting in her videos (she is up and down the ladder ever looking from a distance) one realises that it is a serious physical endeavour, requiring many skills besides being a painter. 
In interviews, she expresses herself as to why she paints on walls, it's about 'the exchange' the passers-by, meeting people in different countries and from different cultures, because regardless of the diversity, 'human feelings are quite the same'. As regards to walls she comments 'the surface of the wall tells me' and 'the wall is giving me inspiration'. When she is not travelling and painting walls she is an illustrator and set designer.
Alice paints with purpose and meaning
Alice has done many commissions internationally and collaborated on projects for worthy causes. In 2019 she painted for a project in Grisciano to raise funds to help the town after its destruction from an earthquake in 2016, she also created the illustration for the Greenpeace campaign to free activists detained in Russia (Free the Arctic). 
Empathy shines from her work whether it be for a public commission, an exhibition or a back-street wall in Rome, it is uniquely hers, expressive, sensitive, and telling a story.  
She has transformed many spaces such as at Heathrow Airport, Espace Pierre Cardin, Paris, Spain, Amsterdam, and the Museo Italiano, Melbourne, murals for the Libretti 2019/20 season at the Teatro Comunale di Bologne and at the American Embassy in Rome. 'Under Layers' in Ostia is a 3D project (with photographer Stefano C Montesi), where the viewer can use 3D glasses to view the world Alice has created.
There is a wall in Tavenna in Molise painted for a social project for migrants, Emergenze Artistiche. The One City project in Rome brings the idea that through art, and particularly street art, multicultural communities can improve communication, shining a light on the richness of diversity.
2019 and 2020 have brought Institutional recognition to Alice Pasquini yet outside of commissions and projects Alice has painted many walls freely with her own ideas, probably not always legally, but surely exciting! Such a wall is in San Lorenzo, and there are others in small streets dotted around Rome, and in many other countries that she has travelled to. 
'Crossroads' is an anthology of her journey and her work (published 2019). This talented, committed and passionate artist has beautified walls in tired and neglected areas, but she has done more than that, she has brought a new life to the streets and places that we move through, a conversation, a curiosity, imagination, messages of hope and of kindness, and she has shared with us a trail of treasures.