John Bensalhia lists some of the top music events and festivals coming to Italy in the coming months. Spanning everything from opera and classical to electronica and avant-garde, tune in to some of these great musical gatherings!
Pesaro, 10th August - 22nd August 2017
Pesaro is the birthplace of opera composer Gioachino Rossini. So, what better way to celebrate the heritage than with the Rossini Opera Festival, the annual event?
This year sees the 38th edition of the acclaimed festival, and will include a selection of musical performances, not to mention some interesting choices worthy of note. One of these is a version of Rossini's first French opera, Le siège de Corinthe, which will be premiered here with its original text.
The festival is also a good way of bringing new generations into the world of Rossini. Students this year will be giving their own take on The Journey To Reims. With plenty of musical offerings, meetings and initiatives, this is a fitting tribute to Pesaro's finest composer.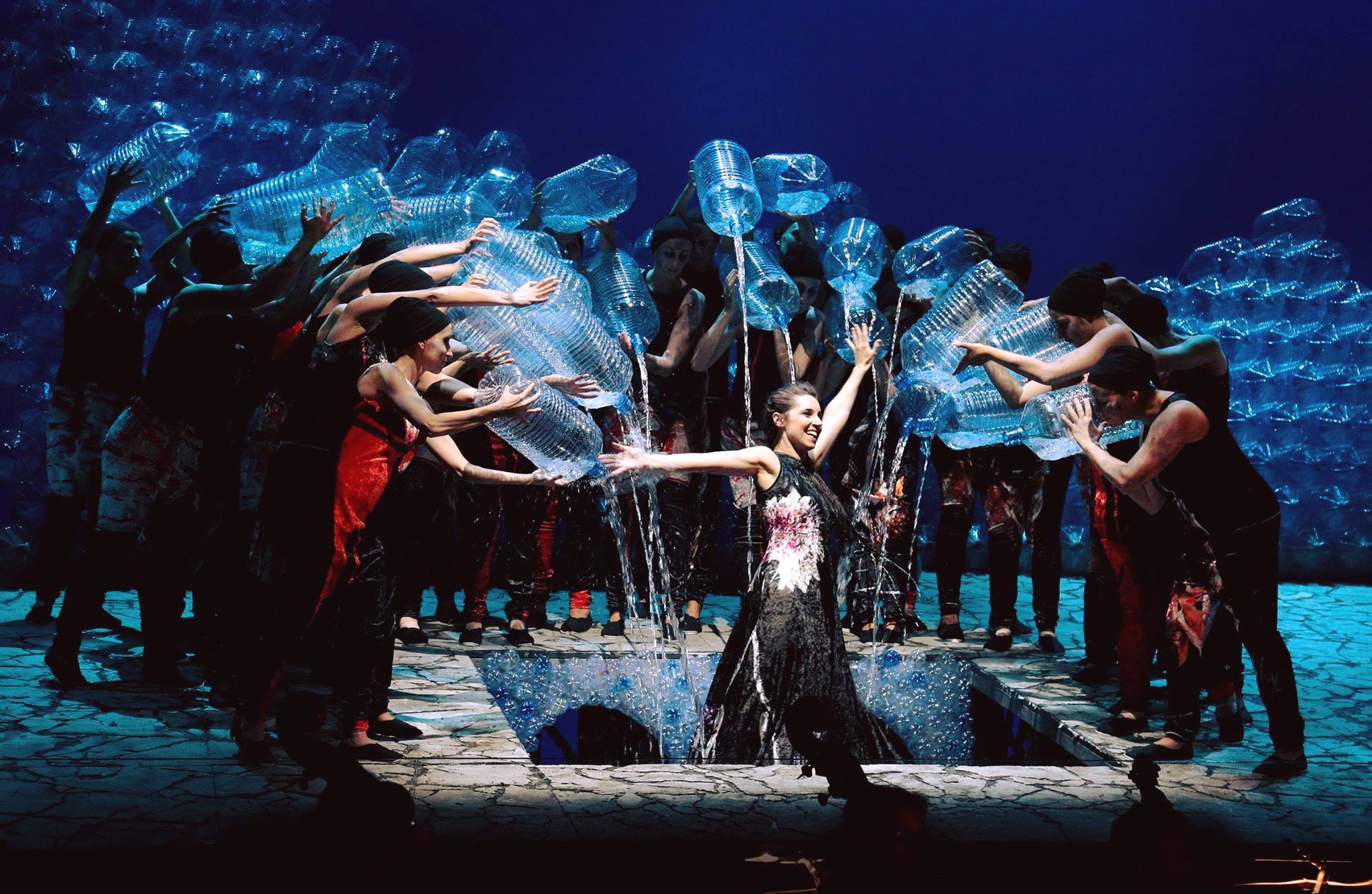 [Photo credit: Rossini Opera Festival]
18th - 26th August 2017
Nothing sums up the feel of a late Summer evening quite like a blast of jazz music. The Tuscan region of Barga is the place to be for jazz fans this August, as it puts on a very enjoyable festival. Various locations (such as Barga's historic centre square, the Cathedral of St Christopher, and the Cloister of St Elizabeth) will be hosting jazz and orchestral performances.
It's an event that appeals to all ages. For example, the Barga Vecchia squares on the 20th August will include a large street band as well as special music animation for kids (courtesy of the Manidoro Association).
Acts on the 2017 line-up include the Kurt Rosenwinkel Standards Trio, the Dimitri Grechi Espinoza Trio and the Robert Bonisolo Trio. Other attractions this year include an open jam session, an EnoJazz tribute to Horace Silver with Symphony Jazz Lab, and the music of Frank Zappa, as interpreted and performed by the BargaJazz Ensemble.
Treviso, 30th August - 3rd September 2017
You'll feel right at Home for this star-studded music festival. Apart from attracting the top electronic music stars, the appeal of Treviso's Home Festival is to pull in some of the top names from rock and pop.
This year's edition (scheduled for 30th August to 3rd September) is no exception. English trio London Grammar are on the line-up, riding high on the success of their second album, Truth Is A Beautiful Thing. Former Oasis frontman Liam Gallagher is also appearing, while another classic 1990s act, The Charlatans can also be seen.
Going back further to the 1980s, one of the big bands of the era, Duran Duran are on this year's list, and will doubtless play their biggest hits including Hungry Like The Wolf, Rio and Save A Prayer. Meanwhile, the legendary Wailers will bring their own unique brand of reggae to Treviso, forming part of an unmissable line-up for 2017.
Florence, 31st August - 3rd September 2017
Music. Good food and wine. Beautiful surroundings. The ultimate combination, and one that can be experienced at the New Generation Festival in Florence from 31st August to 3rd September.
Gathering together the best of young musical talent today, the New Generation Festival serves up a strong brew of opera, orchestral performances and live music to music fans. Florence's Corsini Gardens is the ideal backdrop for this festival, with its lemon orchards, wooded groves and cherry trees providing a peaceful, relaxing antidote to the hurly burly of everyday life.
The New Generation Festival was co-founded by conductor, Maximilian Fane, and international producers Granville & Parham. One of its key aims is to bring classical music to a broader audience, making it as accessible as possible to everyone. While there are operatic and classical performances, other genres (such as jazz) are included to create a wide musical selection.
This year's festival boasts the cream of musical performers. These include top violinist (and also artistic director of the festival), Charlie Siem, as well as opera singers Anush Hovhannisyan and Khanyiso Gwenxane. The soprano and tenor will be prominent players in a spectacular new production of Gaetano Donizetti's comic opera, L'elisir d'amore, which will be performed on the opening night of 31st August, and again, two days later.
Other musical treats include a day packed full of orchestral performances. Friday 1st September is bursting at the seams with classics such as Rossini's Barber Of Seville, Max Bruch's  Violin Concerto No.1 in G Minor Op.26, and Beethoven's  Symphony no.5 in C minor.
The New Generation Festival is an ideal opportunity to see out the Summer season in style. The event offers the works, with luxury hampers available (including fine artisan Florentine goodies) as well as champagne and various drinks and snacks available at the Limonaia Bar, set up in the gardens. On top of this, there are a number of special, exclusive concerts and performances, hidden parties, and the concluding midnight concert which is taking place in a secret location.
Tickets are priced from €35 - €195 (with reduced ticket deals available for under-30s) and are available to buy at the official website www.newgenerationfestival.org.
Milan and Turin, 3rd - 20th September 2017
It's back to nature for the 11th edition of MITO Settembre in Musica. This massively popular music festival takes place simultaneously in the cities of Milan and Turin, and this year, hosts with the theme of nature in mind.
From the heat of the fire to the downpour of the rain, and from the warmth of the Summer to the freeze of the Winter, there's plenty of natural elements in this year's festival. The seasons, landscapes, and the weather are among the themes explored in performances given in locations such as concert halls, churches and theatres.
This year's line-up includes a plethora of musical performers, with soloists including Gauthier Capuçon, Ian Bostridge and Jean-Yves Thibaudet. The strong line-up of orchestras includes the National Symphony Orchestra of the Rai, the Philharmonic Orchestra of Scala and the Gustav Mahler Jugendorchester.
Turin, 28th - 31st October 2017
While this selection looks back to past musical traditions, it's also looking ahead to the present day and beyond. One of the most popular types of music today is electronic, and a good example of an electronic music festival is Movement Torino, which is certain to make this year's Halloween a happy one.
As a city well known for its connection with the arts, it's appropriate that it's the chosen backdrop for Movement. Highly regarded acts such as Jeff Mills, Rebekah and Phuture Live have all appeared here, and this year's line-up is set to be equally strong.
On 28th October, you can see acts including acclaimed underground house and techno act, Apollonia, Lil' Louis (who scored hits in the 1980s and 1990s including French Kiss and I Called You), and techno star Monika Kruse. Meanwhile, on 31st October, the line-up includes Cobblestone Jazz, DJ Ben Sims, and popular Swiss electronic star, Sonja Moonear.
Turin, 1st - 6th November 2017
Highly regarded avant-garde and pop festival Club To Club will be back with a vengeance this November.
The event has commanded a massive number of artists through the years, including Radiohead's Thom Yorke and Jonny Greenwood (the latter playing with Junun), Nina Kraviz, DJ Shadow, and James Blake. Coming to Turin this November are acts including Nicolas Jaar, Kamasi Washington and legendary Autobahn/Model stars, Kraftwerk.
Milan, 21st - 26th November 2017
This is an interesting take on the music festival. As well as serving up top musical performances, Linecheck is also a music meeting that includes a number of panels to discuss some of the important issues and subjects in the music world today.
This year's meetings and panels will be talking about subjects including financing festivals, New World traditions and whether streaming platforms are promoting local repertoires and new talents.
Names appearing at this year's Linecheck include American rapper Freddie Gibbs, Swedish electronic music act Little Dragon and Seattle-based Perfume Genius. It's a festival that provides a diverse and interesting line-up of acts while also offering a bit of food for thought.