Looking out from my balcony I can see the lovely volcanic Colli Euganei, a group of conical hills covered with vineyards on the southern slopes, and chestnut trees on the north. These days, although the view is stunning, I can't help but think of what's on the other side of Monte Venda: Vo' Euganeo.
The small village of Vo' is where Italy's first fatality from the coronavirus lived, and it became the only village in the Veneto in the original group of settlements in lockdown. Vo' is the centre of local wine production – cabernet, merlot, prosecco, serprino… -  and holds a wine festival each September. Now, though, nothing and no one is allowed in or out apart from vans bringing necessities for the inhabitants.
The victim was elderly and was taken to Padova Hospital originally with pneumonia. Only when he failed to respond to the usual treatment did they test for a virus, and then they discovered the dreaded Covid-19.
Meanwhile, normal life went on in the surrounding area for another two weeks. The schools and museums closed for a week, but reopened. People still gathered for a chat in the park, and the weekly markets went ahead.
I had a trip by train to Ferrara on Friday. You wouldn't have known anything was wrong. The shops and market stalls were busy and bicycles wove in and out of the crowds as they always do in 'Cycle City'. However, visiting the re-opened museum was the first surprise. Only a handful of people had come to see the superb exhibition of De Nittis paintings in the Palazzo dei Diamanti.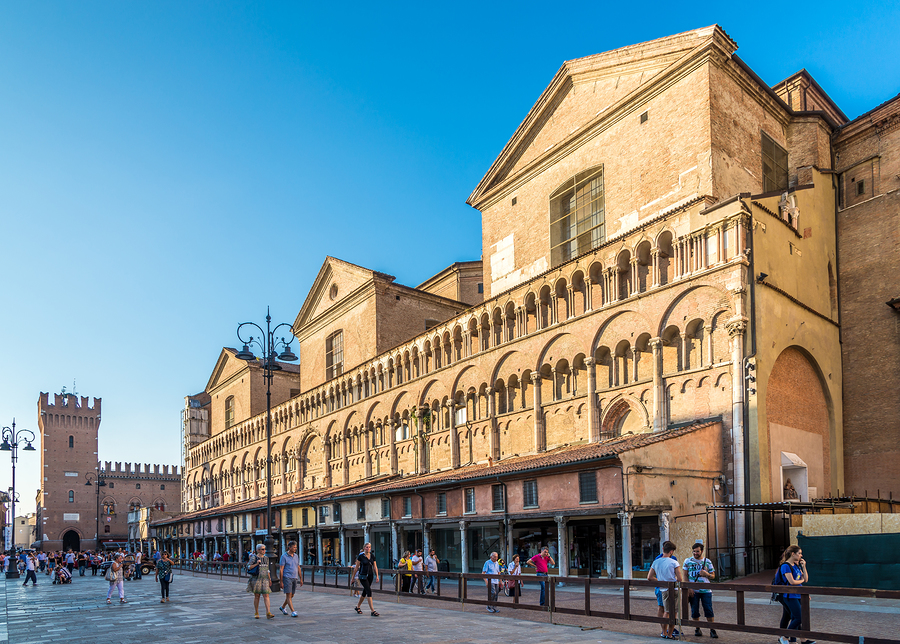 When we went to our favourite restaurant for lunch, the Ca' Di Frara, (one of northern Italy's finest) which is usually full, there were only 5 diners. We were greeted like royalty and offered all kinds of extra treats.
"No tourists," said our friend the owner."I don't know how long our business can survive."
Ferrara Castle was empty. The dungeons were eerie with nobody in them but us, and it was easy for once to get a good position in front of the mirrors to examine the frescoes on the castle ceilings.
At some point on that Sunday, an innocent-looking sunny afternoon, I received an email alert from a Government website about travel in Italy. This was the first warning of the lock-down of whole provinces and not just small towns; crucially it included my own Provincia di Padova. New rules came into effect immediately. Restaurants could only open between the hours of 6am to 6pm and only if a space of 3 feet could be guaranteed between diners; schools, cinemas, theatres and all other public buildings would again close until further notice (April 3rd was suggested) and if people were out and about shopping, they must stay 1 meter apart. (Advisory signs for this had already been posted in the Coop and Ali supermarkets the day before)
The announcement had been made by Premier Conte after the chaos caused by rumours in circulation causing people to take overcrowded trains or drive south. (Many workers in northern Italy have families in the south.)
By now things were getting serious. Hospitals had run out of intensive care facilities, and several prominent Italians had tested positive. The Head of the Italian army, the President of Piemonte, and even Nicola Zingaretti, head of the centre-left Democratic Party and brother of the more famous Luca (Inspector Montalbano) were all in quarantine at home. Ironically Zingaretti had just been promoting the message 'Milan doesn't stop". Conte announced 'reduced mobility': curiously people would be allowed to leave for emergencies, but it seemed to include ' going home' – presumably thereby  spreading infection.
There has been a great deal of confusion and many unanswered questions. Would cars be stopped leaving Lombardy? Can I go to lunch? Can I go to work? Luca Zaia, the governor of the Veneto region said these were some of the weaknesses in Conte's decree. Of course, he and the other prominent regional governors of the north are members of the League and critical of the Government's handling of the crisis.
What to do? I got on the EasyJet website to find a flight home to England as soon as possible. I'd already seen that Malpensa was virtually closed, but Marco Polo had a flight available the next day. It was probably better, I decided, to face the known, rather than a greater ever-changing threat at the moment, despite my affection and support for La Bella Italia.
Venice airport was deserted. The departures board showed about 80% of flights were cancelled, and looking out, I could only see EasyJet planes and one Aeroflot. The flight to Edinburgh was only half full. Some passengers had tried to get other flights to other locations, but many, I supposed, had already cancelled their holidays. There was a short announcement about hygiene, but that was the only information given to passengers even after we landed. You'd think that there would have been some sort of response to the "Now what shall we do?" as we all left the airport in different directions.
I'm now in self-imposed isolation for two weeks; not the end of the world, and easier in England than in my small town in Italy where there are no supermarket deliveries. I have my milk man to deliver essential supplies, and neighbours not in quarantine.
Meanwhile in Italy, "If the population doesn't understand that it must stay at home the situation will become catastrophic" said Antonio Pesenti, Head of Intensive Care in Lombardy.
Now the entire country is in lockdown. 
It's really distressing. We made this recent trip with the idea of travelling responsibly and showing our support for Italy in times of need, but despite our best efforts, we came at a tenuous time. However, when this is all over, there is no doubt that we will be back in support of this country we love so much.