The Veneto is full of hidden gems: castles, villas, unexpected vistas, great art…Here is yet another castle tucked way in an idyllic setting in the Euganean Hills less than an hour from Venice (15 km south of Padova) and with a fascinating story to tell.
Lispida Castle and its vineyards date from the middle ages when it was an Augustinian monastery. In 1485, Doge Mocenigo confiscated the property from the monks "…so that the vines, the olives and the fields are not abandoned, are sown and cultivated at the right times, and the stones from the hill are sent to us regularly." (The volcanic stone was used to pave Venice because of its ridged surface, making it 'non-slip'.) 
At the end of the 18th century the Corinaldi family built a villa there and began producing wine on a grand scale. The extensive cellars are the largest in the Veneto (2000 sq m) and can be visited at weekends whilst tasting the prize-winning wine which matures in amphorae. In the heat of the summer it's very pleasant to sit just inside the cool cave-like entrance and look out across the park where there are often hoopoes with exotic plumage hopping around on their annual holiday from Africa.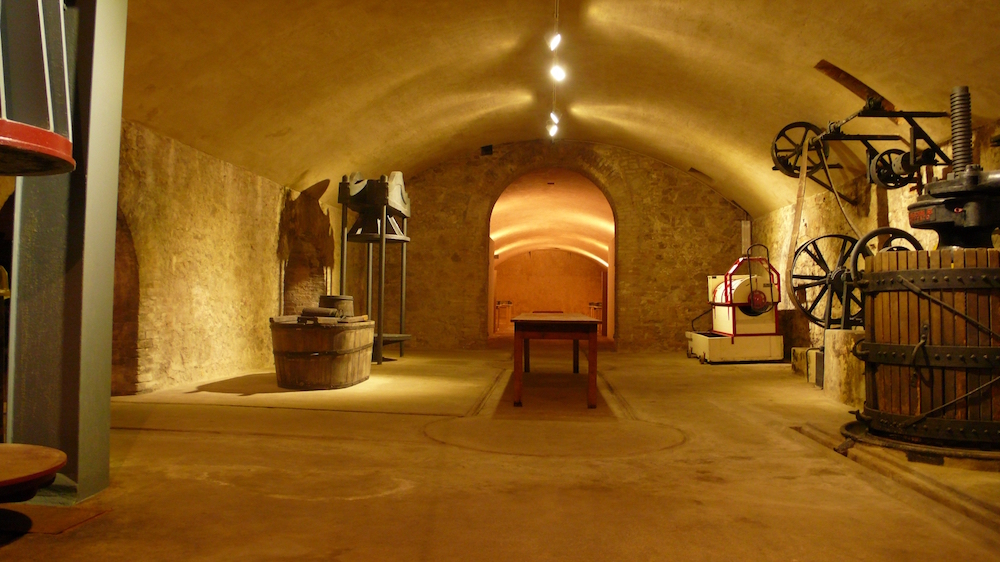 The castle itself became historically important during World War 1 when it was used as the home of King Vittorio Emmanuel lll, and as a result was temporarily known as the Villa Italia. It was chosen for its site, with a hill directly behind to give protection from potential enemy bombers. I learned one or two curious facts about the King from the present owner, Alessandro Sgaravatti, when I chatted to him in preparation for writing this piece. He told me that the King was very small, which as he was titular head of the national army, was an embarrassment because he didn't meet the minimum height requirement for a soldier. They had to lower the required height from 1'54 to 1'50 and gave him the nickname Sciaboletta, a short sword.
Only one piece of furniture remains from its time as a royal residence, a chair, which is rather ordinary, according to Alessandro, and is still regularly used. 
Restoration of the castle began in 1986 after several decades when the estate was only used for wine production and a golf course, which failed. In 2000 the conversion to apartments was completed and renting began, although Alessandro pointed out that he still has a plan to convert the one remaining tower. He derives great pleasure from designing and furnishing his luxury flats, and this extends to other de luxe properties to rent in Venice, Arqua Petrarca and an enormous upmarket camp site, Cavallino, at Lido di Jesolo.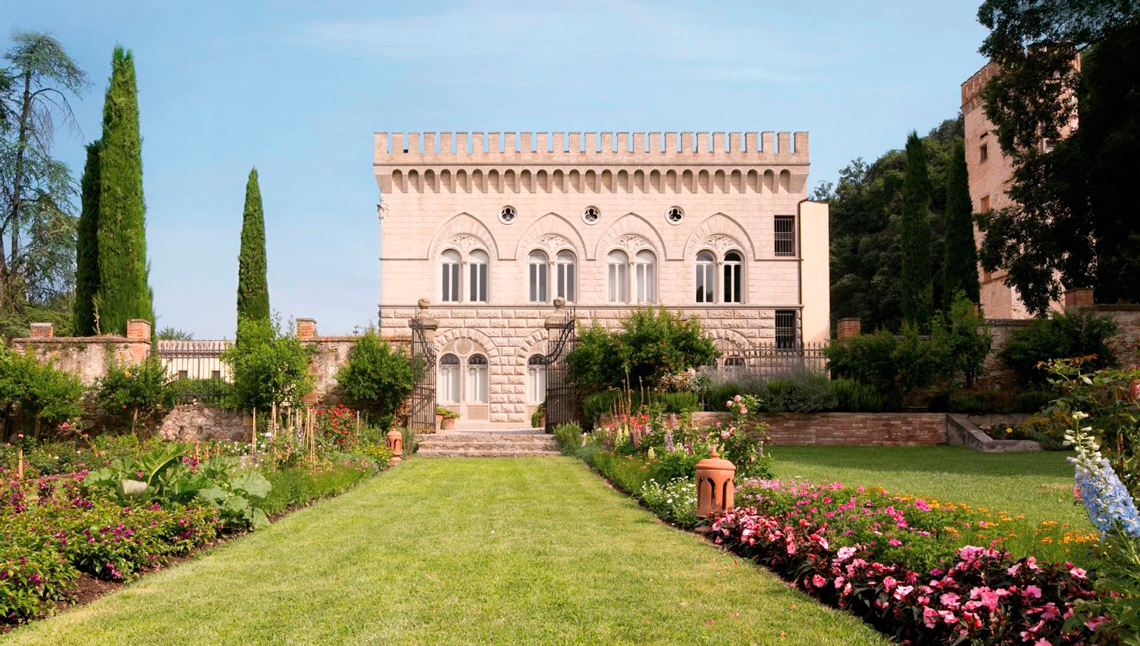 [Photo by www.lispida.com]
We spoke about the problems of managing the estate, including controlling the wild boar which are protected from hunting at present although their numbers are dangerously high. As it is forbidden to shoot them, gun noises scare them away at dusk. The notice to guests explains all.
Now, surrounded by fields of asparagus and vineyards, Lispida Castle is fully restored and converted into 8 luxury apartments which seem to attract families from all over Europe judging by the car registrations in the car park. As well as woodland and cycle tracks, there is a large park, a vegetable garden where guests can help themselves, a small playground, two hot tubs and a thermal swimming pool in the former limonaio.i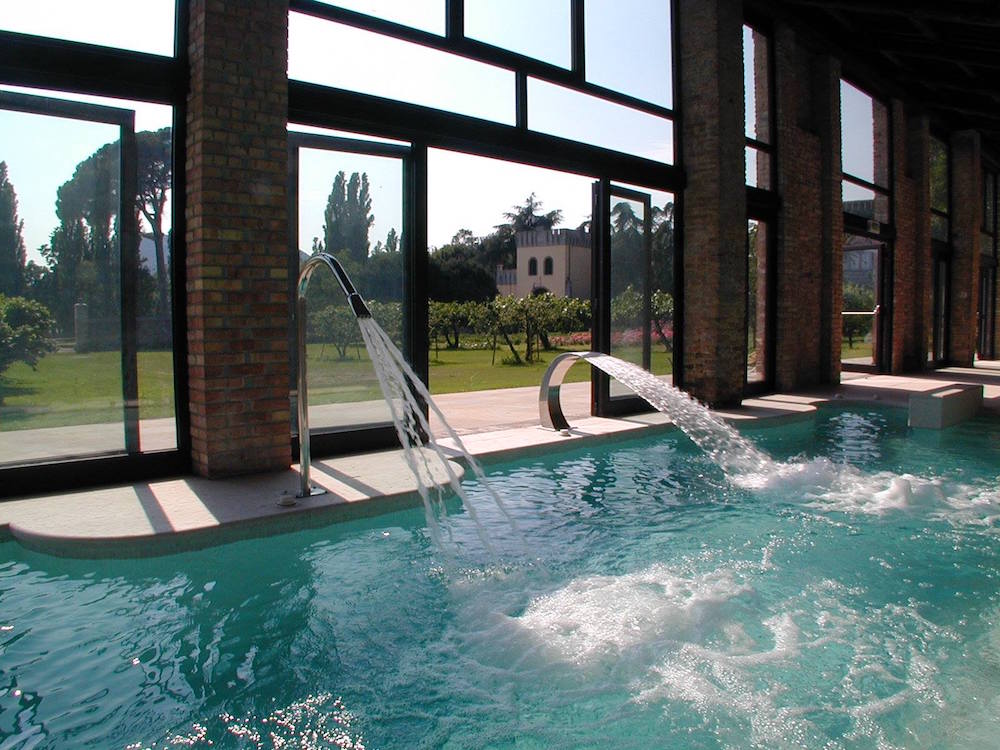 [Castello di Lispida - Monselice [Padova]
The naturally hot water typical of this volcanic region can also be found in the small lake on the other side of the hill from the castle. Currently the lake isn't used, but there are plans to develop new ways of using the mud for treatment, as well as to create an up market camp site on the surrounding lake shore along the lines of 'glamping'.  There is a legend attached to this lake which explains the curative properties of the local hot mud.
Like this article? Don't miss: "Rovigo: A Small Town in the Veneto Which Punches Above Its Weight."
One night two centuries ago Count Manfredo dei Monticelli (incidentally the name of the neighbouring village with a good trattoria!) who suffered from extremely painful limbs, went to this lake with the intention of putting an end to his suffering by drowning. He was sorrowfully gazing at the dark water when a mermaid emerged and asked him why he seemed so unhappy when he was surrounded by so much beauty. He confided in her about his unbearable pains, and she slipped back under the water, only to resurface moments later with her hands full of hot black mud which she spread over his body whilst singing a siren song. They spent several nights together before she swam to Venice. However, the King of the Fauns had to punish the mermaid for consorting with a human, so he changed her into a woman – but she had no soul. Sadly, she wandered about trying to find one and went to the Basilica of Sant'Antonio in Padua to pray. A voice told her that her lover would share half his soul with her, and they lived happily ever after.
From that time, so they say, Euganean mud has been the Best Mud in Italy (which makes a very good title for my book about living in the area) and cures countless ailments.
I am indebted to Alessandro Sgaravatti for information about the castle, and to Patricia Guy (The Venetian Hills) for the story of the mermaid. Further information can be obtained at: infos@lispida.com