Traveling by train in Italy is one of the best ways to move within the boot and luckily for passengers, there are some seriously scenic routes that one can enjoy. They offer mountain views, coastal perspectives and panoramas of the stunning countryside dotted with medieval hilltop towns. For those who are also conscious of their impact while exploring, train travel is often one of the most sustainable ways to move. That, combined with the fact that ticket fares are quite economical compared to other countries in Europe, make it a very convenient option with so much to offer in in regards to the journey, independence from renting a car and simply, the thrill of the unknown. 
With many options, online, it is easier than ever to plan an exciting trip on one of the Frecciarossa fast trains or the regional versions. From someone who hasn't personally owned a car in over 10 years, this kind of freedom to travel is one of the reasons life here is so magnificently accessible. As I researched this article I am more inspired than ever to leave the car at home and travel by train to some of these areas that most people miss, especially within the island of Sardinia and region of Abruzzo. 
That being said, a train trip combined with an unforgettable walking holiday with Inntravel taking you through Italy's most picturesque locations is the perfect combination for the active traveller in 2020. 
Here is a selection of five journeys by train that you should do. All aboard? 
Sardinia's "Trenino Verde" (Green Train) 
"You can reach almost every corner of Sardinia by train – as long as you're not in a hurry. " wise words by British author D.H. Lawrence who understood the beauty of slow travel before most. You might be surprised that Sardinia made the list in regards to train travel as it is an island most associated with its beautiful coastal resorts, but the lovable trenino verde offers a great way to see a more verdant side. The narrow-gauge route travels through convoluted mountainous country and meadows on a 251-mile network exclusively for tourists along five different routes that set off all throughout the year. Certainly, not the option for anyone on a time crunch, but what it offers instead of speed, is a plethora of awe-inspiring landscapes with stops at places many visitors normally miss, cue the petrified forest of Carrucana.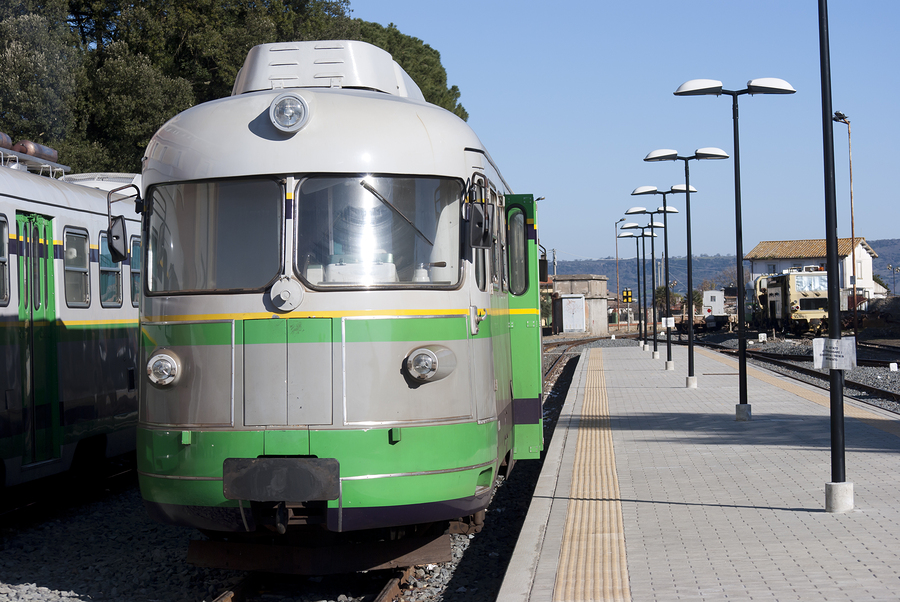 Sicily's Circumetnea – Exploring Etna
For those who choose not to hike up Sicily's Mount Etna, you have another (dare I say even better option) option to explore this fascinating area covered in magnificent flora and volcanic soil. The ancient train of the Circumetnea Railway runs along the slopes of the mountain and offers a stunning view of the Nebrodi mountains, part of the Sicilian Apennines on one side, and the majestic northern slope of the Etna on the other, through lava fields and fertile lands. It runs for 110 kilometers and depart from Catania- Stazione Borgo, arriving in Riposto at a leisurely pace throughout the year. During the warmer months, they often combine this route with gastronomic wine tasting tours.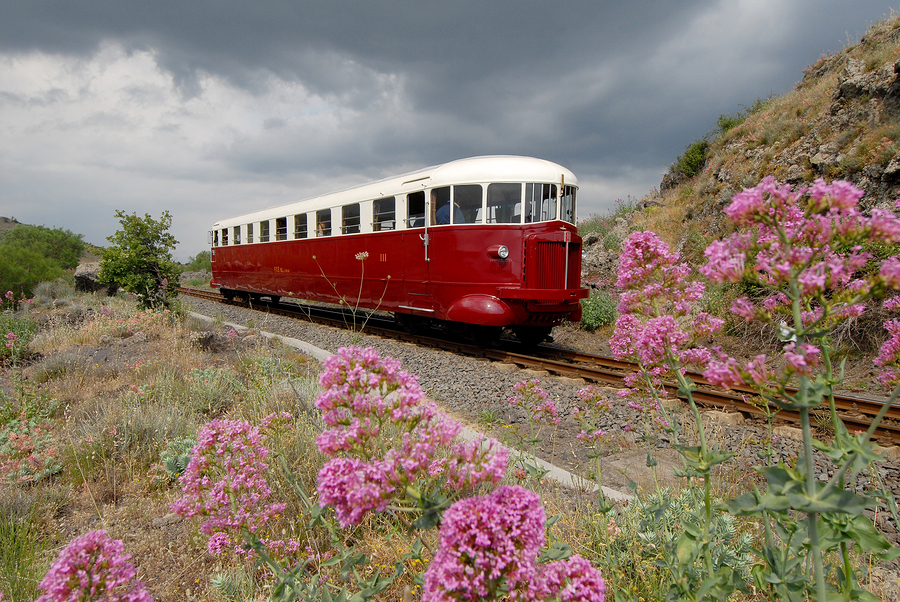 The Northern Connection: Bernina Express 
Not strictly in Italy, The Trenino Rosso del Bernina or "Bernina Express" is one of the most spectacular choices for lovers of train travel with a train that takes you along the alps across bridges, snow-capped peaks, mountain passes and deep gorges, thus connecting Italy's city of Tirano with Switzerland. In fact, in 2008, Unesco classified the railway as a world heritage site for this vital connection between the two places. Considered one of the steepest journeys on the planet. Its panoramic train carriages allow for a 360° view as the train travels across the Bernina Pass at 2,253 meters of altitude, before it descends toward St. Moritz.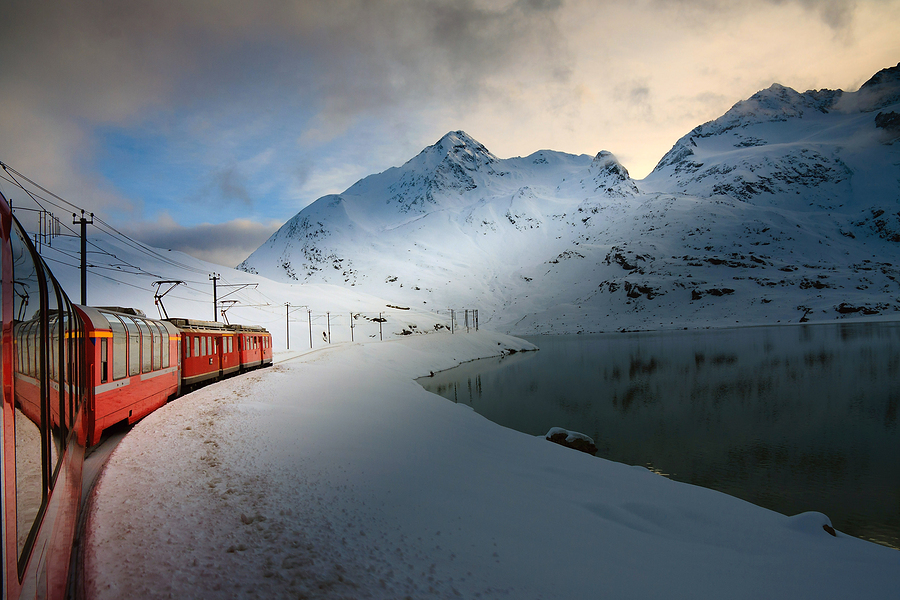 Tuscany's Nature Train, South of Siena 
I might be biased as someone is utterly enamoured with the region of which I live, the gorgeous Tuscany but it also offers one of the nicest "slow" train rides in the country aboard the Trenonatura (nature train), a vintage steam locomotive beloved by locals. This train ride is not one in regular use, but is opened up for touristic itineraries running along the Crete Senesi, Asciano - Monte Antico lines, in the Val D'Orcia and Amiata Valley. It offers families an experience that implores the visitor to explore this intensely beautiful landscape along uncommon itineraries. The schedules often coincide with local, seasonal food festivals featuring traditional foods such as truffles, chestnuts, olive oil and wine. Here's where to keep an eye out for the next planned trips across Tuscany's most majestic hillsides.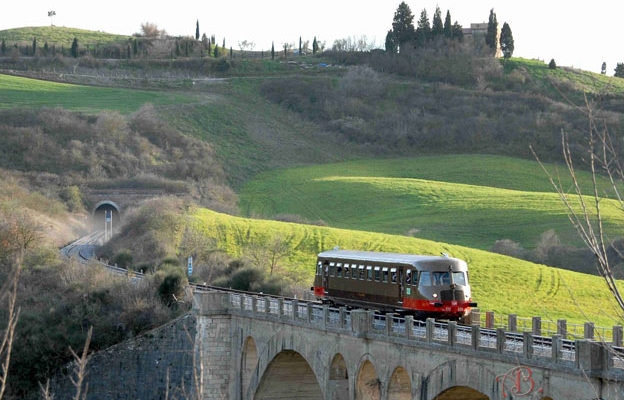 Discovering Hidden Italy Along the Historic Trans-Siberian Line in Abruzzo and Molise 
You won't often find this line represent in many articles talking about train travel in Italy but we say skip Cinque Terre and the Amalfi Coast and give a slice of "hidden Italy" a decent chance. The Historic Trans-Siberian train line moves through the Appenine peaks in Molise and Abruzzo where those on board can enjoy the scenery of the Majella National Park with stops along tiny mountain villages, brimming with charachter. You can visit the Stiffe Caves and the San Venanzio Gorges and there are often wine tastings and gastro tours offered during the warmer months. An added bonus is that traveling aboard one of these trains is like traveling in a moving museum, built between 1920 and 1930 they feature original wooden benches and staff trained to recount the history of this majestic railway. More info on travel options can be found here.