Easter Monday is a national holiday in Italy with towns throughout the country holding special events. Two of the most unusual are an egg-cracking contest in Emilia-Romagna and a cheese hurling competition in Umbria.
Coccin Cocetto: Emilia-Romagna's Egg Cracking Contest
Residents of Fanano, the picturesque hill town in the Emilia-Romagna region of Italy, arm themselves with hard-boiled eggs to do battle in the village square each year on Easter Monday. (PHOTO: View of town) Participants of all ages join in this centuries-old "cracking contest"-Coccin Cocetto-- that started in the 6th century as a way for townsfolk of all social levels, nobility and commoners, rich and poor, to compete on a level battlefield for a day.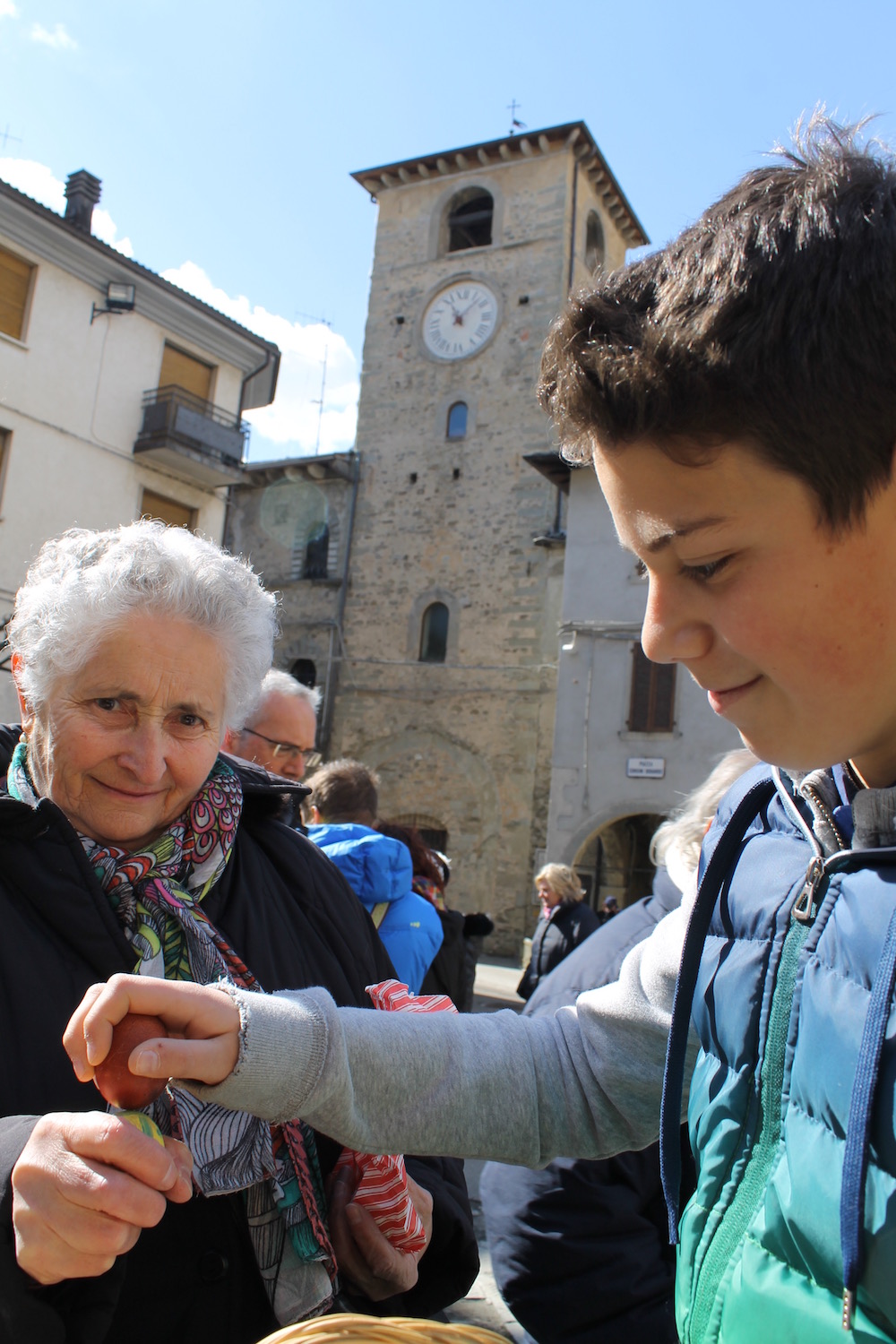 Eggs have long been a symbol of Easter and even back in pagan times were associated with new life and springtime. Eggs were especially highly valued as food in medieval times, so winning an egg was considered quite a prize, with the poorer folks hoping their winnings might feed the family for several days.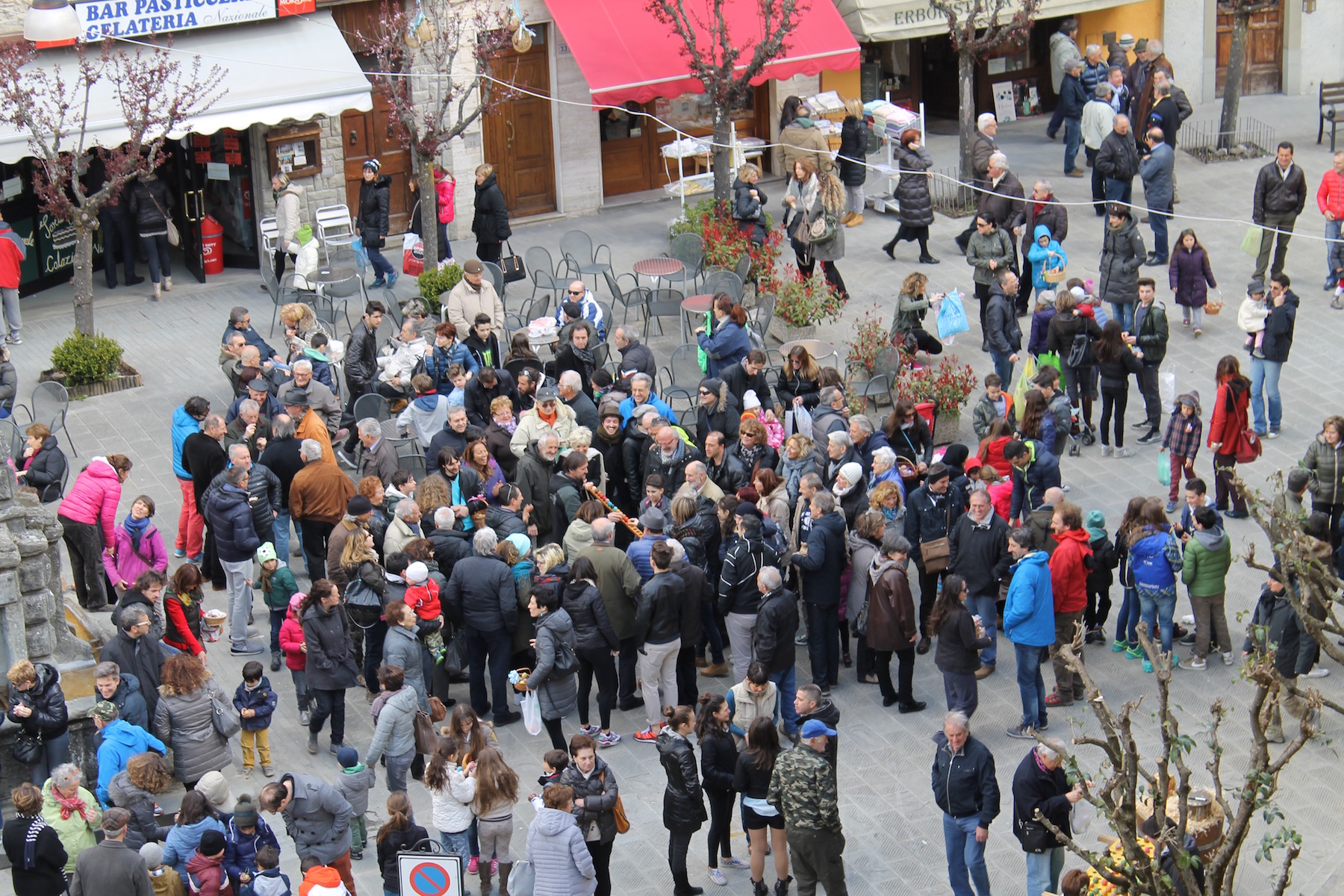 How do you play? Each participant puts an egg onto a long wooden board and gathers round. A designed person randomly selects eggs from the row and distributes them to the first two contestants, who square off and bang their eggs together. The person whose egg cracks first loses. The winner takes possession of the broken egg, and then battles the next opponent. One contestant must hold his egg still, while the other hits it. Who gets to hit is determined either by a coin flip or by shooting odds or evens. "It isn't about luck," explains Massimo, a dapper resident who has been playing, and often winning, for over 60 years, "you can win if you are the one holding still or hitting. Each has a technique." He then went on to beat this author 6 times in a row, alternating between being the hitter and hitee!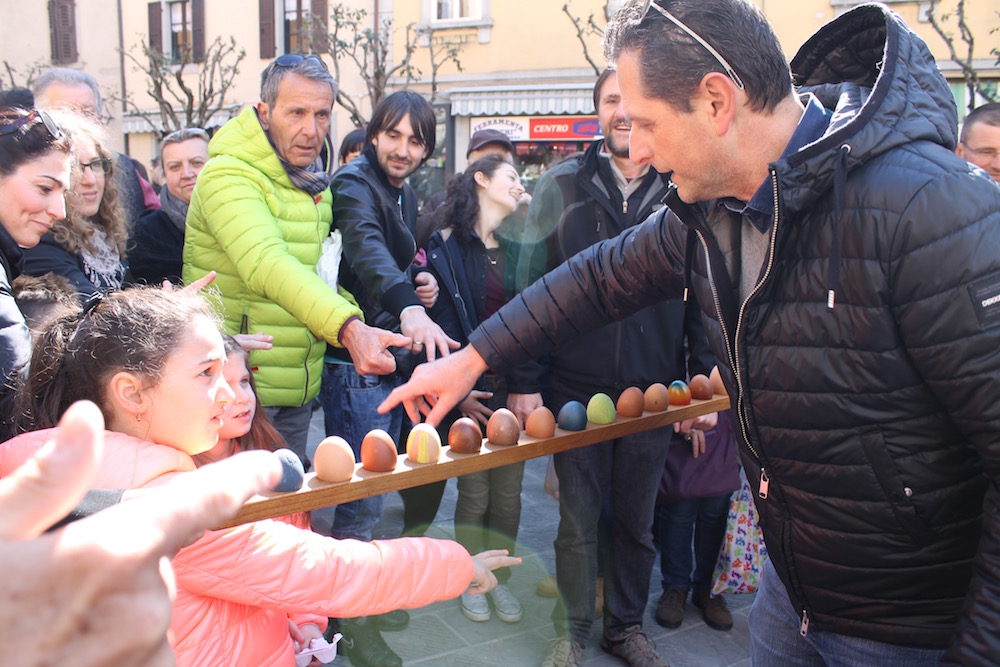 Most locals bring their own hard-boiled eggs to the event, but the town graciously provides colorful eggs free of charge for anyone who didn't bring their own.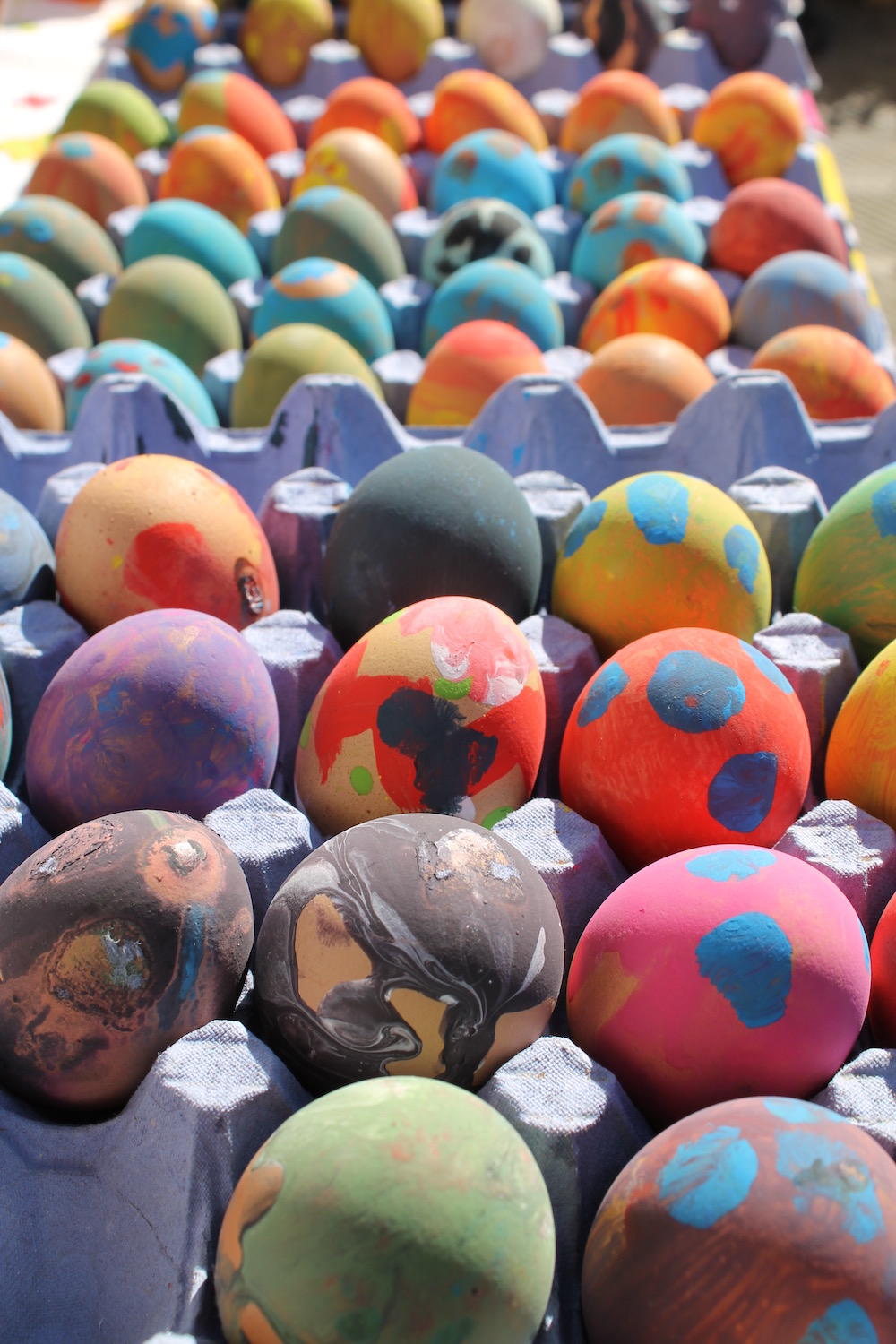 Additional optional photos: author, Francine Segan battling with Fanano's Mayor Stefano Muzzarelli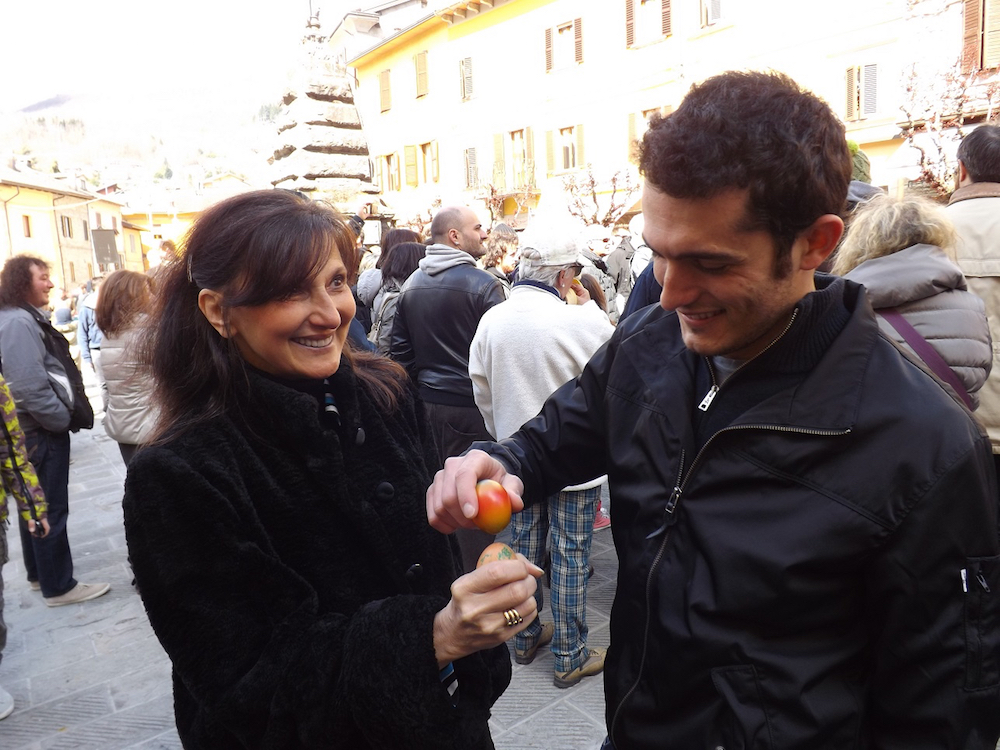 [Photo Credit: Walter Bellisi, Resto del Carlino]
Ruzzolone: Umbria's Cheese Hurling Festival
The cheese-tossing contest called ruzzolone, is a sort of edible discus event, popular in central Italy. One of the most fun places to experience it is in the Umbrian hill town of Panicale, near Perugia.
Huge 10-pound wheel of hard aged cheese are hurled along a course in the center of town. Two teams, with four players each, compete to get the cheese around the course using the fewest number of throws. The players wrap a long cloth sling with a wooden handle around the cheese to help hurl it down the curving streets, across moats, and around spectators and vehicles.  The winning team gets to keep the cheese.  If the cheese breaks during the race everyone shares it.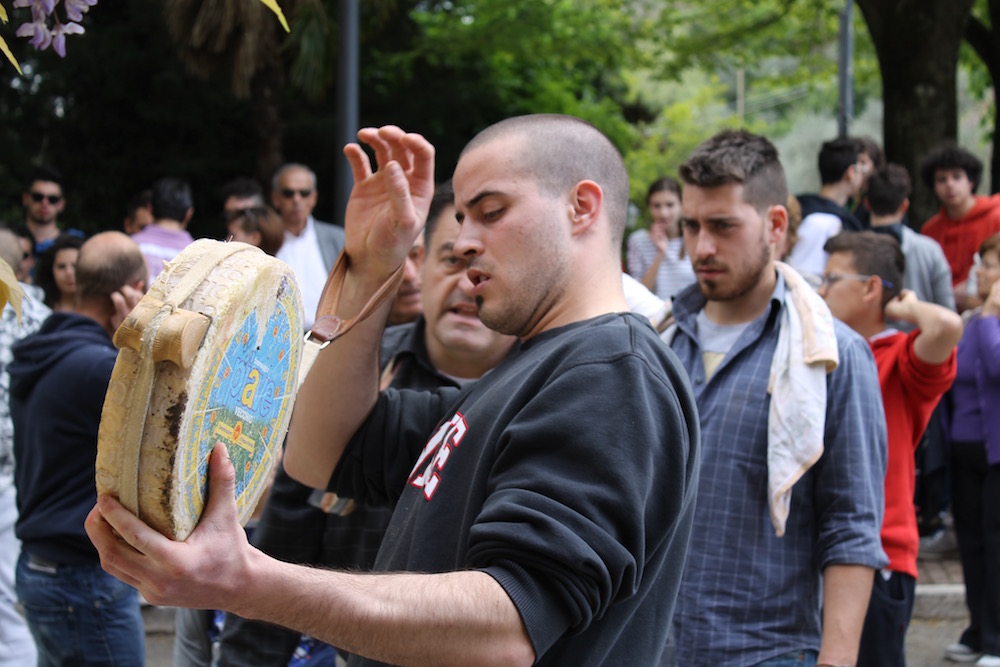 The origins of this unusual contest are uncertain, but frescos have been found dating to Etruscan times that depict smiling shepherds rolling rounds of cheese down slopes, seemingly just for the fun of it.  The game was well established by the Middle Ages and over the years various laws were set in place: In 1598 a mayor from an Emilia-Romagna town placed betting limits to the current restriction of wagering no more than the value of the cheese being tossed and in 1761, in response to complaints of the rowdiness of the game, a governor of that region limited to play to during the Carnival to Easter period. Nowadays it's back to a year-round game, as gradually over time, many towns replaced the cheese was with a solid wooden wheel, allowing play even in summer when the heat would have made the cheese too soft to toss.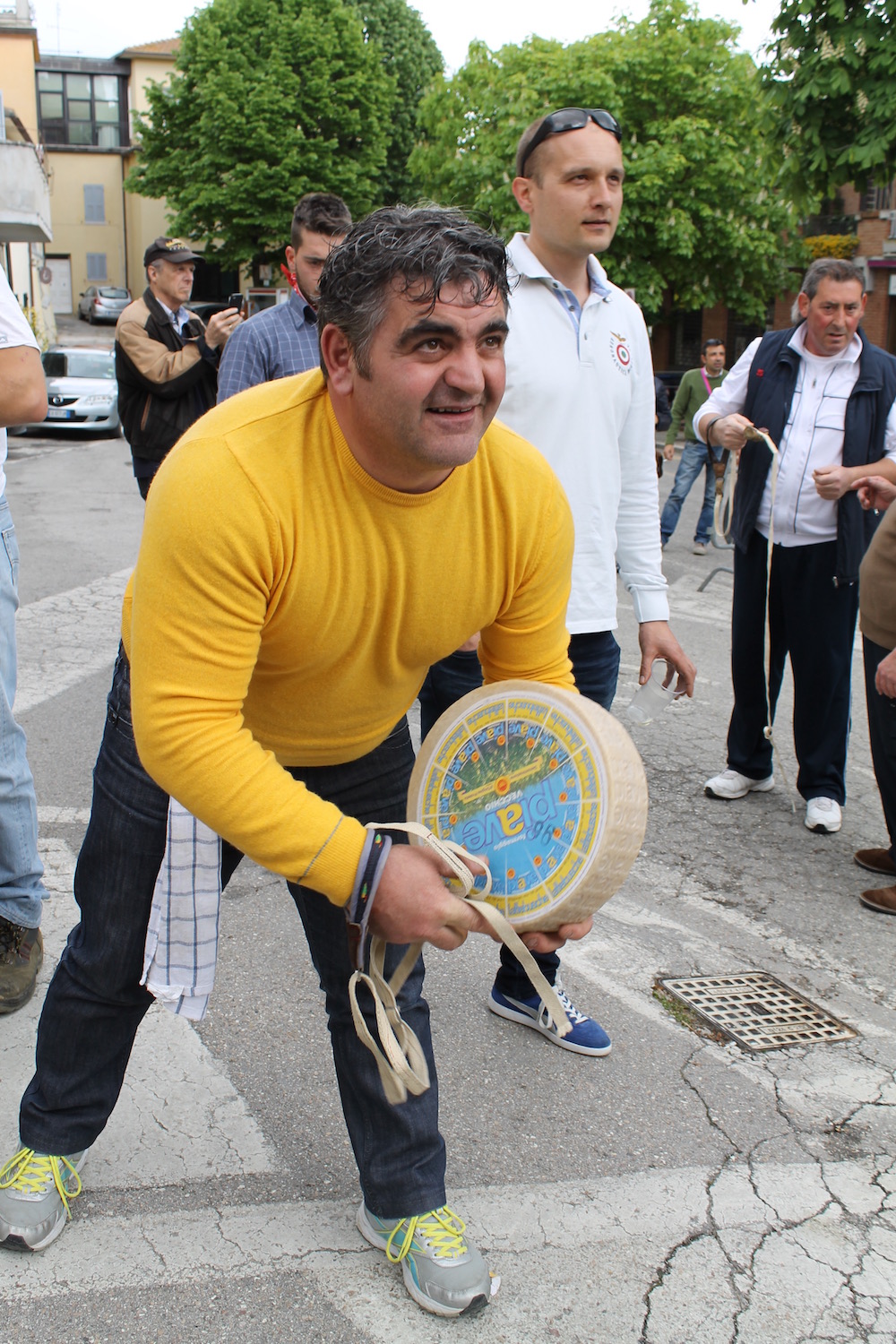 Once the winner is declared, the participants and spectators enjoy a free picnic lunch of local cheese and bread offered in the town square. For dessert, the Mayor cuts up pieces of chocolate from a gigantic four-foot tall Easter egg that decorates the piazza.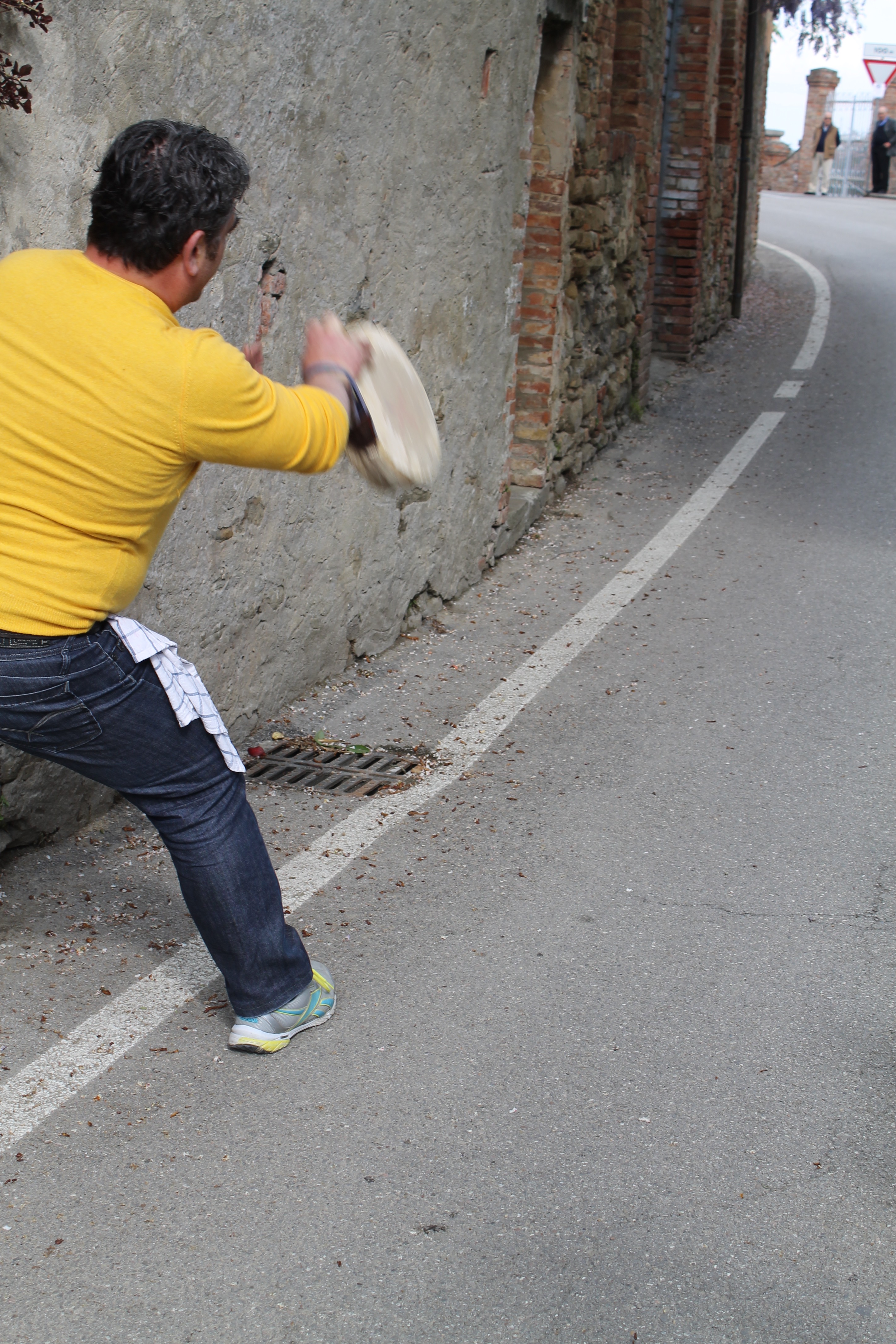 RECIPES
The day after Easter called Pasquetta or Il Lunedi dell'Angelo, "Angel's Monday" is a day off throughout Italy and Italians traditionally go on picnics. Typical picnic foods include raw fava beans eaten with pecorino cheese and casatello, savory bread filled with proscuitto and cheese topped with hardboiled eggs still in their shells.  Or you can make these delicious pasta dishes, both perfect for picnics.
Pretty Easter Pasta Pie 
Crostata di tagliolini
Serves  8
From:  PASTA MODERN: New & Inspired Recipes of Italy (Stewart, Tabori & Chang) by Francine Segan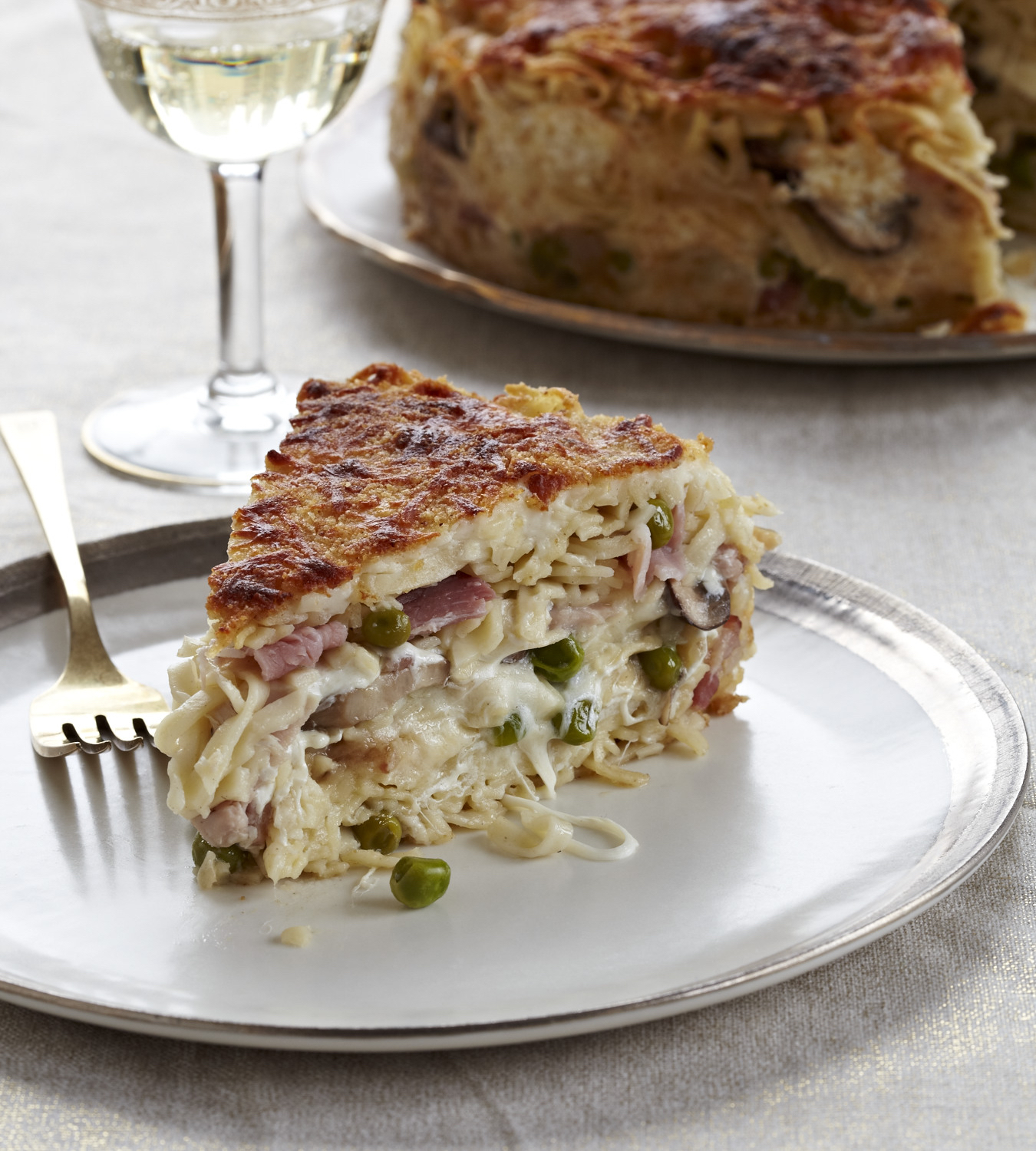 To create your own Easter Monday cheesy celebration make this lovely make-ahead picnic pie. Thin egg noodles are layered with cheese, ham and mushrooms with tiny peas scattered between the layers to add a green burst of flavor. It's baked in the oven until beautifully golden, sliced like pie, and eaten at room temperature.
Homey and comforting, this lovely pie comes together without much fuss.
Olive oil
1 small onion, minced
2 ounces pancetta or prosciutto, minced
8 ounces baby peas
Salt and black pepper
3/4 pound mushrooms, thinly sliced
1 clove garlic, minced
7 tablespoons butter, plus more for the pan
About 1/4 cup toasted breadcrumbs
1 cup chicken or beef stock
1 pound tagliolini, thin egg noodles
4 tablespoons all-purpose flour
2 cups milk, warmed
About 1/2 cup grated Grana Padano or other aged cheese
3/4 pound burrata or mozzarella cheese, diced
8 ounces thinly sliced ham, cut into strips
Heat 1 tablespoon of oil in a small frying pan over medium high heat. Cook the onion and pancetta until softened, about 5 minutes. Add the peas and a few tablespoons of water, and cook until the peas are tender, about 5 minutes. Season with salt and pepper, set aside in a bowl.
In the same pan, heat 2 tablespoons of oil over high heat. Cook the mushrooms and garlic a minute or two, until tender. Season with salt and pepper, set aside.
Preheat the oven to 350 F. Butter an 8 to 9-inch nonstick spring-form pan and dust with breadcrumbs.
In a small pot, simmer the stock until reduced by half.
In another small pot, make the béchamel. Melt 4 tablespoons of butter over medium heat, stir in the flour and cook, stirring constantly with a wooden spoon, until smooth. Add the warm milk, and bring to a boil, stirring until thick, about 2 minutes. Season with salt and pepper. Set aside.
Cook the pasta in salted, boiling water 3 minutes less than package directions. Drain and toss with the reduced stock.
Layer the bottom of the prepared baking pan with 1/3 of the pasta, pressed into a level layer.  Dot with 1/3 of the béchamel, sprinkle with 2 to 3 heaping tablespoons of grated cheese, scatter on all the pea mixture, then scatter over 1/3 of the diced cheese. Spread out a second level layer of pasta, dot with 1/3 of the béchamel, sprinkle with 2 to 3 heaping tablespoons of cheese, and scatter on all the mushrooms and ham and remaining 2/3 of the diced cheese. Top with the remaining pasta and any unabsorbed remaining stock, pressing down to compact the layers. Dot with the remaining béchamel, sprinkle with 2 to 3 tablespoons of cheese and 2 to 3 tablespoons of breadcrumbs, and dot with 2 to 3 tablespoons of very thinly sliced butter.
Bake for about 25 minutes until set and golden. Let rest to room temperature before slicing.
Cheesy Pasta Squares
Basotti
Serves 4
Courtesy PASTA MODERN: New & Inspired Recipes of Italy (Stewart, Tabori & Chang) by Francine Segan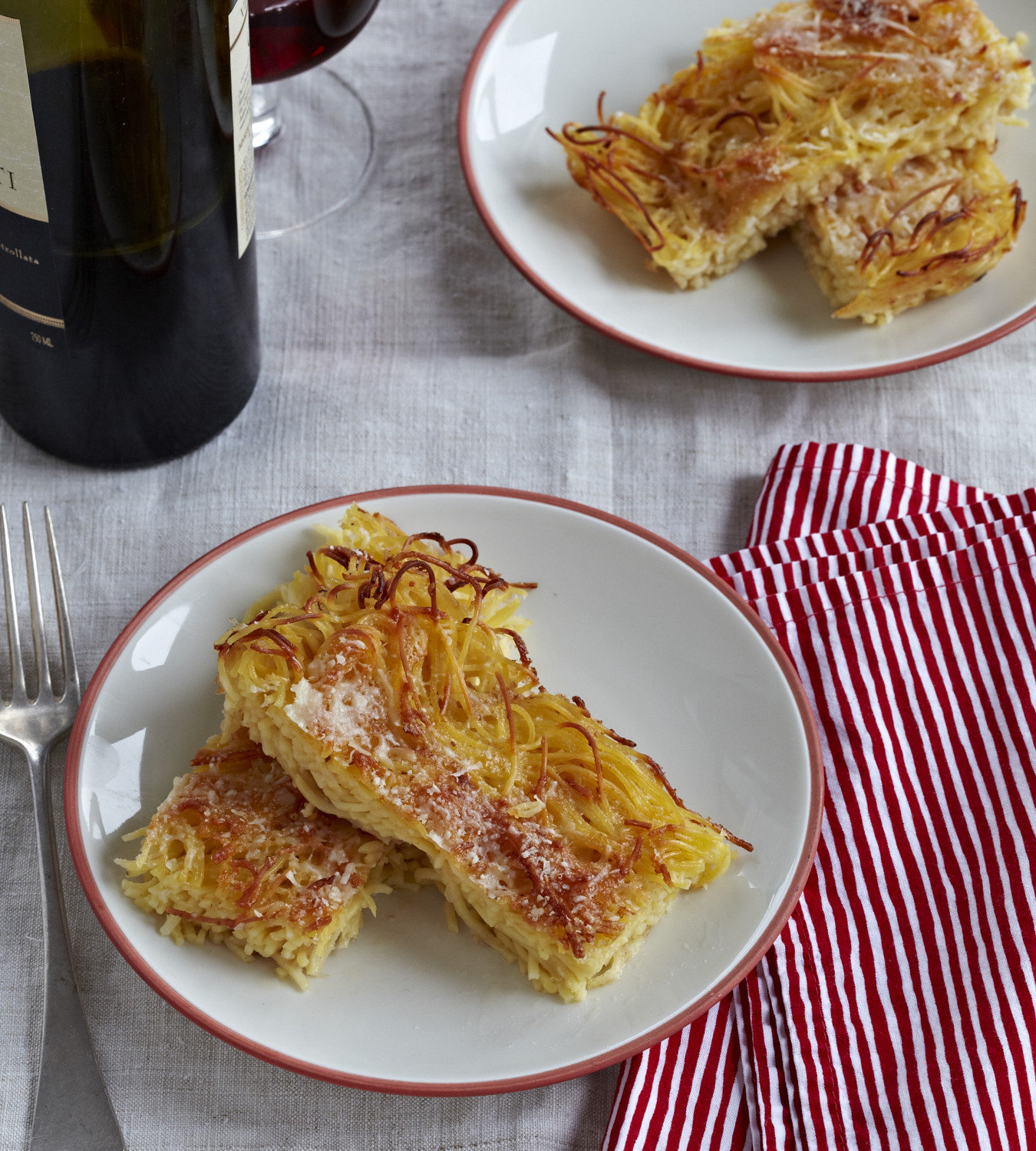 Prep time: 5 minutes
Bake time: 40 minutes
A contrast in textures, crunchy outside with a soft cheesy center celebrate spring with this traditional egg-pasta dish from the Romagna section of Emilia-Romagna.
10 tablespoons butter
2 tablespoons finely ground breadcrumbs  
1/2 pound egg tagliolini or another very thin egg noodle
2 cups grated Grana Padano or other aged cheese
Nutmeg
4 cups pork, beef or chicken broth, preferably homemade
Preheat oven to 400 F. Generously butter an 8 x 15 inch metal baking pan and sprinkle with breadcrumbs. 
Put half of the uncooked pasta in the pan and top with 5 tablespoons of very thinly sliced butter, 3/4 cup of the grated cheese and 1 tablespoon freshly grated nutmeg.  Add the remaining pasta, in a thin scattered layer, on top.  Top with another 5 tablespoons of very thinly sliced butter and more nutmeg.
Bring the stock to a boil. Ladle over the pasta until just covered. Sprinkle with 3/4 cup grated Parmesan cheese. Bake for 35-40 minutes, until firm to the touch.
Raise the oven to 475 F.
Top pasta with 1/2 cup grated cheese, and bake for a few minutes until crispy on top.