It's news to no one that the pandemic has been catastrophic for tourism throughout Italy and the world. But the Veneto region faced its own set of challenges — not helped by the early media blitz surrounding the first Italian victim of Covid, a resident of the region's small village of Vo'. With most of the world having largely returned to "normal," and the traditionally slower tourism months now underway, hospitality professionals around the Veneto are reflecting on the past two-plus years and assessing their next moves.
Despite documented surges in tourist numbers and spending across Italy, Venice seemed much quieter this past summer, even with the fizzing excitement of the Biennale and the film festival.  There were open seats on the vaporetti and minimal squashing by tourist hordes pushing through to get on or off. My own favorite little restaurants would have tables even at peak times, and at many wildly popular attractions, like the campanile of San Giorgio Maggiore, you could walk straight inside. 
However — and there has to be a "however" — lower visitor numbers have been putting a strain on businesses outside the regional capital. Cities such as Vicenza and Verona have been quieter, but they're surviving. But in the nearby Euganean Hills — an area of extinct volcanoes, bubbling springs and hot mud in the province of Padua — it's a different story. The area has long relied on a heavily German clientele, with easy access via the Brenner Pass. Now, they're not coming.
The hills are alive — just barely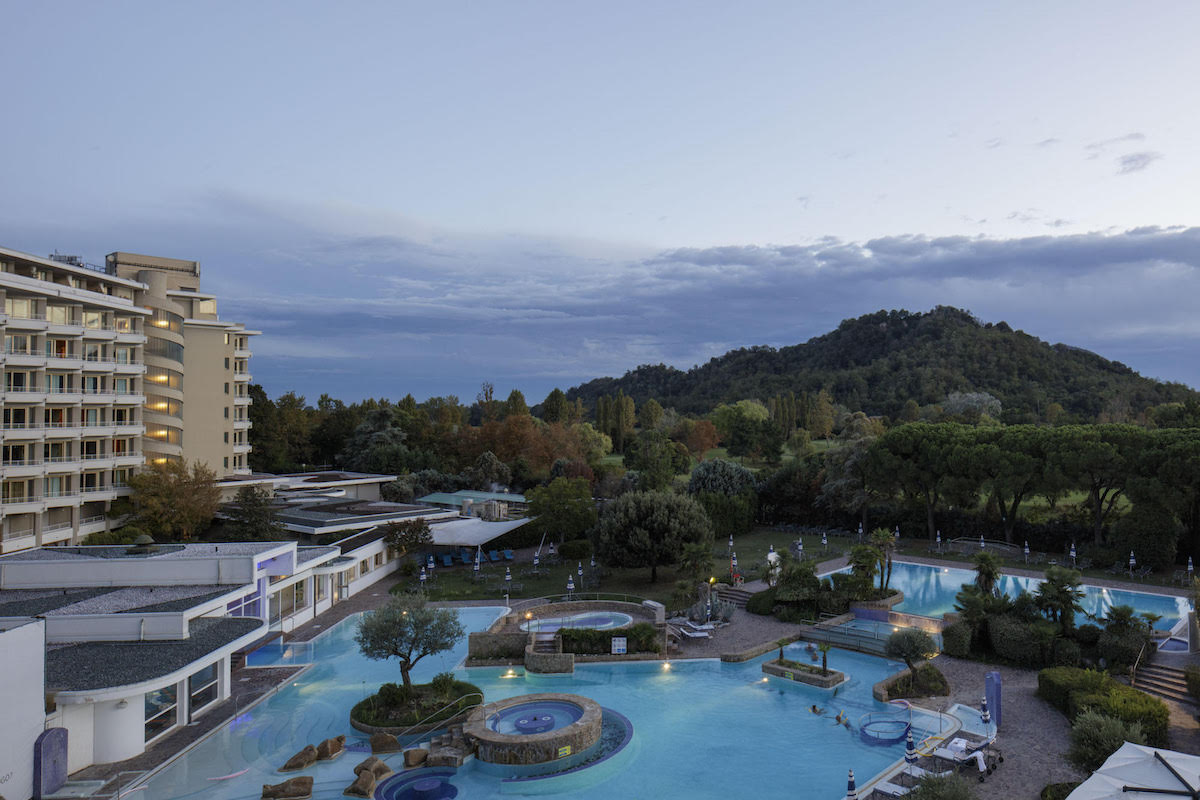 The Euganean Hills are traditionally known more for luxury hotels than inexpensive lodging. (The most recent regional figures available show that guests in 4- and 5-star hotels accounted for nearly 60% of all registered stays in Padua area hotels in July 2022.) These high-end complexes have thermal pools and offer spa treatments; announcements in the local station are given in both Italian and German; and shops in Abano Terme tend to have designer clothes or sell expensive Italian leather shoes and handbags. But there has been a noticeable decline in visitors, and several shops and hotels have recently closed.
I met with Gabriele Molari, General Manager of the largest hotel complex in the area, Galzignano Terme Spa & Golf Resort, to get his perspective on the problem.
Covid: only the tip of the iceberg
Covid is an obvious starting point for an explanation, but things were declining before then, says Molari. He believes that the area's loyal clientele had perhaps reached an age where travel was no longer a possibility, and that more youthful travelers are less interested in traditional spa therapy holidays. The trend towards activity-oriented vacations and sustainable tourism has left bedrooms unoccupied as the focus of many travelers changes. 
At first, local hotels were able to cope, Molari explains, because many are family-owned and operated, keeping high overhead and staffing costs at bay. But reduced employment in hotels is tied to the problem of rising unemployment across the Padua province at large — a source of great concern for Molari, who has had to face making his own staff reductions.
Not content to do nothing, Molari has been thinking of new ways to bring the area back to life. He pointed to bloated local and regional government as a major problem. Every town and village in Italy has its own mayor, and there is little to no group coordination in building long-term marketing plans for tourism. (There are 102 municipalities in the Padua province and at least as many mayors!)
"I'm thinking of standing as Mayor of Galzignano," Molari tells me earnestly, "so that we can become more organized and promote our beautiful region."
Other ways of diversifying are also on the agenda. Molari has an arrangement with the local recently restored Castle of Catajo, a popular venue for weddings. (There's a package for wedding guests to stay at one of his hotels.) There are regular conferences too, and sports events: The complex includes a golf course with fantastic views.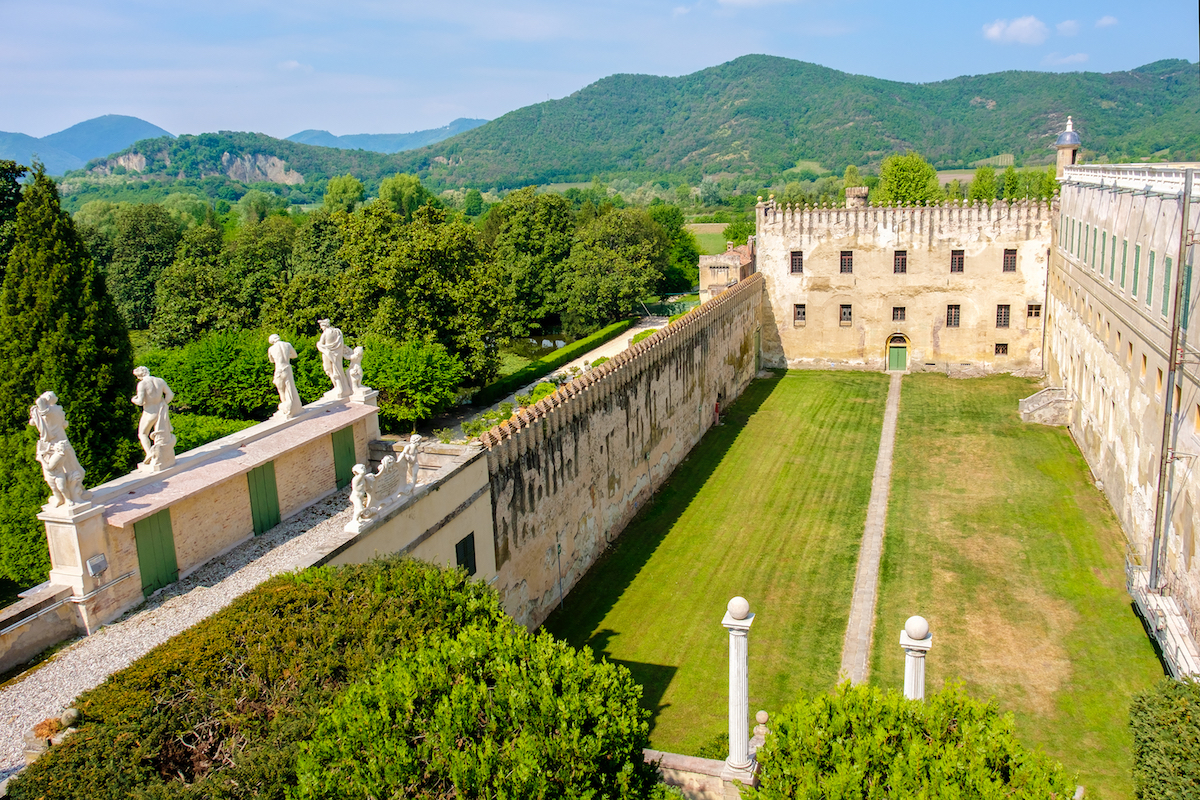 Ownership and investment issues have been a challenge, too. The whole site that Molari manages comprises four hotels (one of them inactive), extensive parkland, sports facilities, and large thermal swimming pools. Until recently, it was part of the Radisson Hotel Group. In the early 2010s, the site's central hotel, the Majestic, underwent an extensive renovation and upgrade, with spacious rooms bearing Latin mottos about the benefits of hydrotherapy above the beds, top floor suites with terraces and plunge pools or jacuzzis. Then, just before the turn of the decade and the arrival of Covid, the hotels were sold to a Milanese investment group hoping to make a quick profit. But they haven't managed to sell, and are reluctant to invest.
There's been local talk of turning the site into luxury apartments for the elderly, with on-site medical facilities and a large number of extra staff to provide meals, care, gardening and maintenance, but no concrete plan is in place.
Molari says he's reluctant to leave after spending eight years in charge of the site: Prior to this role, he says, he moved on every four years. Now he's grown attached to the area, with its green conical hills and vineyards and its relatively unknown status as a tourist destination. If Germans aren't coming anymore, Molari wants to look to the English-speaking market, but this will mean almost starting from scratch. He points out that even the names — Euganean Hills and Galzignano — don't exactly trip off the tongue, and the word fango (mud) isn't easily understood, even though Italians consider the area to have Italy's best therapeutic mud. He proposes using the name "Venetian Hills" as a way of attracting visitors who want to explore Venice's hinterland.
They'd be rewarded: This regional park, with its extinct volcanos, hot springs, and sense of timelessness, has remained unchanged for 200-plus years. A little clever rebranding could be a move toward regeneration.