When it's Carnevale season in Italy, all eyes turn northward to Venice. La Serenissima is theatrical even on a ho-hum day – and at the height of Italy's Mardi Gras season, it's downright flamboyant. And even if you can't score a coveted ticket to one of Venice's lavish costumed carnival balls, you can still revel in the beauty of Venice and the surrounding region of Veneto in the pages of Bellissimo, our quarterly digital magazine. 
Our fourth issue is dedicated exclusively to Veneto, the region not only of Venice, but of historic Padua, fair Verona, undersung Treviso, and a sizeable chunk of the Dolomite mountains. In more than 130 pages of insider info, you can plan your next visit or just indulge in a little armchair travel. Find famous and little-known sights to see and delightful places to stay, and brush up on the region's tempting food and wine offerings.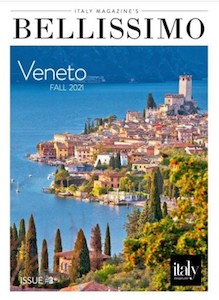 Here are just a few highlights of our special Veneto issue: 
Learn about the historic rivalry between Venice, the undisputed star of the Veneto, and nearby Padua, and why the latter is worth visiting.
Join Silvia Donati as she hikes the best trails in the Dolomites, and shares the best mountain "rifugi" huts to rest your weary bones. 
Dig in with Venetian culinary expert Monica Cesarato as she takes us on a tasty cicchetti tour to sample Venice's signature finger food.
Discover how the other half lived with a visit to some of Veneto's most graceful Palladian villas, which form a combined UNESCO World Heritage Site.
Prepare and taste bigoli in salsa, a hearty regional pasta made with anchovies and onions.
Visit Italy's "other" canal city – pretty, uncrowded Treviso.
There are two ways to enjoy Bellissimo: 
If you're a premium subscriber to Italy Magazine, you can download Bellissimo for free as part of your membership benefits. Just make sure you're logged in to download your free copy.
If you're not a premium subscriber, you can sign up here, and download current and back issues of Bellissimo, as well as enjoy the many other perks of premium membership.