Extraordinary settings with rich histories, delectable cuisine, and swoon-worthy views are just some of the reasons to check them out now.
ATRANI, Amalfi Coast, Campania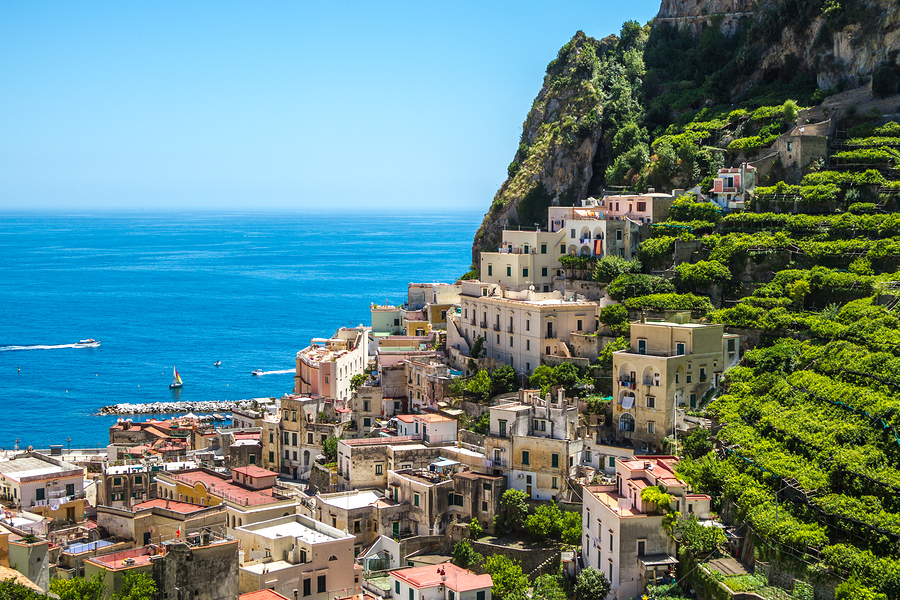 For a very small town Atrani packs in a lot of history, architecture and beauty. During the Middle Ages it was the chic suburb for the aristocratic set in the Duchy of Amalfi, which stretched from Positano to  Cetera. Possibly settled in Roman times, Atrani flourished in the Middle Ages as a commercial hub known for producing fine fabrics and pasta products.  Over the centuries this charming town survived an  earthquake and subsequent tsunami, which Petrarch wrote about and included in a volume of his letters; and the Great Plague of the 1600s. Despite the natural disasters and having to protect itself from coastal invaders, Atrani's many fine buildings have survived, created in styles ranging from Rococo (Santa Maria Maddalena), Moorish (Our Lady of Mount Carmel) and neoclassic (San Salvatore de' Birecto, the church where the coronation for Amalfi dukes was held). A photogenic setting that draws film and commercial projects each year, the town is anchored by Piazza Umberto, the main square with sidestreets flanked by an interlocking grid of white and tinted houses; You can walk to the water from the square—unlike many of its Amalfi counterparts there's a sandy (black) beach. When buildings are lit in the evening, often in special colors, Atrani takes on a specially romantic mood.  Here as in next-door Amalfi the pastas to order are scialatelli and laganelle, (both are varieties of linguini), the former often served with frutti di mare or clams, the latter with prawns.
TROPEA, Reggio di Calabria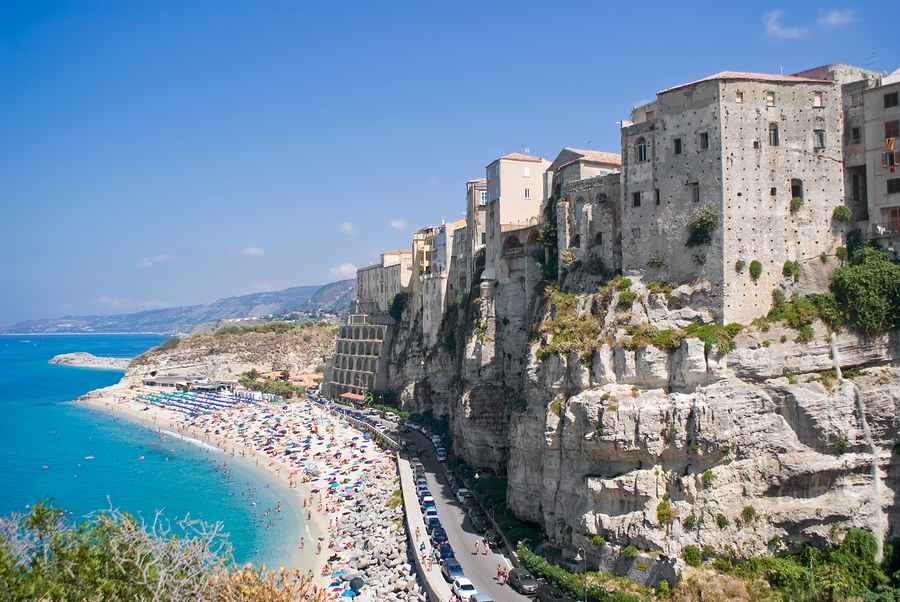 An insider's holiday favorite often dubbed the Positano of the deep South, Tropea offers one of the most dramatic beach settings in all of Italy. Soaring vertical cliffs separate the town from stretches of  sandy beaches—it's a good climb down and back—which flank clear green and warm seas in summer. A popular beach connects the Santa Maria dell'Isola, once an island, to mainland Tropea. The church atop this staggering rock face offers dramatic coastline views and a history that reaches back to the 4th century, when it was a monastery to which a church was subsequently added. The town of Tropea is located on the precipice opposite the Isola—its old town is home to several historic churches, including the Norman basilica, the Concattedrale.  At night head to a beachside restaurant or an outdoor restaurant in one of the tiny sidestreets for super fresh fish dishes, like spaghetti with langoustines, octopus salad and and pesce spada. Pasta made with the town's famous sweet red onions is another must.
OSTUNI, Puglia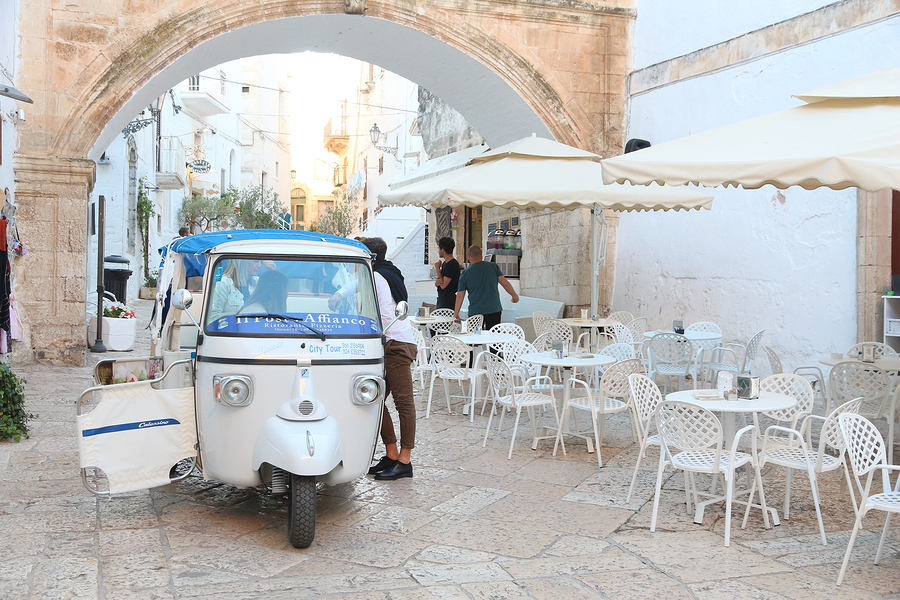 Looking at Ostuni from a distance you might think you're in Andalusia, famous for its Pueblos Biancos; or Greece, another country with exquisite white-washed villages (and a former ruler of this part of Southern Italy). The white limestone wasn't chosen as a building material solely for aesthetics—it was abundant in the area and was a natural coolant during the long, hot summers. A town with a very deep history, Ostuni's earliest settlers reach back to the Stone Age (the remains of a Cro-Magnon, or European Early Modern Human (EEMH) pregnant woman were found here in 1991), Ostuni's history is as layered as the tiers of houses cascading over its three hills. Every major invader or ruler of Southern Italy—among them the Romans, Longobards, and Normans, left their mark here, as did powerful dynasties like the Bourbons and the Sforzas, so you'll find a rich variety of architectural styles in the "old town" like the Romanesque and Gothic cathedral, the Baroque San Vito Matire and neoclassic Palazzo Municipale. Getting lost in the maze-like side streets is also part of the fun in exploring Ostuni. If you hear English spoken in the town, it's not only from visitors—there's a large expat contingent from the UK who have made Ostuni home.  Prawns from Gallipoli; orecchiete with cime di rape; cavatelli with chickpeas; onion foccacia and canestrato pugliese, a sheep-milk's cheese are specialties here.
Like this article? You don't want to miss "5 Italian Riviera Hill Towns That Will Lure You From the Beach."
POLIGNANO A MARE, Puglia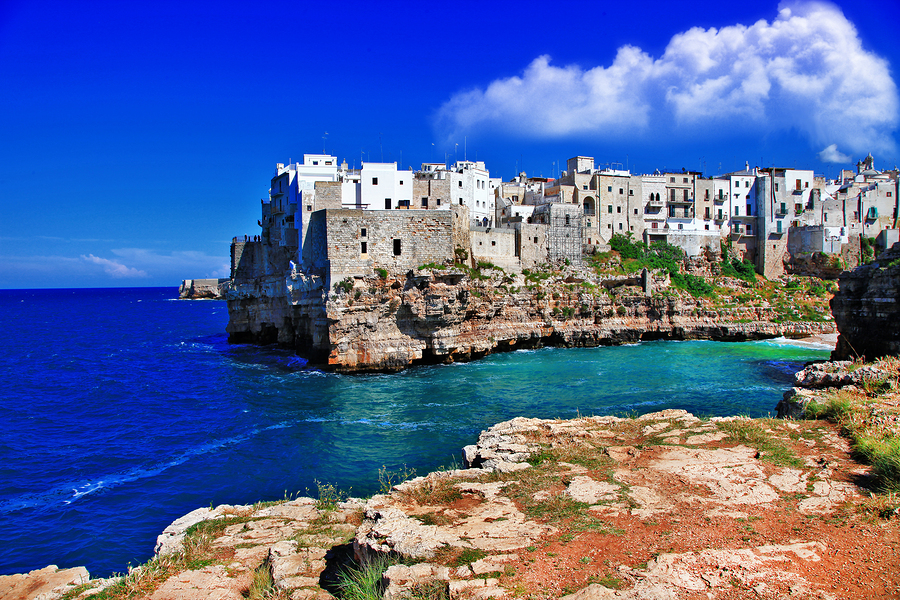 Filled with white-washed houses like Ostuni, Polignano a Mare perches on a precipitous cliff fronting a cove beach with clear blue and green waters.  A Greek and Roman settlement,  the town was ruled by the Byzantine empire, the Normans, the Angevins and even Venice, a reminder of which is the Doge's residence, although it's far less elaborate structure than you'll find in Piazza San Marco. In more recent times, Polignano became known as the hometown of Domenico Modugno, who made the song Volare (Nel blu dipinto di blu) an international hit; and the site of elite diving contests (the next one, the Red Bull Cliff Diving: Italy takes place on September 23-24 2018). Watching (or participating) is not for the faint of heart: divers jump from up 27 meters in the air and reach speeds of 85 kilometers an hour. But the town has plenty of less venturesome activities to offer, like sunbathing between the cliffs; taking a boat tour around the craggy coastline dotted with caves and grottoes; sampling the different types of cornettI produced here (made with Nutella, pistachio and other artisanal creams; there are even multi grain versions). Other specialties worth trying are the locally produced olive oil and carrots; breaded mussels, zuppe di pesce,  pasta with sea urchins; and gramigna paglia e fieno with bacon or sausage and mushrooms.
CASTROREALE, Sicily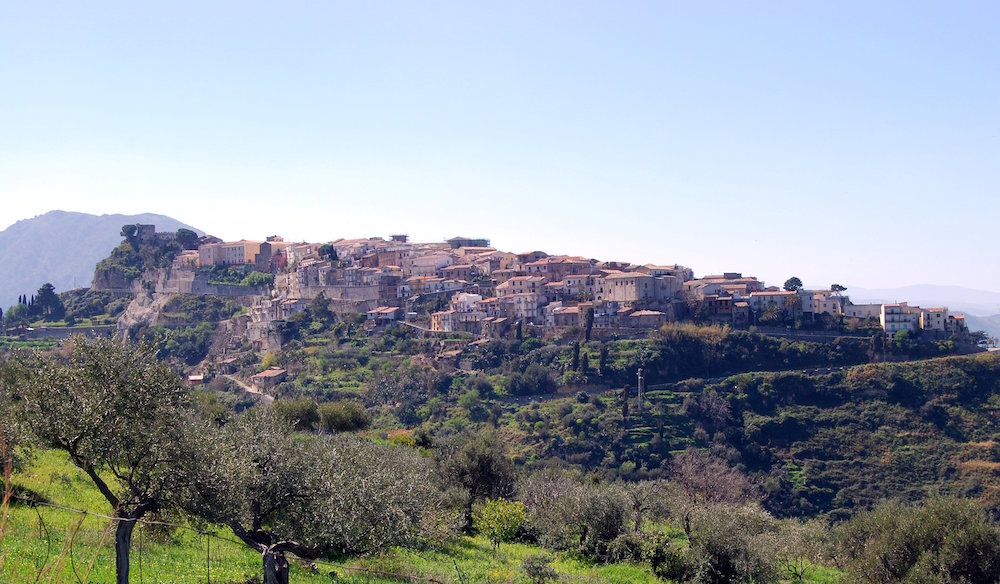 [By Gasp48 at Italian Wikipedia from Wikimedia Commons]
On an island known for its many Baroque splendors, Castroreale serves as a well-preserved album of Sicily's medieval past. The town grew and flourished under the patronage of Ferdinand III, who rebuilt a castle here in the 14th century as thanks for Castroreale's support during the War of the Vespers. (The tower and ruins of his castle, built on an ancient Arab fortification, survive to this day.) Thanks to the prosperity brought on by royal connections —Emperor Charles V also favored the town—Castroreale became a trove for fine art. There's an art museum, the Pinacoteca di Santa Maria degli Angeli with many important ecclesiastical paintings and sculptures from the late Middle Ages and early Renaissance. You'll find more noteworthy artwork In the Civic Museum, part of the Church of St. Filippo Neri complex, and at the Duomo (Cathedral of Santa Maria Assunta), which dates from the 1600s although it was frequently renovated over the years due to earthquakes.Castroreale has a number of local dishes, among them macaroni made with, ricotta and either a meat sauce or eggplant, and the anise-flavored "abbess" cookies, "u biscottu da badissa."