Gelo di Anguria: Sicilian Watermelon Pudding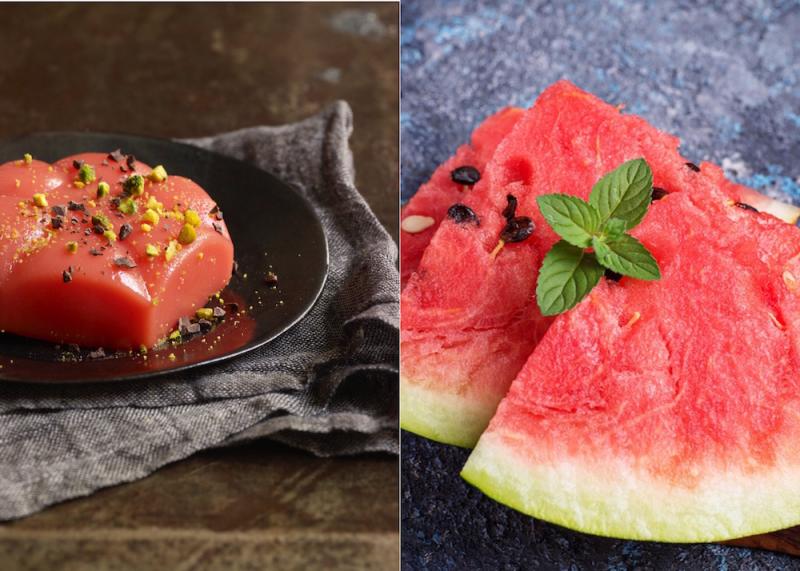 Cooking Time
15 minutes, plus 4 hours in refrigerator to set
Watermelon custard, or Gelu di miluni in Sicilian dialect, is served all summer, but especially on July 15 in Palermo, in honor of Saint Rosalia, the city's patron saint. It's also popular on Ferragosto, August 15, Italy's national holiday and the peak of summer vacation.
Watermelon is pureed, then thickened with a little cornstarch to create a light, non-dairy, non-fat treat. Bits of chocolate can be mixed in, which whimsically mimic watermelon seeds, or you can just top the treat with chocolate and pistachios, as in this recipe, to add delicious flavor and crunch. In Sicily this dessert is traditionally served with edible fresh jasmine flowers, a lovely floral aroma that perfectly complements watermelon. 
There are many variations on this traditional Sicilian cornstarch custard that dates back centuries. Sicilians also make it with fresh orange, lemon or tangerine juice and during the grape harvest season, a version is made with grape must. There is also a variety made with espresso or carob and another classic Sicilian custard made with cinnamon that dates to the 17th century.
Serves 4 
Ingredients
watermelon
3 to 4 cups diced and seeded, plus more if needed
cornstarch
3 1/2 tablespoons
sugar
granulated sugar: 1/3 cup, plus more to taste
Maraschino or other cherry liqueur
2 tablespoons
dark chocolate
1 ounce, finely chopped
pistachios
¼ cup, very finely chopped
Fresh jasmine flowers
optional
Instructions
Puree the watermelon in a food processor, until liquidy, and then press through a mesh strainer. You will need 2 cups of liquid, so process more watermelon, if necessary.
In a saucepan, combine the watermelon juice, cornstarch and sugar until dissolved.  Simmer the mixture over low heat, stirring until it thickens, about 4 minutes. Remove from the heat and stir in the Maraschino liqueur. Taste and add more sugar, if you like. Pour into 4 serving cups or molds and refrigerate until firm, about 3 hours.
To serve, unmold onto a serving plate or serve in the cup, garnish with chocolate, pistachios, and jasmine flowers, if you have them.