Pinza Bolognese - Jam-filled specialty of Bologna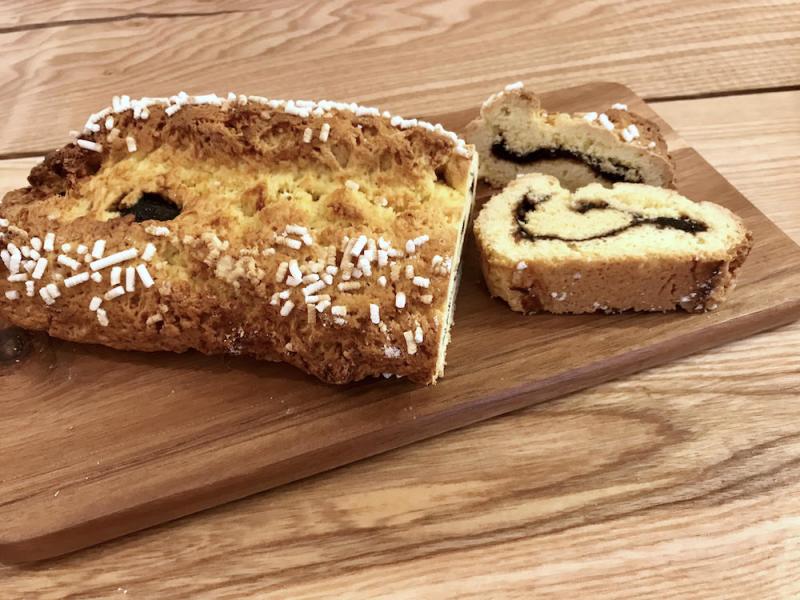 Pinza* Bolognese, shortbread dough spread with a special jam and rolled, was a traditional Christmas dessert in Bologna, but is now available year-round. The jam, called Mostarda* Bolognese, is made of quince, pears, orange peel and sugar, and is cooked for so long it becomes almost black. Some add raisins, nuts, cinnamon or even a bit of rum into the filling, but it's this mostarda that makes pinza Bolognese so special. Be sure to bring home a jar when you visit Bologna, but if you can't, substitute good quality plum or sour cherry jam. Just be sure whatever jam you use is dense and thick.
The recipe first appears in 1633 in a book by Bolognese nobleman and agronomist Vicenzo Tanara, so I thought it fitting to learn to make it in Bologna's oldest hotel, Cappello Rosso, which dates to 1375. Adjacent to the hotel is Osteria del Cappello, a historic symbol of Bologna's hospitality, which recently opened Bottega Cappello Rosso, that sells fresh pasta and desserts and hosts cooking classes.
Pinza Bolognese is one of Italy's torte da credenza "cupboard cakes," which keep nicely out of the fridge for at least a week. In Bologna this cake is eaten at breakfast or as a snack in the afternoon.   
*Pinza from the Veneto region has the same name but tastes completely different, made with cornmeal and raisins. 
*Mostarda Bolognese is sweet, for use in desserts, and is totally unlike the savory-spicy mostardaof Cremona, which has the spicy tang of mustard oil, and is paired with cheeses and salumi. 
Serves 8 to 10
Ingredients
00 flour
2 1/2 cups (500 grams)
sugar
3/4 cup (150 grams)
baking powder
2 teaspoons
unsalted butter
7 tablespoons (100 grams) cold
mostarda Bolognese*
1 to 1 1/2 cups (preferabbly Cavazza brand)
decorative sugar
2 tablespoons
Preparation
Using the kneading paddle mix the flour, sugar, baking powder, butter and lemon zest until crumbly and combined. Blend in the eggs, one at a time. Knead into a ball, cover with plastic wrap and refrigerate for an hour. 
Meantime, preheat the oven to 350 degrees and line a sheet pan with parchment paper. 
On a silpat or on lightly buttered parchment paper roll out the dough into a rectangle a half-inch thick. Spread generously with the jam on the dough, leaving a half-inch border along the edges. Carefully fold the right and left sides of the dough, overlapping at the center. Put onto the baking pan with the connecting section down. Using a pastry brush, brush the dough with the milk and sprinkle with decorative or granulated sugar. Bake for 30 minutes or until firm and cooked through.
*If you can't find Mostarda Bolognese substitute dense plum jam, mixed with a heaping tablespoon of orange marmalade, or sour cherry jam mixed with ¼ cup of raisins. 
Recipe courtesy of Bottega Cappello Rosso
https://www.alcappellorosso.it/osteria
Galleria Falcone e Borsellino, 2/E
Bologna – Phone: 0514681349
bottegadelcappello@gmail.com