"Italy, and the spring and first love all together should suffice to make the gloomiest person happy." -- Bertrand Russell
Italy has captured the hearts and minds of people from all over the world. As we are currently working on our ITALY Magazine Blogger Awards 2015, we have temporarily suspended our weekly series "Featured Blogger of the Week" to devote time to the very large list of award nominees; next week, you will get to vote on the shortlist.
In the meantime, we have compiled a list of blogs written in their own native language, not in English or Italian, that we think are worth discovering with your handy little 'google translate' button located in your Chrome browser.
We know we probably left out some good ones, so we encourage you to let us know which ones we missed by leaving a comment. Until then, enjoy this list of 11 blogs about Italy in Dutch, French, German and more! 
Ciao Tutti – Blog in Dutch
The biggest Dutch blog in Italy was created by the always smiling Saskia Balmaeker who was inspired to start a website all about Italy after a trip to Rome. In her words, "From Rome, I began to explore the rest of Italy, from Naples and the Amalfi Coast in the south to Milan and Venice in the north. So my passion for Rome grew into a passion for Italy, and now I never let a month pass without a trip to the land of spaghetti, cappuccino and Vespas." Now Saskia employs a number of guest writers to keep up with Italy highlights from all over the country; we especially love her "Italy in 365 photos", a photo of Italy for every day of the year.
Grazieate – Blog in Portuguese
This blog was started by Denya Pandolfi and Isabela Discacciati, two Brazilians who reside in the Veneto region and Florence. Their aim was to share, in their own language, tips about Italy: for example, where to get the best gelato in Florence, see the most amazing panoramic views of Venice, let people see the old bottega where they do their shopping, and advise what clothing to wear for any season. In their own words, "We want to show Italy and its assets outside of clichés, through our wanderings in the regions of Tuscany and Veneto." One of our favorite categories on their blog is their 'street style' series, featuring everyday styles from real people in Italy. We also recommend that you check out their great Instagram account.
Italiaans Koken Met Antoinette – Blog in Dutch
Italians aren't the only ones to share their passion for their cuisine, foreigners have been coming here for centuries and embracing local food wholeheartedly. Dutch foodie Antoinette first came to Italy in 2001 for love, the gorgeous weather, and culture of cuisine. On her pretty blog, she shares recipes and the story behind them. Her latest recipes of 'mackerel with capers and oregano' or 'creamy chocolate cake with ricotta' are enough to make us drool on our computer keyboards. Check out her recipe index to conjure up an entire meal with lots of creative options.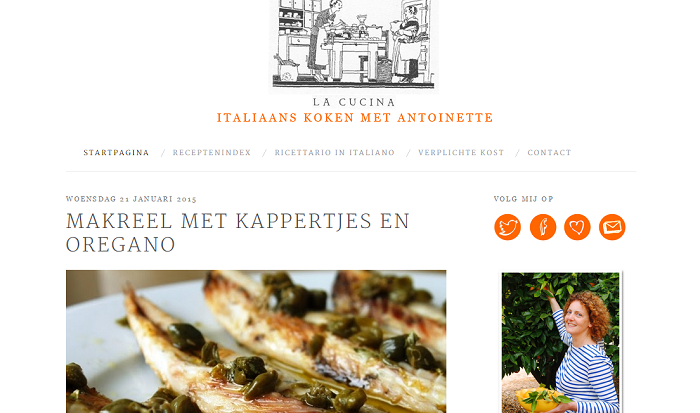 Plorit – Blog in Polish
We found an interesting blog from a Poland native who lives in Italy, Anna. The name of the blog itself - PLorIT - comes from the abbreviation of Polish (pl) and Italian (it). Her blog is in both Polish and Italian and is utterly fascinating: she talks culture, life in Italy and shows comparisons between the two countries. Her goal is showing Polish readers what life is really like in Italy, while also trying to share with Italians a little more about Polish culture. She has been in Italy for over 13 years and currently lives in Le Marche region.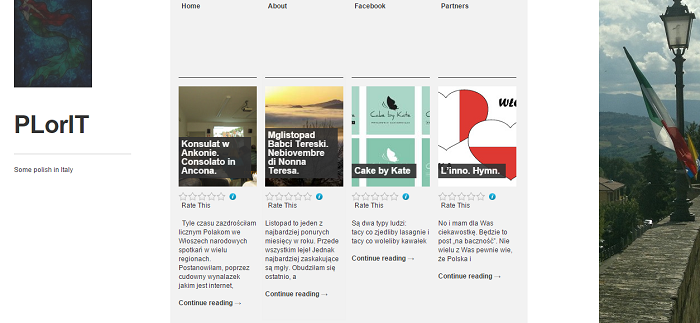 Passeios na Toscana – Blog in Portuguese
This colorful blog is the brainchild of Deyse Ribeiro, who is Brazilian but now living in the Chianti hills in Tuscany. She is a professional tour guide and avid blogger, sharing travel tips and advice for those visiting one of Italy's most popular regions. The topics she covers are quite vast, from interesting local events to how Italian fashion was born. We recommend downloading her local maps, created together with her husband Marco, offering insider information about popular points of interest in cities like Pisa, Lucca and Florence.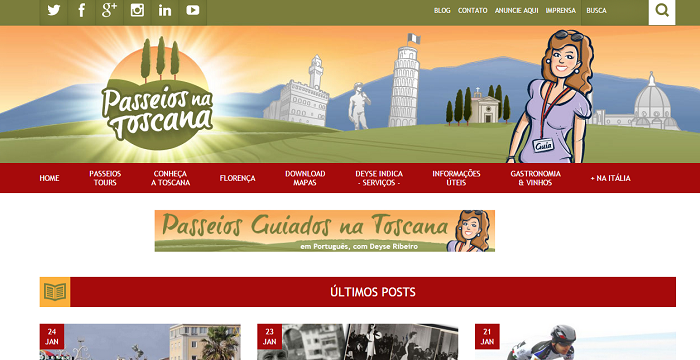 Repatorta – Blog in Hungarian
Hungarian blogger Ottília Sőrés writes all about sweets, which makes a lot of sense because she is a pastry chef living in Italy with a passion for sharing natural cake recipes without additives. Her recipes include one for the famous Italian Colomba di Pasqua (Easter dove), which always graces the table on Easter Sunday. Her photos really complement well her recipe posts.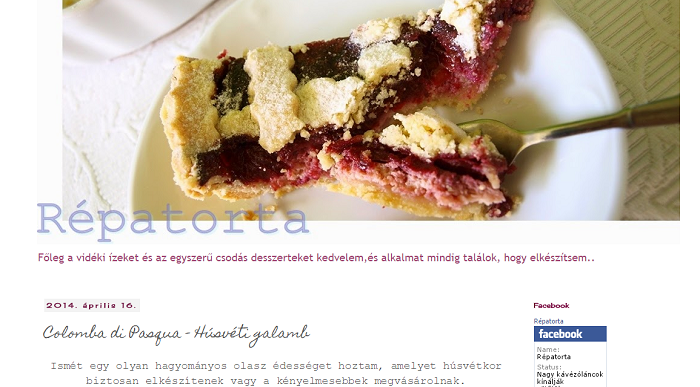 Italia Poza Szlakiem – Blog in Polish
This blog called "Italy Off The Trail' was started by Magda snip-Baklarz, originally from Poland but now residing in Hamburg, and traveling often to Italy, often on a sailboat! She offers lots of interesting advice for those coming to visit Italy for the first time and tries to bridge the gap between the two cultures of Poland and Italy. Her photographs are particularly adept at telling stories, one of our favorite posts of hers is "Italian piazzas are a man's world", where she talks about photographing people, particularly men in piazzas around the country. "What do you see here? Ongoing conversation about everything - about money and politics, neighbors and health, food, wives and lovers, about old adventures, plans, shopping. Sometimes they sit alone, and sometimes it's the whole group. Tend to be a beacon, a landmark, or just an interesting phenomenon for tourists from the north."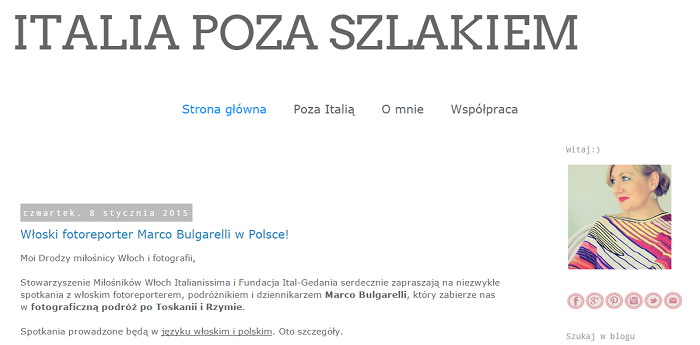 La Capocuoca – Blog in German (Austria)
Claudia is from Vienna, Austria, with Italian roots. She's a cook, and her blog revolves primarily around food and photography. Her personal description states, "If you are what you eat, I would be most likely a plate of pasta - with lots of Parmesan on top." Claudia's posts are made even more special by her great photography, which really helps bring her stories to life. Our favorite posts include one on 'biancomangiare', a very historical dish in Italy, and one about chocolate stout beer.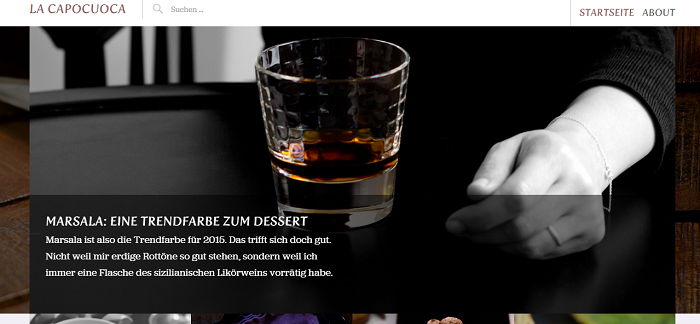 Blog Italia – Blog in Russian
Tanya is 27 years old, from Russia and now living in Naples. Her goal with this blog is to share with people what life is really like in Italy and give people advice on how to move, and what to expect. Blog Italia is a compilation of Tanya's notes, impressions, tips, recipes and photos. We imagine that her blog is an extremely helpful resource to the Russian community, especially with posts that tells you what and how to get an Italian residency card. We recommend you check out her posts about Naples, where she shares a lot of sound advice on where to go.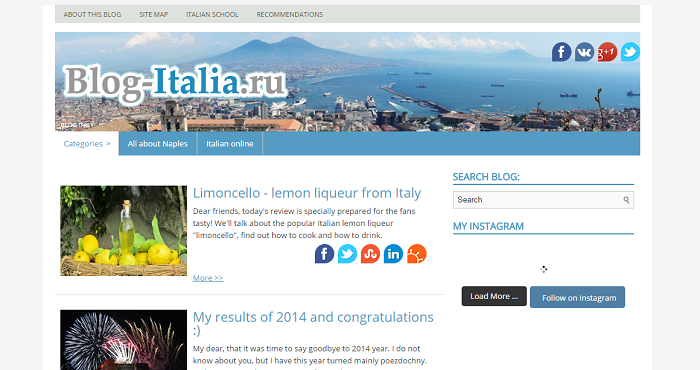 Gloria at 45 North – Blog in Taiwanese
Gloria Change is a Taiwan transplant who has moved with her husband to Milan. She has a passion for gourmet cuisine and wine which she shares in her blog, Gloria at 45 North. Gloria is also a certified sommelier. Her blog is gourmet gold mine, and she touches on restaurants in Milan, and particularly their chefs with plenty of Michelin star mentions. She also smartly posts on the top of her blog a warning to "never drink and drive."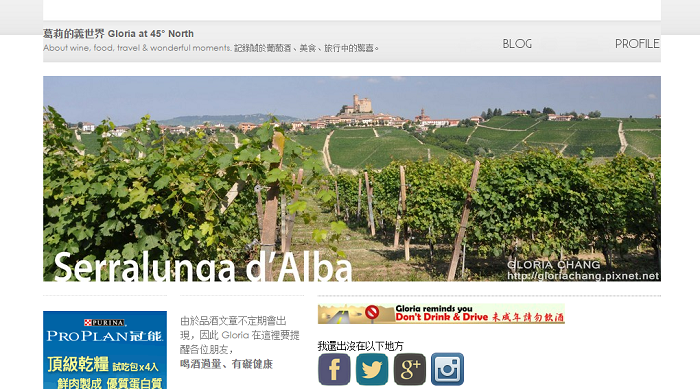 Alidifirenze – Blog in French
Alice Cheron, or 'Ali' as she is known to friends, is from the south of France and now lives in Florence. Having started her blog in 2013, she writes about lifestyle, fashion, food and where to get a pair of perfect leather sandals. In her words, "Born as a city guide to share my Florentine addresses, the site has evolved through the essence of what represents Italy: above all a certain kind of lifestyle." Besides her wonderful articles about Florence, she touches on travel in Tuscany, Sicily and Puglia.