Though Umbria has been known as "the next Tuscany" for decades, this small region in the center of Italy has managed to dodge the bullet of tourist crowds and skyrocketing prices that Tuscany-level name recognition and cachet can bring. Despite equally beautiful countryside, Instagram-ready hill towns, excellent wine and traditional cuisine, and a wealth of art and culture, Umbria hovers just under the radar for most of the world, which is good news for those thinking of moving here.
Set about halfway between Rome and Florence, Umbria is ideal for those who want the leisurely pace and human connection of living in a predominantly rural area while still remaining within striking distance of major cities and their international airports. 
If you are considering putting down roots in Italy's "green heart", here are some parameters to calculate monthly living expenses for two adults. Taking into account everything from housing to local food festivals, you'll find that a couple can get by in Umbria on as little as €2,000 a month, and live well with a monthly budget of €2,500.
Housing Costs in Umbria
Though housing in Umbria isn't as rock-bottom cheap as more remote regions like Basilicata or Abruzzo, with a bit of patience you can find deals both on the real estate and rental markets. 
Keep in mind that there are a wide range of housing options in Umbria, which makes it easier to find a home to rent or purchase that suits your budget, from "top shelf" to "penny pinching". 
Purchase Prices
The most expensive homes to purchase are generally restored farmhouses that include a pool, significant parcel of land, often an olive grove or small vineyard, and a view from a scenic hilltop perch. The closer you get to hill towns like Assisi, Todi, or Spoleto, the more expensive these run, quickly pushing past the €1,000,000 mark. 
If you would like to purchase a home on a more modest budget, opt for an apartment in the center of a small village, especially one that does not attract much tourism. In this case, you can find a historic 2-bedroom apartment or townhouse for less than €100,000 (or half that, if the property needs extensive restoration). You'll find that listing prices go up significantly in towns where there is a market for short-term rentals (i.e. vacation rentals or student housing), so apartments and townhouses in touristy Assisi or the university town of Perugia begin at about €200,000.
A note: when purchasing a home, pay close attention to the quality of its insulation and heating system, as one of the most daunting expenses in Umbria is often the cost of heat through the winter.
Rental Prices
If you are not ready to commit to purchasing a home, renting is an excellent alternative, though there are fewer options for long-term rentals of entire homes in the countryside. Instead, you'll find a wide range of apartments and townhouses to rent everywhere from Umbria's elegant provincial capital of Perugia—expect to pay between €800 and €1,000 month for a spacious apartment in the historic center, or from €400 in the less charming but more economical suburbs—to the smattering of tiny hamlets in hill towns across the region, where a two-bedroom apartment can be found for as little at €250.
Unfurnished apartments (meaning that there is no kitchen) can be found for a slightly lower monthly rent, but you will have to shell out anywhere from around €1,000 to several thousand euros for a kitchen and other basic furnishings (light fixtures and bathroom cabinets are often no included in unfurnished apartments, for example). Semi-furnished apartments with a kitchen, washing machine, and finished bathroom can be slightly more expensive, but there is no hassle with having to install cabinets or appliances.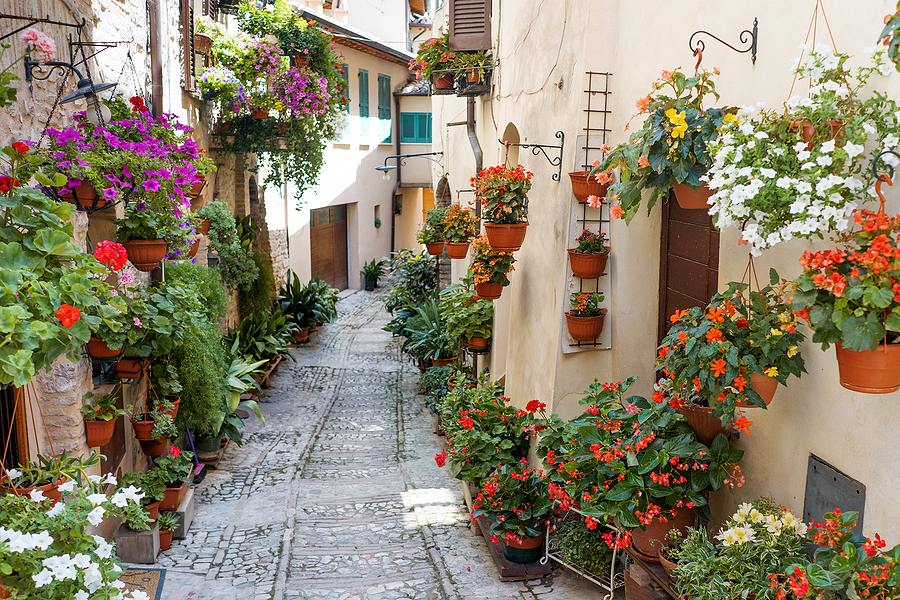 A note: though rentals are more expensive in larger towns, you can also get by without a car in the center of Perugia or other towns with shops, pharmacies, and other essential services within walking distance. Maintaining a car in Italy can be quite costly, as we'll see below.
Like this article? Don't miss "How Much Does it Cost to Live in Italy: Abruzzo"
Monthly Utility Costs in Umbria
Utilities in Umbria are expensive, as they are across Italy. Expect to pay between €200 and €300 a month for electricity, gas, water, internet, and garbage tax for a two-person household in a city or town. If you own your property, you will also have to factor in property tax (IMU), which is much lower if you are a resident than if the property is registered as your second home.
The biggest factor in monthly utilities is by far heat, which can be either via a natural gas line in a town or city, a refillable tank in the countryside, or a wood or pellet stove in either the city or country. Sprawling old farmhouses in the countryside may be picturesque, but they are also often badly insulated and not connected to the natural gas line; the cost of heat over a single winter can run as high as €1,000 a month. Otherwise, you can install a wood or pellet stove or solar panels, which lowers heating costs significantly. Before you commit to either a purchase or rental, be sure to verify the heating system and estimated cost or you may be in for a very unpleasant surprise!
Another important monthly cost to factor in is ownership of a car. You can easily get by without owning a car in a larger city or town, but a car becomes a necessity if you live in the countryside or a small hamlet with few services. Umbria does not have very good public transportation between the small towns, though there are two main rail lines that connect the towns in the Umbrian valley and those between Rome and Orvieto. In addition to the cost of purchase, you will need to pay insurance, the registration tax (bollo), maintenance, and fuel. These costs can easily add up to at least €2,000 a year. 
You will also have to purchase health insurance or opt into the public health system in Italy as a resident, which begins at about €350 a year per person for a basic plan. 
Monthly Food Budget in Umbria
Umbria is a foodie paradise, with excellent local meat, cheeses, heirloom legumes, wines, and gourmet goodies like truffles and saffron. In addition, there are excellent informal restaurants in both the towns and countryside where you can tuck into a multi-course meal without breaking the bank. On average, a couple can eat well with a relatively limited budget of around €400, including both groceries and a smattering of meals out. The uniquely Italian pleasures like an espresso tossed down at the bar like a local (€1), an aperitivo with a cocktail and nibbles overlooking the piazza (€5), or a wood-fired pizza fresh from the oven (€7) can be had so cheaply that they quickly become regular habits. 
Though you can keep your food budget in check by shopping at the larger chain supermarkets and limiting your meals out, it would be a shame to miss out on the region's delicious artisan specialties that can be found at the more expensive organic and farmer's markets and smaller, local grocery stores, butcher shops, bakeries, and greengrocers. Not only is the quality of the food generally much higher than the larger supermarkets, but the opportunity to get to know the vendors personally is priceless.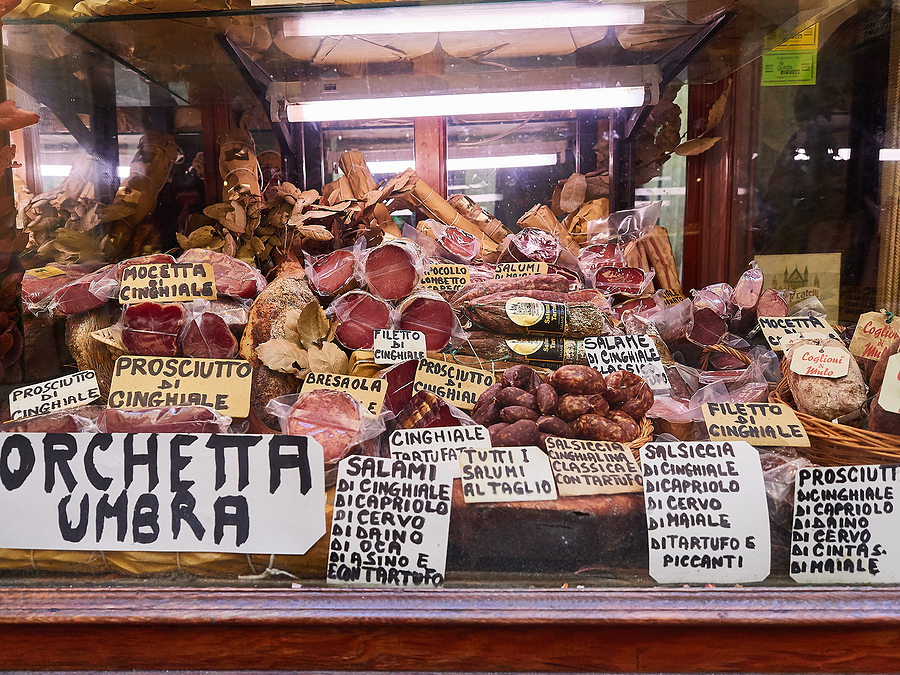 Be sure to put aside money in your monthly budget for wine, as Umbria has remarkably good wines that can be found for a fraction of what they cost outside the country. A good table wine can be had at little more than €10 a bottle; for double that, you can often find an extraordinary label. That said, a couple can easily go through a bottle of wine a day with just a glass or two at lunch and dinner, so the cost can quickly add up.
Fun and Festivals in Umbria
Though there are a number of delightful museums in Umbria, most of the art and architecture is free for the taking in the region's many historic towns and churches. You can spend your leisure time strolling through villages like Spoleto, Spello, Assisi, and Bevagna for free, or for the price of a coffee or gelato break.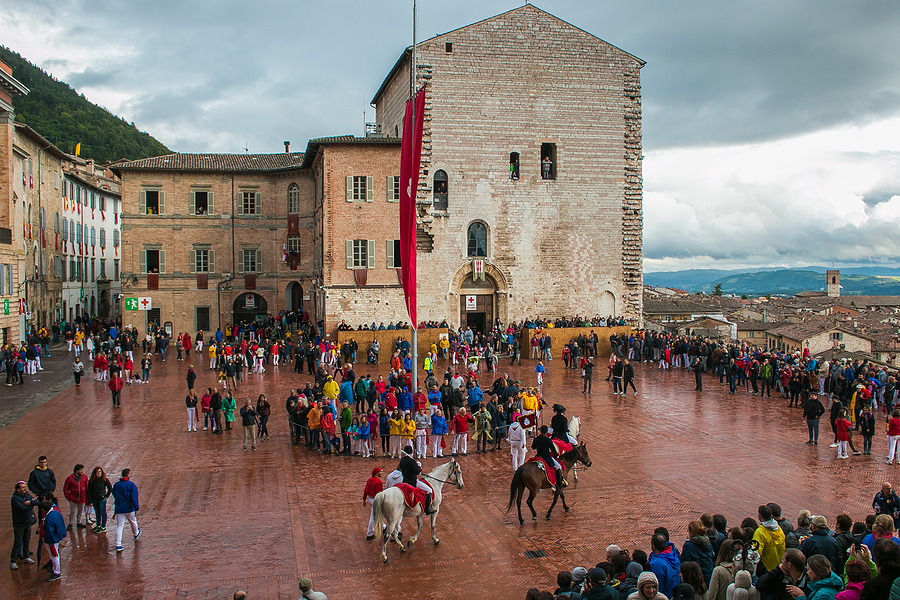 In addition, Umbria is known for its many historic and food festivals, again most free to wander (though you will have to spring for a meal if you want to taste the wares). Even the world-class Umbria Jazz Festival can be light on the pocket if you avoid the main events and instead stick to the free outdoor concerts and street musician acts. In short, much of Umbria's culture and entertainment can be enjoyed virtually for free, as well as its beautiful countryside, Lake Trasimeno, and natural parks and reserves.