The northern region of Lombardy, named after the northern Lombards, a Germanic tribe who invaded and drove out the Romans, is Italy's most developed and richest region. Throughout the centuries, it has profited from being accessible through numerous mountain passes, thus establishing itself as an important commercial crossroads; for this reason, its capital, Milan, is often considered more important than Rome, with the big businesses in the city exerting both financial and political pressure across both its nation and northern Europe. After all, it is the city with the largest Gothic cathedral in the world, where Leonardo di Vinci lived and worked for twenty years and is the fashion mecca of the world.
But there is more to Lombardy than big business and fashion houses; the region boasts some of Europe's most spectacular lakes and, despite being one of the most urbanised regions, it still has a few surprises hidden within its medieval centres.
Milan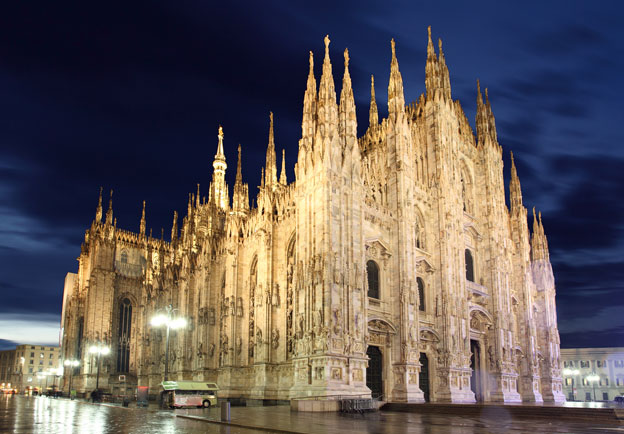 Milan's Duomo
Much has been written about Milan and although it's frequented by tourists throughout the year, its main visitors arrive to do business. This said, many tourists enjoy the plethora of traditional restaurants and bars that sit cheek by jowl with contemporary ones, meaning the city has something for everyone.
Milan has so many places of interest, just visiting its many historical churches could take up a week of your time, but no stopover would be complete without a visit to the Duomo. The building of the cathedral, situated in Piazza del Duomo, undoubtedly Milan's busiest area, began in 1386 and took nearly 500 years to complete, with the façade's finishing touches taking place in 1813.
Inside the Duomo, be sure to take in the Scurolo di San Carlo (Open daily 09.00 am -12.00 and 02.00 - 06.00pm, entrance fee €1), where the remains of St. Charles Borromeo rest, clothed, bejewelled and crowned in a glass coffin; and it would be a shame to miss the graphic statue of St. Bartholomew who wears his flayed skin over his shoulder like a toga. The 16th-century statue that stands beside the door to the Palazzo Reale is so anatomically accurate that the bones, veins and muscles look almost real.
One thing tourists are often not aware of and many miss out on is the chance to walk among the statues and pinnacles of the Duomo's roof: for a nominal fee, you can gaze over the splendour of the city and get up close and personal with the central spire complete with the gilded Madonnina.
Getting About:
Milan is certainly one of Europe's busiest cities and a portion of it has become pedestrianised, so it's probably best to leave the car behind and use the very reliable bus and metro system.
The Lakes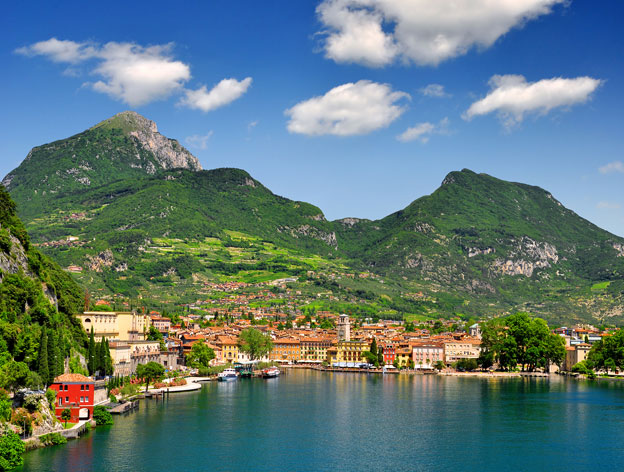 Riva del Garda on Lake Garda
Lombardy is famous for its lakes and each year tourists descend upon them in droves, with Lake Como being the most popular with an estimate of over 150,000 visitors annually; the purchase of Villa Oleandra in 2002 by the actor George Clooney has probably helped to swell the lakes visitor numbers.
Lake Garda, the largest of the lakes, is a must for families with children: built on the eastern shore is Gardaland, a water and amusement park complete with theatrical shows, a hotel and roller-coasters; for those looking for something more sedate, the lake has a multitude of local attractions and tranquil places for relaxation.
The vast majority of tourists visiting Lake Maggiore tend to holiday on the western side of the lake which is technically in the Piedmont region. The gem of this area is the lavish villas and gardens of Isole Borromee and be sure to enjoy a stroll along the elegant lakeside promenade at Stresa.
Don't think that a visit to the lesser known lakes of Orta and Iseo will deliver something the tourist industry have missed: although more subdued than their more famous siblings, these lakes are  both geared up for tourism and have all the usual trappings of shops, bars, restaurants and boutiques. That said, they are both worthy of an afternoon's contemplation.
An ideal base for exploring the lakes and northern Lombardy is Brescia; it's less expensive than nearby Bergamo, with its Venetian influences and split identity. Renowned for its arms industry, Brescia still has enough to tempt the tourist, from prized Roman ruins to its medieval centre. Although some parts of the town are uninspiring, the main advantage for making this town your base is its excellent transport links to Milan and other nearby towns and cities.
My three places not to miss are:   
Mantua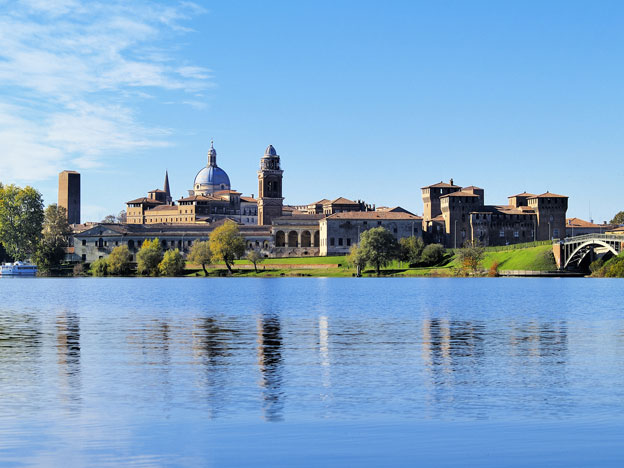 Panorama of Mantova as seen from one of the three artificial lakes that surround the city
The town Shakespeare had Romeo banished to. It's an ideal spot for anyone wanting to explore the southern region: nearby is Cremona, birthplace of the violin and just forty-minutes over the border into the Veneto region is Verona, where Romeo met his star-crossed love Juliet.
Writer Aldous Huxley, author of the modern classic Brave New World, labelled Mantua as the most romantic city in the world, and with many designated cycle routes, what could be more romantic than an afternoon bicycle ride through the medieval streets, followed by dinner at one of the many candlelit restaurants.
Sanctuary of Beata Vergine delle Grazie (Curtatone)
Just twenty minutes away from Mantua is Grazie with its quirky little church, chock full of weird and wonderful artefacts and offerings including a stuffed crocodile that hangs from its ceiling. Clothes aged over the years and mannequins are displayed in niches, whilst body parts made out of wood are nailed to its walls in thanks for miraculous cures received. After a morning of madness, pass the time with a lunchtime stroll beside the church amid the marshes filled with birdlife.
Museo della Pipa (Gavirate Varese)
You don't have to be a smoker to enjoy an hour or so browsing through the museum's ten rooms that house over 30,000 examples of pipes from all over the world, including rare Tyrolean briar pipes, handcrafted Columbian ones and various documents, tools and equipment for pipe-making.
Close to the shore of Lago di Varese, which is always pleasant to stroll around during summer, the museum is situated on Via del Chiostro, 1/5, Gavirate (Varese), an hour west of Como. The museum is open upon request from April to October with admission being free.
Getting There
Lombardy is primarily served by Linate Airport in Milan, and Bergamo Orio al Serio with flights from the U.K. leaving East Midlands, Birmingham and London daily. There are also flights from other European cities direct to Malpensa Airport in the west (province of Varese). Also with Lombardy being the hub of Italy's business sector, it has an unrivalled bus and train service. Beware, taxis in Milan can be costly, so stick to the Metro whenever possible.