John Bensalhia takes a journey into the world of coffee and looks at the past, present and future of this much-loved drink in Italy
The Friends sextet drank it by the gallon in Central Perk in the Nineties and Noughties. Otis Redding and Bob Dylan amongst others have sung about it. It's one of the most popular drinks worldwide, and is a highly common beverage in Italy.
I'm talking about coffee, the much-loved "Wine of Arabia". Statistics from the International Coffee Organisation claim that 5.8 kg of coffee are consumed by Italians every year. It's a far cry from the days in which only the rich and privileged chose it as the drink of choice. Today, it's served in many a coffee shop across Italy in all sorts of formats from the traditional espresso and cappuccino to the caffe con panna and caffe schiumato.
To get a gauge on how coffee first came to be in Italy, let's hop into the time machine and set the controls for the 16th century.
Have you bean there?
Originally, coffee is said to have been mentioned as far back as the 10th century AD. It's said that initially, Ethiopian highlanders farmed the coffee plant – the potential for coffee trade was recognised by the Arabs. Beans were sold to Northern Africa, upon which mass cultivation took place.
Coffee was starting to become hot property – not only was it famed in the early 14th century by explorers for its medicinal properties, it was becoming massively popular in locations all over Europe. And around the year 1570, coffee is said to have entered Italy. It is said to have been introduced in Venice, where trade was blooming between local businessmen and Arabs who were importing various commodities and goods. One such example was coffee and swiftly, merchants were selling it to the great and good of Venice. But because of the high prices, only the privileged few could afford this luxury. In the 1590s, the first mention of coffee was attributed to Paduan botanist and physician Prospero Alpino. His book De Planctis Aegyptii et de Medicina Aegiptiorum talks of the drink.
Because of its Eastern origins, initially the church did not welcome coffee with open arms. It was initially seen as a threat to Christianity from Islam – but this was to change after Pope Clement VIII approved heartily of the drink. In the wake of the Pope's seal of approval, coffee was regarded as a Christian drink, with its popularity going from strength to strength.
Rapidly, it became common practice for people to meet up and come together over a cup of coffee. Judge Francesco Morosini once noted that business people would meet each other over a "hot, dark beverage". With that in mind, a location was needed for people to meet up and enjoy the coffee. So, around the year 1683, the first coffee shop was introduced in Venice – and from that moment on, coffee shops would spring up all over the country in practically every town, from Genoa to Milan to Rome. Coffee shops would be frequently patronised by many famous artists, novelists and poets who would use the cafés as a handy base for swapping ideas and coming up with new projects.
A slice of coffee history
It's still possible to enjoy a slice of coffee shop history (while enjoying a crafty slice of cake with your coffee!). Here are some notable examples.
CAFFE FLORIAN
It's said to be not only the oldest existing coffee house in Italy, but also in the world. Initially established on 29th December 1720, it first went by the name of Alla Venezia Trionfanten (Venice The Triumphant) before settling on its current name (which was incidentally named after the owner Floriano Francesconi).
When it opened, the coffee house only contained two simply decorated and furnished rooms. But over time, it underwent significant expansion and restoration. For example, in 1858, Caffe Florian was restored by Lodovico Cadorin who assembled a top-drawer crew of Venetian artists and artisans to work on the project – the line-up included Giacomo Casa, Antonio Pascati and Giulio Carlini. Over the next few years, decorations and rooms were added to add an extra sense of style and grandeur. Among the rooms at Caffe Florian are the Senate Room, the Oriental Room, the Hall of the Illustrious Men and the Hall of Seasons.
There's a large selection of food and drink to be enjoyed – in addition to the coffee, there's plenty of high quality foods including sandwiches, quiches, mousses and tortes.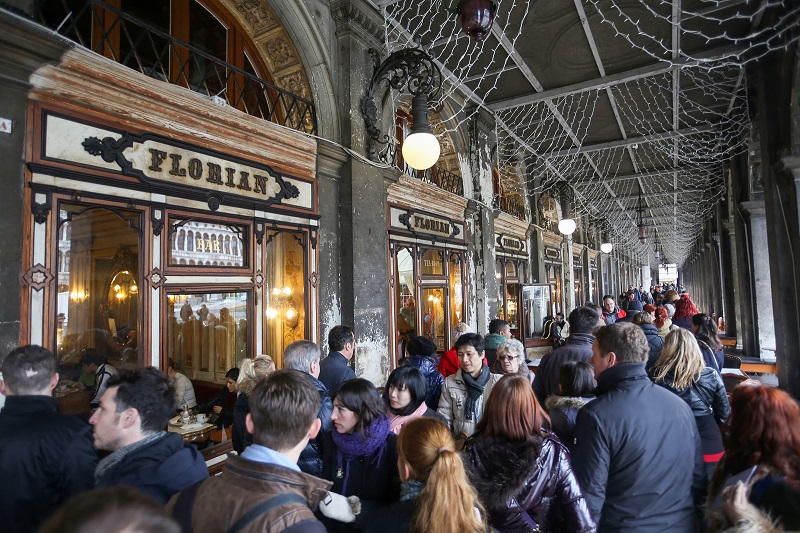 ANTICO CAFFE GRECO
This is another coffee house that dates back to the 18th century. Antico Caffe Greco (or Caffe Greco as it's also known) originally opened its doors in 1760 and is said to be the oldest of its kind in Rome.
Named after its Greek owner, Antico Caffe Greco attracted a good number of famous faces from the arts. Over the years, this coffee shop would be graced by the likes of Hans Christian Andersen, Keats, Byron and Liszt.
A quick look at Antico Caffe Greco's coffee menu today shows that this coffee house can provide something for everyone with a wide selection of coffees made just the way you like them. Caffe Espresso, Caffe Americano, Caffe Freddo... the list goes on (and that's just a small sample!), so why not pop in and sample some of these coffee delights for yourself?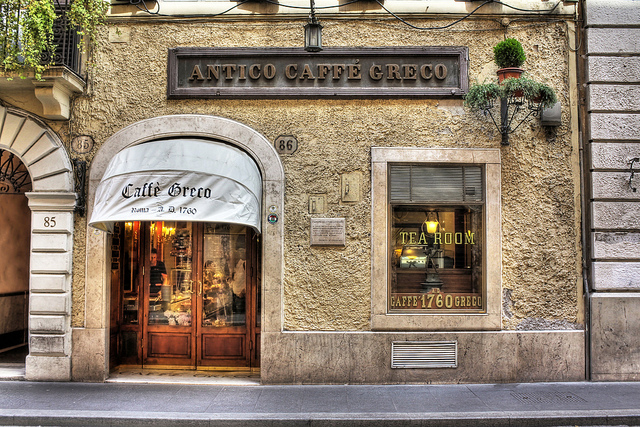 Antico Caffe' Greco, Photo Credit: http://www.clubmilano.net/
PEDROCCHI CAFE
In 1772, Francesco Pedrocchi of Bergamo opened a new coffee shop in Padua. Designed to be located near amenities such as the local university and markets, the Pedrocchi Café quickly became an instant hit, attracting the likes of Byron and novelist Stendhal.
It's another coffee location that's known for its distinctive style – in the 19th century, work was undertaken by architect Giuseppe Jappelli on redecoration and redesign. Among the notable aspects of Pedrocchi are the Greek, Renaissance and Roman Rooms and the Gothic Pastry Shop.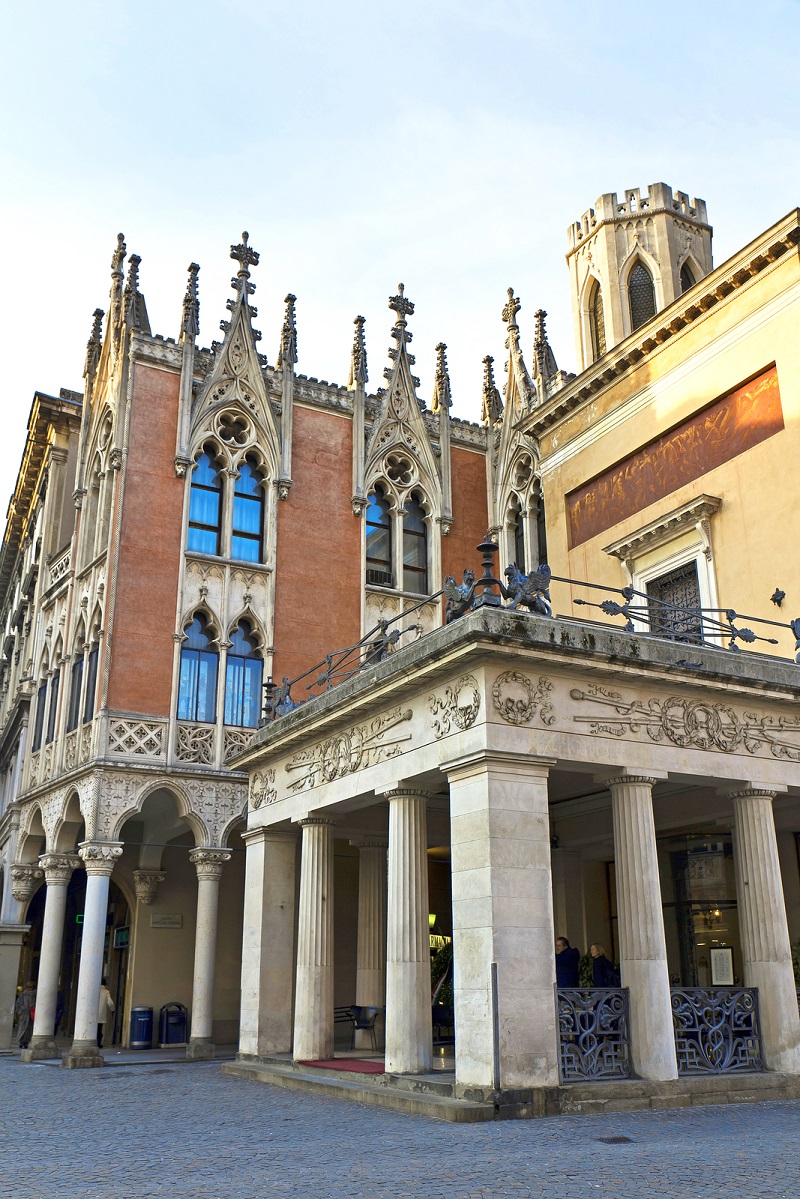 CAFFE GAMBRINUS
If you're after the ultimate traditional Neapolitan coffee experience, then Caffe Gambrinus prepares the recipe to perfection. The end result? A dark, hot and very tasty coffee that offers a rich, dense taste.
This historic coffee house was founded in central Naples in 1860 by Vincenzo Apuzzo. The next owner Mario Vacca would build on the success established by Apuzzo, drawing on contemporary artists and architect to refurbish and redecorate to a classic standard. Among those on board were architect Antonio Curri and artists Gaetano Esposito and Luca Postiglione.
Intellectuals and artists would come to Caffe Gambrinus, and these included Marinetti and D'Annunzio. And you too can come to Caffe Gambrinus to sample some excellent local coffee as well as other offerings like variations on the traditional espresso with the finest in cream, chocolate and hazelnuts.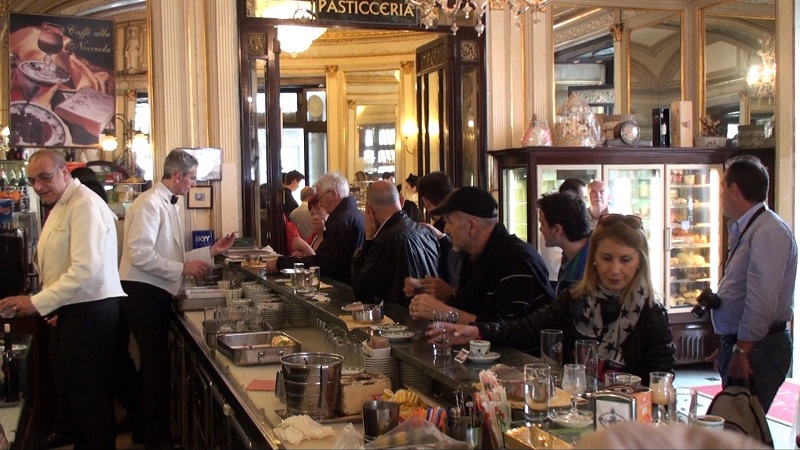 Photo credit: youtube.it 
CAFFE GIUBBE ROSSE
This coffee house is said to be the place where the Futurist movement flourished and grew, a positive hothouse of ideas, ideals and new projects.
Originally created by German Reininghaus brothers in the early part of the 20th century, this Florentine coffee house was once called a "forge of dreams and passions" by Alberto Viviani. Among its famous visitors are poets Giovanni Papini and Ardengo Soffici. In addition to providing some fine local coffee, Caffe Giubbe Rosse also includes a good food menu and a restaurant.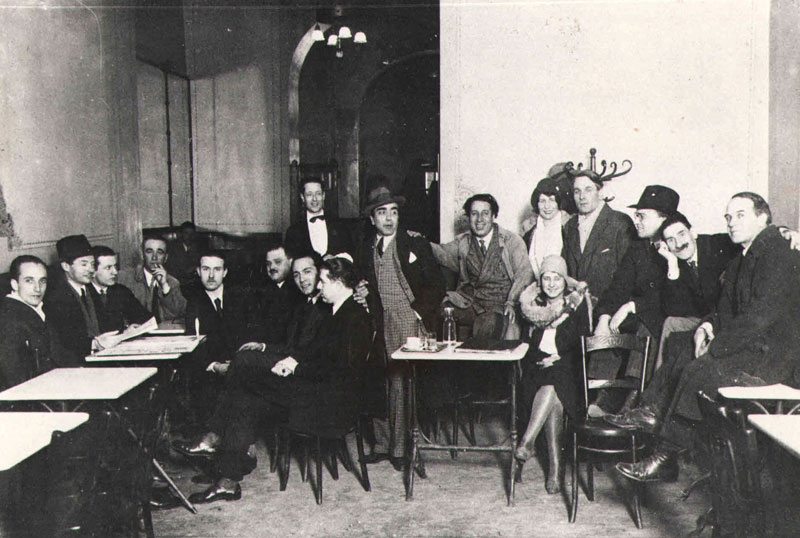 Caffè delle Giubbe Rosse, 1928, Photo credit: http://www.giovannicolacicchi.com/
LATTE
This traditional breakfast drink is made with Espresso and steamed milk and capped off with a touch of foam. However, if you're after a milkier proposition, then the Latte Macchiato should suffice. It translates as "stained milk" which is in reference to the espresso added to the milk. It's marked out by a small spot of crema on the top of the milk.
ESPRESSO
Also known as caffe, the Espresso comprises a drink of very strong coffee in a small cup. Also available is Caffe doppio, which involves two espressos served in one cup. If you want a smaller version of the Espresso, then try the Caffe Ristretto: a short shot of Espresso made with the usual amount of ground coffee but with about half the amount of water.
Caffe Macchiato follows the same lines as the above Latte Macchiato, with a greater emphasis on milk and can be served with a drop of steaming (Macchiato caldo), cold (Macchiato freddo) or froth (Macchiato con schiuma di latte) milk.
If you want a weaker version, then plump for Caffe lungo in which more water passes through the ground coffee to provide a milder taste. Or Caffe Americano, in which hot water is added to espresso after brewing, again resulting in a weaker version of true Espresso.
You can also try the Espresso with a combination of other elements – the Caffe con panna Is served up with a dash of cream on the top, Caffe schiumato serves up milk foam on top, while Caffe corretto adds a discreet drop of liquor (such as amaretto, grappa or cognac) if you'd like something a little stronger!
CAPPUCCINO
Another hugely popular type of coffee is Cappuccino. This traditional breakfast drink is usually only consumed in Italy in mornings only up till 11am. Comprising an equal mix of espresso, milk and foam (and a sprinkling of chocolate on the top), it's a smooth, silky and very tasty start to the day!
Other notable variants include Cappuccino con doppio caffe, which is a cappuccino version of the aforementioned caffe doppio and the Cappuccino scuro – which is a halfway home between a regular cappuccino and a Caffe macchiato. It uses the same levels of coffee but a little less milk than what you'd get in an ordinary cappuccino.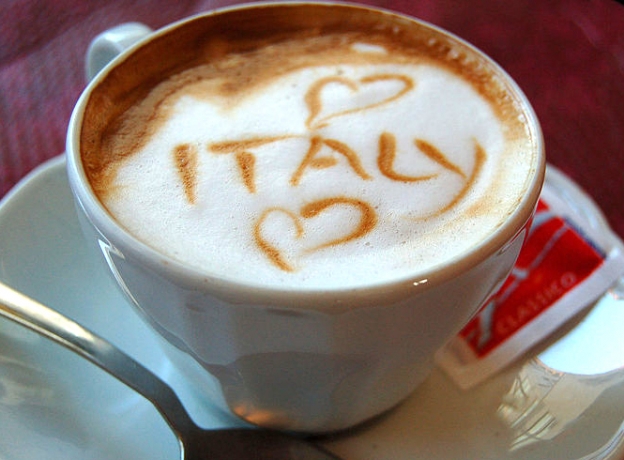 The main players
One question to ponder on as you sip from your coffee: Who are the people behind the drink that you're enjoying? There are a number of notable Italian companies who are responsible for a slew of fantastic coffee packages.
One of the big players is Luigi Lavazza S.p.A which has been dubbed "Italy's favourite coffee". Luigi Lavazza founded the company in Turin in 1895, and initially ran the business from a small grocery store. Today, it's one of the biggest names in the field, with its coffees making charts worldwide. A quick visit to Amazon to look at its countdown of top coffee beverages found that Luigi Lavazza had made the charts. The Super Crema Espresso is a popular choice, famed for its creamy, lingering taste. Also doing well is Lavazza's Crema Gusto: with its dark roast ground coffee, it makes for a full-bodied, intense experience, full of taste and aroma.
Another popular coffee brand is the Massimo Zanetti Beverage Group. This Bologna-based company is said to sell more than 120,000 tons of coffee every year. It owns over 20 consumer brands (including Hills Bros, MJB and Brodies) and operates 11 roasting plants across the world in countries such as India, Brazil and Ethiopia.
Kimbo Coffee is a brand of Café do Brasil which was founded by Francesco, Gerardo and Elio Rubino. Among the choices available are Espresso, Napoletano and Antica Tradizione. A company that specialises in espresso production is Illycaffe. This Italian coffee roasting company was founded by Francesco Illy in 1933. It makes one blend in three variations: Normal, Dark Roast and Decaffeinated. It also produces Monoarabica, single-origin arabica beans from six different countries. Its coffee-related products are sold in approximately 131 countries.
Future
What does the future hold for coffee in Italy? With respect to sales, a recent report at euromonitor.com looked at the future prospects. The report claimed that off-trade volume sales of coffee were expected to grow at a Compound Annual Growth Rate of 1% to reach 160,000 tonnes in 2019. The value of off-trade is expected to grow at a CAGR of 3% to two billion euros. However, in the on-trade channel, the report predicts a slight dip of 1% CAGR to 52,600 tonnes by the same year. The report added that the performance of coffee in this time would mainly be affected by the growth of fresh coffee pods. It's expected that an off-trade volume CAGR of 14% will be registered, meaning sales of 17,200 tonnes by 2019.
Another notable factor in the future of coffee is technology breakthroughs. New innovations can allow for easy, smooth coffee making. Ditta Artigianale, for example, is a superb coffee shop in Florence that takes its inspiration from the Seattle-type café and also the tradition of family run shops.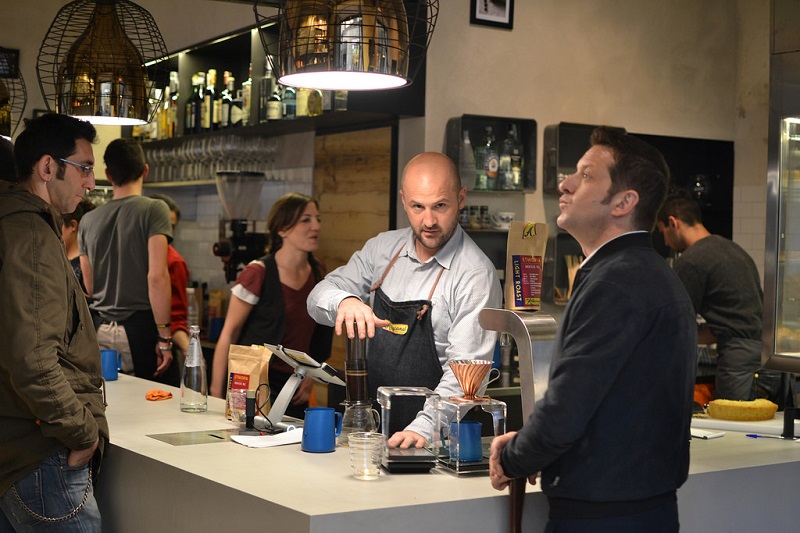 Ditta Artigianale, Photo Credit: https://farm3.staticflickr.com
Ditta Artigianale also looks to the future – it uses a coffee maker called Aeropress, which allows for simple, fast and flexible coffee preparation. The operator has complete control over infusion time thanks to Aeropress: If a customer wants a light coffee, then infusion time lasts for a few seconds. On the other hand, if the customer requires something a little stronger, then infusion time lasts for a longer time. Devised by Alan Adler, Aeropress is one example of the technology that continues to develop and flourish in the world of coffee making.
Whatever the future holds, it's certain that Italian coffee will continue to be revered for its unique, strong and delicious taste. Whether you're a native of Italy or visiting on holiday, a taste of Italian coffee is an absolute must.