Sardinia is a fantastic holiday destination for anyone to visit but especially those with a family.
Like most of Italy, it's very welcoming towards children but the laidback lifestyle here also contributes to making this a relaxing break for parents.
Being traditionally an island of farming communities there is an abundance of outdoor space. It's a very natural place that so far has avoided being spoiled by too many visitors.
Each part of the island has a quite distinctive countryside and character so there is something to suit everyone.
Where to stay
North East
This area is the most popular and famous outside of Italy. The Costa Smeralda is similar to Saint Tropez. This coastline has turquoise waters and perfect fine sandy beaches. There are plenty of upscale shops and restaurants.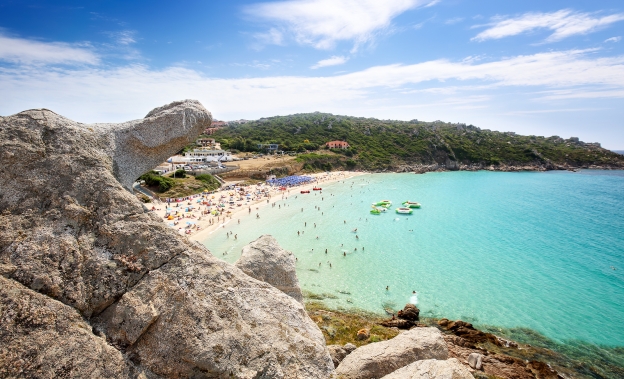 [Rena Bianca in the Emerald Coast]
It is visited by many sailing groups and families and is a hang-out for celebrities and royalty. The wealthy and famous vacation here. Luxury hotels and accommodation are used to dealing with high-end clientele and will cater to your every whim. It is family friendly but prices are steep for the average holidaymaker.
Places to stay: Bagaglino Il Giardini Di Porto Cervo, Balocco Hotel or a lower key resort in the North East is Cala Gonone.
South East
An oasis of woodland mountains and wilder countryside, the South East is a dramatic change to the upmarket Costa Smeralda.
The scenery here is rugged, magnificent and boasts stunning white beaches.
Here you'd find the wonderful resort of Villasimius. A breathtaking backdrop of granite cliffs, shimmering turquoise seas, and rolling hills. Perfecting for little explorers or those wishing to build giant sand castles.
Places to stay: S'Arenada Hotel, Hibiscus Villasimius B&B, Boutique Hotel Su Sergenti.
[The village of Porto Cervo]
North West
If you prefer to stay in a city rather than a beach resort Alghero is a great town place to base yourself.
There is a lot to sightsee in this part of the island so it can be a useful but pleasant place to stay.
Alghero itself is an ancient walled city with small cobbled streets. Part of its population are Catalan after being conquered by them in the Middle Ages. Hence now the local dialect is derived from Catalan and it is one of the official languages here.
Alghero has a stretch of beach that can be used for sun-bathing but there are many more beautiful spots to bathe nearby such as Stintino's La Pelosa beach with its views of the island of Asinara.
Places to stay: Il Sogno di Alghero, Hotel dei Pini, B&B Casa Vacanze La Mimosa Alghero.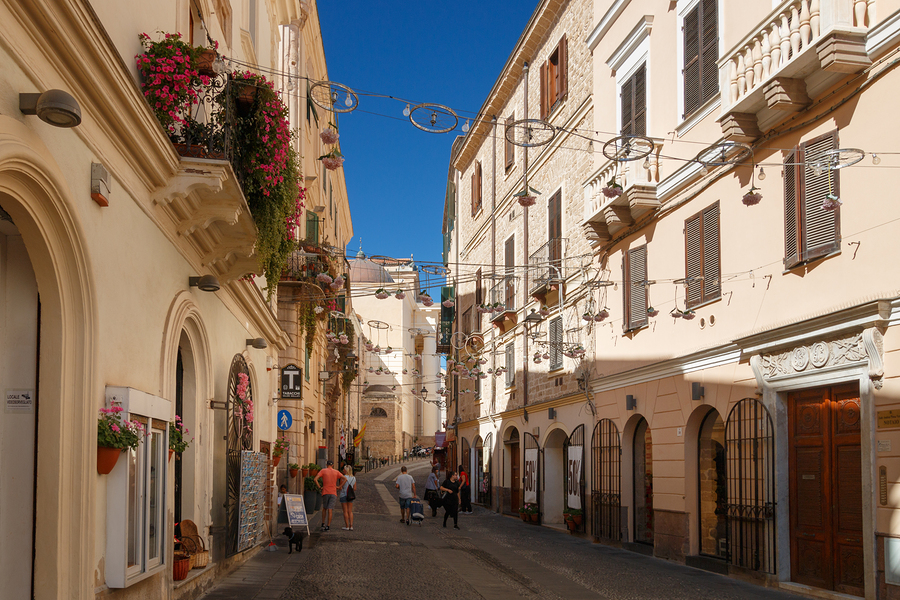 [Walking in the village of Alghero]
South West
This quiet peaceful area of the island is called 'Costa Verde', meaning 'Green Coast'.
Beaches here have a wild, natural beauty, the sea is not as calm as other parts of the island. So it pays to keep an eye on little ones.
It is a great big playground though and there are just enough facilities, in the small towns and villages to have a low key holiday which really suits families wanting to enjoy great weather and a natural environment.
The seaside towns of Buggeru and Iglesias are charming and buzzing with culture. However, in this spot you are not too far from the incredible city of Cagliari should you need a day out.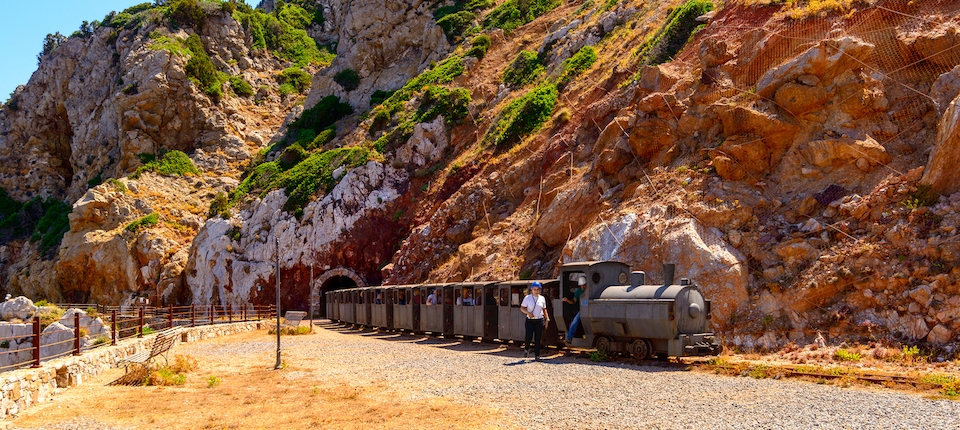 [Henry gallery in Buggeru]
Places to stay: Sa Rocca, Guspini. Hotel La Rosa Dei Venti, Buggerru. Agriturismo L'Aquila. Arbus.
What to see and do
North
La Maddalena is an archipelago of 60 islands off the north-eastern tip of Sardinia. It's an area of outstanding natural beauty with coves, beaches and some ancient fortifications from when it was used for military purposes.
Water paradise, a huge water park for children of all ages. This is a perfect place to cool down and have a different day out after lots of beaches and exploring. There are wide slides to cater for parents using slides alongside their children and fountains for little ones.
Grotta di Nettuno, or Neptune's Grotto is a series of lit stalactite and stalagmite formations within this Grotto. You can also view a mesmerizing saltwater lake. The grotto is only accessible when the sea is calm as a boat is needed to reach this special attraction. However, boat trips are available regularly in Summer.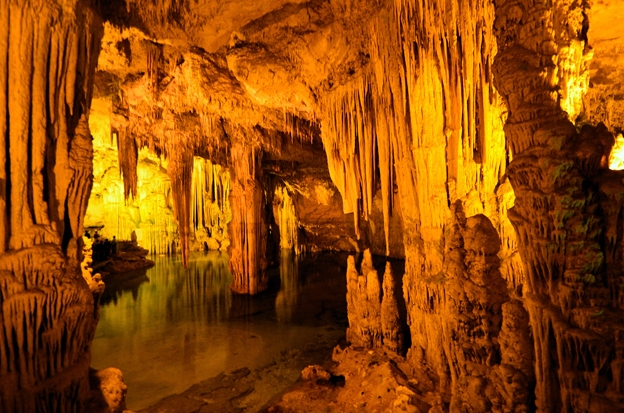 Inside the Cave of Neptune (Grotte di Nettuno)
Asinara National Park has a story. This stunning island used to be home to a famous maximum security prison holding Italy's worst criminals. The prison closed in 1997 and is now a visitor attraction. However, the real reason for visiting Asinara is that it is a marine protected area and home to endangered species such as the delightful Asinara Albino donkey.
Visits to the island are only by organized tour and leave from the sweet village of Stintino. Stintino itself is a wonderful spot to sunbathe with crystal clear waters and stunning views across to Asinara if you can't bear to leave your beach towel.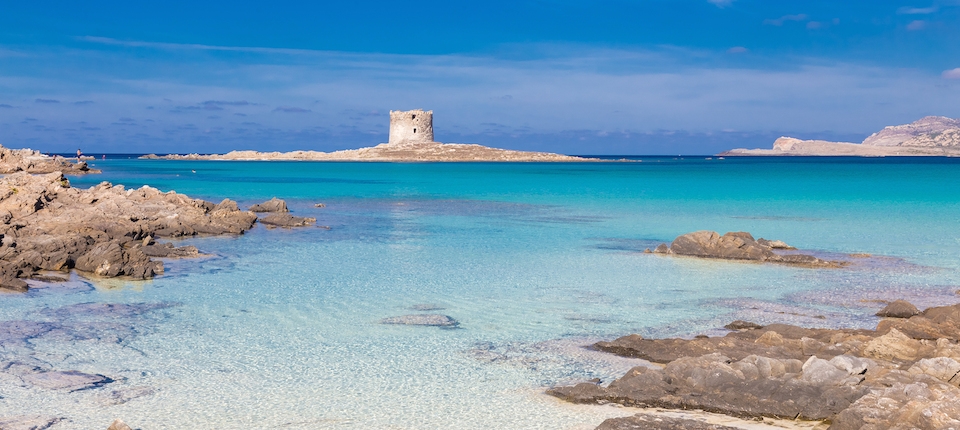 Nuraghe Santu Antine. Nuraghe are the names given to ancient dwellings that are visible throughout Sardinia. They are a symbol of the island and it is worth visiting any which you find near your accommodation. Santu Antine is one of the most complex structures and based in the North but you can find them all over Sardinia.
South
Roccia dell' Orso is a fascinating huge rock formation that resembles a bear and was used by sailors as a reference point years ago. Based at a viewpoint in Palau, there are fantastic views across the countryside and you can marvel at 'Bear rock'.
Sinis Peninsula with its salt lakes and Pink Flamingos is always a popular spot for families. A mixture of land and lakes, this beauty spot has been named a 'destination of excellence' by the European Commission.
Le Grotte Is Zuddas, dating back 530 million years ago, these spectacular tunnels and cave rooms showcase unusual helictites, which may have been formed by the wind in the cave blowing drops off the stalactites.
Cagliari. Don't miss a visit to the capital city of Cagliari. There are stunning golden stone buildings and palm trees. Take a trip up to the Castello district on the hilltop. The views are wonderful and you will find large rooftop bars and hidden cafes to absorb the sunshine. If it's the beach you are looking for, the famous Poetto coastline is 8km long and dotted with great bars and restaurants.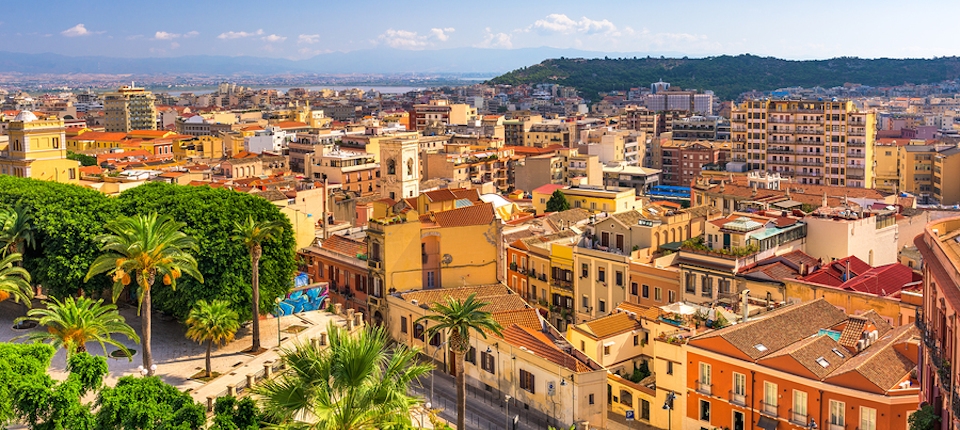 There is so much to see and do in Sardinia if you can bear to tear yourself away from the stunning sea views!