What's On in Italy This January 2016
The new year starts right here in style with a colourful collection of places to visit and events to celebrate. John Bensalhia says felice anno nuovo!
Hello and welcome to 2016. The usual Christmas and New Year's Eve build-ups have been and gone. The turkey has been eaten. The office parties have receded to the past like a blurry haze. But while you may think that January is a cold, bleak time of austerity, dieting and frugality, you might want to think again. Because in Italy, January is all about continuing the colour, style and above all, fun! So let's ring in 2016 with plenty to see and do...
HAVE A SPORTING CHANCE
Right in the heart of Winter, January makes for the ideal chance to take part in some Winter sports. If you're in Florence, why not head on over to Florence Winter Park? All sorts of activities are available here between now and 6th March 2016. The facilities cater for all ages and capabilities – for example if you want to go snow tubing, the slope allows the chance to descend from two locations – a lower height one for kids and beginners – and a more ambitious, higher-up one for experienced pros. Kids can also get the chance to enjoy this with a parent who can accompany them in a rubber boat.
There are also two slopes for skiers – again taking age and experience into account. Kids can also enjoy the skating rink which is open for children and adults, plus athletes who can use the rink for training purposes.
For a good deal, it's worth joining the Florence Winter Park Club. 25 euros will get you a year's worth of reductions for facilities, free gadgets, newsletters and news of special initiatives, promotions and giveaways.
ENJOY THE SOUNDS OF JAZZ
It may be freezing cold outside, but nothing reminds me more of Summer than listening to some superb sounds of jazz. Italy is THE place to go for jazz music, whatever the season. And the country serves up some amazing sounds – for example, Umbria Jazz, which kicks off the new year with sound style.
The Umbria Jazz Festival continues for the first three days of January in Orvieto and includes a number of acclaimed acts lining up to provide their own special takes on jazz music. Kurt Elling will be paying tribute to Frank Sinatra his way to mark the centenary of Sinatra's birth. The Larry Franco Quartet will mix classic swing with jazz to great effect. Tuba Skinny will bring those legendary Dixieland and blues sounds from the 1920s and 1930s into the present day. Hot House Jazz award winner Allan Harris will also be performing as will rising star Jarrod Lawson. Melding soul, funk, R&B and jazz, Lawson stamps his own mark on the genre, and impressively writes, arranges and produces his own tunes.
If you're in the region and you're a fan of jazz music, then it's worth popping in to Cantina Bentivoglio, which is a restaurant and jazz club. This month will see some excellent musicians drop in to play – including the Giulia Lorvich Quartet, the Monamour Trio and Davide Brillante and Matteo Roggi.
CELEBRATE EPIPHANY
Countries such as Britain see the 6th of January as the moment when the festivities are all over. If you leave your Christmas decorations up, then it's supposed to bring bad luck. There's no more Christmas dinner left in the fridge. And for kids and grown-ups alike, there's the misery of returning to school and work.
But in Italy, the 6th of January is one big celebration. Epiphany is celebrated with as much gusto throughout Italy as Christmas itself. All kinds of events and celebrations take place, making sure that there's something for everyone.
Now while a witch may seem like the sort of personage to celebrate at Halloween, the traditional figure of La Befana graces the dates around Epiphany. It's a tradition that flies all the way back to the story of the Three Wise Men who came to an old woman looking for directions. While the old woman initially declined the Wise Men's invitation to join them, she eventually agreed, but sadly got lost. The legend concludes that La Befana flies around to this day, still seeking out that location that she missed.
But on the way, she is said to pass through the houses of families to assess whether children should receive presents or stockings full of coal. Mind you, in Urbania, it's possible to look up La Befana at La Casa della Befana between 2nd and 6th January as part of the region's special festival.
Another notable La Befana festival takes place in Venice. Regata delle Befane is an annual event put on by Cannotieri Bucintoro rowing club. The regata pits five competitors, aged 55 or more, against each other to race in mascarete boats from the Palazzo Bilbo to the Rialto Bridge. Of course, this being an Epiphany celebration, the competitors dress up as La Befana! The event puts on a spread of food treats, drink and music including candy and chocolate.
A more formal celebration takes place in Vatican City, as the Pope delivers morning mass in St Peter's Basilica which marks the Wise Men's visit to Jesus. A procession comprises hundreds of people clad in medieval costume who walk to the Vatican bearing symbolic gifts for the Pope. Other historical processions include Florence's Calvacata dei Magi, which takes place between Pitti Palace and the Duomo and Milan's Epiphany Parade of the Three Kings.
SCALE THE HEIGHTS OF FASHION
New year, new image. January offers a good opportunity to get some fresh fashion ideas for the year ahead. Pitti Immagine offers three fairs this month dedicated to specific sectors. Kicking off with Pitti Immagine Uomo, this event puts the spotlight on men's fashions and accessories. It takes place between the 12th and 15th January and will launch new projects in the field of men's fashions.
Pitti Immagine Bimbo is next up, taking place from the 21st to the 23rd of January, and concentrates on the top fashions for kids. Finally, from the 27th to the 29th January, Pitti Filati is a showcase of yarns for the knitting industry. Looking at the latest innovations and services for the textile field, the event will include previews and tests as well as a glimpse of future trends in this industry.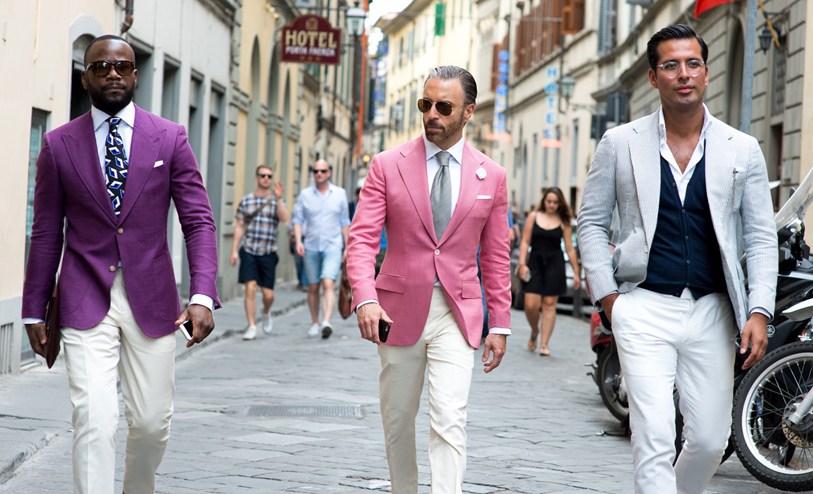 Photo credit: Robert Spangle, Conde Nast UK
MARK THE LIFE OF ST ANTHONY
St Anthony lived his life – by all accounts – as something of a recluse. His quiet life was free of temptation as a result of warding off the devil with the power of prayer. However, today, St Anthony is known for many things, whether it's his status as patron saint of domestic animals, an abbot or offering protection against skin diseases – and to mark the saint, 17th January sees a number of events and festivals taking place.
Many celebrations are held, bringing together musicians, dancers and also bonfires (which are said to signify the legend of St Anthony stealing the devil's fire from Hell). And let's not forget one of the most popular of all San Antonio Abate occasions: Il Palio di Sant'Antonio Abate in Buti, near Pisa, which pits the local neighbourhoods against each other in this horse racing contest. Expect plenty of colour and splendour at the accompanying historical parade to herald the palio.
REMEMBER THE LIFE OF ST SEBASTIAN
Every year, on 20th January, Italy remembers the Christian saint and martyr, St Sebastian. The saint was vocal in his opinions at the time of the reign of Roman Emperor Diocletian when the persecution of Christians was at a high. And while the saint had survived shooting by arrow, his ultimate fate was sealed after criticising the Emperor face to face.
To remember St Sebastian, a country-wide range of events and festivals are held. The City of Ortona, for example, lights a papier mache model of the Vaporetto, a decorated boat – it also hosts an impressive fireworks display outside the city's cathedral.
One of the most colourful festivals is held in Acireale, Sicily. The San Sebastiano ceremony and festival is lined with stalls and carts that hold goodies such as toys, food and breads (which are specially baked and donated for the event). Bands and musicians add to the celebratory feel which heralds the Sciuta.
The Sciuta involves the "exit" of the statue of St Sebastian which leaves the local church on a gilded cart. At the height of this ritual, a riot of colour erupts – sprays of coloured paper are released into the air, creating a hugely colourful aura.
DON'T STOP THE CARNIVAL
It's January... That means only one thing! Carnival time!
This year's Venice Carnival is happening between 23rd January and 9th February. The Venice Carnival is one of the finest of its kind, offering a slew of sights such as elaborate masks, costumes and events. After the grand opening on 23rd, the Water Parade gets this year's carnival in ship-shape form, with a collection of unique boats, entertainment, plus local food and drink.
One of the traditions of the Venice Carnival is Festa Della Marie, in which 12 Marias (Venetian girls) take part in a parade with traditional costumes. There are also fencing exhibitions and flag wavers among the entertainment on display – but the contest to find this year's Maria will be the main centrepiece of the 30th January.
Last year's winner Irene Rizzi will be taking part in this year's traditional Flight Of The Angel in which a Venetian guest flies along a rope from the San Marco Bell Tower to the middle of the Square. The 'Angel' is then greeted by the parades of the historical re-enactment. This event takes place on the 31st January.
If you're a fan of partying carnival-style, then you're bound to like this year's Venice Events' bumper carnival party packages. There are many special dinners and events taking place during the carnival season, making for a unique take on the traditional party. The Serenissima Grand Ball is one such example, taking place at Palazzo Ca' Pesaro Papafava. Arias will be performed from Franz Lehar's The Merry Widow alongside the finest Venetian cuisine. Also taking place at the same location will be the Grand Ball of The Gondoliers, with a special Venetian dinner, cocktails and a performance from the quartet of Gondoliers who will perform traditional Venetian songs. Two examples of the costume ball which of course require lavish costumes and masks.
Other events on offer in the carnival season are a Carnival Photography Tour, Secrets of the Venice Carnival (and a guide to the life of Giacomo Casanova) and a Carnival Party Cruise that takes place on board the Venetian Galleon (complete with buffet, wine, and colourful decorations).
MAKE A CRAFTY BUY
It's a fair trade at the end of January. Especially if you go to the annual Sant'Orso Fair of Aosta.
Dating back to the Middle Ages when the Sant'Orso church donated clothes and sabots (traditional wooden shoes) to the poor, the fair today offers a great showcase of finely made arts and crafts.
All sorts of items are available at the fair which is held on the final two January days. Sculptures, wood carvings, wicker and barrels – they're all here. The great thing about this event is it's a two-way street for vendors and visitors. The vendors have a good opportunity to meet with potential buyers while visitors to the event can make a purchase that's home-made and completely unique.
There's also a food and wine pavilion that's full to the brim with local delicacies including breads, cakes, condiments, cheeses and fruits.
Topic:
You may also be interested in...