Federico Fellini liked his minestrone served with a dollop of whiskey, according to culinary star Nigella Lawson (who recommends a lacing of vermouth or white wine instead). For inventor Leonardo Da Vinci, the genius multi-tasker (and vegetarian), the humble soup was his favorite meal. The Roman legions conquered the world on a diet that included an ancient version of this vegetable-studded zuppa.
Like many good things in Italy minestrone comes in regional forms. According to cooking lore it's considered as good as a road map, a culinary GPS of sorts; to the knowing palette a few sips of a minestrone can tell you exactly where you are on the peninsula. Rooted in seasonal produce with a few fixed elements—beans, vegetables, and some form of pasta, rice or other grain—it is the Zelig of soups, flexible in its makeup, a big plus in a country where campanilismo proudly plays out at the table. In Liguria, you'll find it laced with pesto; in Campania, studded with eggplant;  in Piedmont, expect artichokes.(And if you cross the border into France you can enjoy its Gallic cousin, pot-au-feu.) In her landmark cookbook Il Talismano della Felicità, Ada Boni gives recipes for over 30 versions of this soup, which can range from having a porridge-like consistency to those served with crisp vegetables swimming in broth. It is also a soup for all seasons, as good in autumn and winter as spring and summer (when it's served at room temperature with a hefty dose of parmigiano).
Even though the first mention of a minestrone-like soup dates back more than 2000 years, the Milan version (with a nod to Brianza, as vegetables for the soup from came from its lands) was the one that gained traction in (relatively) modern times. While its exact origins are unclear—the soup, a prime example of cucina povera, was most likely made from the vegetables and produce lying around a farmer's kitchen, then evolved, according to some sources in the 1700s, as a recipe using specific ingredients. In 1839 a minestrón was mentioned in a Milanese-Italian dictionary where its key ingredients were identified as cabbage, rice and beans. But it would be another sixty years before a defining recipe was published by Artusi Pellegrino, author of the influential La Scienza in Cucina e L'Arte di Mangiar Bene, a cookbook with recipes from all of Italy's regions. Pellingrino's version was made with the requisite beans, cabbage and rice but also spinach, celery, carrots and zucchini, all ingredients common to an authentic minestrone alla Milanese.
The soup may not be as well known as the other classic dishes that bear the alla milanese (risotto, cotoletta) descriptor, but it still ranks high on the list of must-foods to try when you're in the city. Minestrone ingredients may vary from month to month, or depend on the preferences of the chef—it can sometimes appear as a daily special or in summer on an antipasto trolley. Innovative Milan chefs are also experimenting with new takes on the classic recipe as well as coming up with new ways to imagine zuppe di verdure.
Here are nine top spots in Milan at a variety of price points where you can enjoy both classic and modern versions of this always-in-season dish.
Daniel Restaurant (via Castelfidardo 7, angolo via San Marco; tel.: 02 63 79 38 37; danielcanzian.com) Chef Daniel Canzian made a name for himself not only by earning the Best Young Chef award in the Pellegrino Artusi competition, but also by creating innovative updates of classic Italian dishes, and executing them with with a range of French cooking techniques.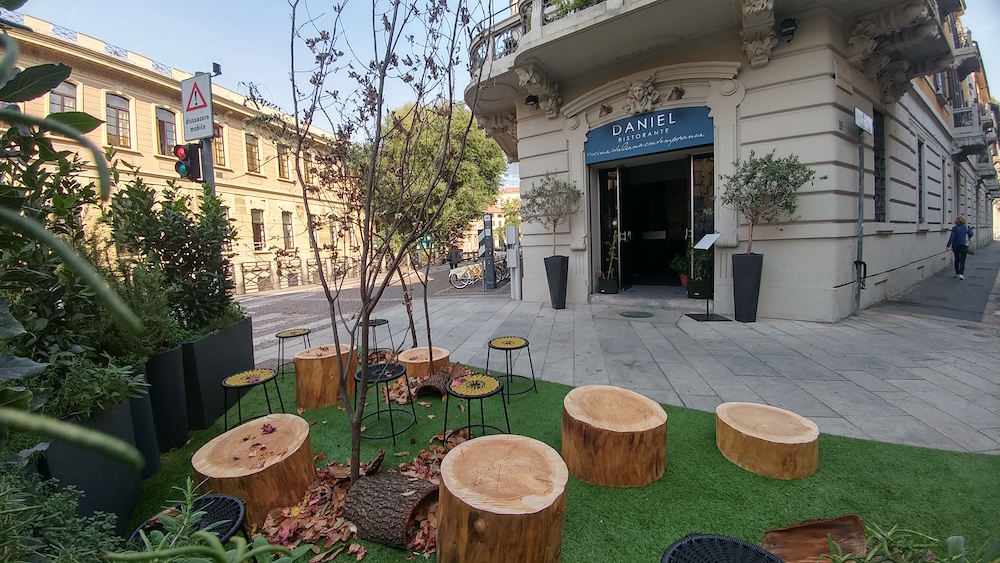 At his buzzy Brera restaurant he offers a "minestrone di verdure in versione contemporane"—a modern soup made with tomato water (added at table), shards of parmigiano and seasonal vegetables. Canzian says the minestrone is one of his many signature dishes and that it "fully represents my cooking style. It's not classically prepared—vegetables are cooked separately, so they remain crisp. For this reason, this soup is always light and healthy. I use different vegetables according to the season, only choosing fresh raw materials."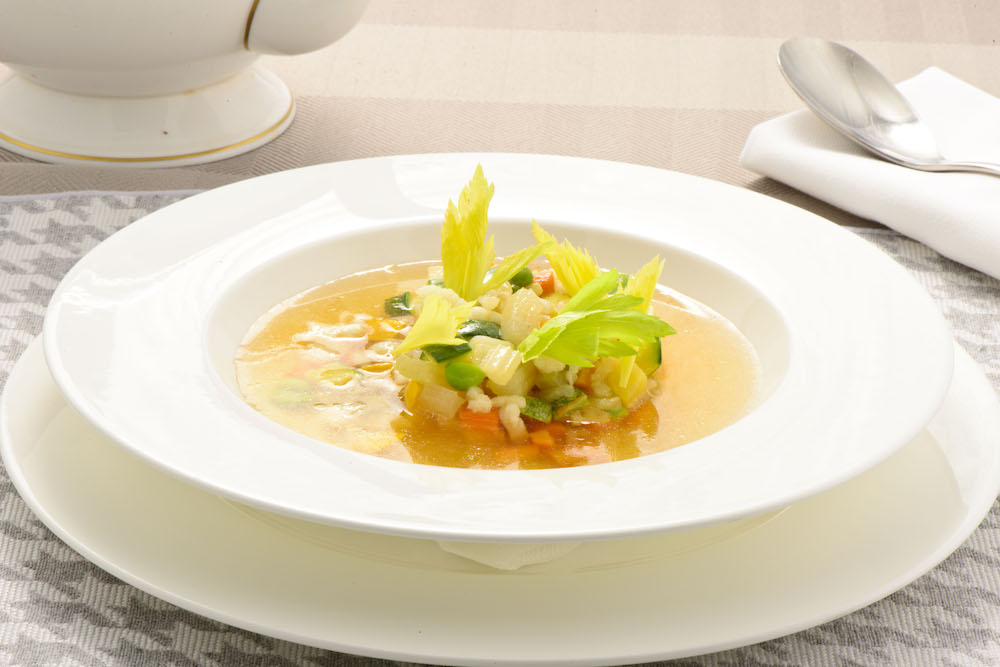 [Minestrone at Daniel: Photo credit: Bruno Taddei]
Bistrot con Cucina San Maurì (Via San Maurilio 4; tel. 02 89 00 588; www.sanmauri.it/) located not far from the Duomo in a building that was formerly a 16th-century convent, changes its menus daily at lunch and monthly for dinner. The restaurant, a newcomer to the Milan scene that thirtysomething siblings Luca and Giorgio Raffaghelli opened in 2015, makes it a point of pride to source from top regional purveyors when developing their super-locavore menu. Here the minestrone is packed with vegetables, topped with zucchini and other vegetable crisps, and low on broth.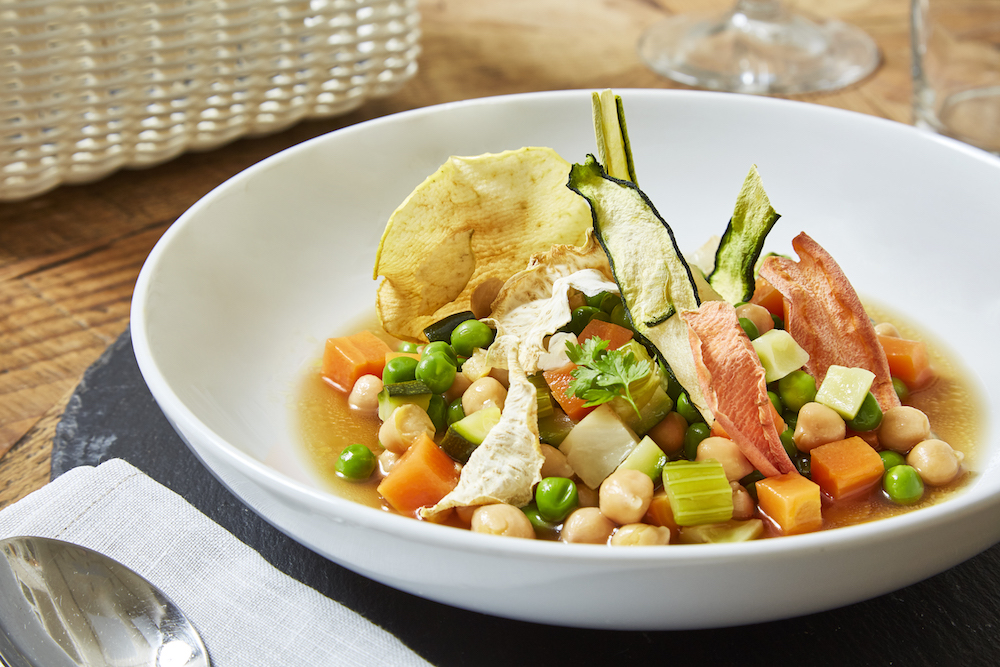 [Vegetable minestrone at Bistrot con Cucina San Maurì]
Savini Milano 1867 (Via Ugo Foscolo 5; tel.: 02 72 00 34 33; .savinimilano.it/), the landmark restaurant in the Galleria since the late 19th century (and celebrating its 150th anniversary this year), has attracted the likes of Churchill, Giacomo Puccini, Luchino Visconti, Frank Sinatra and Grace Kelly.
While there are many luxe options on the menu, when the weather is cold you can't go wrong with the seasonally sourced minestrone, made with pearl barley, which chef Giovanni Bon based on the classic recipe. Bon says,"We haven't changed the recipes, but we change the way to serve them, respecting the season and the source of the raw materials."  He also offers up a number of vegetable soups, including a cream of chestnut with baccala, stracciatella and  black truffle; and at the Savini caffe rich cream of pumpkin and cream of broccoli zuppe.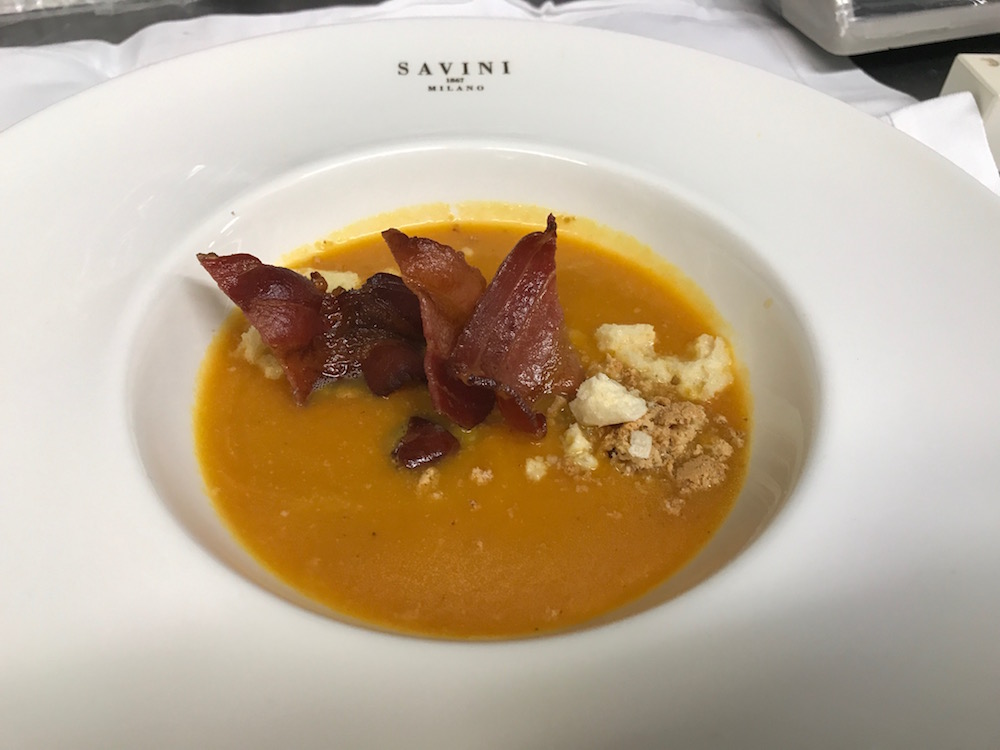 [Savini's velvety pumpkin cream]
At Ratanà (Via Gaetano de Castillia, 28; tel. 02 87 12 88 55; ratana.it/) chef Cesare Battisti is renowned for his modern takes on traditional Milanese and Lombardy dishes.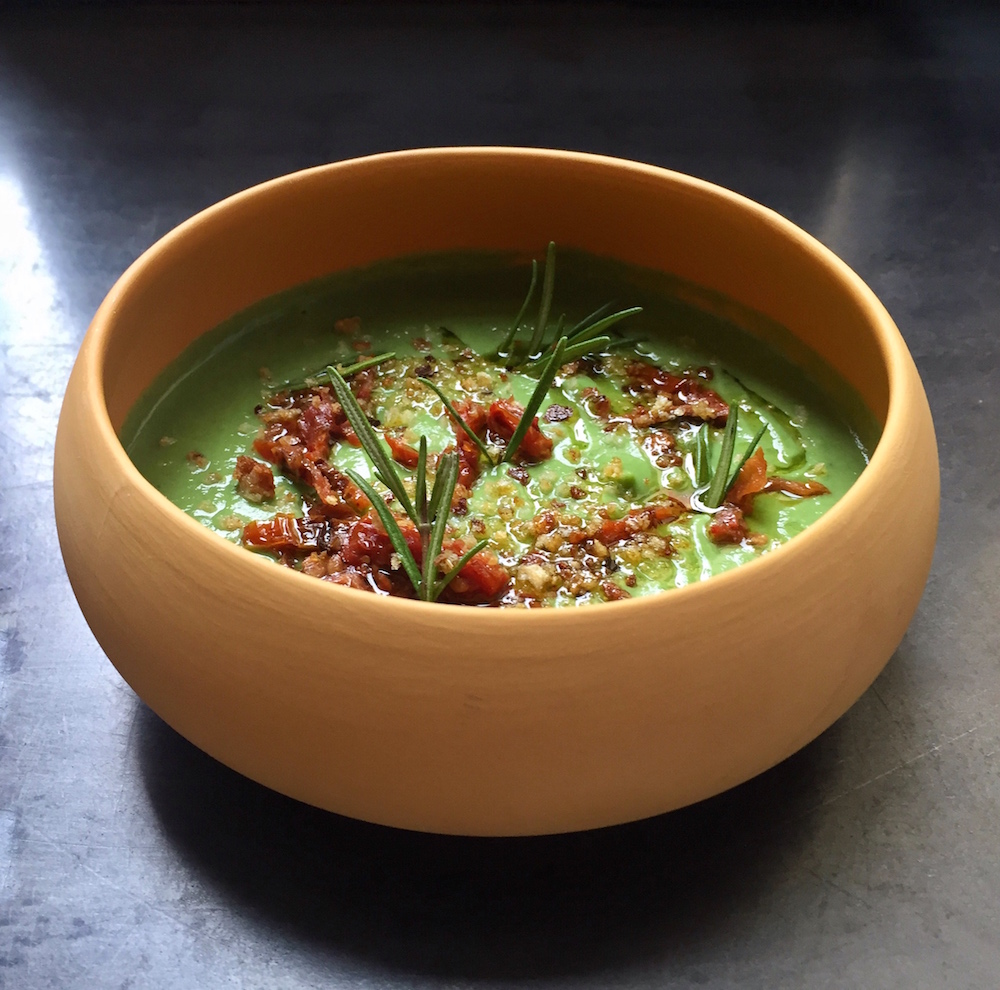 [vellutata di broccoli con crumble di pane ai pomodori secchi e rosmarino]
The menu is seasonally driven and changes often, but the minestrone-inspired zuppa currently on offer is a vellutata (a thick, velvety soup), made with beans and pasta croccante (crisp pasta) flavored with herb-smoked paprika. Another vegetable soup on the menu now is the broccoli vellutata with a tomato-and-rosemary-bread crumble.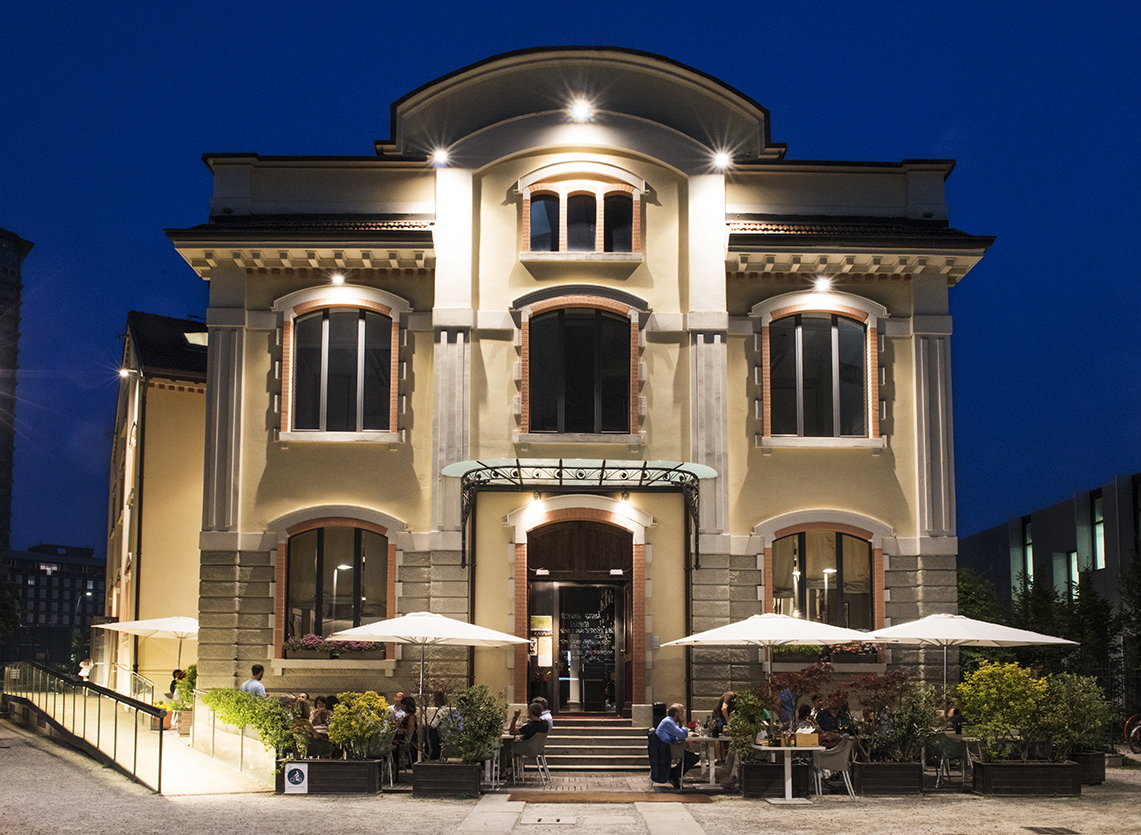 [Ratana exterior]
Trattoria Mirta (Piazza San Materno 12; tel.: 02 91 18 04 96; trattoriamirta.it) in what is sometimes referred to as the No.Lo district (north of Loreto) of the city, is run by Juan Josè Lema and his wife Cristina.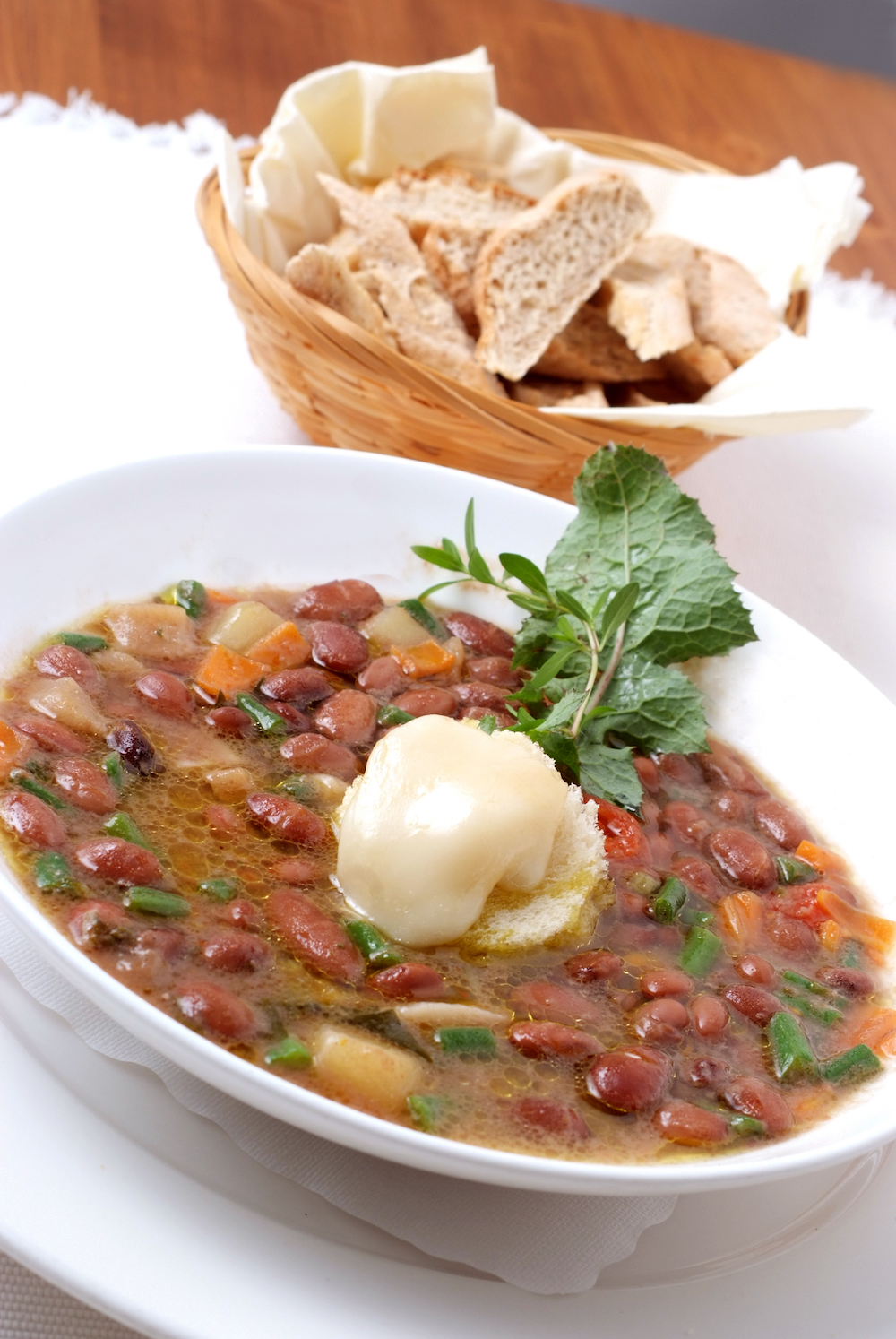 [Trattoria Mirta's signature minestrone]
Their minestrone, garnished with bread and goat cheese; and the zuppa di cavolo neri e legumi are hearty enough for the coldest winter spells. All breads, pasta, and dolce are made in house at the well-priced restaurant, where lunch menus change daily; at night every ten days or so. The trattoria is closed on weekends.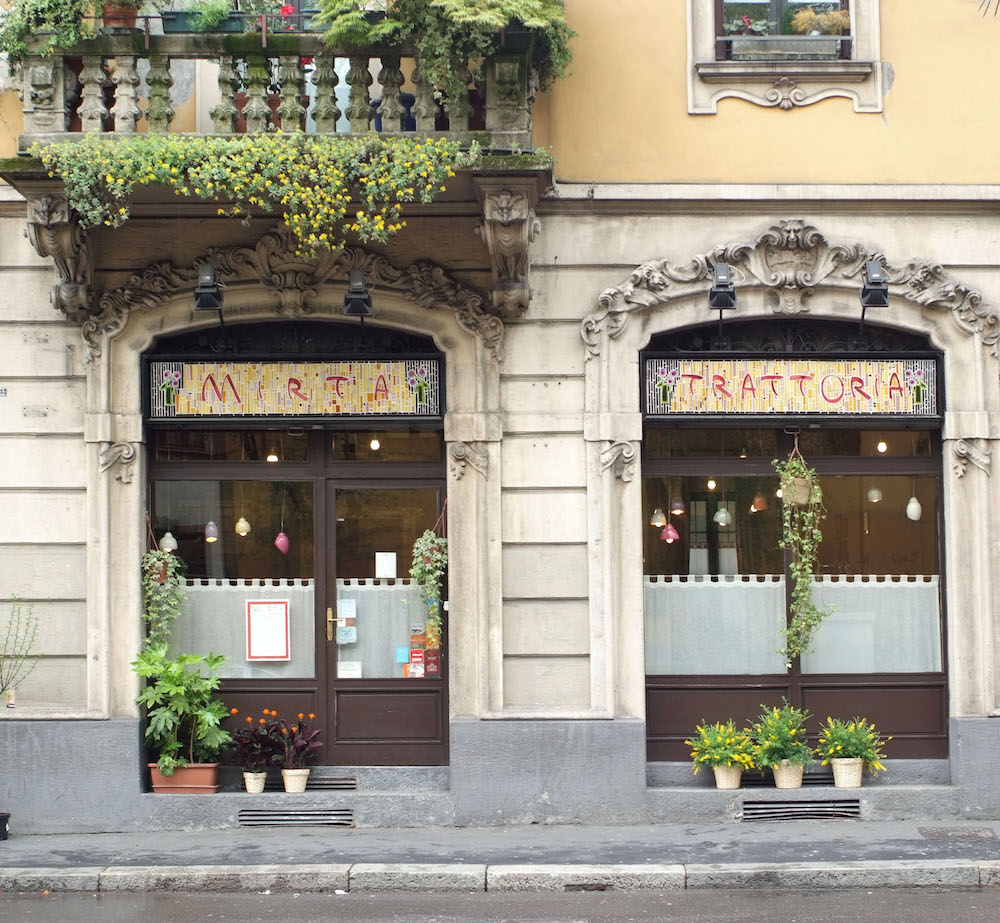 [Trattoria Mirta]
At Michelin-starred Joia (Via Panfilo Castaldi 18; tel.: 02 29522124; joia.it), which describes its cooking as "alta cucina vegetariana," or haute vegetarian, you'll find distinctly new takes on the zuppe di verdure. There's one with mushroom, black chickpeas, vegetables and coconut served with a lime and rosemary garnish; another with a potato cream, Romanesco cabbage, Norcia truffle and violet potato chips that's a luxurious homage to iconic chef Gualtiero Marchesi.
The just-opened Rosticceria Giacomo (Viale Pasquale Sottocorno; tel.: 36 02 36 70 93 54), part of culinary maestro Giacomo Bulleri's Milan-based restaurant fiefdom, is casual, affordable spot with a lovely garden for warm-weather dining and takeout options, too.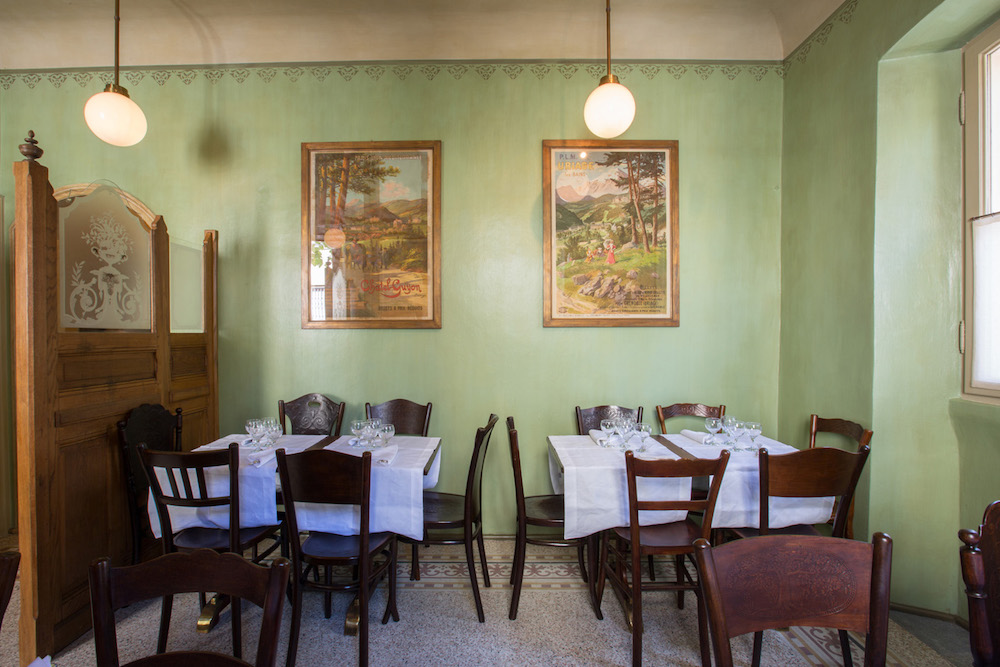 [Interior of Giacomo]
There's no classic minestrone here, but the pappa al pomodoro, a signature dish at Bulleri's celeb favorite Da Giacomo, is thick and flavorful.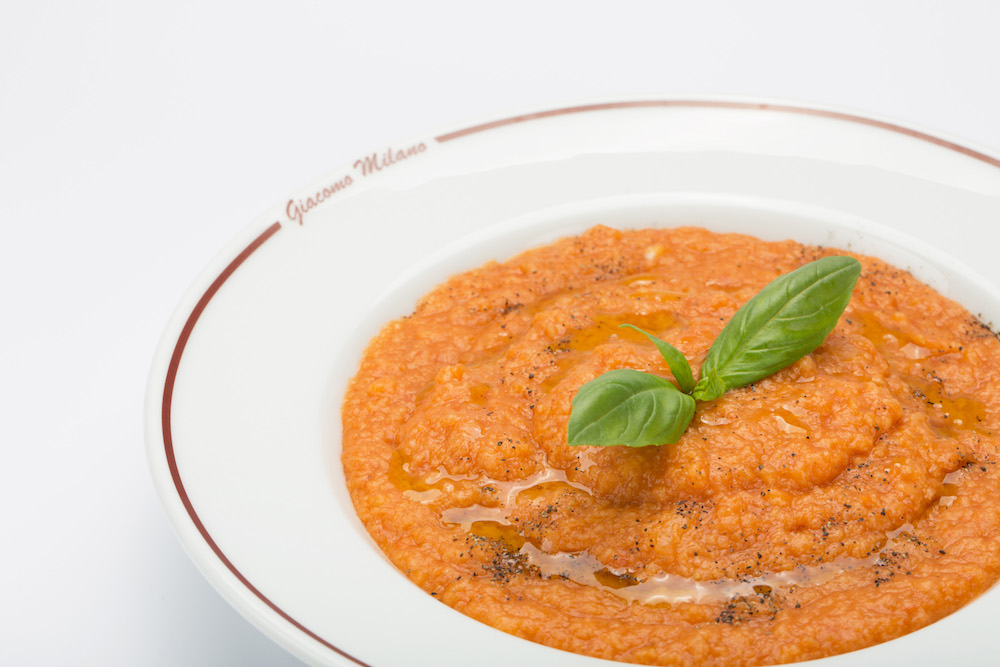 [Giacomo Rosticceria's Pappa al Pomodoro. Photo by Modestino Tozzi]
There are few lovelier Milan experiences than sitting in the garden of Don Lisander (Via Manzoni 12; tel. 02 76 02 01 30; ristorantedonlisander.it/), in warm weather and enjoying a cool vegetable soup. In winter of course, you can savor the heated version inside, in a room that was formerly the chapel of Palazzo Trivulzio.
Peck Italian Bar (Via Cesare Cantu 3; tel: 02 86 93 017; www.peck.it/), owned by the gastronomic emporium that has been tempting residents and visitors with their sumptuous treats since 1883, has a first course, served at lunch, that's a Milanese twofer: vegetable soup with risotto alla milanese. The Peck take-out foodie haven(Via Spadari 9; tel.: 02.80 23 161) often offers a delicious minestrone alla milanese.