When you think about it, Italians must find our Anglo-Saxon style of rowing bizarre, sitting down and travelling backwards. Perhaps theirs is more logical, as well as more elegant: think of a gondolier, for instance. Italians row standing up, facing forwards and with one oar or two. It is a very popular form of exercise and spectacle, nowhere more so than the famous Historical Regatta of Venice.
This year's magnificent regatta will take place on September 1st, as always preceded by a water pageant in XVll century costume on August 29th including the Blessing of the Gondolieri at 6pm. It is one of the highlights of the Venetian year, so you need to plan well ahead for a good vantage point on the Grand Canal if you're tempted to go.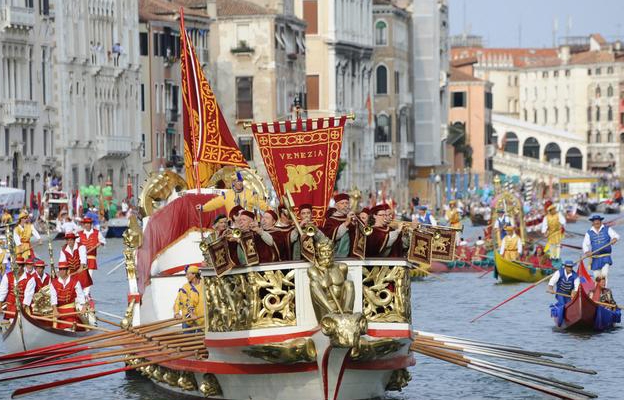 [A spectacular scene from the historical regatta in Venice]
There are four main races according to the type of boat and the age of the competitors, beginning with the young rowers. The historic caorle boats are the next to race, each with 6 rowers wearing the colours of their rowing clubs and rowing in a beautifully synchronised fashion. The Inter-University Boat Challenge begins from the Rialto going as far as Ca' Foscari, Venice's University, in stately eight oared galleoni boats.
Other equally exciting races are with women rowers, and twin oared gondolini.
You have to be there to witness the excitement and the passion. What a noise! What crowds of spectators! How colourful it all is! You could imagine yourself in a Canaletto painting where nothing has changed except the huge crowds of scantily dressed tourists.
No description of rowing in Venice is complete without mentioning the Vogalonga, which takes place at the beginning of June each year. This is a race, but there are no winners. Instead, all participants get a medal for taking part, and they deserve it because it must be exhausting, starting at St Mark's, rowing round most of the islands, and returning down the Grand Canal to St Mark's, a distance of some 30km.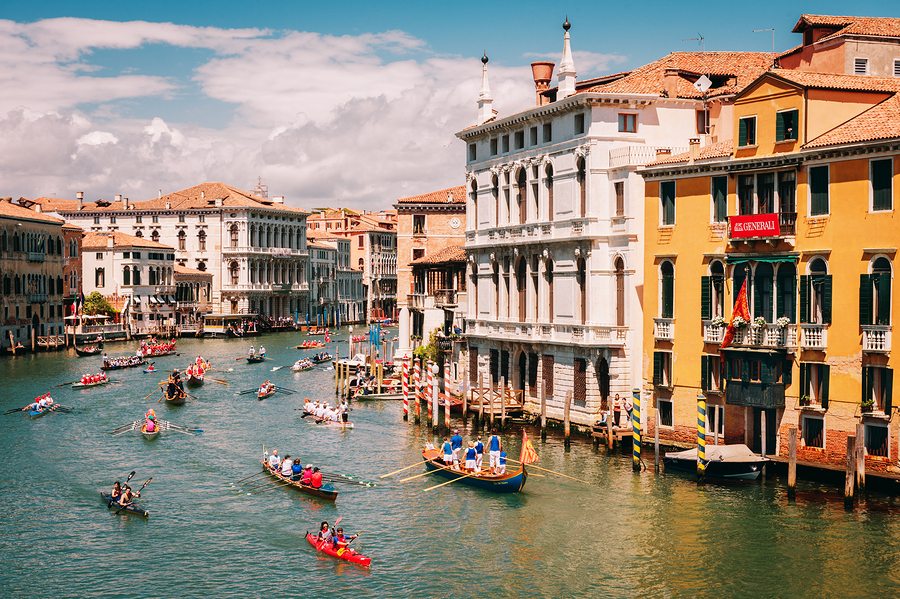 [The Vogalonga regatta]
A less colourful but important regatta is held in Lombardy. The Fixed Seat European Championship begins at Corgeno on October 9th, on Comabbio Lake. This would make an ideal activity holiday: the lake is encircled by a cycle path of about 8 km, there is lovely scenery, and the lake itself is calm with no motorboats to disrupt practice rowing. This year there will also be a special race for rowers born between 2002-3. Anyone can enter by applying to the Federazione Conottaggio Sedile Fisso. (See details below.) Transfers can be arranged from Malpensa airport, you can be assisted in finding a hotel, and there are free boats as well as Italian coaching available, with a gala dinner at the end of the regatta.
Like this article? Make Sure to Read "Don't Miss: Venice Historic Regatta"
In the heat of summer, of course, rowing involves too much exertion. You won't find regattas in July and August, but spring is a popular time for several annual events, including the FISA International Para Rowing Regatta in May at Gavirate, and the Paolo d'Aloja Memorial Regatta which takes place at Terni in April, a race over 2000 m for senior, lightweight, under 23, and junior rowers.
Every winter around 1,500 hardy rowers head for Turin for the Inverno Sul Po rowing competition on the River Po. The race is 6,000m long with 4 bends and 4 bridges. Boats leave every 20 seconds and the race finishes spectacularly, sometimes in snow, in Turin city centre.
But all these regattas are taken quite seriously. My personal favourite is the craziest I have ever witnessed, and happens in the Veneto each year on the last Sunday in May.
The Remada a Seconda, which roughly translates as 'Row with the Flow', involves a kind of slow race in home-made boats from Battaglia Terme to the Venetian Lagoon at Pontelongo, a distance of around 30 km.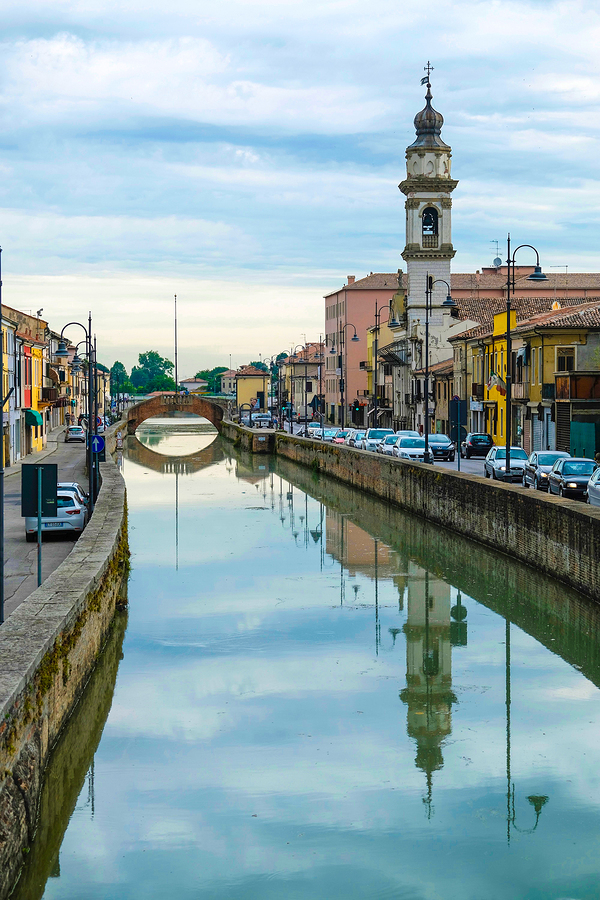 [Battaglia Terme]
Anyone can enter, as long as you have made a boat propelled by oars, and entries are planned months ahead, usually with a theme which will involve fancy dress for the crew, flares to add to the atmosphere, and crates of prosecco to sustain them during the long journey.
It takes a while to get the assembled boats into the canal, even with a crane hired for the occasion. Meanwhile, the sluice gates from the upper canal are opened to allow a torrent to pour into the lower canal, the starting point, so that many of the oddly-shaped vessels begin to spin around out of control once they're in the water.
The more ambitious teams make fantastical constructions on wooden platforms attached to oil drums. Some even use scaffolding to make double-decker buses or castles. These get the most cheers from the crowd as they set off on their haphazard journeys downstream. They often begin to lean dangerously after a while, and even collapse, but an ambulance trundles along the tow path and there are vigili in canoes to rescue the survivors of any shipwrecks.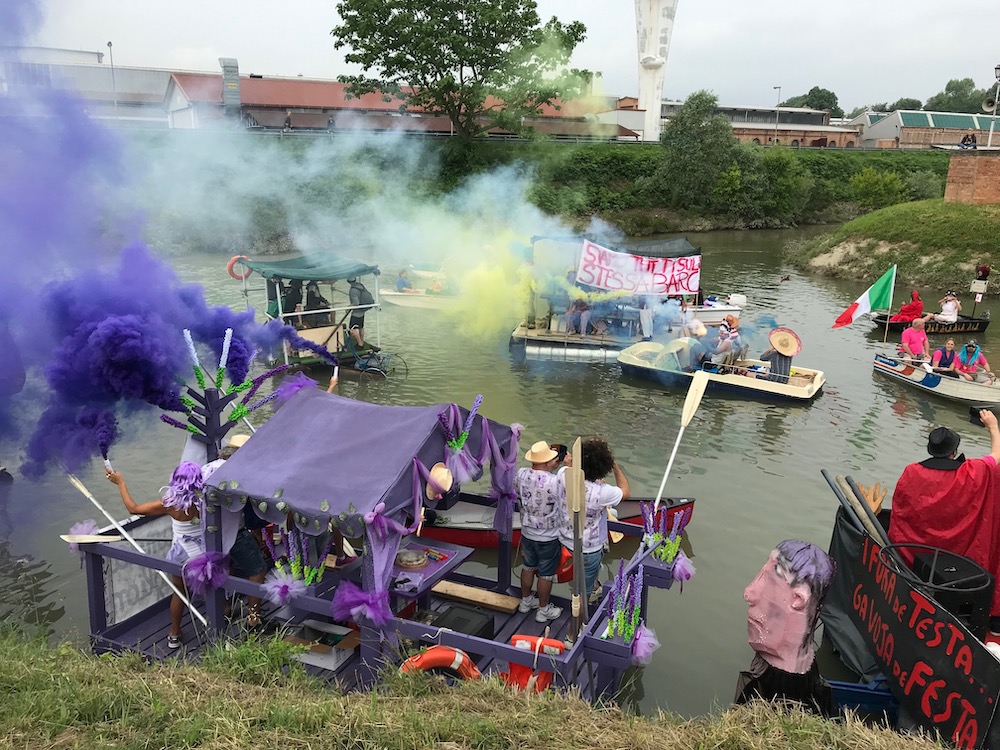 [The regatta in action!]
At 9am, the hooter sounds and the whole crazy spectacle begins to disperse in clouds of coloured smoke from the flares. Traditional boating songs in Venetian dialect sound over the loud speakers, and the canal banks are full of cheering spectators. The event is rather like a Brueghel painting of a peasant fair; a chaotic mass of people and boats all doing their own thing, with excited dogs barking, trumpets and drums sounding, and passing traffic stopping on the bridge to see what's going on.
From my position on the bank I watched the preparations of a large black boat with a crew of 9 men wearing long red cloaks. In the middle was an enormous paper mâché head, and another smaller head at the front (- or was it the back?). I couldn't understand what the boat represented (Dracula maybe?) but it was well constructed. Once released from its temporary mooring it caught the current and floated sideways whilst the crew frantically paddled with home made oars made to look like hands. They were overtaken by a floating beach party, the crew clad in pink towels and turbans, whilst smaller boats decorated with flags, balloons and banners, jockeyed for position. A floating kitchen glided past, the chefs already hard at work making fritto misto for the lunch stop at Bovolenta. There was a desert island, a garden with a washing line of oversized bloomers (to act as extra sails) and a Viking long ship with a crew of ginger bearded men and women with horned helmets. (I tipped that one to win, but I also think there should be a prize for originality as well as speed.)
[The Remada a Seconda]
Battaglia Terme can't compete with its Venetian equivalent, the Voga Longa, where determined super-fit teams row all the way round Venice and the Lagoon. That regatta is the same distance, but more serious and stylish: however, in terms of fun, wholesome entertainment and reckless abandon, you can't beat the Remada a Seconda.
Further information: