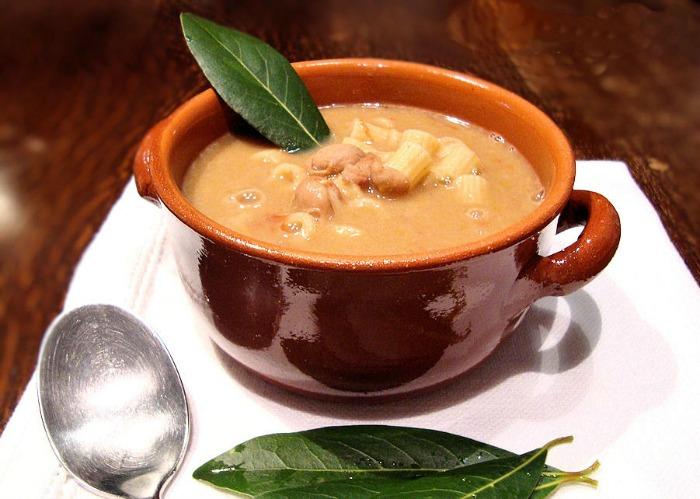 Cooking Time
2 hours and 30 minutes
Ingredients
Borlotti Beans
450 gr (Possibly previously boiled)
pasta
350 gr (try ditalini or pipette)
extra virgin olive oil
1/2 glass
lard (if you really do not want to use lard try with olive oil)
60 gr
Instructions
Prepare 1/2 liter beef or vegetable stock and set aside. Meanwhile, finely chop the lard and put it in a large saucepan, then add the oil and the chopped onion, garlic, celery and carrot. Sautè all the ingredients and then add the chopped tomatoes. As soon as the tomatoes turn mushy, add one or two ladles of stock and leave to dry completely.
While the sauce is cooking, sauté the pancetta cut into cubes or strips in another saucepan; fry it with its own fat, then add the beans (if you use fresh ones, make sure you have previously soaked them in water for a day at least).
Flavor the beans with various herbs and spices, like garlic, sage, bay leaves, you can also add some pork rinds or the bone of a prosciutto of you can get one. Then add a couple of ladles of stock and when it gets absorbed by the beans it is time to add them to the first pot with the lard, vegetables and tomatoes, and let it simmer. 
Boil the pasta of your choice (such as ditalini, pipette or even broken long pasta) in salted water and half way through the cooking time drain them and add them to the bean soup. Add a ladle of the pasta cooking water or the stock, if necessary, and simmer together until the pasta is ready.  
Make it as soupy or as dry as you like by adding more or less warm stock. Serve with a drizzle of extra-virgin olive oil and, if you like it, some fresh chilly.