Is there anything quite as quintessential as a cup of coffee, part of a culture in Italy as commonplace as the Colosseum in Rome, or Venice's Grand Canal. Italians certainly didn't invent the concept of coffee but as coffee houses in Venice started to serve this addictive black drink it soon became popular in other areas of Italy; namely Turin, Verona and Milan. As the 1700's made way for a new century, elegant coffee houses around Italy become the popular stomping grounds for artists, poets and revolutionaries. 
Nowadays, "prendiamo un caffè" (let's get a coffee) is still very much ingrained in local life with a recent study showing that over 5.8 million people in Italy preferring a coffee bar to start their morning. A break between meetings, catching up with a friend, fuel before the rest of the day's adventures after lunch; slinging back a steaming hot espresso standing at the bar is a treat available for all, the most diplomatic of beverages. That being said, the concept of sitting down and sipping a coffee for hours on end is still quite "new" compared to other countries. The good news though is that you can enjoy the best of both worlds around the boot as speciality coffee bars are making their own revolutionary arrival offering more than your standard espresso with a varied mix of filtered concoctions and speciality blends, with flat whites and cold brews no longer an impossible find. 
I myself am as passionate as one can be about the liquid that a French diplomat once coined "Black as the devil, hot as hell, pure as an angel, sweet as love". Since arriving in Italy over twelve years ago I have been on endless meetings where coffee was and still is the common denominator to help fuel the conversation. In Florence alone, we have a lovely blend of historic coffee houses along with places that specialize in a newer wave coffee experience with speciality varieties; namely Ditta Artigianale, Carduccio, Melaleuca, Caffè Piansa and Coffee Mantra.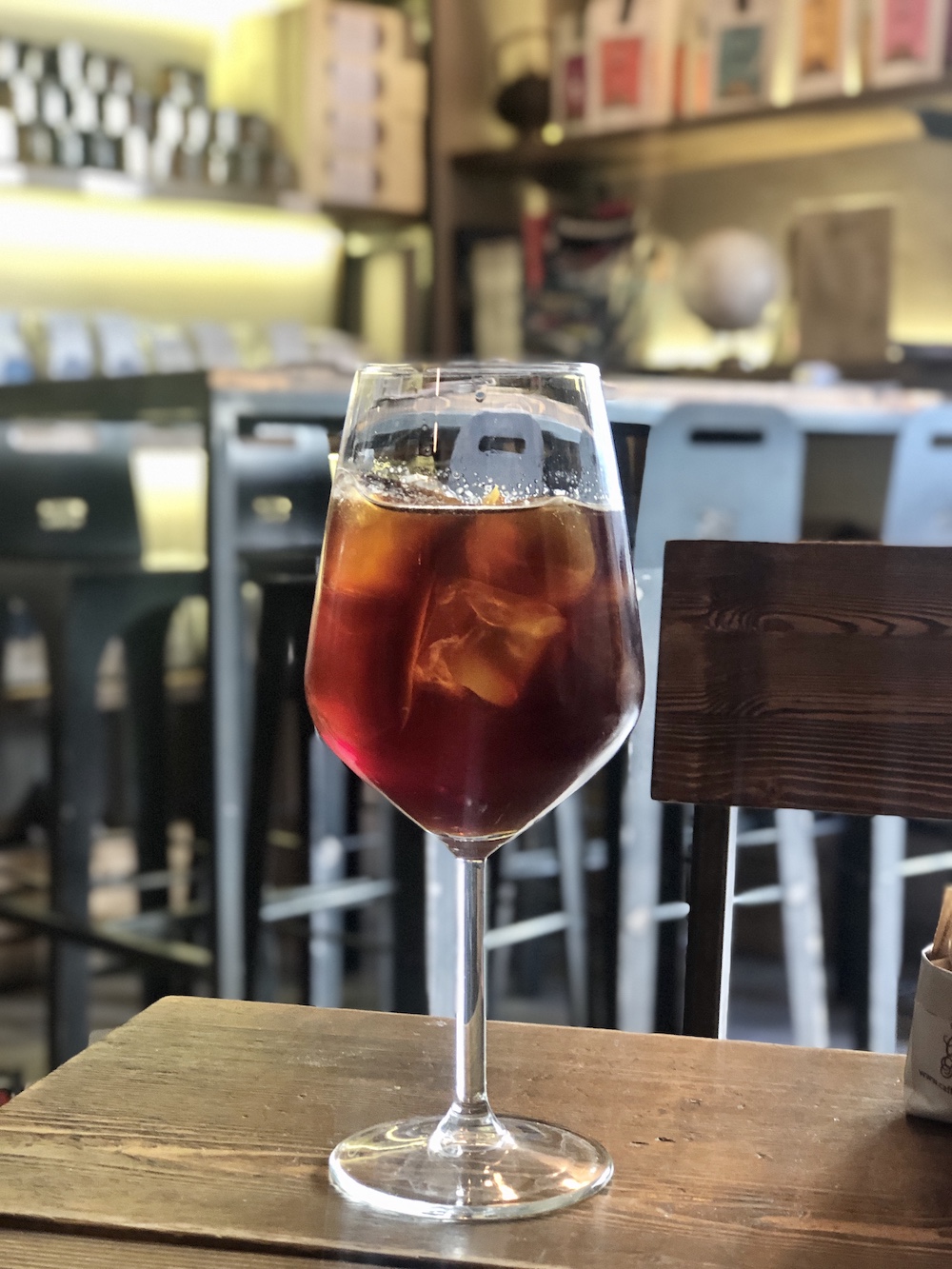 [Cold brew from Caffetteria Piansa in Florence served with tonic water and a slice of orange peel, ph: Georgette Jupe-Pradier]
For those who might think of these newer places as a threat, think not, for this only encourages the coffee culture to itself improve in sourcing blends and types, both ethically and sustainably. At least that's my personal opinion. People's consumption here in Italy is changing and there is ever more of a want to sit and enjoy one's artisanal coffee con calma. Slowly, but surely, local businesses are starting to catch up. It's also worth noting that taking it slow on holiday is the trick to truly appreciating a country like Italy. Between frequent coffee stops, perhaps along a walking holiday with Inntravel taking you through Italy's most picturesque locations, you can enjoy the true dolce vita lifestyle as its meant to be lived. 
Ever on the search for the best of the best, Gambero Rosso, the publisher of highly regarded guides to the best Italian food and drink culture has to offer, recently came out with a list of best bars around the peninsula listing over 1300 addresses in its 19thguide and 44 places with the maximum votes or chicchi (coffee bean) possible. For a truly exceptional coffee experience, here are some of the winners of the coveted "3 tazzine e i 3 chicchi" top prizes around the boot. 
Florence – Caffè Gilli
Not only is this place a household name in Florence but it also happens to be the most historic café in town. With over 270 years of history, Gilli was established by a Swiss family changing locations in the center before finally ending up in the coveted corner it calls home today in Piazza della Repubblica. Today it remains just as elegant, with a long marble bar where patrons clamour for their morning espresso together with a delectable array of mouth-watering pastries and chocolates within its eclectic art-nouveau interiors. 
Caffè Gilli, Via Roma, 1r, 50123 Firenze FI.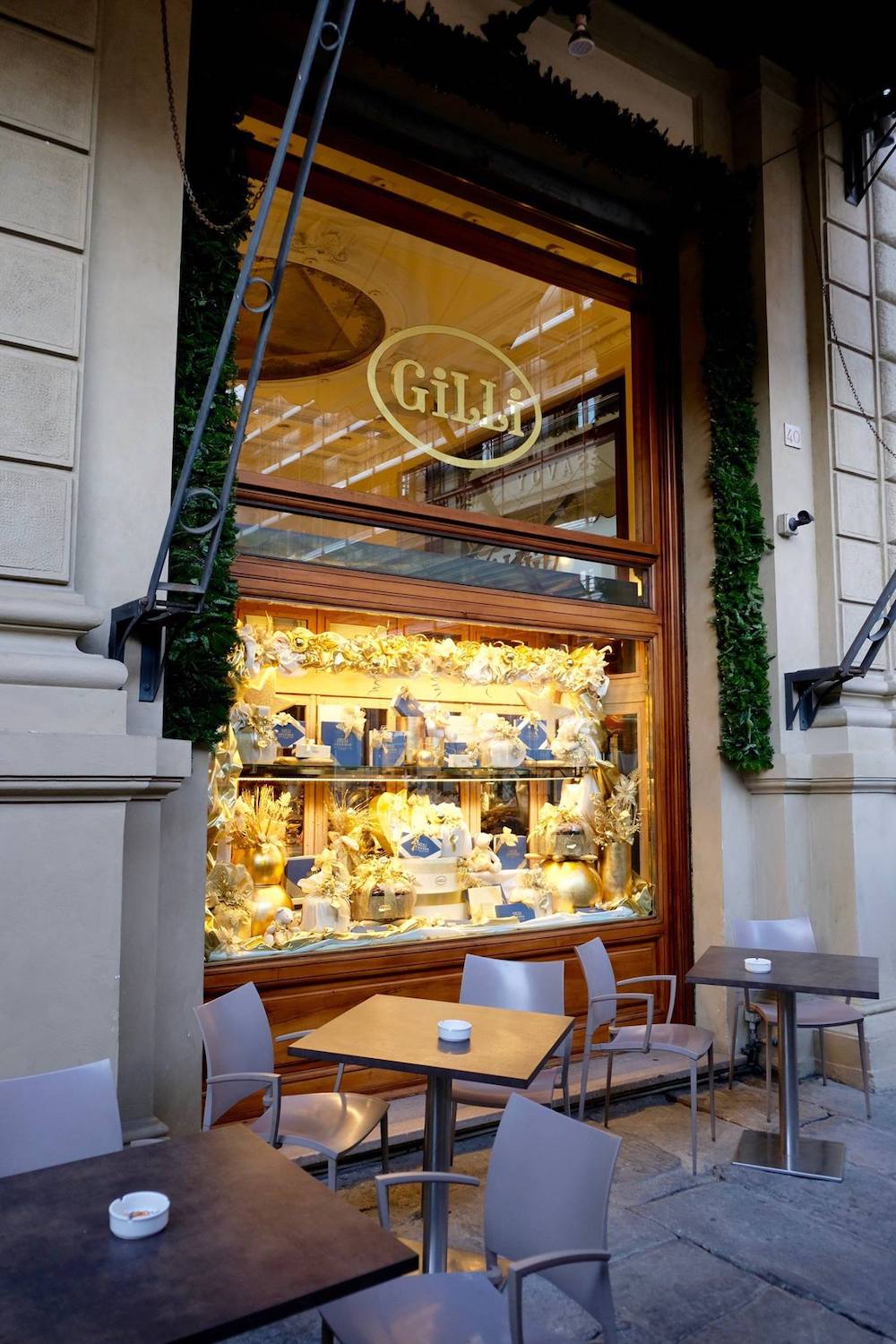 [Window display of Gilli in Piazza della Repubblica, ph: Georgette Jupe-Pradier]
Noto – Caffè Sicilia
You might recognize the name from Netflix's Chef's Table (from season 3) but there really is something quite special about this place located in the heart of Sicily's most beautiful baroque town serving up superb Sicilian treats and great coffee by acclaimed pastry chef Corrado Assenza. Caffè Sicilia is still a family business with over 100 years of history and the 4thgeneration Assenza is now bringing the family-name to the world's stage. I was personally able to visit this past July and can attest to their wonderful granite creations and cappuccino ghiacciato. 
Caffè Sicilia, Corso Vittorio Emanuele, 125, 96017 Noto.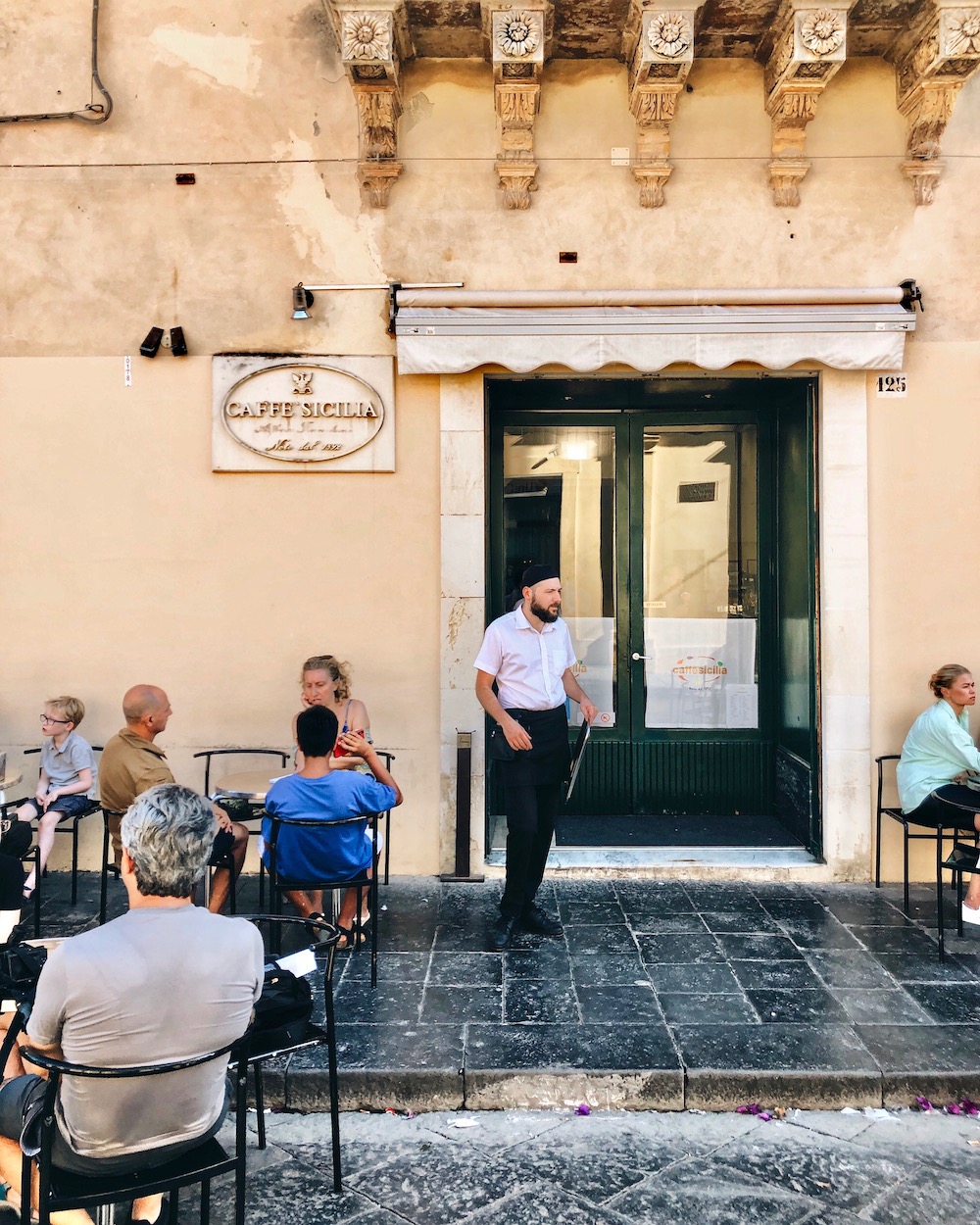 [Caffè Sicilia on a busy summer afternoon, ph: Georgette Jupe-Pradier]
Turin - Caffè Mulassano
Head to Turin and you could hardly miss a chance to visit this shoebox-sized (only 35 square meters of space in here) café ozzing elegance that is known for having invented the delicious tramezzino sandwich in 1926. Located under one of the city's famous porticoes in the grand Piazza Castello, stepping inside is nothing short of a dream. Think eye-catching wood-panelled, mirrored interiors featuring a marble bar where people line up for their coffee, chocolate, sandwiches and later in the afternoon, vermouth cocktails before dinner. 
Caffè Mulassano, Piazza Castello 15, Torino.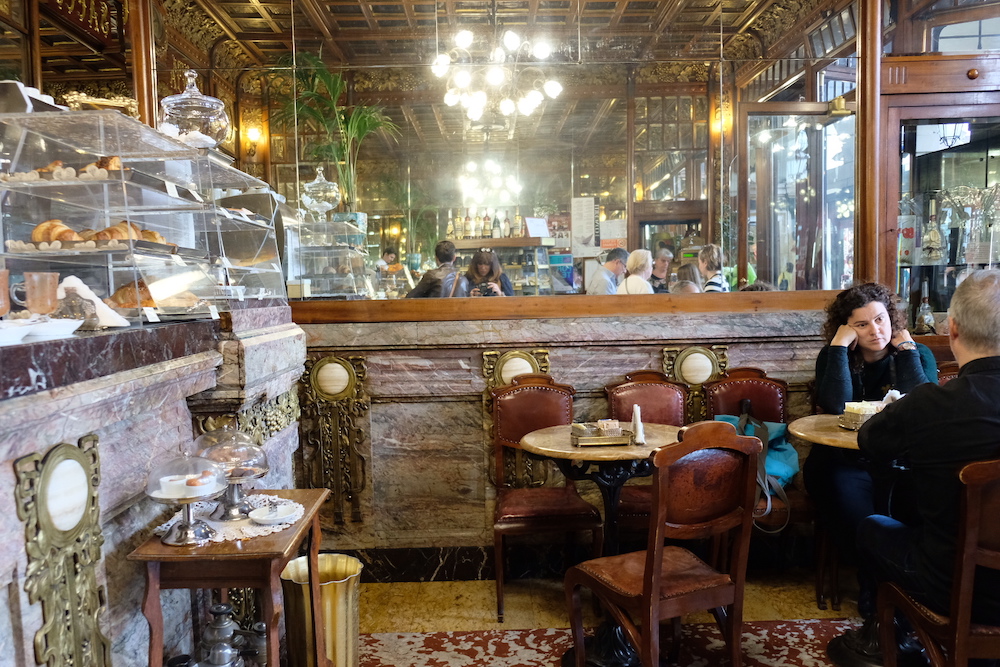 Genova - Murena Suite 
Head to Italy's port town of Genova to Via XX Settembre for one of the city's best places for coffee and sweet, savory treats (try the Ligurian focaccia). Murena Suite is minimalist in design offering a zen-like refuge for those needing caffeine and perhaps just a little peace. Their selection of teas are vast but I'm especially keen to try their signature Caffè Murena; a service that includes in addition to espresso with cream, a cup of hot chocolate, a biscuit, and a spoon of chocolate and edible gold.  
Murena Suite, Via XX Settembre 153-155-157 rossi, 16121 Genova GE. 
Milan – Pavé 
Located near Porta Venezia, this bright and airy coffee bar and breakfast spot opened by three young entrepreneurs is a breath of fresh air from Milan's busy city life. This is the kind of place where your cappuccino date will likely last for a couple of hours and best washed down with one of their flaky pastries, fruit tarts or perhaps even head into lunch. Don't leave without trying their signature Centosessanta, a delicious homemade brioche made with 160 grams of apricot marmellata (also made in-house). 
Pavé, Via Felice Casati, 27, 20133 Milano MI. 
Venice - Gran Caffè Quadri
An opulent space to say the least, the history of Grand Caffè Quadri located directly in the heart of the action in St Mark's Square dates back to 1630's when the Venetian merchant Giorgio Quadri decided to buy this shop to turn it into a place where people could find something referred to as "hot black water". Coffee in today's modern terminology, and Quadri attracted the likes of Stendhal, Lord Byron, Alexandre Dumas, Wagner, Marcel Proust. Naturally, it remains a place to people watch and relax within its luxurious surroundings (with matching prices one must note), live music plays outside in the warmer months and upstairs you'll find a fancy restaurant. 
Gran Caffè Quadri, Piazza San Marco 121, Venezia.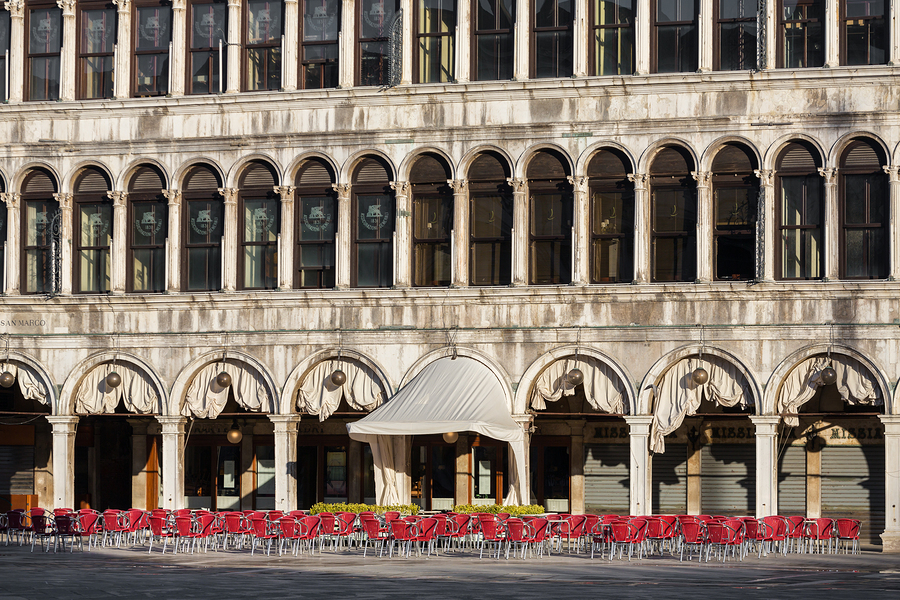 Minori - Sal De Riso Costa d'Amalfi
The location certainly can't be beat considering that this cafe is located among some of Italy's most gorgeous coastline but this coffee shop also offers itself as a modern gastronomic multistore. A large and multi-purpose environment, there is a 7 meter long pastry counter (get the Caprese al Limone) and artisan ice cream counter, pizzeria and bistro. 
Pasticceria Sal De Riso, Via Roma, 80, 84010 Minori SA.