At peak holiday season, the average Italian wants to look much more than 'fantastica' on the beach. Whether sunning oneself on the Amalfi Coast or the Italian Riviera, Sardinia's Costa Smeralda or Sicily's Spiaggia in San Vito lo Capo, nothing less than looking as sizzling as the scenery will do.
As for the average 'bella donna', as with her mother and grandmother before her, this will mean embracing her natural curves in time honoured fashion. Italy seems to have stayed true to its 1950s ideal of a natural hourglass shape, as realised by such icons of that glamour age as Sophia Loren, and today's equivalent, Monica Bellucci. Both largely attribute their womanly silhouettes to a modest Mediterranean, specifically Italian, diet. 'Everything I am, I owe to spaghetti,' La Loren, still spectacular at 79, is famously quoted as saying. While bella Bellucci, fabulous at 49, follows suit with her preference for 'pasta and Parmigiano.'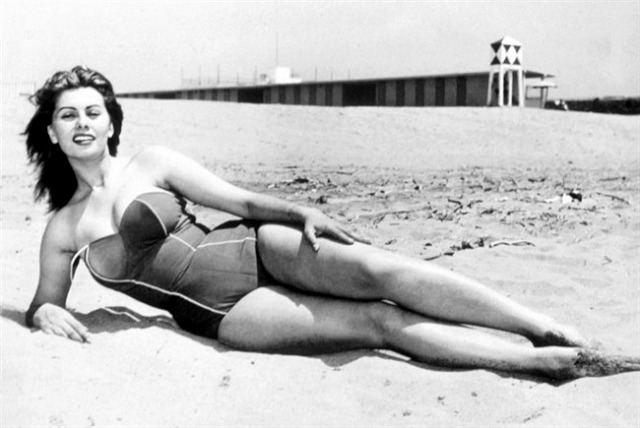 Sophia Loren
With an impetus on eating properly and healthily – ideally via the Italian influenced 'slow food' way of cooking as opposed to the fast food approach – most women can feel confident that the way they eat, supplemented with regular, moderate exercise – is consistent to maximizing their particular figure and well being.
The average Italian diet – rich with tomatoes, greens, olive oil, portion controlled pasta and sauce, and a modest intake of meat and fish – is said to guard against yo-yo dieting and obesity; and, in addition, offers optimum nutrition for glowing summer skin and glossy hair.
In comparison, according to a recent US survey, different cultures are changing  notions of the physical female ideal – and sometimes going to extraordinary lengths in order to achieve it. Starting with the US, Hollywood's own golden era hourglass icon Marilyn Monroe, had by the '90s, become the Californian beach babe. She was epitomised by blonde, pneumatic Pamela Anderson of 'Baywatch' TV series fame. Over the past five years, however, the US ideal has become ever more extreme – and shifted erogenous zones in the process.
Mariagrazia Cucinotta, Sabrina Ferilli, Laura Pausini
The woman most Americans now wish they look like is 'cartoon curved' Kim Kardashian of reality TV show, 'Keeping Up With the Kardashians'. It's quite fair comment that the stylista/celebrity has made a business out of both her peacock style and prodigious posterior. It has now overtaken, so to speak, her two other booty-blessed contemporaries, Beyonce and Jennifer Lopez. Her recent marriage to US entertainer Kanye West in Florence, involved the frequent Instagramming of Kim's rear-hugging Givenchy gown, revealing to her many followers, just in time for summer, the swift reclamation of her figure since becoming a mum. It has further served to fuel the phenomenon of 'bottom enhancing' cosmetic surgery.
Once breast implants were the most popular procedure worldwide (with breast augmentation and the Rome invention of liposuction at their biggest in Italy in the Berlusconi years). In recent times, building up a 'bootylicious' derriere – in the US whether through fillers or implants - has gone stratospheric - regardless of press reports warning of the dangers.
Across in Brazil in contrast – whether due to sporting fever from hosting the recent world football, to preparing for the next Olympics - they have swapped the traditional Italian style appreciation of contours for a more athletic form. A far cry from their natural stereotype, their version of perfect beauty is now lean German supermodel Heidi Klum.
With a different kind of beach culture entirely due to the unpredictable weather, the UK looks visually to be in extremis. The nation's twin icons appear to be the two slim Kates – Kate Middleton, Duchess of Cambridge, and model Kate Moss. At the other end of the  (weight) scale, The World Health Organisation warns that two-thirds of UK citizens are now overweight or obese, with the average woman at least a UK dress size 16/Italian 48.  (On a historical note, in certain Middle Eastern and African cultures, healthy or not, 'largesse' in a lady was once seen as being 'luxurious', a symbol of privilege).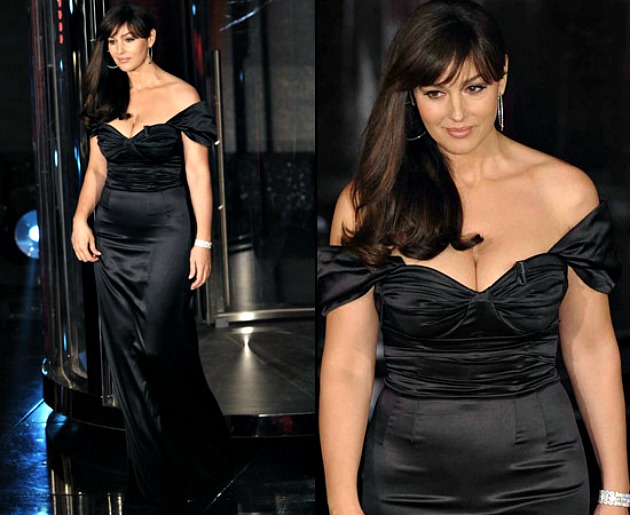 Monica Bellucci
Over in France and dress size discipline still prevails, with Parisian chic meaning a sylph-like physique. The neighbouring, sun-loving South of France, meanwhile, follows the tradition of emulating French sex symbol, Brigitte Bardot, in her 'And God Created Woman' days, cavorting on the sands of St Tropez – shapely, bronzed and sensuous.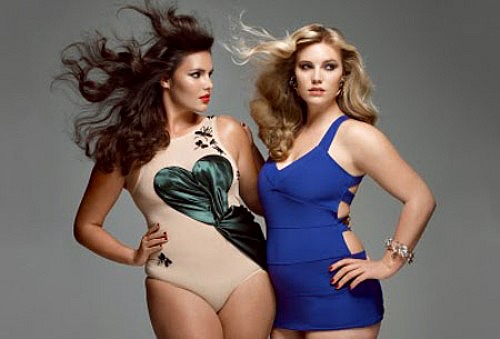 When the beach season is over, the appreciation of womanly curves looks set to continue on the catwalk– in Italy, at least. Homegrown designers such as Roberto Cavalli are showing on voluptuous models, Dolce & Gabbana's latest va-voom shoots feature muse Monica Bellucci, and Giambattista Valli's paying homage to the latter popular model, as well as the feel of foxy '50s couture with his 'Roman Holiday' style full, crisp skirts. On Ms Bellucci, he recently said in the UK press, '…when she dresses she is an embodiment of 1950s Rome. When you see her you think of the Italian film studio Cinecittà… She is still the greatest Italian icon, and I don't think there is another beauty like her… (I) appreciate actresses such as Bellucci and Claudia Cardinale, who are so real and natural when they laughed. There is nothing artificial about their beauty.'
Which goes to show we don't need to go to extremes, or radically change the Italian diet or lifestyle, in search of the body beautiful. It's about cultivating whatever our natural assets happen to be. In aspiring to the timeless philosophy of making a good impression, 'Fare una Bella Figura', it's not even what size you are that counts, rather the shape – and spirit - you're in, that matters. Just don't undo all the good work this summer by indulging in too much gelato!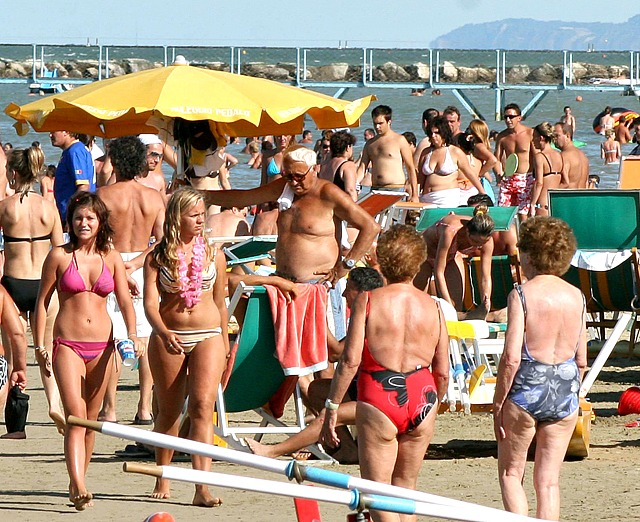 Beach Body Boosting Tips
To maintain those classical Italian hourglass assets, the secret lies in light toning and zoning. Think 'traditional' exercise, rather than muscle-building sessions at the gym.
- Cinecittà and Hollywood starlets, such as Gina Lollobrigida, were often assigned customised fitness regimes. They often concentrated on stretching and lengthening, and firming the bust, stomach and bottom area, to combat the screen adding on an average eight pounds/3 kg 628g. Results paid off - La Lollobrigida looked in fine form for her physical role in 1956 movie, 'Trapeze', in which she debuted in the US, appearing alongside Tony Curtis and Burt Lancaster.
- Italian tango champion and ex star of the UK's 'Strictly Come Dancing' TV series, Flavia Cacace, swears by aerobic forms of dance such as tango and salsa, for everything from waist-whittling and leg contouring, to enhanced co-ordination and fitness.
- One of the best forms of overall conditioning is the ballet barre – as ex La Scala ballerina Alessandra Ferri, recently returned to the stage, in excellent shape aged 50 - agrees. The traditional plies plus forward, back and side extensions naturally firm gluteal muscles, tone the stomach, and aid posture.
- Recovering from injury or serious aches and pains? Check out your range of movement first with your doctor, and consider practicing a gentle form of mat-based yoga or pilates – both great for strengthening core muscles.
- Above all, pick an exercise routine that's manageable for your age and circumstance, and that you enjoy – relentlessly trying to compete in a class you dislike does not gain optimum results – or your good mood. Workouts, like your vacation, should still mean fun!
_ _ _ _ _ _ _
If you want to learn how to relax at the beach with no worries about the way you look instead, then download this short story entitled "Wabi-sabi: The Beauty of Things that are Imperfect!" by best-selling author Nicky Pellegrino who takes us to an Italian beach to find out that the 'Bella Figura' is not about looks but more about confidence and self-esteem.