It's the last month of Spring, and Italy is in full bloom with its list of events – funnily enough, some of those horticultural happenings are mentioned in this list! Elsewhere, there's plenty to enjoy for culture fans, with events based around art, history, games – plus, a bit of motorbiking thrown in for good measure!
As ever, please check the official websites for any last-minute changes to plans – and keep safe!
Paolo Pejrone: Beyond the Garden
San Secondo di Pinerolo, Till 15th May 2022
For the uninitiated, Paolo Pejrone begins the loose garden theme of some of this month's events. A garden architect, Pejrone's interest in gardens began way back in the 1940s, during childhood. He went on to create some of the most revered gardens not just in Italy, but the world. 
The Miradolo Castle will be dedicating a special exhibition to Pejrone this May. It's a great way to get inside the mind of the garden architect, with various artworks, photos and projects taking visitors throughout his career. 
It's also possible to take a look around the vegetable garden of the castle, as well as its classic outdoor park – it's your last chance to catch this unique experience, so hurry to get yourself a place this May!
Ortocolto
Busseto, 7th - 8th May 2022
The May 2022 batch of events is a bit green-fingered, and it continues with Ortocolto, a two-day event devoted to the garden and vegetable patch. 
It's a market fair suitable for both keen gardeners and botanists, as well as all the family. Based in the garden of Villa Pallavicino, Busseto, the fair boasts a wide range of plants, roses, fruits and more – there is guaranteed to be something there to suit all collectors. Those who are starting out as budding gardeners can also benefit from workshops and the experience of attending exhibitors.
Young ones and non-garden experts can also sample some great food and drink, enjoy some entertainment and great musical events.
Verrès Historical Carnival
7th - 8th May 2022
Originally postponed from February, this May is due to see the Verrès Historical Carnival take place. 
The Carnival marks the moment that Caterina di Challant, Countess of Challant arrived in the region, and despite her aristocratic status, was, nevertheless happy to join local revellers dancing in the village square. 
That moment is re-enacted on the Saturday, as both characters Caterina and husband, Pierre Sarriod, are introduced before dancing with visitors in Piazza Chanoux.
There is also a parade, music, children's entertainment, music, meals and much more. And on the second and last day of the event, attendees can enjoy free helpings of food and drink (including polenta and sausages)!
Biker Fest International
Lignano Sabbiadoro, 19th - 22nd May 2022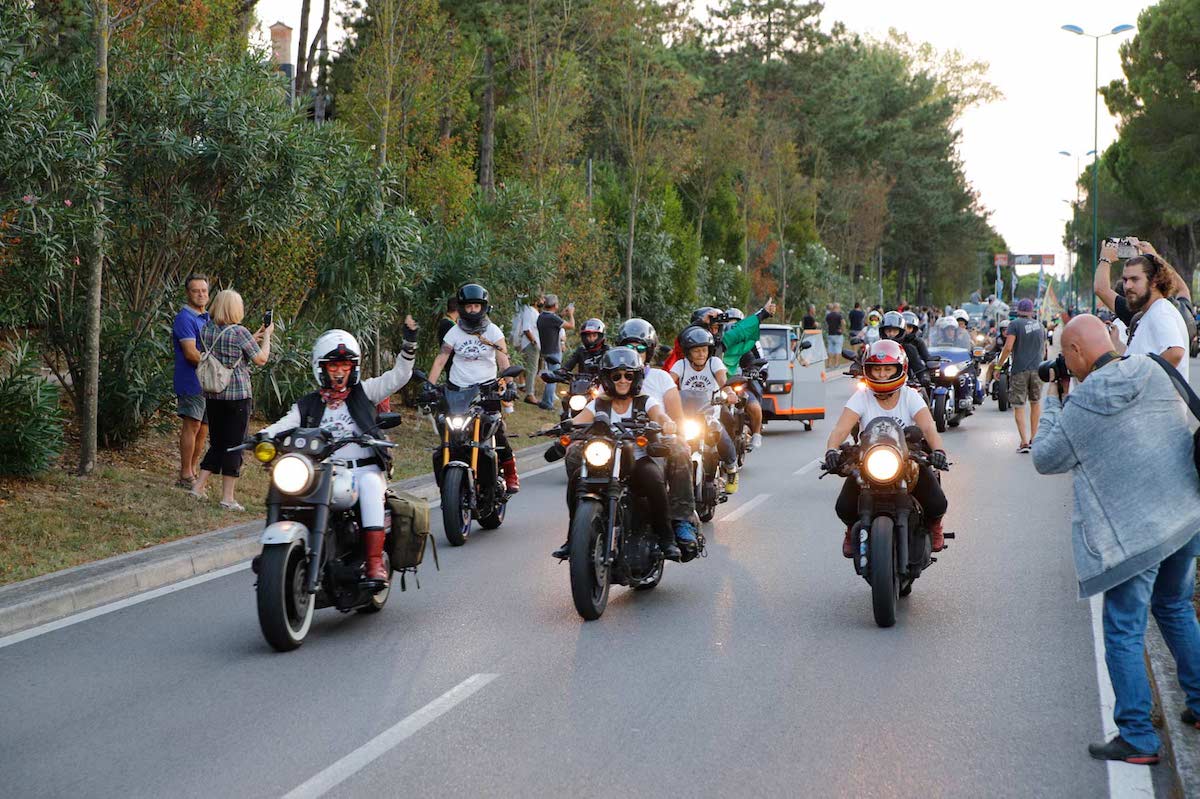 Revving up for another edition of its popular event is Biker Fest International, which returns to Lignano Sabbiadoro this May. 
The event is essentially an all-in-one deal, encompassing exhibition and show. Exhibitors of famous brands including Honda, Kawasaki and BMW Motorrad will not only have their own stalls, but will also be taking out their motorbikes out for a quick test drive. The Fest also puts on a great show, with parades, shows and even stunts of motorbikes – everything needed to satisfy the most dedicated motorbike connoisseur is all revved up and ready to go at Biker Fest 2022!
PLAY, The Games Festival
Modena, 20th - 22nd May 2022
This year's massive game-based convention will be the 13th edition. Far from being unlucky, however, it's set to put a smile on fans' faces. It's packed to bursting point with a wide range of workshops, meetings, talks, themed games, photo opportunities, concerts and much more.
This year boasts an extensive guest list including: Luca Perri, author of "The Science of Star Wars"; painter and author, Anna Pashchenko; Andrea Sfiligoi, author of Four Against Darkness; RPG authors, Grant Howitt and Christopher Taylor; plus Kathryn Hymes and Hakan Seyalıoğlu, co-founders of Thorny Games. 
Lucca Art Fair
20th - 22nd May 2022
Art fans will find plenty to enjoy at Lucca's annual Art Fair. 
A relatively new event in the field of art in Italy, it's still established itself as an important place to be for all art aficionados. One of the interesting aspects of the Lucca Art Fair is its juxtaposition between past, present and even future. For example, one part of the Fair is devoted to classic art from the 19th and early part of the 20th century, another to post-war to modern contemporary, while there is also a special presentation given to Lucca Art Fair Award winners – promising newcomers under the age of 35 who have made a notable contribution to the art world.
Furthermore, future artists are developing their skills, thanks to KidsLAB, a special initiative for six to 10 year old children that puts on a wide array of art-based activities. 
Perugia Flower Show
21st - 22nd May 2022
Garden fans in the Perugia area will be delighted with the return of the area's popular Flower Show. Set in Barton Park, Viale Giuseppe Meazza, the Flower Show see many exhibitors and experts come together to take part in the event, educating visitors about the methods and techniques involved in all kinds of gardening, from nursery to leisure.
The event cultivates a lot in only two days, squeezing in many conferences, courses and workshops, plus demonstrations and talks. The detail is such that there are even events devoted to floral artwork and tastings of edible flowers! Kids will love a day out at Perugia Flower Show, as the organisers are laying on a series of special activities including workshops and activities for young ones.