Eels. David Bowie. Comic Books. What do these have in common? These are all to be found in this month's events and festivals line-up as John Bensalhia discovers!
Autumn has begun in earnest, and while the leaves are starting to brown and fall, Italy's collection of October festivals ensures that there are plenty of things to see and do. Music. Film. Food. Surfing. Comics. They're all to be found this month, plus much more besides – so let's see if it's 10 out of the 10th month!
Make some Ch-Ch-Ch-Changes
David Bowie Is, Bologna – Throughout October Until 13th November 2016
David Bowie's untimely passing earlier this year left a massive hole in the rock and pop world. But his music lives on forever, as does his legacy, which you can explore at MAMbo - Museo d'Arte Moderna di Bologna.
David Bowie Is continues its run this month, having opened in July of this year. It's a unique retrospective of the great man's life and work, using multimedia, music videos and displays. More than 300 items from Bowie's personal archives have been chosen by curators Victoria Broackes and Geoffrey Marsh.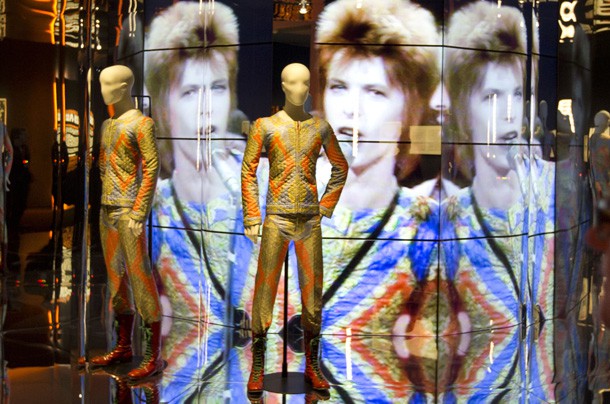 All sorts of fascinating Bowie items can be seen at this exhibition, including Freddie Burretti-designed Ziggy Stardust body suits, special set designs created for Bowie's 1974 Diamond Dogs tour, and  Guy Peellaert and Edward Bell's album sleeve art. The exhibition is also lent a more personal element courtesy of some of Bowie's own instruments and handwritten lyrics.
Of course, the multimedia aspect of David Bowie Is means that you can relive some timeless classics through a choice of music videos from the singer's impressive catalogue of work. The exhibition is open until 13th November between Tuesdays and Sundays.
Work Up An Appetite
Comacchio's Eel Festival; National White Truffle Fair; GiovinBacco in Piazza, Emilia-Romagna, Throughout October 2016
October is commonly a month that promises the best in its showcases of food and drink. One great place to go to this Autumn is Emilia-Romagna, which is packed full of superb food and wine events.
These include Comacchio's Eel Festival, which kicks off the month and lasts until 9th October in its historic centre. Here, you will be able to sample some delicious eel-flavoured recipes at the gastronomic stand in Via Fattibello, while various restaurants in the area will also provide some special eel dishes.
Meanwhile, in Sant' Agata Feltria, the National White Truffle Fair is open for most of the month from 2nd October. The event attracts thousands of visitors who come to experience the white truffle, as well as many seasonal products (including mushrooms, herbs and chestnuts) and various other products such as arts and crafts, all given a special homespun charm.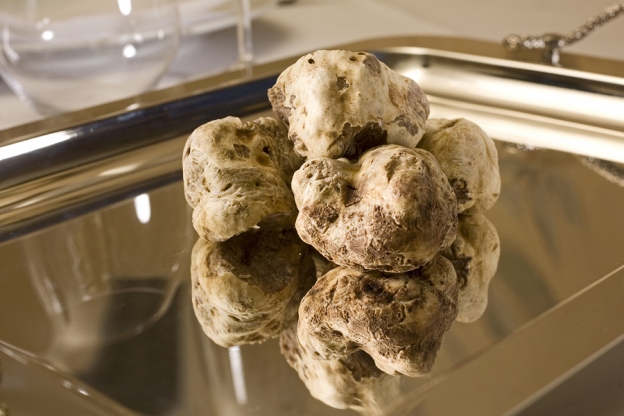 Later in the month, on the long weekend of 21st to 23rd October, GiovinBacco in Piazza arrives in Ravenna. It's a huge wine event that is devoted to Sangiovese and other classic Romagna wines. Visitors can also get a taste for some top quality local foods and drinks in the squares and central streets.
If you're a food and drink connoisseur, then Emilia-Romagna is the place for you this October!
Catch The Wind
Wind Festival, Diano Marina, 30th September - 2nd October 2016
Summer's not going away just yet. If, like me, you're more of a fan of longer days, shorter nights and blue skies, as opposed to the chilly, longer dark nights, then you'll be wanting to hang on to the Summer season as long as possible.
Fortunately, there are events such as Diano Marina's Wind Festival that can oblige. Spanning three days over late September and early October, the event allows you to enjoy some fun time wind surfing, kite surfing and SUP surfing activities, complete with lessons available for those who are new to this game.
There are also a number of unmissable events including a Longboard Surf Contest, The 4th Windsurf Italian Cup Freestyle Tow-In and the 1st Long Distance Kite Windfestival. Augmenting these are special DJ sets and live music, as well as a tasty barbecue by the sea.
Mask And You'll Get
Maschera di Ferro, Piedmont, 1st - 2nd October 2016
The enigma that was the Man In The Iron Mask gets his very own celebration in Piedmont during the first weekend of October.
The event springs into life on 1st October, with a series of performances from musicians, flag wavers and various other groups. Special performances are laid on, recalling and celebrating the life of the Man In The Iron Mask.
Sunday begins with Mass, before moving on to a large-scale re-enactment of The Musketeers on Pignerol Leveled. Also on the Sunday are performances from the Sportica Group of Pinerolo, a photo exhibition and a parade.
This event is also well known for hiring a new masked man each year to re-live his original fate, right down to the original style of costume and accessories.
Greet The Season
Autumn Festival, Abbadia San Salvatore, 7th - 9th and 14th - 16th October 2016
Abbadia San Salvatore is the destination for the much-loved Autumn Festival, which takes place over two weekends this October.
This event celebrates the dawn of the Autumn season in style. It does so through a bumper crop of entertainments, foods, drinks, and walks. Various stalls will whet your appetite with a selection of sandwiches, cakes, chestnuts, as well as wines, mulled wines and beers. All kinds of music performances can be enjoyed in various destinations in the area of Abbadia San Salvatore.
Among the tours on offer are a guided visit of the geological location of Bagni San Filippo, tours of the Mining Museum, and a hike through the Trail of Springs, which takes you from the small village of Vivo d'Orcia climb through to the Camaldolese hermitage dell'Ermicciolo. The latter is the perfect Autumn walk, during which you can experience the colours, sights and natural wonders of the area.
Regatta Return
Barcolana Regatta, Trieste, 9th October 2016
Known as the biggest collection of boats coming together in the Mediterranean, Barcolana Regatta comes to Trieste on 9th October.
Boating fans will find much to enjoy at the Regatta which commences between the Embankment of Barcola and Miramare, and then arriving in front of the Piazza Unità Trieste. The event (the 48th edition) lasts throughout the day and also through the night, when illuminated night races take place.
There are many types of race and event at the Regatta, both light-hearted and more competitive. A wide spread of ages can take part, and this includes the special regatta for youngsters between eight and fifteen years of age.
In addition to the races, attendees can enjoy the food, wine and music which cap off a boat festival not to be missed.
Movie On
Rome Film Festival, 13th - 23rd October 2016
This year is the 11th edition of the Rome Film Festival, and again promises to be a monster hit of an event, complete with movie premières and guest stars.
Kicking off the event is the Ewan McGregor-helmed adaptation of Philip Roth's American Pastoral, which also stars the director along with Dakota Fanning and Jennifer Connelly. McGregor is one of the actors present in Rome this Autumn, along with the likes of Viggo Mortensen, who will be discussing his 30-year career.
One of the initiatives of the Rome Film Festival is what's known as Close Encounters, which boasts an impressive line-up of guests such as actors Meryl Streep, and Tom Hanks, film-maker Oliver Stone, and author Don DeLillo. There will also be a tribute to director, writer and producer, Michael Cimino who passed away earlier in 2016.
Reach The Target
Sagra del Tordo, Montalcino, 29th and 30th October 2016
This timeless medieval re-enactment of the archery tournament, Sagra del Tordo (or Feast Of The Thrush) sees the four neighbourhoods of Montalcino compete against each other. This year's agenda begins on Saturday, and includes a procession between Piazza Cavour and Piazza del Popolo, where the draw of the archers of the districts occurs. The tournament itself takes place on Sunday afternoon between the four districts. It follows a number of prior events, including parades, archers' greetings and the blessing of the archers.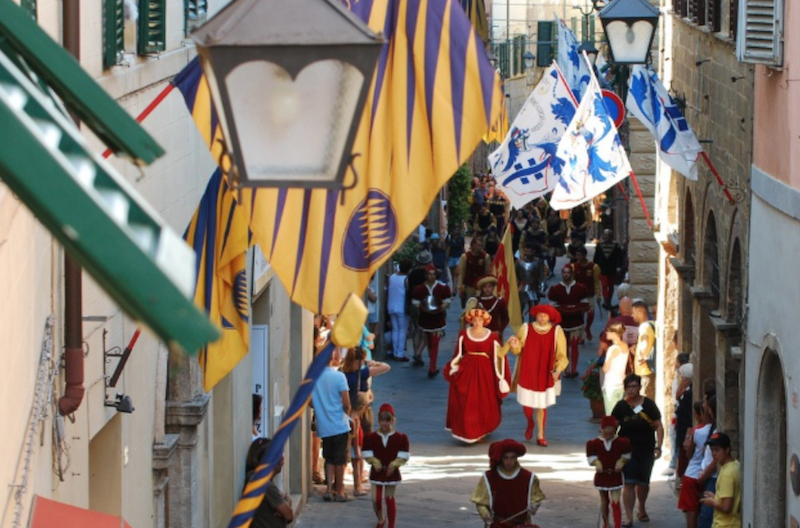 It's an enjoyable way to see out the month, and if you're feeling peckish, then you can sample some local dishes at the stands of the Four Districts at Empire Gardens.
Display Comic Timing
Lucca Comics and Games International Convention, 29th October - 1st November 2016
The world of cartoons and comics opens up for fans of this genre in Lucca at the end of this month.
The Lucca Comics and Games International Convention celebrates all kinds of cartoons, games and comics. It's an opportunity for visiting stands, dressing up or seeing some special guests.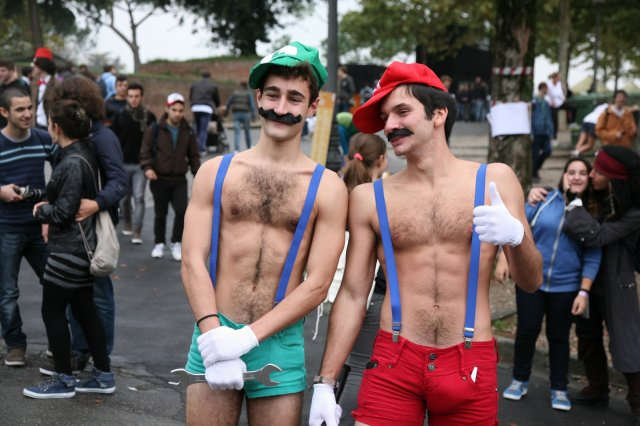 Photo credit: Multiplayer.it. 
This year's line-up includes guest of honour, author Brandon Sanderson, Disney twin animators, character designers and directors, Tom and Tony Bancroft, as well as fantasy legend Terry Brooks and designer Charlie Adlard, who worked on the zombie series, The Walking Dead.
Get Into The Halloween Spirit
Halloween, Various Destinations, c. 31st October 2016
October is the month in which chains clank, chills fill the air, and ghosts and ghouls come out to play.
Yes, it's Halloween again, and Italy loves to party the night away. One of the most famous celebrations is Corinaldo's La Festa di Halloween. Corinaldo has apparently been named the Halloween Capital, and its carnival atmosphere, themed taverns and spooky characters add up to a highly memorable evening that will leave you with a grin bigger than a Jack-O-Lantern.
Other great Halloween event destinations include Triora, a Ligurian village that's known for its witch trials in the 16th century. Here, a special Halloween festival is held, complete with themed events during the day and live performances and entertainments.
It's worth pointing out that if you're in town in and around the date of Halloween, then a good number of local businesses will get in on the action, with restaurants concocting special spooky recipes or cinemas making you dive behind the seat with screenings of classic horror movies. Amusement parks are also known for getting into the spirit of things. Gardaland's super themed party is a good one to try, and includes music, parades and a fireworks display.