If you're headed to Italy's beautiful Amalfi Coast, you'll want to bring home a special souvenir. But let's face it: weeding through the countless trinket shops in the coastal villages can turn into a bewildering experience. How do you know if you're buying something authentic, something made locally and in a traditional way? How do you know if you've fallen prey to a tourist trap? 
There is no substitute for a knowledgeable buyer. If you know what to look for, you can put your money where it counts: back into the pockets of local makers and not into those of importers looking to make a quick profit without any connection to the region's history and culture. Searching for an authentic, hand-crafted souvenir is a great way to experience the people, stories, and heritage of the Amalfi Coast.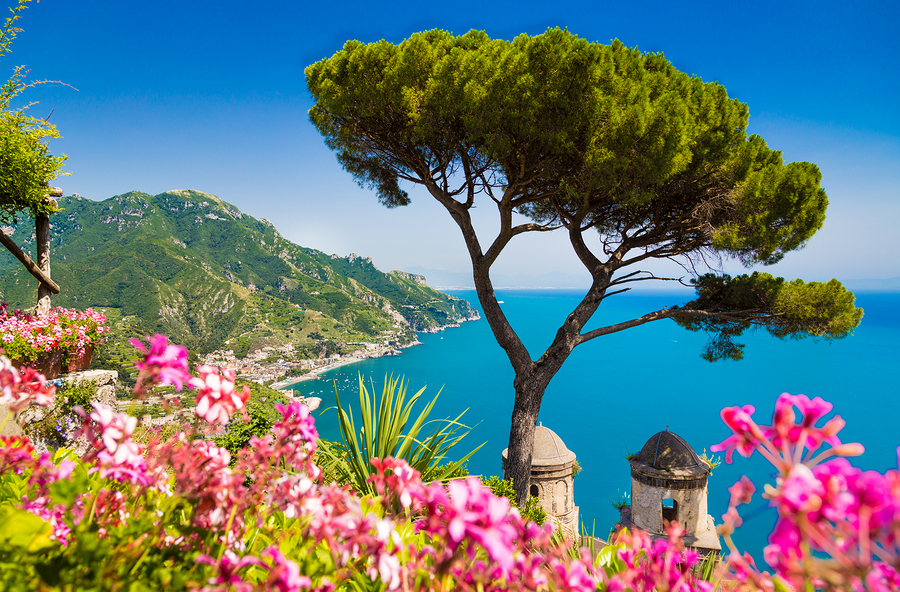 So, what should you bring home in your suitcase? Here's a start:
CERAMICS (CERAMICHE)
By the 1600s, ceramics artisans were well established across the isolated cliffside villages of the Amalfi Coast. Of these, Vietri sul Mare rose to prominence as a center for the trade. Today, there are some three dozen ceramics producers in Vietri, most family workshops along with a handful of larger-scale enterprises.
Authentic ceramics from Vietri sul Mare are protected by an Italian national law designed to safeguard the country's cultural heritage. The law stipulates specific materials, colors, styles, and workshop practices that must be followed. Italy's National Ceramic Council, or Consiglio Nazionale Ceramico, has also established a trademark to help identify authentic ceramics made in Vietri sul Mare. Check the bottom of the piece. It should read Ceramica Artistica e Tradizionale (or its acronym, CAT), as well as "Vietri" or "Vietri sul Mare." Each piece should also include the name or trademark of the workshop; sometimes it may include an artist's signature.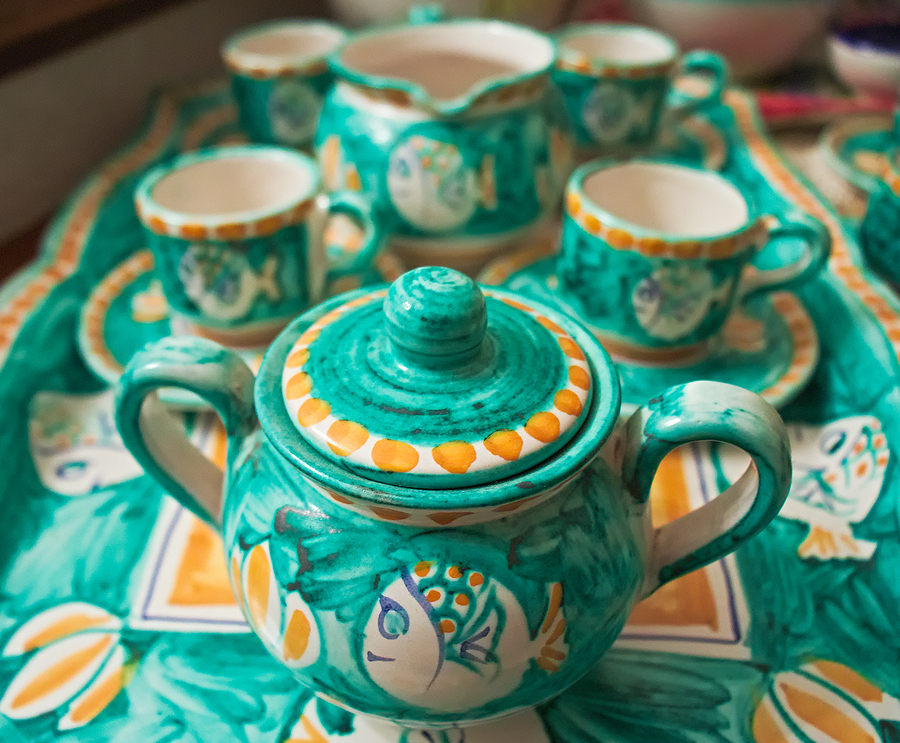 The quality of Amalfi Coast ceramics is all in the finishing touches. It's the execution of the painted decoration that distinguishes higher-quality work from lesser-quality wares. Some workshops, especially those with larger production, tend to rely on stencils to form the most common decorative motifs used in their work—flowers, leaves, and other patterns that are frequently repeated. In a set of tableware, for example, you might see slight variations in the pattern that indicate a more freehand approach. A freehand drawing that is done with extra time, care and great skill is often more nuanced, and will result in a more beautiful and richly decorated piece. Some pieces are finished with a combination of freehand and stenciled painting. 
Many ceramics producers are set up to pack your fragile purchases safely and ship them abroad, so don't be afraid to ask.
Cava dei Tirreni
Ceramica Artistica Corinaldesi
Via G. Pellegrino, 42 
089/344058 
Positano
Via Laurito, 49 
089/811382 
Ravello
Ceramiche d'Arte Factory Pascal
Via Roma, 22
089/858576 
Vietri sul Mare
Ceramics Museum
Museo della Ceramica
Torretta di Villa Guarigla
Via Nuova Raito
089/211835 
Corso Umberto I, 140 
089/212415 
Corso Umberto I, 31
089/210271 
Strada Statale Amalfitana, 14 
089/210053 
Via Arenella, Molina 
089/210197 
Via Madonna degli Angeli, 7 
089/210243 
Corso Umberto I, 45
089/211122 
INLAID WOOD (INTARSIA)
Intarsia is a form of wood inlay and a specialty of Sorrento. In this technique, different woods—including mahogany, elm, chestnut, ebony, rosewood, olive, walnut, and other varieties—are painstakingly arranged into elaborate surface designs. 
The technique of inlaid wood was widely used across northern and central Italy by the late Middle Ages. Masters of wood inlay decorated medieval Italian churches with choir screens, stalls, pulpits, and other church furnishings with the intarsia technique. By the nineteenth century, a handful of Sorrentine families were renowned for elaborate intarsia furniture. Today, Sorrentine intarsia masters turn out breathtakingly beautiful works of furniture using this technique, but intarsia is also used to create smaller pieces. 
The street-side trinket shops of Sorrento overflow with quickly and cheaply turned out wooden souvenirs that bear little resemblance to the masterpieces of intarsia that have brought Sorrentine craftspeople fame over centuries of tradition. The lower-quality works of intarsia produced today tend to be small. Items like jewelry boxes, frames, and other tchotchkes take less time to produce and are more portable, making them attractive to travelers. 
You can find higher-quality, small-scale intarsia objects, but use your most discerning eye and compare many objects before you hand over your cash or credit card. Be sure to buy directly from the workshop where the piece was made instead of one of the tourist-oriented resellers, and you'll ensure you make a purchase you'll still be happy about long after you return home.
As a general rule, fine intarsia is not cheap, but often represents a good value considering the quality. Sorrento boasts unparalleled opportunities to not only go home with a beautiful work of intarsia but also to make a connection with the person whose labor and passion went into crafting it. 
Sorrento
Museobottega della Tarsialignea
Via San Nicola, 28
081/8771842 
Via degli Aranci, 95 
818/784497 
Viale Enrico Caruso, 1 
081/8781041 
Giuseppe Rocco 
Via San Nicola, 30 
081/8784874 
Via Luigi de Maio, 16 
081/8781165 
LEATHER SANDALS (SANDALI IN CUOIO)
The island of Capri—magical in its natural beauty—is filled with many expensive tourist traps. The most traditional crafts of the island, as well as its best values, include handmade leather sandals. Traditional caprese sandals consist of a simple leather sole with straps. The sandals gained popularity in the late 1950s and 1960s, when Italian film stars and later American celebrities made Capri fashion—including the sandals—famous. However, the sandals are probably not too far from the ones the ancient Romans wore on the island when the emperor Tiberius made Capri his retreat. 
Quality handmade leather sandals can also be found in Positano, a cliffside Amalfi Coast town with a beautiful tile-domed church, as well as in other coastal villages. Buy directly from the makers, some of whom can whip up a custom pair in the time it takes for you to enjoy a gelato.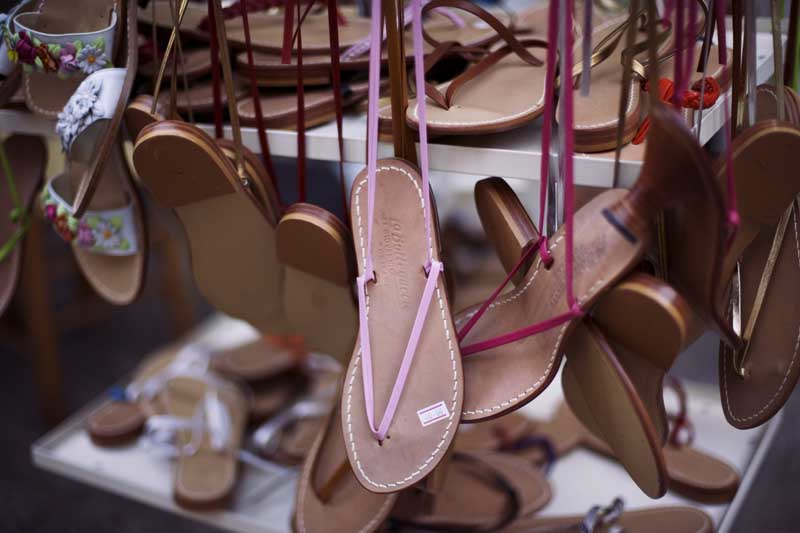 [Leather sandals in Postiano (c) flyover CC via Flickr]
Capri & Anacapri
Via Giuseppe Orlandi, 75 
Anacapri
081/8373583 
Via Camerelle, 3 
Capri
081/8370487 
Positano
Viale Pasitea, 96 
089/811711 
Via Regina Giovanni, 19 
089/811824 
LIMONCELLO & LEMON PRODUCTS (LIMONCELLO)
The famous tart-sweet liqueur known as limoncello requires only four ingredients: lemon peels, grain alcohol, sugar, and water. However, like many of Italy's most important culinary traditions, the simplicity of the recipe can be deceiving. As in making a good risotto, a fine wheel of Parmigiano-Reggiano, or a simple bottle of traditional balsamic vinegar, the making of good limoncello is based on generations of knowledge, small but critical tweaks in the recipe, and well-kept family secrets.
The famous "Sorrento oval," or ovale di Sorrento, is a special variety of grapefruit-sized lemon that makes this alcoholic elixir both distinctively sweet and acidic. The lemon variety grown in Amalfi, the sfusato amalfitano, is also considered excellent for making this popular after-dinner drink. 
No one knows exactly when or how locals began to make the special liqueur that would come to be known as limoncello. According to some historians, limoncello was first made behind the walls of convents and monasteries, where excellent-quality beer and wine was already a mainstay, and where strong alcoholic elixirs were commonly concocted in monastic infirmaries for medicinal purposes. In fact, limoncello may have derived from a group of liqueurs called rosoli, sweet alcoholic drinks comprised of fruits, spices, herbs, and medicinal plants that had long been produced in monasteries and convents along the Neapolitan coast.
Beyond the convent walls, making lemon liqueur became a family affair. Residents of the Amalfi Coast probably have been making lemon liqueur in the region for centuries, sharing bottles and secret recipes among family and friends. However, it only began appearing in regional cookbooks until around 1900. In 1988, a businessman from Capri named Massimo Canale registered the first trademark with the word "limoncello," and began to commercialize a recipe handed down from his great- great-grandmother outside of the region. It was an idea—and a product—that would prove wildly successful, as limoncello has transcended not only the region but all of Italy to be considered an international and world-class tradition.
If you want to enjoy some limoncello while in Italy or bring a bottle home, the good news is that even great limoncello is relatively inexpensive. Gourmet and gift shops in Naples, Sorrento, Amalfi, and the outlying islands of Procida, Ischia, and Capri are chock-full of limoncello bottles. When you stroll the lanes of the Amalfi Coast, you will see bottles in a variety of shapes, from tall cylinders to squat balloons to those resembling flasks, all boasting the best quality or secret recipe. Inside many bars and pasticcerieyou'll be offered a sample of the house-made variety. 
On your own or with a pre-arranged group, you can also arrange to visit some of the lemon groves where the ovale di Sorrentoand the sfusato amalfitanoare cultivated. Some of the local tour operators organize lemon-themed tours and day trips to the lemon groves and producers. You can also visit some of the more commercial factories, as well as do your own taste-tasting at any producer or just about any bar or shop selling limoncello in the area. 
Like this article? You'll want to read "How to make Limoncello"
Amalfi
Consorzio di Tutela Limone Costa d'Amalfi I.G.P. 
Corso Reginna, 71
334/3647427
Piazza Duomo, 39 
089/872062 
Cooperativa Cata / La Valle dei Mulini
Via delle Cartiere, 55-57 
089/873211 
Piazza Duomo, 40 
089/871065 
Capri
Via Roma, 85 
081/8373059 
Massa Lubrense
Via Liparulo, 12 
081/8789380 
Minori
Liquorificio Carlo Mansi / Limunciel
via Vescovado, 1 
089/853717 
Ravello
Via Trinita, 37
089/858167 
Sorrento
Consorzio di Tutela del Limone di Sorrento I.G.P. 
via dei Platani, 15
081/5636060
Via Correale, 27 
081/8781888 
Piano di Sorrento
Via Gennaro Maresca, 80/D 
081/5322199 
Tufo
Via Pioppi
089/853556 
HANDMADE AMALFI PAPER (CARTA AMALFITANA)
During the Middle Ages, a system of creeks and rivulets powered paper mills in the Valley of the Mills outside of Amalfi, and the area became famous for its cartari, or papermakers. 
The interesting paper museum on the outskirts of Amalfi preserves the town's legacy of paper-making and is housed in one of Amalfi's antique paper mills. It is well worth the detour off the beaten path. Inside the cavernous, damp rooms of this medieval mill, you can appreciate how the Canneto River powered a hydraulic wheel. You can watch the steps of traditional paper-making, from wetting cotton, linen, or hemp, to pressing the fibers into unique paper creations. You can even try your hand at making paper in an interactive exhibit, fun for kids and anyone who enjoys a more hands-on museum experience.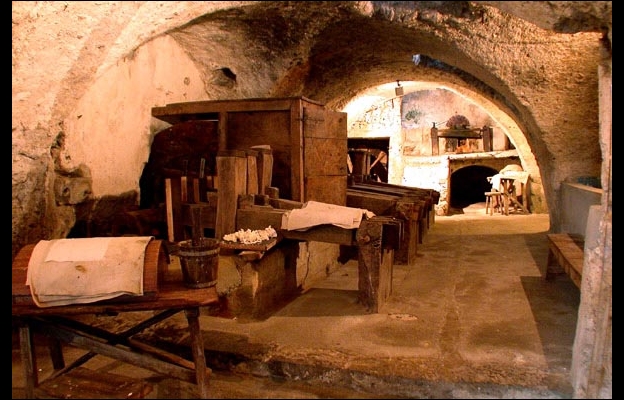 After you've toured the museum, hike up one of the footpaths that leads out of Amalfi to see the evocative old ruins of the dozen old paper mills that operated as recent as the eighteenth century, nestled in the now abandoned valleys of the craggy coastline. 
Amalfi
Museo della Carta
Via delle Cartiere, 23 
089/8304561 
Via delle Cartiere, 100 
089/871315 
Laura Morelli is an art historian and historical novelist with a passion for Italy. You can find much more about what to bring home from this region in her guidebook series, Made in Naples & the Amalfi Coast. Also be sure to check out her book, Made in Italy, as well as her Venice-inspired historical novel, The Gondola Maker, in the Italy Magazine shop.