It's Easter Time this month and there are also many other memorable events and occasions that without a doubt will put a spring in April's step. John Bensalhia is your trusty guide.
Spring is well and truly in the air in Italy, and there is a fresh crop of festivals and events taking place this April. In addition to the annual events marking Liberation Day and the birth of Rome, this year sees major Easter celebrations happening between 3rd and 6th April. Add to that a healthy mix of artichokes, furniture and jousting and you have a very busy month – so let's get right to it.
EASTER CELEBRATIONS – April 3rd - 6th, Throughout Italy
Following from a later April date last year, the Easter Holiday period moves to an earlier slot this year between 3rd and 6th April. Italy is revered across the globe for its memorable Easter celebrations that combine religious contemplation with visual spectacle.
One of the most memorable is the Mass at St Peter's Basilica. Crowds of people come to this location to witness the Pope giving his blessing and his leading of the Stations Of The Cross, a procession marking the 14 stages of the Passion of Christ.
Processions are a key part of Italian Easter, with other memorable examples taking places in locations such as Enna in Sicily (with more than 2000 friars present) and Chieti, Abruzzo, which is said to be one of the oldest Good Friday processions (a tradition is the playing of Selecchi's Miserere by 100 violins). There are also processions by torchlight in locations such as Orvieto and Assissi.
A notably spectacular Easter event occurs in Florence with Scoppio del Carro (Explosion Of The Cart). This event involves the parade of a big, colourfully decorated wagon through Florence to Basilica di Santa Maria del Fiore. Once it reaches its destination, mass is held. after mass is over, the firework-loaded cart is set ablaze with the aid of a dove shaped rocket which attracts a huge crowd of spectators.
Easter Sunday plays host to a variety of events in Italy, a good example being La Madonna che Scappa in Piazza which takes place in Sulmona, Abruzzo. It's an event that celebrates the optimism and peaceful occasion in green and white costume. One aspect of this event is the change in costume of the woman selected to play the Virgin Mary. Initially clad in black, the woman goes to the fountain in the Piazza – at which point doves are released into the air and the black costume is symbolically changed to green.
The festivities continue on Easter Monday 'Pasquetta' with a wide spread of music, dancing, fun and games. Panicale in Umbria plays host to a particularly quirky but fun contest in which entrants roll large wheels of cheese around a course – the ultimate victor is the one to complete the course with the least number of strokes.
IL GIURAMENTO DI PONTIDA – c. April 7th, Lombardy
The Oath of Pontida dates back to April 7th 1167. Allying themselves against Holy Roman Emperor Frederick Barbarossa, a group of Lombardy regions formed a coalition known as the Lombard League.
The oath allied the areas of Bergamo, Brescia, Mantova and Cremona against Barbarossa with the condition that they never make any plans, treaties or truces with the Emperor.
The oath is celebrated with a historical re-enactment of this alliance, celebrating a key event in Lombardy history.
ARTICHOKE FESTIVAL – April 12th - 14th, Ladispoli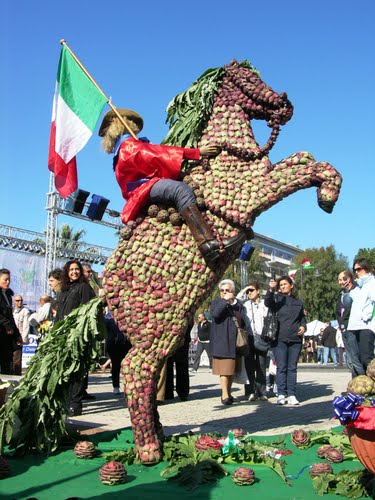 That tasty dish that also happens to be an aphrodisiac, the artichoke is the centrepiece for a three-day festival this month in Ladispoli, Lazio.
It's been a tradition now to honour the Roman Artichoke at this special festival. It forms the foundation of a wide selection of dishes created specially at this event. Visitors can sample the artichoke-related dishes on offer, which contain a delicious and unique combination of flavours.
Just as creative, is the competition to find the best artichoke sculpture. Budding entrants can create anything they wish, from boats to life-sized animals such as tortoises, horses and elephants!
INTERNATIONAL FURNITURE FAIR – April 14th – 19th, Milan
The cream of design and artisan talent will grace this year's International Furniture Fair which is now in its 54th edition. They will be presenting their latest innovations and plans for furnishings and fixtures.
The event takes place between the 14th and 19th of April and will play host to over 2000 exhibitors. The trio of style-related categories (Classic, Modern and Design) will offer visitors a wealth of unique and imaginative new offerings in this field.
There will also be a selection of extra features present at this year's show, such as the latest lighting solutions for all sorts of use whether indoors or outdoors – and to tie in with 2015's International Year Of Light, architect Attilio Stocchi has created a special retelling and exploration of the story of light. The workplace is also catered for with a string of new designs, technologies and plans to create the ultimate in modern working environments.
NATALE DI ROMA – April 19th - 21st, Rome
Rome celebrates its birth over a jam-packed three-day period which this year takes place between 19th and 21st April.
The Circus Maximus is a key focal point with many of the events happening at this location. The opening ceremony kicks off proceedings in distinctive style, and following this, a historical parade leaves Circus Maximus to make its way to Via Dei Fori Imperiali. Later on that day, it's back to Circus Maximus for a series of historical re-enactments and performances.
Other initiatives include a special selection of cultural events and activities for schools – a great way for introducing youngsters to the established history and traditions of Rome. There is also a historical commemoration of Rome's foundation, called The Mark Of The Groove.
MOSTRA MERCATO INTERNAZIONALE DELL'ARTIGIANTO – April 24th – May 3rd, Florence
A diverse and high quality showcase of the best in craftsmanship, the International Handicrafts Trade Fair comes to Fortezza da Basso at the end of April.
It's a great venture for talented artists and craftspeople to demonstrate their skills with their own unique touch. All sorts of crafts are on display including lamps, pottery, rugs, masks and statues. Whether it's classically styled or finished with a contemporary sheen, there are all sorts of crafts to satisfy all tastes.
Besides these craft displays, this event also offers extra stalls for foods, drinks, garden art and a beauty and wellness area.
LIBERATION DAY – April 25th, All over Italy, FESTA DI SAN MARCO – April 25th, Venice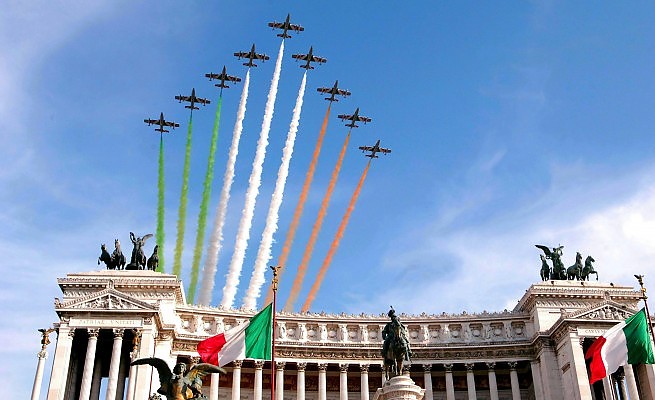 This year marks the 70th anniversary of the day that Italy was released from the Nazis and the rule of Mussolini by Allied troops. The following year in 1946, the first national holiday was held to mark this occasion.
The country will come together to remember those that fell in the war and to honour the dead. In addition to the serious contemplation and memoriam, there will also be festivals, concerts and bands to mark the day.
In Venice, it will be a doubly special day – in addition to Liberation Day, Venetians will also be marking the Festival Of St Mark, the city's patron saint. Bands and musicians will provide a series of aural treats, while markets and carnivals will add to the fun. The famous boat race, Regata di Traghetti, will also see teams of gondoliers competing to win first prize while ferrying passengers.
CORSA ALL'ANELLO – April 25th – May 10th, Narni
The area of Narni returns to Medieval times for two weeks in late April and early May with Corsa All'Anello.
The event celebrates the days of 1371 in which the Knights of Narni protected the city as celebrations honouring the Holy Juvenal, Defensor Civitatis took place.
With a medieval flavour running through the event with a string of medieval sights, sounds, tastes and colours, the centrepiece of this is the jousting tournament in which three horsemen play the Race Of The Ring.
Other medieval themed events include a medieval cooking contest, a show market and a photo contest via Instagram using the tag #narniacuccagna. The best themed photo uploaded will win a tasty dinner for two, so get snapping!
SAN BIAGIO DAY – April 28th and 29th, Avetrana, Italy
San Biagio is the Patron Saint of Avetrana in Southern Puglia. He was known in his time for being a doctor (his many feats include saving the life of a young child who had choked on a fish bone) and for being the Bishop of Sebaste between the third and fourth centuries. He was also known for his firm religious beliefs, and unfortunately, these were to ultimately cost him his own life. Having been imprisoned for his Christian beliefs, he was put on trial and – having refused to renounce his faith – was beheaded in 316.
April 28th and 29th sees a two-day celebration of San Biagio with a combination of sombre procession and later upbeat fireworks and music from bands as well as street fairs, food and drink.