When you think of Lake Como it's hard not to conjure up images of boat trips, George Clooney and Bellagio for Bellinis! These are all very enjoyable things to see here; although I would recommend the Bellinis in Harry's Bar, Cernobbio!
The glitz and glamour of the lake district is a more recent attraction of this area but back in 1700 when the Grand Tour first began, the draw for European nobles was the beauty of the landscape.
Surrounded by lush green mountains, tiny villages that seem to slip into the sapphire blue water. The light here is intense and bounces around the lake even on a grey day. You could be forgiven for thinking that you've seen it all.
However, if you prefer the path less traveled, one of the most incredible experiences you can have around Lake Como takes place away from the Lake.
Take a drive up the Western shore and venture into the Intelvi valley. Here you will find the little known town of Lanzo d'Intelvi. You can join a winding adventure of a road surrounded by woodland. The road itself has a history. Vittorio Bertarelli, the entrepreneur who founded the Touring Club Italiano financed the building of this road as he was so in love with peaceful and beautiful Intelvi Valley.
Balcone d'Italia
As you drive upwards you will find you are heading to the Balcone d'Italia (the Balcony of Italy). This leads to the top of a Como mountain, Mount Sighignola. The area is named the Como Prealps and is the border between Lombardy in Italy and the Swiss province of Ticino.
At the top of Mount Sighignola, there is an awe-inspiring view of the Alps, the border between Italy and Switzerland and the stunning Lake and City of Lugano.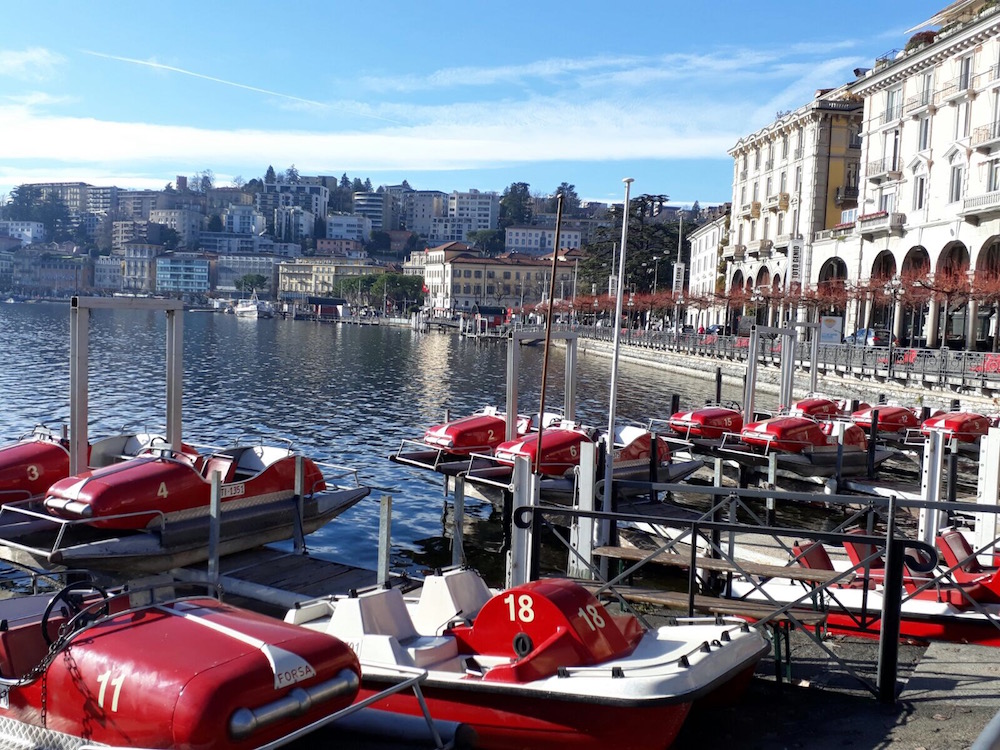 (The City and Lake Lugano)
When you reach the viewpoint you'll find a panoramic terrace with almost 360-degree views and rightly called 'The Balcony of Italy'.
It is considered one of the most beautiful places in Italy and was elected a "Place of the Heart" by the FAI (Fondo Ambiente Italiano). This is a list of cherished places that Italians wish to save for future generations.
As you journey towards the summit you'll find hiking trails of varying steepness but all leading up so this is not for the fainthearted. You can take older children up on foot but it would be a challenge with baby carriers or strollers.
There are many areas along the way which are perfect for picnics and sunbathing. It's a very popular route for both cyclists and motorcyclists enjoying the ascent, some hearty food on the way up and an incredible view as a reward at the top!
Skiing
Have you ever wanted to get away for a quick weekend of skiing but dread the long drive once you land? In under an hours drive from Milan Malpensa and you could be skiing and combining this with a lake holiday.
There is a ski area at Lanzo d'Intelvi with 6km of downhill pistes and a 7.5km cross-country trail. Who would have thought you can ski around Lake Como? Ski passes here are also reasonably priced compared with France and Austria. 
(Lanzo d'Intelvi. Credit: https://www.laprovinciadicomo.it)

Where to eat:
There are restaurants and cafes in the town of Lanzo d'Intelvi. On the way to the summit, you will see Ristorante La Baita Lanzo Intelvi. This is a delightful, rustic restaurant serving comforting regional food such as Pizzoccheri, Polenta, and Cotoletta alla Milanese. Staff are friendly, food is prompt and they welcome everyone from children to bikers. It also has a wonderful woodland play area for children.
If you want to wait until you reach the top to stop for food there is a small makeshift cafe in Summer where you can find a cold drink, panini, and a deckchair to enjoy the view. 
(Views from Balcone d'Italia)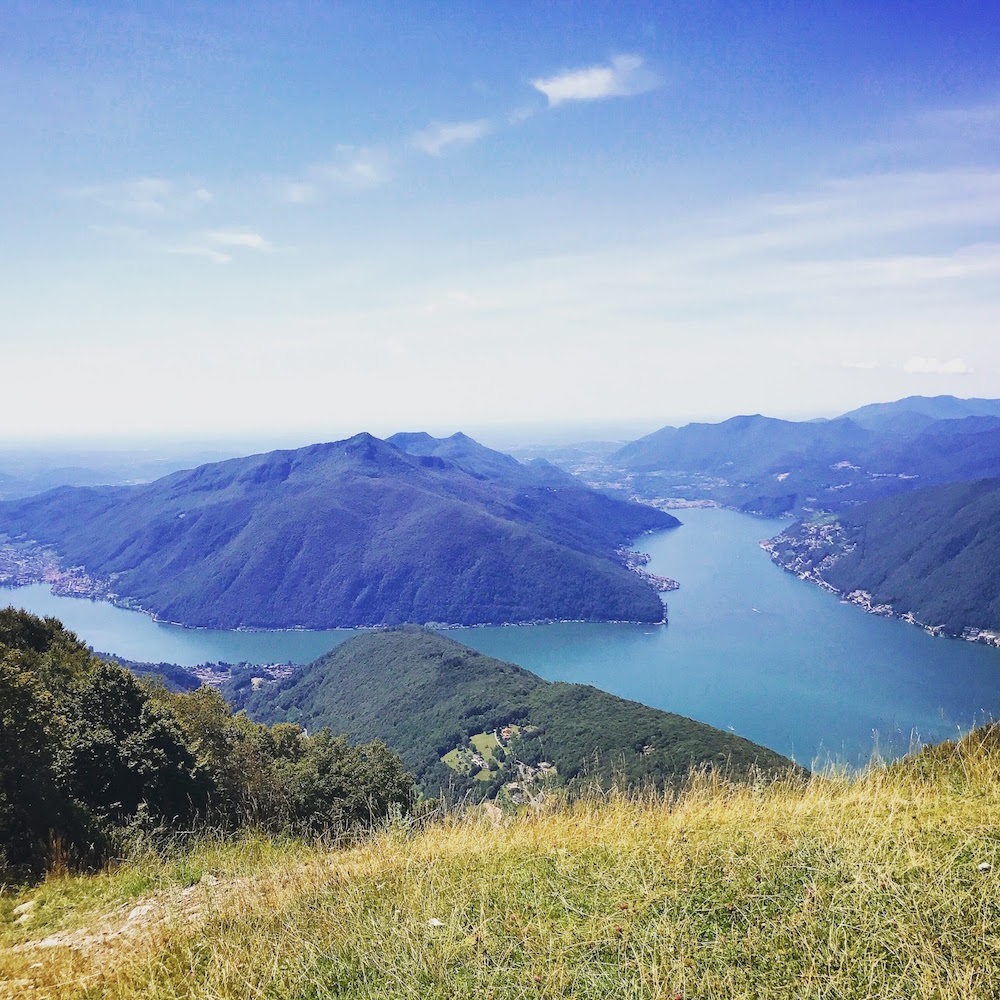 You've arrived!
Once you reach the top you are faced with a stunning and rather overcoming view. It's rare to find a view so uninterrupted and with such majesty directly in front of you.
You will see the Alpine mountain range including Monte Rosa and the Matterhorn. On a good day, you can see not only Lake Lugano but also Lake Maggiore.
The mountains on the Swiss and Italian side despite being so close to each other have very different characters. The Italian side is gentle, sloping and lush, covered in a well-established forest. The Swiss side is a steep dramatic slope which drops straight into Lake Lugano and is rockier.  
Often you will find small market stalls here selling local honey, jams and olive oil.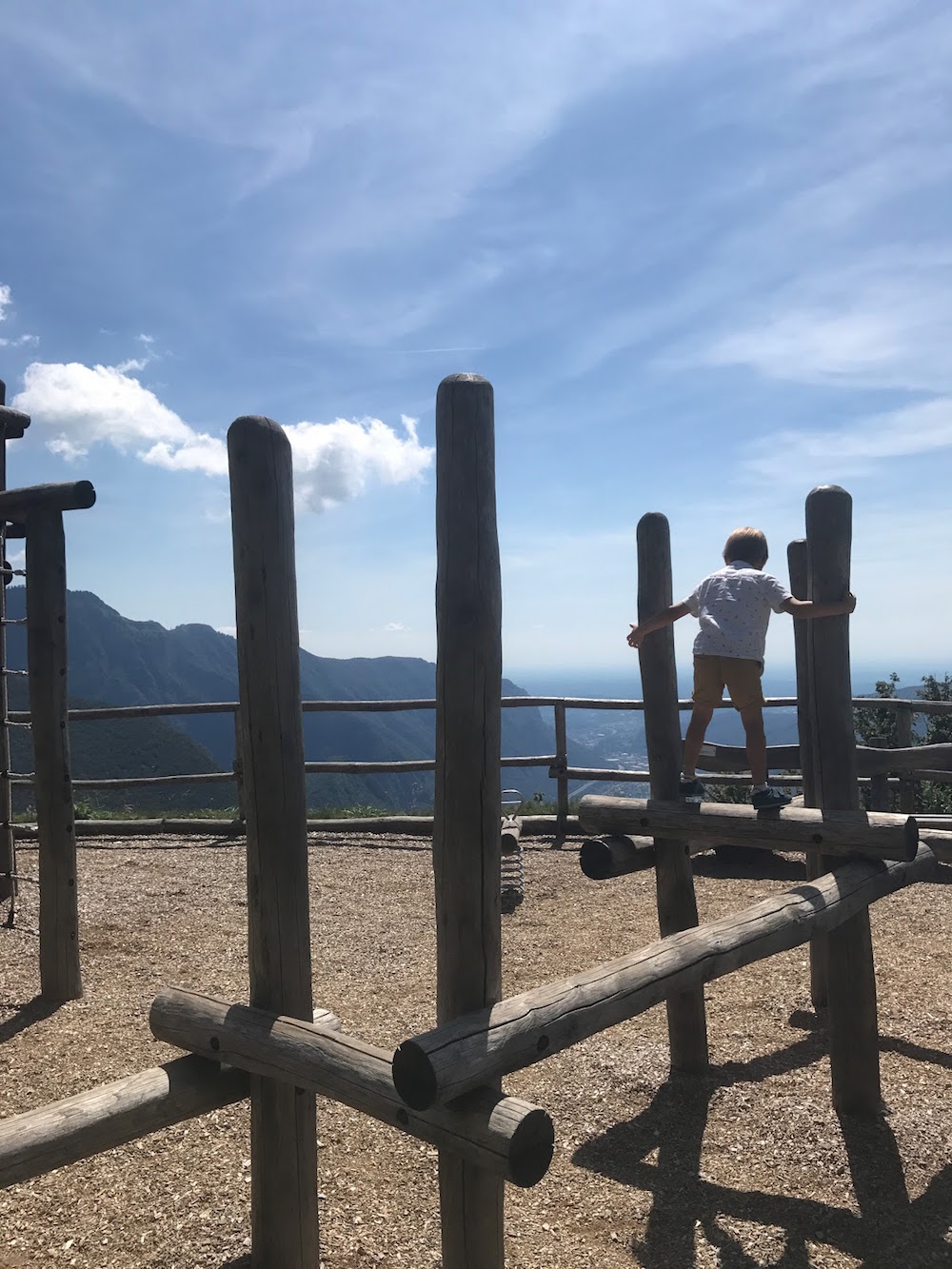 If you have children there is now a fantastic natural wooden playground where children can test their climbing ability and play with friends while you marvel at the view.