When people talk about Italian food the first things that spring to mind are pizza and pasta. And so they should, Italy is home to fantastic pizza and pasta; and dishes like lasagne, cannelloni and carbonara make great comfort food during the colder months.
But what do Italians choose during those hot summer months when your appetite naturally decreases?
As many Italians eat seasonal meals, summer brings more fresh fruit and vegetables and there's a marked increase in the eating of salads. But don't be fooled into thinking that in Italy a salad means some lettuce leaves and a sliced tomato mixed with an onion and cucumber.
Italian salads come in many guises, from white onion sliced so thin you could read the newspaper through it, mixed with white cannellini beans, fresh oregano and a drizzle of good extra virgin olive oil to shavings of Parmesan on a bed of peppery rocket leaves.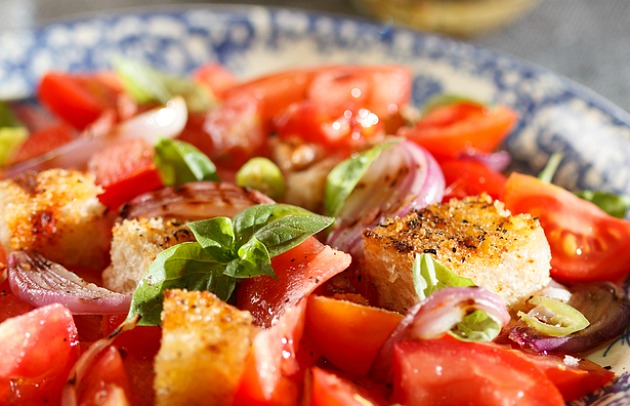 A popular Italian summer dish is 'insalata di riso', (rice salad), as the name suggests it is made up of rice combined with fresh ingredients such as tomatoes, olives and artichoke with ham or tuna. The dish is assembled when the rice is hot and then left to cool for several hours in the refrigerator. Perfect for an afternoon's picnic on the beach.
Originating in Tuscany, panzanella is a summer dish that is now made all over Italy. To make an authentic panzanella you need to soak stale bread in water before breaking it into a medium sized crumb and adding it to finely chopped red onion, olive oil and some ripped up basil leaves; (always rip the basil, never cut it with a metal knife as it makes the edges turn black).
With tomatoes in abundance they become a summer staple and are wonderful if chopped up piled high upon friselle, before receiving a sprinkle of sea salt and a drizzle of good quality olive oil. To eat freshly prepared friselle, which are crispy ring croutons, you need strong teeth so it's always best to leave them for a few minutes to allow the liquid from the tomatoes to soften them.
On sunny mornings, it is possible to pick fresh the zucchini, (courgette), that seem to appear overnight on the plants that flourish on the Italian orto. Sliced and grilled with garlic they make great simple side dishes.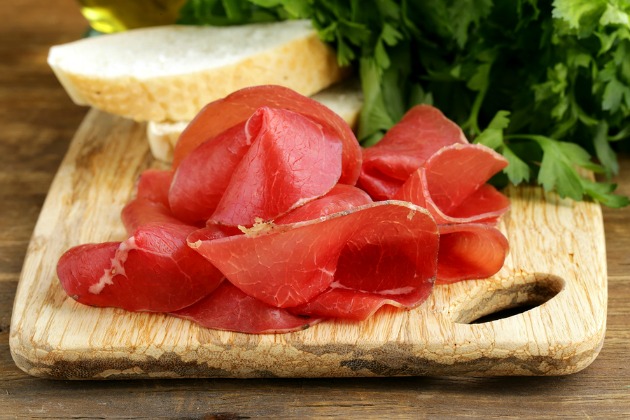 Light soups are great on sunny days and zucchini with mint makes a refreshing one that can be enjoyed both hot or cold.
Consider this for a simple Italian themed lunch in the sunshine with friends: Prepare two salads adding essential Italian herbs like basil or oregano, arrange some bresaola on a plate with some rocket and Parmesan shavings and a basket of good Italian bread; to choose one, why not take a look at our recent features on Italian bread. Make your panzanella in advance and maybe prepare some griddled vegetables. All that's left is to apply the sun cream open the Prosecco and enjoy.
With many Italian's enjoying trips to the coast during the summer months it's fair to say that possibly one of the most common summer food comes from the sea. With the sunshine in Italy comes a marked increase in the consumption of fish and shellfish, dishes like,'spaghetti allo scoglio', are perfect for a summer lunch; spaghetti served with mussels, clams, and shrimps.
After your summer lunch it's time for dolce, something sweet and refreshing maybe. A popular Italian dessert is' macedonia', similar to an English fruit cocktail, it has seasonal fruits like strawberries, melon and peaches cut into bite sized pieces and covered with a sugar and lemon juice dressing. Unlike the English cocktail, this is not served with cream as the emphasis is on the fruit and its sweetness.
Of course it wouldn't be Italy without gelato. With so many fruit flavours to choose from, gelato is essential summer food and perfect after lunch while you stroll along the beachfront.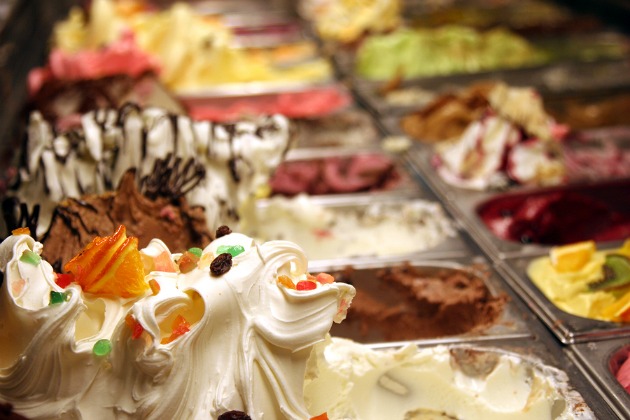 Sicilian style icy-cold granitas are perfect for the summer, flavoured with zesty lemon or sweet almonds, the little ice crystals cleanse the palate and cool the body.
Probably introduced by the Arabs who brought with them sugarcane which they mixed with snow from the mountains and fruit juice to create a sweet similar to today's granita that they called sharbat, which many believe was the precursor to sorbetto. In fact, sicilian granita is closer to sorbetto with its grainy ice consistency.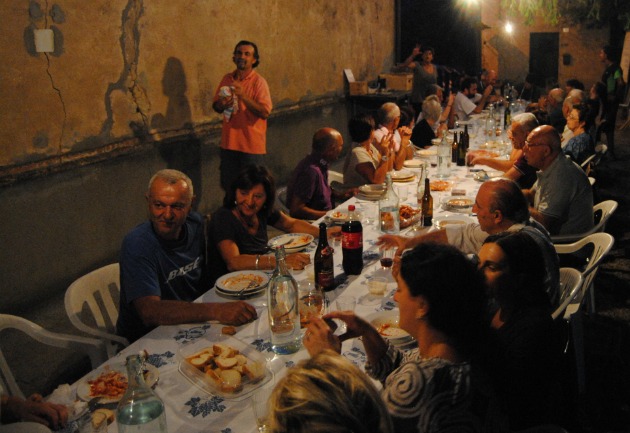 Whatever you choose to eat this summer remember the essential way to enjoy an Italian themed lunch is fresh, seasonal produce, light Italian wines and as many family and friends that you fit around the dining table.