For our series dedicated to true stories of buying and restoring Italian property, we speak today to husband and wife Jeff Marzilli and Robin Landis.
Both from the U.S., Jeff and Robin lived in Rome from 1999-2003 and again from 2005-2010, when they were both working for the United Nations World Food Programme, which has its headquarters in Rome. 
Over the course of 15 years, they bought two properties in Italy, and currently still own one, La Villa di Torre Alfina, located in the countryside of northern Lazio, near the border with Umbria and Tuscany (Torre Alfina is in the network of Italy's most beautiful borghi, or historic villages).
Now retired, Jeff and Robin live at the villa part of the year, and rent it as a vacation property when they're away, generally May through October on a week-to-week basis.
Overall, they say, the experience of buying and renovating property in Italy has been positive and below they share what they've learned in the process.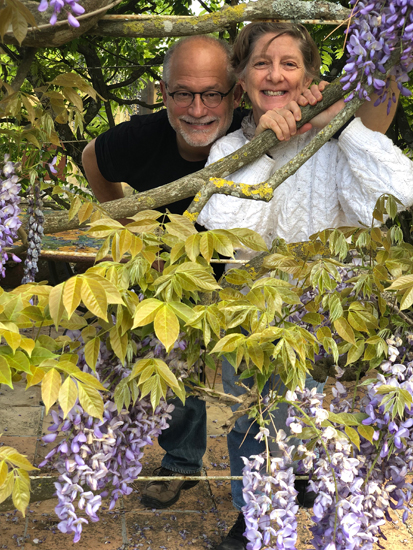 [Jeff Marzilli and Robin Landis, owners of La Villa di Torre Alfina.]
- Why did you decide to buy a house in Italy and why did you choose northern Lazio specifically?
We wanted something close enough to Rome to get away on weekends and an area that offered the best of southern Tuscany and Umbria, but without the high real estate costs. Torre Alfina is about 4km from the border of Umbria and 12km from the border of Tuscany.
- How did you get started looking for a property?
We had friends who had purchased a casale (farmhouse) in the area and invited us for lunch one afternoon. On a whim, we arranged with their agent to see some available properties but with no serious intention to buy, simply to see some options. The old adage that "a house will speak to you" proved uncannily true in our case. Just before sundown the agent offered to show us a place that was not a casale and was, in fact, in a small medieval village that was adjacent to a nature reserve and in the shadow of a restored castle. Halfway around the outside of the house, before even stepping foot inside, we looked at each other and the hair on our arms stood up. Sold.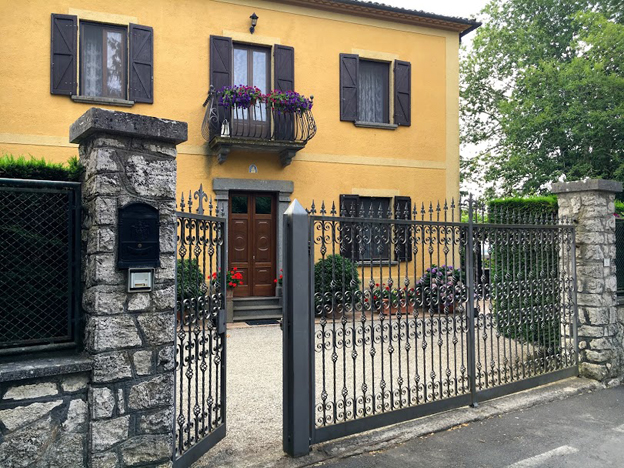 [La Villa di Torre Alfina's entrance.]
- What were the main difficulties during the research/purchasing phase?
The search process was an enjoyable experience in and of itself. The only annoyance we can think of was the time wasted by property agents who did not respect our basic parameters. When we were looking 15-20 years ago, the internet was not well developed in Italy and the few property listings that were available carried few if any photos. You had to trust the estate agent to make a good selection, and they did not always do so. 
- What was your experience like with Italian real estate agents?
Overall, we have had very good experience working with Italian agents. The first came from a personal recommendation and she was great. In 2009, we bought a second place (advertised online) with friends just about 10 minutes away and built it into another vacation home before selling our share to our partners about 5 years later. The agent was the one associated with the listing and interactions were also positive.
That said, we learned early on the importance of having our own geometra (surveyor) and commercialista (accountant) to confirm the legal / cadastral aspects of any property that caught our interest. We found it rare that cadastral documents were completely in order, and a few additional euros spent up front made for an easier renovation / sale later. We found the same issue with the work of the notai (notaries) - better to have your own commercialista check all the paperwork along the way (rogito, atto, -deeds- etc.)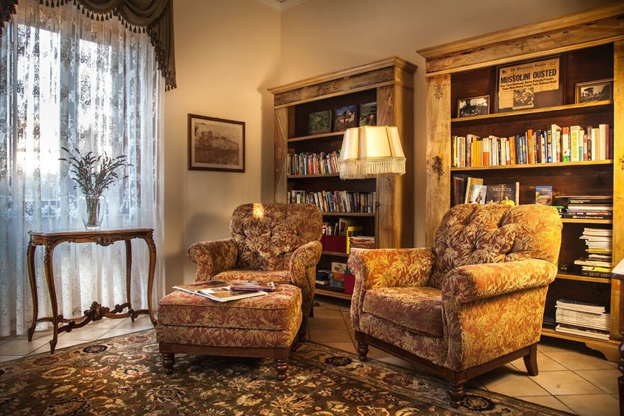 [La Villa di Torre Alfina's living room and library.]
- What were the main difficulties during the renovation process?
We were deliberately drawn to our first property because it was already renovated and the grounds were well cared for. Over the years, we have consistently upgraded utilities and appliances including hot water heater, windows and doors, and bathrooms. We put a lot of effort into the garden with decorative landscaping as well as a vegetable garden that our guests especially enjoy.
With our second property, we did a major renovation on half of the house.  At first, It was a casino (mess) of fighting contractors. Then we got smart and chose the one we liked best (the painter) and let him pick all the others. It quickly became a team of '50-something' high-school cohorts who worked very well together. 
One of the smartest decisions we made was to hire a local architect to advise us on the renovation process. While we had minimal need for an architect, he brought to the table the concept of a bill of quantities and standard labor rates / costs per square meter for various types of labor. From that point forward our renovation costs dropped significantly.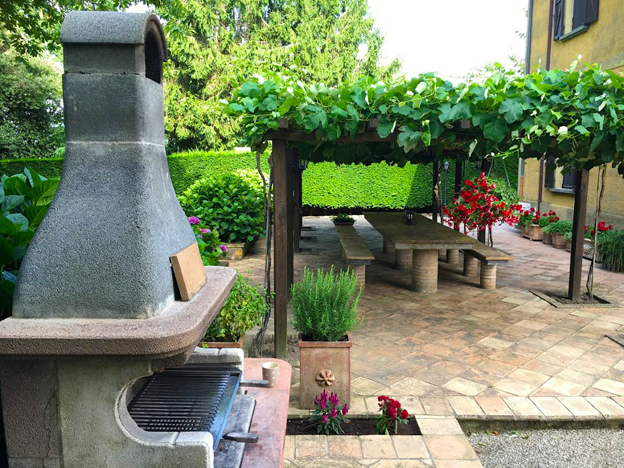 [The pergola.]
One of the greatest frustrations to that point was the contractors inability / unwillingness to estimate how much a particular activity was going to cost. The answer was always, "Impossible to say, we'll just have to see." The 'bill of quantities + estimated standard cost of labor' approach gave us a starting point, around which we could negotiate any 'unforeseen' issues that warranted additional effort and payment.
That said, there are times when it is simply impossible (or undesirable) to force too much order on skilled tradespeople working on a 300-year old property. Often times an old 'artist' is better than a young architect. There were indeed times when our trusted team came up with major design revisions on the fly (we were overseas for much of the renovation) that were absolutely stunning in their conception. The 'team' never made a consensus revision to our instructions that we were not completely satisfied with.
Common sense (and every article you read) will tell you that it is not wise to be absent while renovation is underway. However, we would also caution that it can be even worse to micro-manage and interfere with the creativity of a good team with lots of experience. Once we found the right team and got out of their way, we got a much better outcome and a much more enjoyable experience.      
- Have you made friends where you live now? Overall, what was the transition like?
Everyone in the small village has been welcoming and friendly not just to us, but also to the guests who rent the villa. The cafe and gelateria (gelato parlor) are a village focal point and it is not uncommon that by the time our guests leave they are on a first name basis with the woman in the forno (bakery), the couple who run the alimentari (grocery store), and the owners and waiters of the ristorante.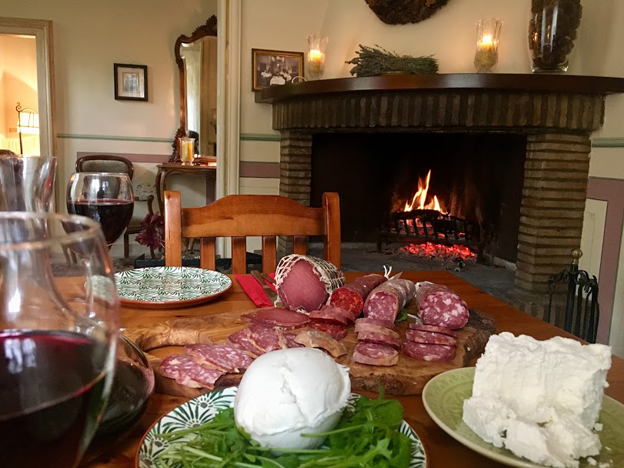 [Enjoying local delicacies by the fireplace in the dining room.]
One significant difference between when we first bought in 2004 and today, 15 years later, is that a generation of Italians has now graduated from public school in which English language was a required part of the curriculum. It is much easier now to get by in the Italian countryside with only a limited proficiency in the Italian language. 
That said, the depth of friendship in Italy will always be a challenge. Knowledge of the language alone does not equal 'communication' in Italy. Nuance is huge. Hand / body gestures are a language of their own. At the village level, many people are related at some level by blood or marriage,  with generations of 'family' connections between them. The level of required social interaction in the Italian culture (baptisms, confirmations, weddings, funerals) makes it extremely difficult (and not necessarily desirable) to be more than just the respected stranieri living next door.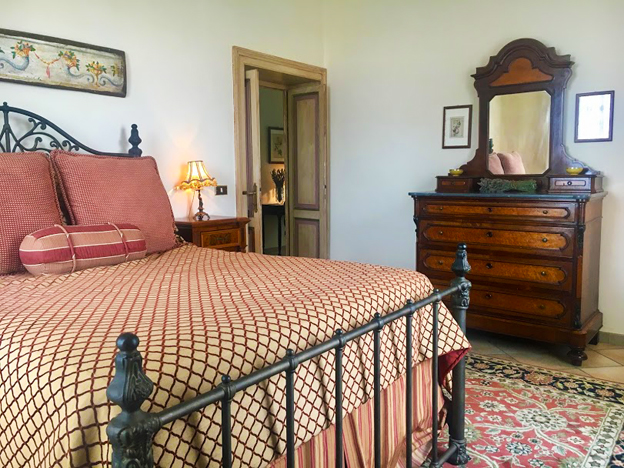 [One of the bedrooms.]
- What are your tips for someone interested in buying a house in Italy?
First, figure out what you REALLY want. We thought we wanted a casale, but we 'accidentally' found a stand-alone villa on the edge of a tiny village (240 people) instead.  We are SOOO happy we did. It makes a BIG difference to have city gas / sewer / water, to be able to walk to the cafe, trattoria, post office, macelleria (butcher's shop), forno (bakery). 
Find a good advisor, or two, who work for you. A geometra or architect is essential. A commercialista who speaks your language is highly advisable. A proper Notaio will insist that you have a legal delegate if you are not fully proficient in Italian. Pick a commercialista who is willing / able to act as your Delegate / Power of Attorney in all legal matters. 
Pick a lead contractor (not necessarily a general contractor) and let them suggest the rest of the renovation team. Make sure you choose someone who is universally respected for their honesty and quality of work. Believe me, everyone in town has an opinion about quality of work, and those contractors who enjoy the respect of everyone are limited, but easy to identify. 
Agree to pay a little more for quality. Pay on time. 
Respect the professional talents of your team.   
Thank you, Jeff and Robin, for sharing your experience with ITALY Magazine readers.
Photos courtesy of Jeff Marzilli and Robin Landis. 
La Villa di Torre Alfina - https://www.villatorrealfina.com/