A Natale con i tuoi e a Pasqua con chi vuoi.
"Spend Christmas with your family, but Easter with whoever you want," a popular expression throughout Italy.
In Italy, besides special cookies and cakes like panettone and pandoro, there are many traditional pasta dishes served during the holidays, especially on Christmas Eve.  Christmas Eve in Italy is traditionally a day when no meat is eaten, so there are many seafood pasta recipes, especially in southern Italy's so called Feast of the Seven Fishes.
I'm especially intrigued with Italy's sweet and savory Christmas Eve pasta, many of which are also dairy-free.
Italy has a long tradition of serving sweetened pasta, and many of the holiday dishes have a hint of sweetness. Back in the Renaissance, pasta was a luxury food, reserved for special occasions, and paired with other luxury foods like sugar and cinnamon.
Each region of Italy, from north to south, has a different sweet pasta specialty.
Northern Italy
Lasagne da fornel one of Italy's many dairy and meat-free Christmas Eve first course dishes is a specialty from the Dolomite areas of Veneto and Friuli-Venezia.  "Lasagne" is the plural of lasagna, but this dish is different from any other lasagna. It's sort of a savory pasta version of apple strudel, seasoned with apples, dried fruit, nuts (recipe 1 below) and poppy seeds.
Popular in Lombardy, Piedmont and Liguria, is Lasagnette all'ajada. Wide egg noodles cooked in almond milk then tossed in a dense walnut-garlic pesto, and topped with toasted breadcrumbs. Lasagnette all'ajada gets its name by how the pasta are cut, ajada style: about 2 inches wide, meant to be evocative of a baby's swaddling. (recipe 2 below)
Tortelli Cremaschi, from Cremona in Lombardy, is one of the most unique savory-sweet Christmas Eve first courses in all of Italy. The tortelli are stuffed with an everything-but-the-kitchen-sink assortment of ingredients from the expected Grana Padano cheese to more bizarre fillings like fruit, amaretti cookies and even mostarda--candied fruit compote in spicy mustard syrup.    I interviewed Matilda, a home cook from Lombardy, who reminisced about making them as a child,  "My mother and grandmother made these tortelli every year.  We children would each be assigned a different task.  I still remember my shock at seeing so many disparate ingredients end up in the filling. But the biggest surprise came at the end, when our grandmother would add a crushed mint candy into the filling! She'd stress, whispering, that it was our secret ingredient and not to tell anyone."     
Well, as it turns out, virtually every family in Lombardy who I interviewed added a mint candy as their "secret" ingredient! Yet despite all the sweet ingredients, these tortelli are not a dessert—they are eaten as a festive, unusual, and tasty first course for Christmas Eve and for weddings and other special occasions.  (recipe 3 below)
Central Italy
The history of chocolate is closely tied to Italy. Chocolate's journey to the Old World from the New began with Christopher Columbus-- an Italian. During his fourth and final voyage to the New World, Columbus became the first European to set eyes on cocoa beans, which he purchased from the natives and gave to Queen Isabella.
When cacao beans arrived in quantity to Italy in the late 16th century, the Italians quickly realized that, despite the name, cacao beans are seeds. Plant them and new cacao trees pop up. And just like many seeds--fennel, cardamom, caraway—cacao beans are a spice. It's only the addition of sugar that makes chocolate a sweet.  So the Italians ground and toasted cacao beans and used them in many savory dishes.
Recipes for savory dishes with chocolate were published in Italy as far back as 1680 and include lasagna in anchovy-almond-chocolate sauce; pappardelle in rabbit-chocolate sauce; fried liver accented with dark chocolate; and polenta topped with chocolate breadcrumbs, almonds and cinnamon.  It was such common practice to season foods with chocolate that Francesco Arisi, in his 1736 poem, "Il Cioccolato," pokes fun at chefs who overuse it.
Chocolate is fabulous ingredient with pasta. Like wine, fine dark chocolate has an amazingly complex taste profile, with hundreds of distinct nuanced aromas and flavors. A classic savory-sweet chocolate dish of Lazio and Umbria is  Maccheroni con le noci—walnut macaroni-- (recipe 4 below) pasta in a sweet dark chocolate sauce topped with grated chocolate, honey and walnuts.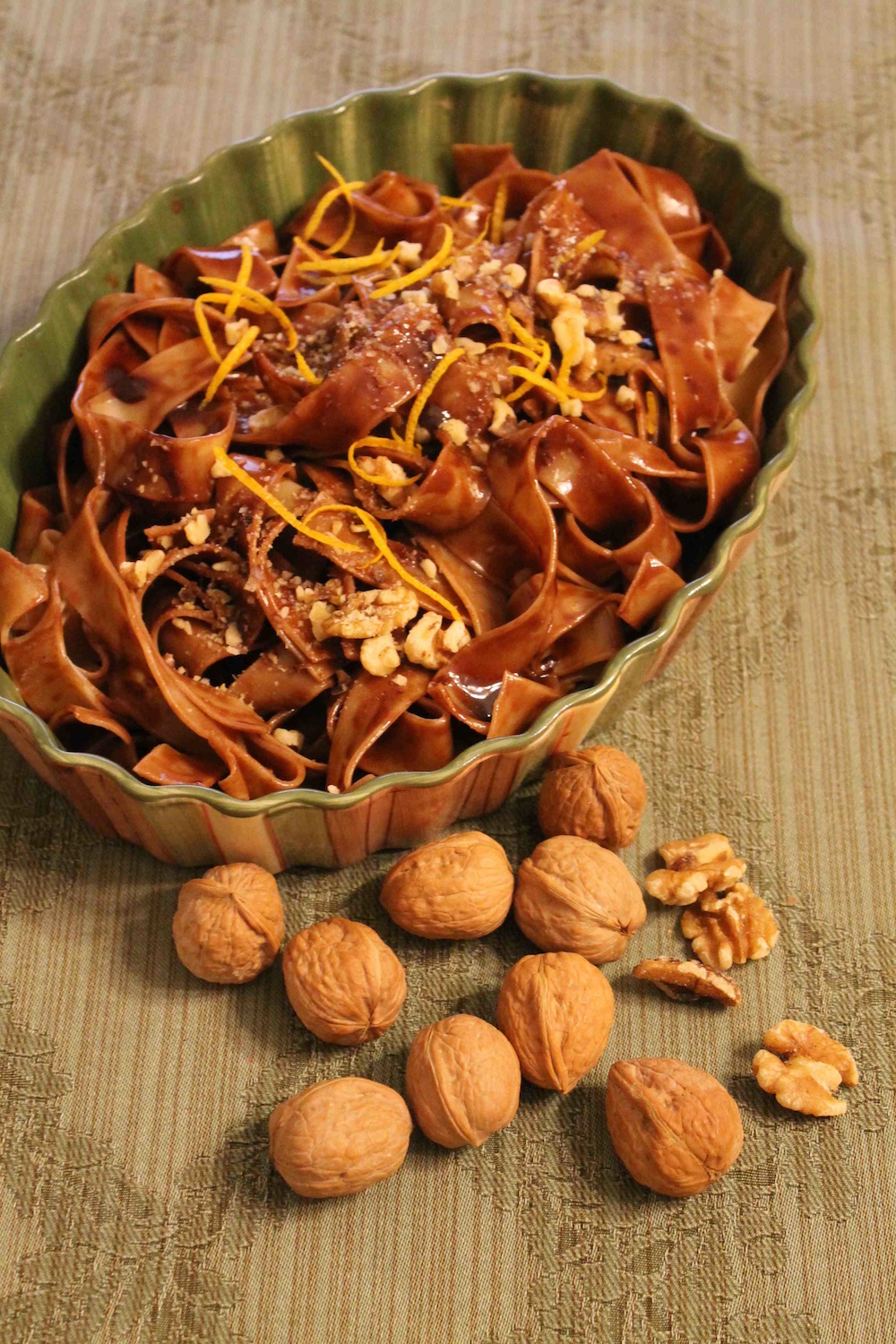 Southern Italy
In the province of Naples, fish was traditionally served on Christmas Eve. However, in the early 1900s the poor, who couldn't afford fish for the holiday meal, would make pasta sauce more festive by including all the pantry odds and ends of dried fruit and nuts and put them into typical arrabbiata tomato sauce.
This dish has had quite a few colorful names over the ages from The Trash Bucket, O Sicchie da Munnezza to Cheapskate Pasta, la Pasta al Risparmio. It's now called the cheerier Spaghetti di Natale, Christmas Spaghetti.
I love this recipe because there's hardly any chopping or fussing. A handful of chopped nuts, some dried fruit for sweetness, capers and black olives for tang with a hint of garlic and tomatoes--- a feast in just a few minutes. A totally vegan recipe that's so flavorful it doesn't even need cheese. (recipe 5 below).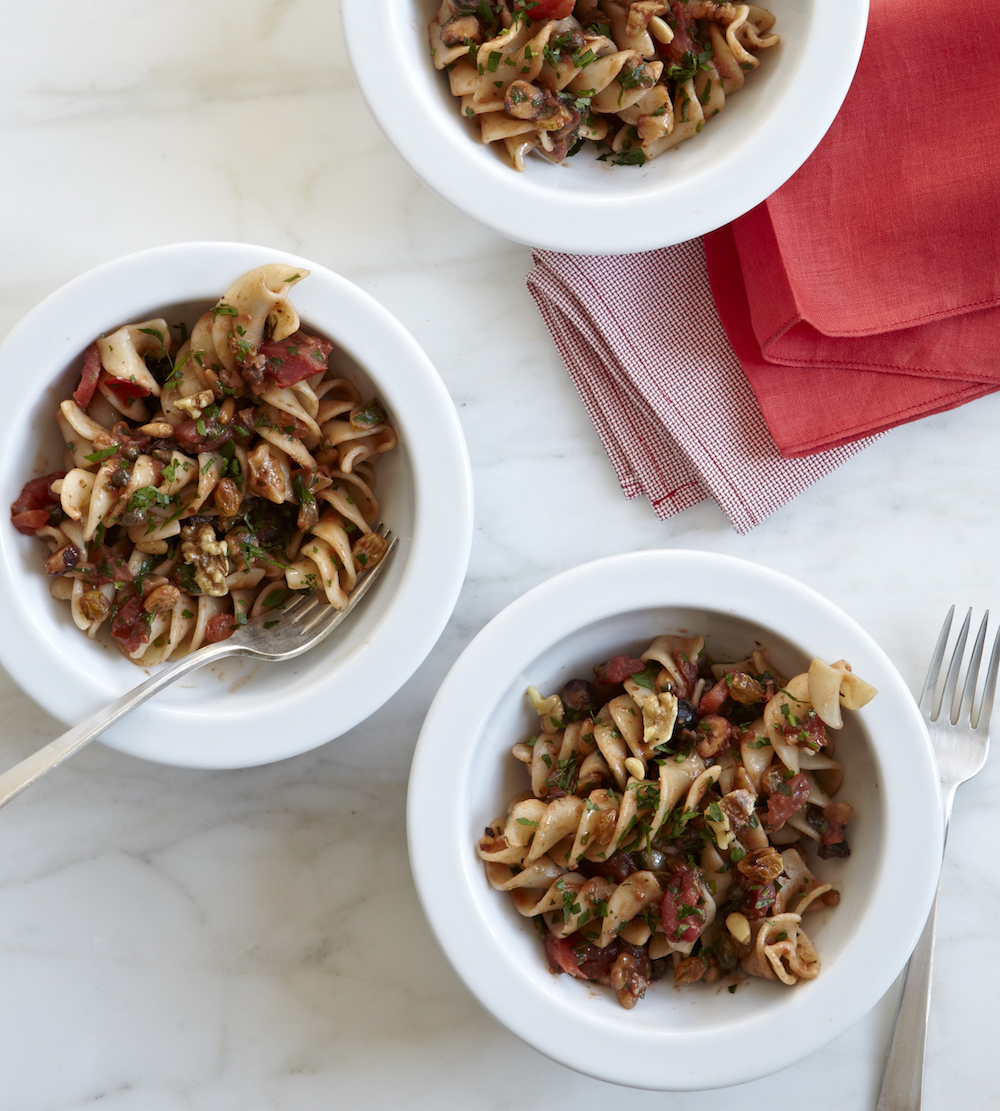 1-
Lasagne da fornel
Fruit and Nut Christmas Eve Lasagna
Serves 6
10 dried white Calimyrna figs, thinly sliced
1/2 cup dry white wine
1 cup golden raisins or dried cherries, or a combination
1 cup finely ground toasted walnuts
2 red delicious apples, grated
12 tablespoons melted butter, plus more for greasing the pan
1 pound fresh egg pasta lasagna sheets, cut into 2 1/2 to 3 inch wide strips, or any fresh wide-cut egg noodle
1 tablespoon poppy seeds
Preheat the oven to 350 F/180 C. Generously butter a 9-inch oven-proof serving dish or baking pan.
In a small saucepan combine the figs and wine and bring to a boil over high heat. Boil on high for a minute or two, then reduce the heat to low and simmer until all the wine is absorbed, about 2 minutes. In a bowl combine the figs, raisins, walnuts, grated apples and 5 tablespoons melted butter.
Cook the lasagna strips in boiling, salted water until al dente. Drain and toss with 5 tablespoons butter and the poppy seeds. In the prepared pan, put down a single layer of lasagna strips haphazardly (do not arrange the noodles end to end—just put them in a flat layer). Spread with 1/3 of the fruit mixture. Repeat for 2 more layers. Top with a final layer of noodles and drizzle on 2 tablespoons of melted butter. Bake about 20 minutes, until hot throughout.  Serve.
2-
Lasagnette all'ajada
Almond Milk Christmas Eve Pasta

Serves 4
2 slices white bread, crusts removed
1 quart almond milk
1 pound lasagnette or other wide egg noodles
1/2 cup chopped toasted walnuts
2 garlic cloves
Extra virgin olive oil
Salt
1/2 cup fresh coarse breadcrumbs
Soak the bread in a few tablespoons of almond milk until very soft. Bring the rest of the almond milk and a little salt to a boil and cook the noodles until al dente. Drain.
Meanwhile, grind the walnuts and garlic in a mortar and pestle or small food processor until fine. Squeeze some of the excess liquid from the bread and grind into the mixture. With the processor still running, slowly drizzle in a few tablespoons of olive oil, until the mixture is dense and creamy.
Heat a tablespoon or two of oil in a pan and add the breadcrumbs; toast until crisp. Be sure to use coarse, not finely ground, breadcrumbs.
Toss the pasta with the pesto until well combined and serve topped with breadcrumbs.
3-
Christmas Eve Tortelli
Tortelli Cremaschi
Serves 6 to 8
For the filling:
Butter
1/2 cup finely ground fresh breadcrumbs
1 2/3 cups crushed amaretti cookies
1 cup grated Grana Padana DOP, plus more to garnish
1/2 cup raisins
1/2 cup mostarda finely minced
1 mostaccino cookie or a few crisp ginger snap cookies, crushed
Zest of 1 lemon
1 small pear, peeled, cored, and diced
1 hard mint candy, crushed
Nutmeg
1 Egg
1/2 cup sweet Marsala wine
For the tortelli dough: 
About 4 1/4 cups all-purpose or 0 flour
3 eggs
Directions:
Melt 3 tablespoons of butter in a small frying pan over medium high heat and toast the breadcrumbs until crunchy.
In a large bowl combine the breadcrumbs, amaretti crumbs, grated cheese, raisins, minced mostarda, mostaccino cookie crumbs, zest, pear, mint candy and freshly grated nutmeg to taste. Add the egg and Marsala and mix until well combined. If it is too dry add a few tablespoons more of Marsala or water. Cover and refrigerate for 24 hours so the flavors can meld.
For the dough:
Put the flour into a bowl, make a well in the center, and beat the eggs and 1/4 cup warm water in the well. Slowly incorporate the flour into the egg mixture, adding a little more water, if needed, until dough forms. Knead until smooth. Form into a ball, cover with plastic wrap, and let rest for about 1 hour.
Roll out the dough into a thin sheet, either with a pasta maker or rolling pin. Using a cookie or ravioli cutter or very sharp knife, cut the pasta sheets into 2 1/2 or 3 inch squares. Put a teaspoonful of filling in the center of each square and fold diagonally to make a triangle, pressing the edges closed, then pinch the sealed sides to make three pleats (one at the point, and one on each side).
Cook the tortelli in plenty of boiling, salted water. Toss with 4 tablespoons butter and serve topped with grated cheese.
4-
Maccheroni Con Le Noci
Macaroni with Chocolate Walnut Sauce 
Serves 4 to 6
Prep time: 5 minutes
Cook time: 10 minutes
10 ounces pappadelle or other wide noodle
1/2 cup granulated sugar
2 ounces dark chocolate, finely chopped, plus more for garnish
1 cup finely chopped walnuts
3 tablespoons rum
Zest of 1/2 lemon
Ground cinnamon
Freshly ground nutmeg
Honey
Cook the pasta according to package directions. Drain, return to the cooking pot, and, off the heat, immediately toss with sugar, chocolate, walnuts, rum, zest, and pinch of cinnamon and nutmeg. Toss well, until the sugar and chocolate dissolves.
Serve topped with grated chocolate and a drizzle of honey. 
5-
Pasta al risparmio
Fruit and nut Neapolitan Christmas Eve Pasta
Serves 4
1 pound fussilloni or other short pasta
Salt
5 tablespoons olive oil
1 garlic clove, sliced
½ cup chopped assorted nuts, such as hazelnuts, walnuts, pinenuts
2 tablespoons raisins or any dried fruit
2 tablespoons salted capers, rinsed
1½ pounds fresh diced tomatoes or 1 28-ounce can diced tomatoes
10 pitted oil cured black olive, cut in half
1 teaspoon dried oregano
1/4 cup chopped fresh parsley, plus more
Cook the pasta in salted boiling water until al dente.
Meanwhile, heat the oil and garlic in a pan until golden, then add the nuts, raisins, and capers and cook for a few minutes. Stir in the tomatoes and cook for about 5 minutes, then add the olives, oregano and parsley and cook for a minute or two. Drain the pasta and toss in the sauce along with some of the cooking liquid to amalgamate the flavors. Serve topped with more parsley.