It's a man's world, and even more so when it comes to the pizza-making industry; but that hasn't stopped young and talented Giorgia Caporuscio from stepping in and claiming her (honorable) spot. Giorgia, daughter of acclaimed pizza master Roberto Caporuscio, is the general manager and executive pizza chef at Don Antonio and Kesté, four Neapolitan pizzerias in New York, where she works alongside her father. Giorgia is also a lead instructor at the Pizza Academy Foundation, based in the recently-opened Kesté Fulton location (April 2017), where she teaches the art of making pizza to adults and children. 
In 2013, Giorgia was the youngest of only two women to ever win first place in the "Classic Pizza" category at the Caputo World Cup Pizza Competition in Naples. She won with the Montanara, a fried pizza that is part of Naples' 'cucina povera' tradition; it became popular in the aftermath of World War II, when even regular pizza had become a luxury treat for most. It's no coincidence that Giorgia chose the Montanara: it was the pizza that women made and then sold in the streets as a way to help the family's economy. 
Originally from Terracina, a seaside town between Rome and Naples ("a very, very different world from New York," Giorgia says), she moved to the Big Apple at age 19, and, while studying English, learned the ropes of Neapolitan pizza-making under the expert guidance of her father, who had been working in the U.S. since 1999, opening pizzerias in Pennsylvania and New Jersey, training pizzaioli around the country, and finally settling in New York, where he opened the first Kesté location on Bleecker Street in 2009. Caporuscio, now 27, furthered her skills in Naples with pizza master Antonio Starita, previously her own father's mentor, and the owner of one of Naples' oldest and most revered pizzerias, Starita a Materdei.
The father-and-daughter team has won numerous accolades from the local media, including No. 1 pizza in New York by New York Magazine.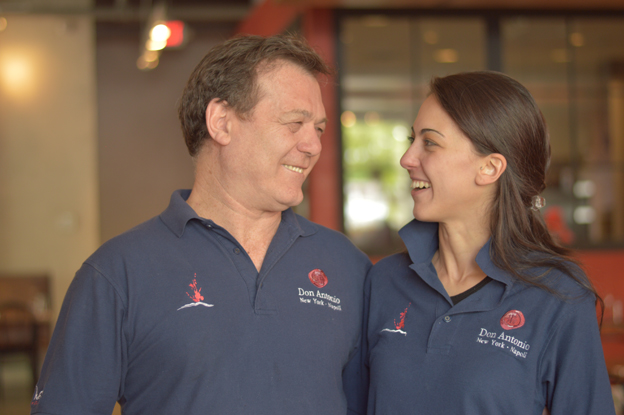 [Giorgia and Roberto Caporuscio.]
We reached Giorgia via video call while on a break from teaching at the Pizza Academy Foundation. 
Giorgia, let's start with the big pizza news from last week: Neapolitan pizza-making has won Unesco World Heritage status. What was your reaction?
Well, my reaction was, finally! Both my father and I are very, very happy about the recognition, and very pleased  with the campaign that brought many pizzaioli together to help get pizza the status it deserves. Because it's not just pizza we're talking about; this is about our culture, and our gastronomic tradition.
With your father, Roberto, being an acclaimed pizza chef, have you been attracted to the world of pizza since you were a little girl?
Actually, no! I grew up in the countryside, where my parents had a farm which produced cow's milk. I went to hospitality school, not because I wanted to become a chef, but because I've always loved to travel; I got a diploma as tour leader. When I finished school, I wanted to improve my English and came to New York, where my father was working. During my free time from English school, I hung out at my father's pizzerias, and that's how I got interested in the craft.
Was it hard to emerge in an industry that has been traditionally male?
Yes, and in my case, I had to prove myself twice: first, as the daughter of a very well respected and acclaimed pizza chef, and second, as a woman. I started in a pizzeria where every employee was male. I'm still the only woman in my four pizzerias! My father's support has been essential, he helped me to fight prejudices, and I think my determination has been essential as well, and will be, because there are still many more walls to tear down.
Is Neapolitan pizza popular in New York?
It is now, and my father was actually one of the first to introduce it to the city back in 2009. He called our pizzerias Kesté, which means 'this is it' in Neapolitan dialect.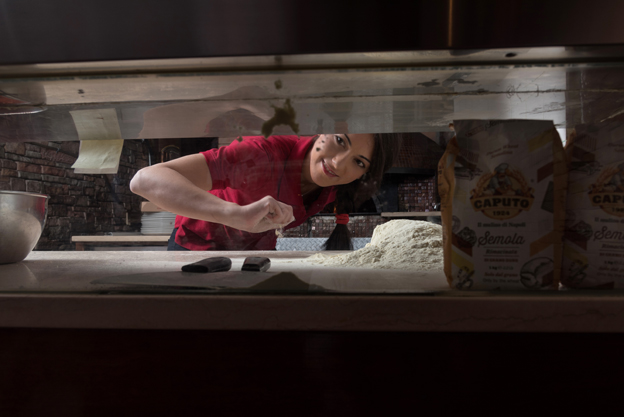 What do you like the most about your job?
I love teaching. Our Pizza Academy Foundation has classes for professionals, amateurs, and children, and I especially like teaching to children, who may be as little as four years old. They have so much fun working with the dough, and with tomato. We also have many corporate clients, employees who come for team-building. And people who want to open their own pizzerias. We have students from all over the world.
We give our students historical information about pizza, we explain why there's a pizza called 'margherita,' where the tomatoes comes from, why we use a certain type of flour, and then we teach them how to make pizza, so that they can replicate the process at home. For both my father and I, it's very important to teach people the craft, but also the culture and traditions that are behind Neapolitan pizza-making.   
What is needed to make good Neapolitan pizza?
A proper dough; fermentation should be as natural as possible; a well-trained pizzaiolo; a top-notch oven, preferably Italian; and, of course, quality ingredients. We import all our products from Italy, from the flour to tomatoes to the mozzarella to the prosciutto and the olive oil; we only source vegetables locally. We use Italian ovens and equipment, even the pizza peel is imported from Italy.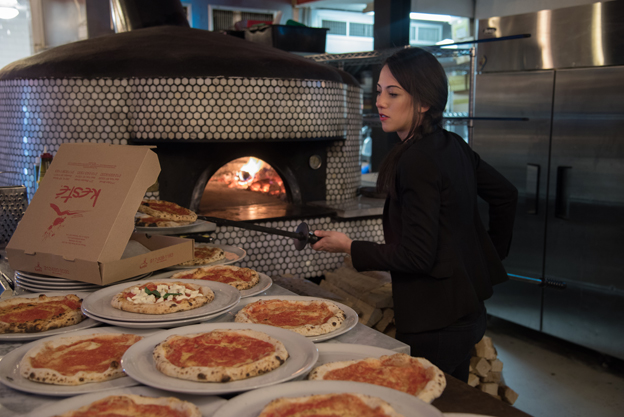 What are your projects for the future?
The number of female pizza chefs is increasing, and, as one of the youngest, I want to try to be an example for future generations, and for women who want to get into this profession, but feel intimated because it's a world still dominated by men. I think it's important to teach them that they can, and should, be considered equal to men. Women have always made pizza, just not outside the home.
I'm trying to form a group of women – pizza chefs, pizza experts and food writers – and get them together at the annual Pizza Expo held in Las Vegas. I no longer want to be looked at as if I were an alien just because I'm a woman! 
I want to further improve my skills, both in pizza-making and teaching. And I may also decide to open my own pizzeria.
What is your favorite pizza - to make and to eat?
It's what we call the 'Kesté': it's very simple, but has a special touch. It's made with San Marzano tomatoes and buffalo mozzarella, imported from Italy; we bake it, then we add arugula, Prosciutto di Parma DOP, shavings of Gran Cru, a cheese that is halfway between Parmigiano and Pecorino, and extra virgin olive oil. It's classic, with a twist.
And one last question, is it true that New Yorkers think pizza is a local dish?
Yes, they think it originated in Brooklyn!
Thank you, Giorgia, and congratulations on your successes.
Where to eat Giorgia and Roberto Caporuscio's Neapolitan pizza:
Kesté Fulton, 66 Gold St., New York
Kesté Bleecker, 271 Bleecker St., New York
Kesté Williamsburg, 232 N 12th St., Brooklyn
Don Antonio, 309 W 50th St, New York
For more information, visit the Kesté website (where you can also listen to Radio Kesté, a mix of Italian and American hits), http://kestepizzeria.com.