As Kool And The Gang once yahooed, it's a celebration – and one of the most celebratory months of the Italian year is August. Traditional events such as Ferragosto and La Perdonanza are celebrated with much style and gusto. In addition, it's a month that takes you back in time to the periods of the Middle Ages and the Renaissance. Many events recapture the ethos and feel of these periods with a great deal of visual impact and heart. The Summer may be nearly over, but in Italy, it sure goes out in style.
SETTIMANE MUSICALI DI STRESA – Throughout August
Whether you're a classical music connoisseur or developing a burgeoning interest in the genre, then take yourself off to one of the events at Settimane Musicali di Stresa.
This Summer, the Stresa line-up is bursting at the seams with performances celebrating all types of classical music. This month alone sees special performances of The Queen With The Golden hair and The Colours Of The 20th Century. Meanwhile, violinist Frederick William will team with fortepianist Andrea Coen for Sonata In the 18th Century, as Quintet Papageno and the Quintet of Vienna Symphonic also put on separate shows.
Other highlights include violinist Stefano Montanari's interpretations of Bach Sonatas and Partitas and a cello suite from Jan Vogler. Whether you're discovering classical music for the first time or whether you're a confirmed fan of this type of music, then there is something here to satisfy all tastes.
PALIO MEDIEVAL – 1st and 2nd August, Feltre
Looking to sample a slice of medieval life with an extra addition of racing? Then the weekend of Feltre's Medieval Palio will be right up your street.
This weekend caps off the 37th edition of the traditional event. The 1st day of August sees the first day of racing and the local taverns are opening from noon to mark the occasion! There is a bumper crop of events taking place on the Saturday too. A special medieval market will be setting up shop and a concert will also be held at the Renaissance Hall of Emblems. Later that evening, a torchlight procession takes place with fireworks and minestrone soup for everyone at midnight.
The next day, more racing occurs, and there's also a blessing for the horses in St Peter's Cathedral. A traditional parade and tug of war help to round off the colourful annual spectacle. It's an unmissable event that really does prove that life is a minestrone.
GIOSTRA DI SIMONE – 1st - 5th August, Montisi
August loves all things medieval in Italy, and keeping up the pace is Giostra di Simone. Having begun in late July, the 45th edition promises much for its final five days of this traditional event.
This medieval village remembers its own past, as it recalls the siege by Count Simon of Rainuccio Cacciaconti which took place in the 13th century. With that event in mind, a tournament is organised in which knights of the four districts (Castle, Square, San Martin and Torre) compete to hit an effigy of the Count.
Keeping the medieval atmosphere alive, Montisi goes all out to create a superb line-up of festivities and amusements to keep all ages entertained. Medieval performances are provided in all spheres such as theatre, dance or music. Exhibits such as pottery and paintings are displayed for all to see. A historic parade also harks back to the era, and includes drummers, flag bearers, horses, and even a prince and princess.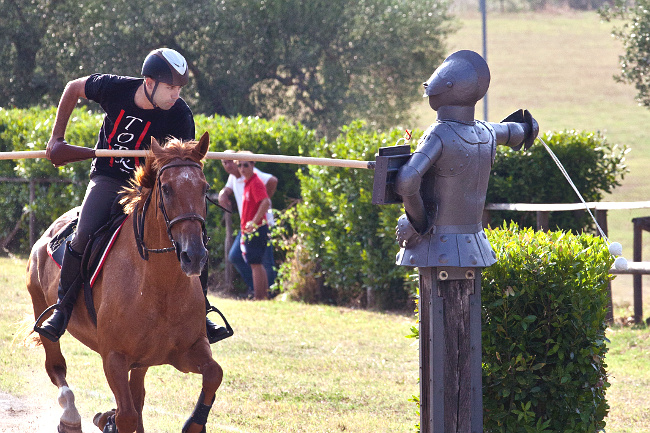 Giostra di Simone, Photo credit: Roberto Gabelli, Sienafree.it 
LA QUINTANA – 2nd August, Ascoli Piceno
Continuing the trip back in time, La Quintana carries you in style to the era of the Middle Ages. Sticking with tradition, the event will again be held on the first Sunday of August – the 2nd (there has also been another event in the July).
La Quintana prides itself on showing visitors how life was lived in the later part of the 1370s, since the initiation of the event. The journey back whisks you to a time of medieval parades, outfits, displays, crafts and feasts. You can't get more medieval than a jousting contest which is one of the key selling points of this event, adding a splash of colour and genuine period ambience. And if you fancy yourself as a budding musician or archer, then you can seize the opportunity with both hands as there are contests to find the best in these fields.
PALIO DEL GOLFO – 2nd August, La Spezia
The cool waters lap in anticipation of La Spezia's Festival of the Sea, and in particular, its keynote event, Palio Del Golfo.
No less than 13 townships line up to take part in this rowing contest. The complete line-up pits Portovenere, Le Grazie, Fezzano, Cadimare, Marola, Canaletto, Fossamastra, Muggiano, CRDD, San Terenzo, Venere Azzurra, Lerici and Tellaro against each other.
The contest was said to have been played for the first time in 1925 – the origins of the race are said to lie in spontaneous competitions between boat crews bearing fish or black gold cargoes. The boat race is a hugely enjoyable spectacle and is made even more unique by the local artisans' handmade vessels.
FESTA DELLA MADONNA NEVE - 5th August
Freezing cold weather in August? It's not possible, surely?
Well, perhaps in Britain – rain, drizzle and cold tend to go hand in hand with August over there. But in Italy?
Turns out though that a miracle happened in 352 AD. One August day, it's claimed that a chap called Giovanni had experienced a vivid dream of snowflakes falling in Rome. In addition, Giovanni's friend Pope Liberius had had the same vision of snow falling in a specific location in Rome.
When they went to that very spot to confirm the unthinkable, in fact, they found that their dreams were absolutely accurate. The miracle of snow in August had occurred and in the precise spot in both Giovanni's and Liberius' dreams. To mark this miracle, a church was constructed on the very spot, also as a tribute to the Madonna.
Every year, events are held to mark the miracle. These include the traditional fluttering of white flower petals from the top of the Basilica to recreate that magical moment. Elsewhere, in Pusiano, an event known as the Lighting Of The Lake takes place, with illuminated boats and candles lighting the way in honour. In Crispiano, a special ceremony is held to celebrate as well as flag wavers, performances and a musical show.
LA FUGA DEL BOVE - 5th - 19th August (TBC), Montefalco
The Escape Of The Ox event caps off a bumper package of festivities which come to August every year in Montefalco.
Escape Of The Ox is essentially a race between four oxen – which are said to represent the four quarters of the area. This particular event is said to date back to the 15th century. The three week celebration also includes competitions and shows for the four districts – St Augustine, St Bartholomew, St Francis and St Fortunato.
La Fuga del Bove has a unique Renaissance feel to it, with plenty of atmosphere, colour and spectacle recreating the period. Appropriately, a Renaissance banquet kicks off the event, and over the course of the month, local taverns will welcome you in with hearty and tasty food and drink.
As well as the food whetting your appetite, there are also special performances, flag wavers and drummers. If you're looking to experience the unique aura of the Renaissance, pay a visit to Montefalco this month!
FERRAGOSTO - 15th August (with events taking place on or around this date)
Arguably the best known day/event of the month, Ferragosto is the national holiday that heralds the start of the vacation period in Italy.
Originating in 18 BC, Emperor Augustus initiated the day of holiday (the name of the festival is Latin for "Augustus' rest") which was intended to link other August festivals like Vinalia Rustica and Consualia.
Ferragosto is commemorated by the Catholic Church as a Holy Day of Obligation to mark the Assumption of the Virgin Mary.
There are copious amounts of festivities and celebrations to mark Ferragosto – both on the day itself and on days surrounding the 15th. You can witness exploding puppets and dolls at Palio Delle Pupe in Cappelle Sul Tavo. Palio Delle Pupe goes on the hunt to find the doll that creates the most visual impact, and there's spectacle guaranteed at this colourful display. Palio dell'Assunta (Palio di Siena) garners many visitors, both local and global, to come and see the second horse racing event on 16th August. Festa dei Candelieri in Sassari takes place on 14th and 15th August – teams of men compete in a race that involves carrying huge, heavy candles. And there are also live dance performances to be had at Rome's Gran Ballodi Ferragosto.
Colour, enjoyment and spectacle combine to make many a Ferragosto event a true celebration of the vacation season.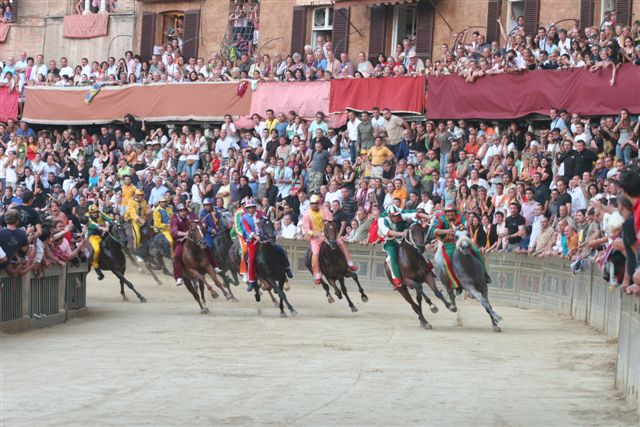 Palio dell'Assunta (Palio di Siena). Photo credit: Wikimedia Commons
LA PERDONANZA - 28th - 29th August, L'Aquila
In 1294, a Papal Bull was granted by Pope Celestine V. This edict allowed a "plenary indulgence to anyone" who entered the basilica of of L'Aquila between the nights of 28th and 29th August to repent and confess to the beheading of St John The Baptist.
Since that day, the festival La Perdonanza has been an important event in August. It's now about to enter its 721st edition with a high profile calendar of events and celebrations to mark the occasion. Processions, historical costumes, parties and concerts will take place in addition to traditional rituals such as the opening Fire Morrone; the March of the Bull; and the climatic opening of the Holy Door.