Fall season in Italy means roasted chestnuts, truffle hunting, grape picking, olive oil harvest, delicious chocolate and torrone, and more… Are you hungry yet? Here's a round-up of major food and wine festivals where to delight your taste buds over the next few months.
FRANCIACORTA WINE FESTIVAL
Franciacorta area near Brescia/Lake Iseo, Lombardy - 17-18 September 2016
www.franciacorta.net
Franciacorta, one of Italy's most renowned sparkling wines, is the star at the popular Franciacorta Wine Festival, held in the Franciacorta wine area, south of Lake Iseo, about an hour east of Milan. The event is a great chance for visitors not only to sample this delicious wine, but also to discover the area by going on the Franciacorta wine route, visiting castles, monasteries and wine cellars. Wine cellars are open 10am to 1pm and 2pm to 7pm, Sat. and Sun. Advanced reservation recommended.
SALONE DEL GUSTO AND TERRA MADRE
Turin - 22-26 September 2016
A major international event dedicated to food and gastronomy, Terra Madre Salone del Gusto offers a variety of events and attractions, united by the common underlying theme of 'loving the earth.' Highlights include: the Market, featuring exhibitors from all five continents, the Slow Food Presidia, several events dedicated to the wealth and diversity of global cuisine, street food, the prestigious Enoteca (wine cellar), conferences examining issues around food production, the Forums of Terra Madre's food communities. The goal is to shed a light on how food is produced, while discussing how to preserve biodiversity and securing a better food future for everyone.
FOOD AND WINE EVENTS IN EMILIA ROMAGNA
Sept-Nov 2016, various locations
Noto one, but many food and wine events will take place in Emilia-Romagna this fall. And how could it be otherwise, this is the land of Parma ham, Parmigiano Reggiano cheese, Fossa cheese, balsamic vinegar, Lambrusco wine, and more, celebrated at the many food festivals held around the region. Some of these include: Valtidone Wine Fest near Piacenza (Sept.), Fossa Cheese in Talamello (Nov.), Olive oil in Coriano near Rimini (Nov.), Fish Festival in Cesenatico (Nov.), Eel Festival in Comacchio (Oct), White Truffle in Sant'Agata Feltria near Rimini (Oct.) and November Porc, a celebration of Parma ham, Culatello, salami and more in the province of Parma.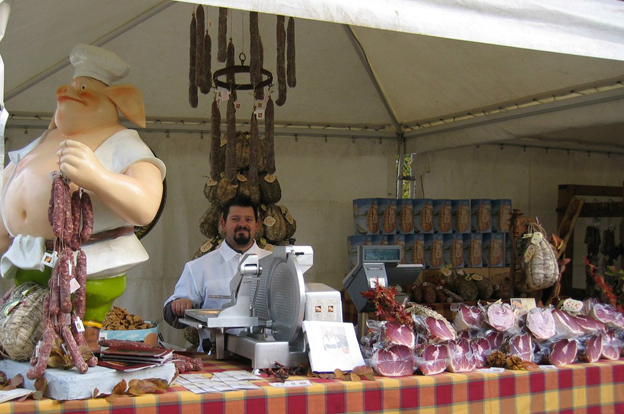 [November Porc is a celebration of all pig products hailing from the Parma area.]
BOCCACCESCA
Certaldo near Florence, Tuscany - 7-9 October 2016
www.boccaccesca.it
Certaldo, birthplace of Boccaccio, hosts its annual food and wine fair to pay homage to the great Renaissance humanist writer, who loved food and the good life. The event, held in the charming alleys of this medieval town in the heart of the Valdelsa, between Florence and Siena, will feature food stalls, wine tastings, music and live entertainment.
EUROCHOCOLATE
Perugia, Umbria - 14-23 October 2016
Eurochocolate is a much beloved festival that returns for the 23rd time to Perugia this October. The 10-day event features tastings, exhibitions, workshops for chocolate lovers, professionals and importers. This year's theme is "Sharing Chocolate," to underline how chocolate shared  with friends, family and loved ones tastes better.
WHITE TRUFFLE FAIR
Alba, Piedmont - 8 October-27 November 2016
Dedicated to the distinguished Alba white truffle, the 86th edition of the White Truffle Fair features truffle tastings, Barbera and Barbaresco wine tastings, as well as a film festival, medieval representations such as the Palio degli Asini (2 October), a beauty contest, theater productions, live music. The event's climax is the world famous Truffle market which will crown the best and biggest truffle.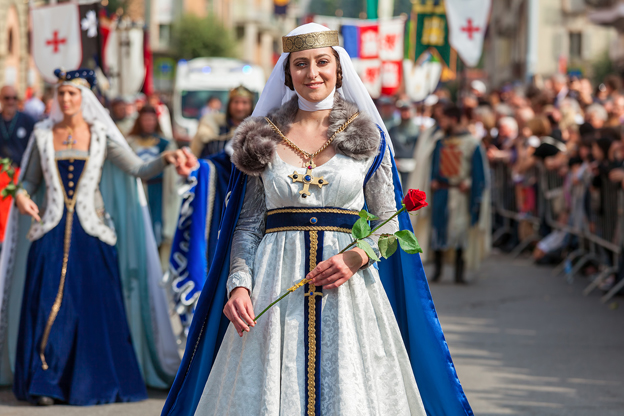 [Medieval parade at the White Truffle Fair in Alba.]
NATIONAL CHESTNUTS FAIR
Cuneo, Piedmont - 14-16 October 2016
www.marrone.net
www.cuneoholiday.com
Filling Cuneo with the tastes, aromas, sights and sounds of roasted chestnuts, the event, now in its 18th edition, attracts visitors and exhibitors from all over Piedmont and beyond. It is rated as one of the most important food and wine events in Italy, showcasing the quality and ancient culinary traditions of the Cuneo area.
FRANTOI APERTI (OPEN HOUSE AT THE OIL MILLS)
Various locations, Umbria - 29 October-27 November 2016
www.frantoiaperti.net
Five weekends in Umbria dedicated to olive oil: the Frantoi Aperti festival is an event not to be missed for lovers of this unique delicacy. Many tasting events will be held in towns and at participating mills, which will open their doors to the public during harvest time, along the Olive DOP Road, enriched by  cultural initiatives and live entertainment.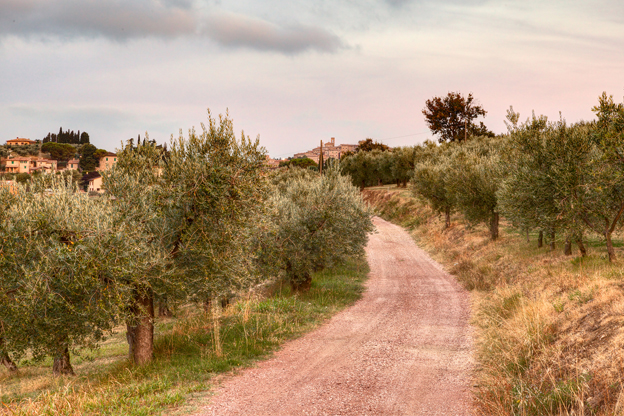 [Olive orchards in Umbria.]
FESTA DEL TORRONE
Cremona, Lombardy - 19-27 November 2016
www.festadeltorronecremona.it
Torrone is the sweet nougat typical of Cremona, now famous all over the world. This year Cremona devotes nine days to its delicious creation with stalls selling all types of torrone, shows, music, historical re-enactments, typical Cremonese meals to be enjoyed in the many restaurants of the city and the construction of a giant torrone in the main piazza.