3+ bottles of wine down, four cappuccinos, countless coffees with almond milks, and countless dishes of pasta and local delights later, I'd like to say I visited Puglia, but I think my stomach did more of the official honors. If I had to add up everything up in one go, I think my second hobby should be marathon runner and secondly, travel writer with more than a healthy appetite.
I arrived bags in hand in Puglia's Brindisi airport eager to meet our hosts for the weekend, waiting for me was a friendly Brit, holding a sign with my name along with a friendly 'Cheshire cat' smile after just having sent a text 'Ciao, you'll recognize me easily, I'm the guy holding a sign with your name on it.'
I just arrived from Florence on an easy one-hour hop to discover a part of Puglia that I knew little about, the lovely Salento region. Stretching from Lecce to Gallipoli, it is best described as a medley of Baroque-done-right paradise by the genius architect Zimbalo. Ancient fortresses nestled in a sub-peninsula in Italy's boot, in the well-worn from walking on cobble-stones 'heel', if we want to get specific. A place of bold flavors and beautiful beaches attached to two seas, anchored to history and yet an example of an evolving south. 
For the next few days, we were led through the area by former journalist Brit Robert and foodie Lili from Vancouver, owners of Espressino Travel. I already had an idea that this would be my kind of adventure since naming your tour company after the most beautiful drink known to man, the 'espressino' equal parts espresso and steamed milk. I asked why here? After exploring other areas in Italy. Lili replied with "the reason we keep coming back here is because of the people, there is a genuine warmth you get from people that keeps us tied to this land, Oh yeah and the gelato."
Through this journey, I was to be transported into a slower-pace of life than my frenetic schedule in Florence. Late-starts were to be expected and encouraged, as were visits that were less about hitting up every major historical spot, but instead focused more on savoring the Salento region, and namely meeting interesting people that Robert and Lili have forged real relationships with over their many years of hopping back from Canada to Puglia.
Lecce is their home-base, deemed the 'Florence of the south' but in reality, it is much different which should be celebrated and not compared. A charming city where on any given summer night you can see locals headed for a nightly passeggiata before or after dinner in this 2,000 year-old town, founded during the Magna Graecia period. A place where flag-throwers can show up at a moments notice, just to promote a wine festival.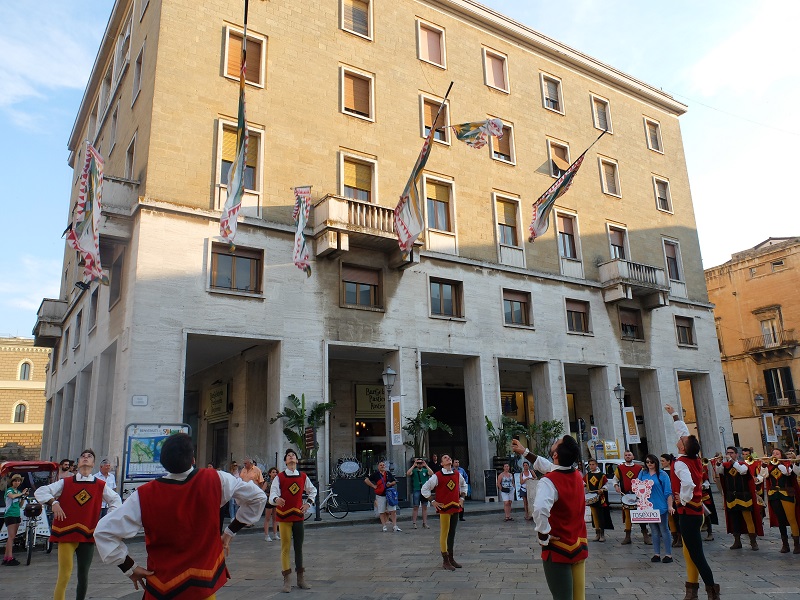 Here you can feast on ruins in Piazza Sant'Oronzo (named after the patron saint of the city), a 2nd century Roman amphitheater just steps from the best place to get a pasticciotto (custard-filled pastry), Caffe Alvino. A midnight slice of pizza from Maurizio's 'lair of happiness' Pizza&Co is the best way to end the night.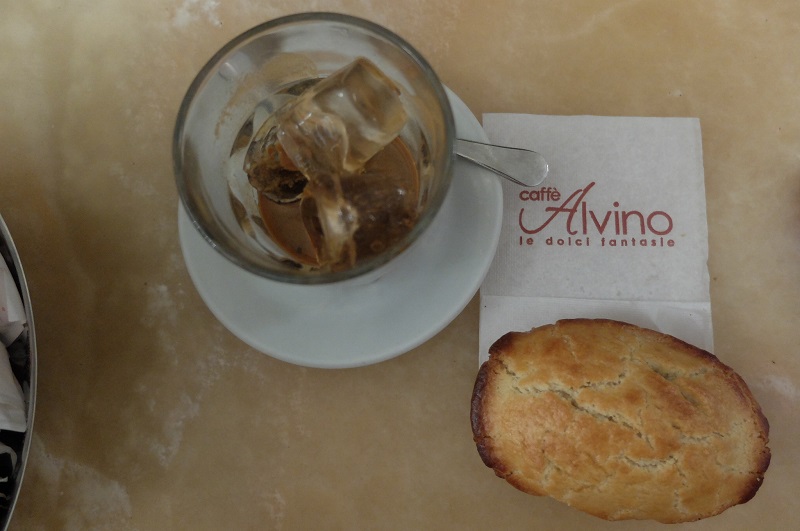 The most over-the-top ornate church is most definitely the Basilica di Santa Croce, which Robert explained was under construction for over two centuries. The portals were started under the watched eye of Zimbalo and I noticed that parts of this church (and others) were unfinished. Apparently building churches was expensive and by leaving areas unfunished, they were able to avoid paying taxes. Some things never change.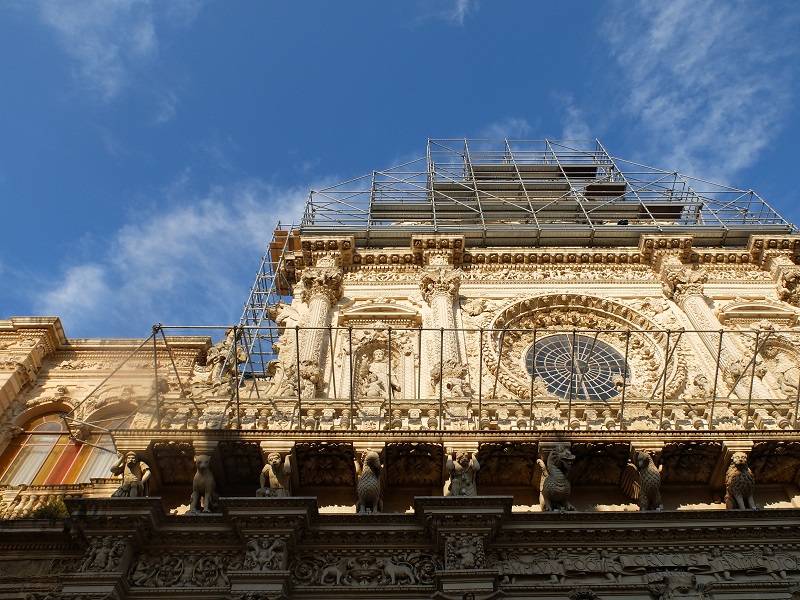 My home away from home was a beautiful guesthouse in a 16th century mansion, Mantatelurè which means 'King's Mantle' in local dialect. A boutique hotel with character, owners Marco and Marta have created the perfect oasis with an eclectic attention to details. Marco wasted no time in showing us his pet bird. Every morning we ate the bountiful breakfast in the relaxing courtyard.
No trip to this region could possibly be complete without a trip to a local winery, though I arrived a little late for the tasting. Castello Monaci was the perfect place to dive into some of the region's best wines made with Primitivo, Negramaro (oldest grape type in this region) and Malvasia Nero grapes, the place itself a homage to wine-making of the past, with an on-site museum.
We also got a first-class education in the making of olive oil at the delightful Masseria Melcarne, home to 70 hectares of olives centered around an old fortified tower, the high-quality olive oil produced here has a lovely smooth taste, very different than the 'bite' I am used to tasting from the olives in Tuscany.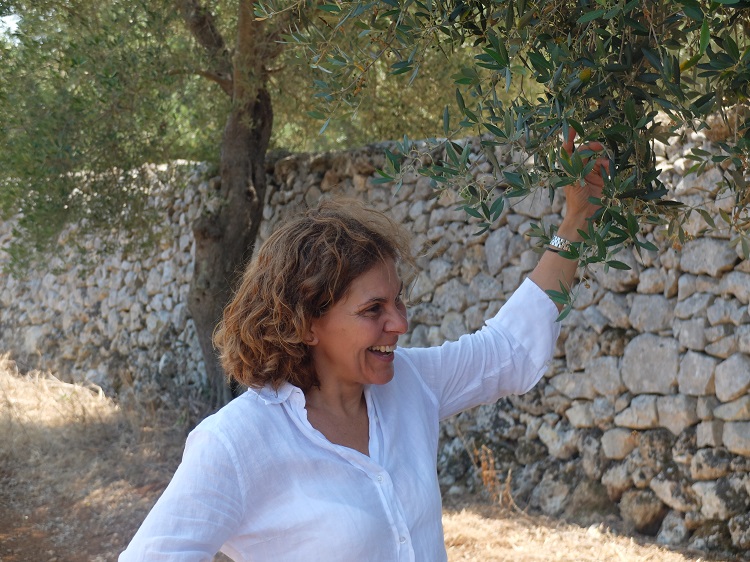 Lunch here was an introduction to Puglia 'terra' cuisine, a medley of delicious appetizers featuring plenty of tasty sautéed vegetables, fava beans with chicory (a local staple), ricotta cheese and pasta made with a black olive paste. Each dish was better than the last, a few of us may have tried to lick the plates clean.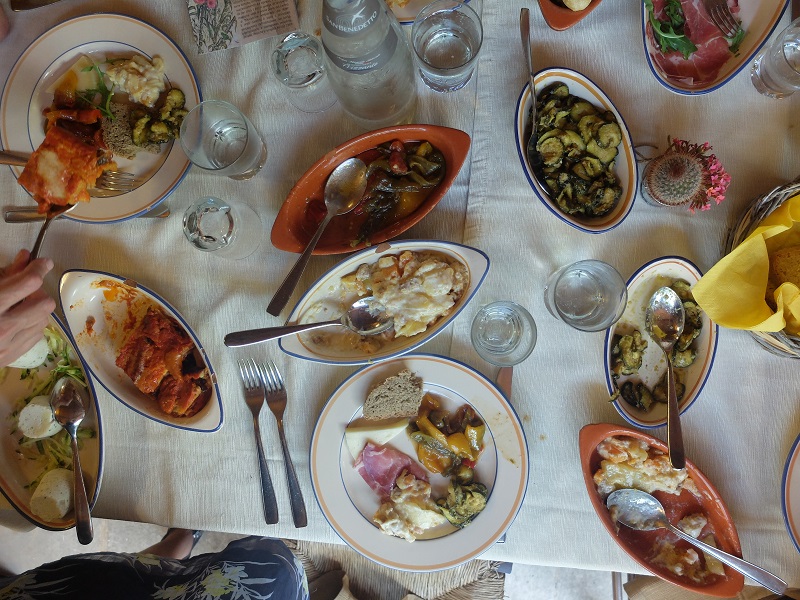 Stopping by Gallipoli, a fortified fishing village on an island (connected to the mainland in the 16th century)  the south-eastern coast whose name hails from the Greek 'Kallipolis' meaning beautiful town nestled along the Ionian sea. Due to its strategic positions, it was fought over for centuries, with the vandals, Goths and Byzantines all striving for a piece of the pie.
Known for an attractive coastline and vibrant summer tourism, we ate our fill in seafood perched on one of the limestone cliffs surrounding the old town. Important sights such as the baroque cathedral dedicated to Saint Agatha are a must see, as are the men making woven baskets.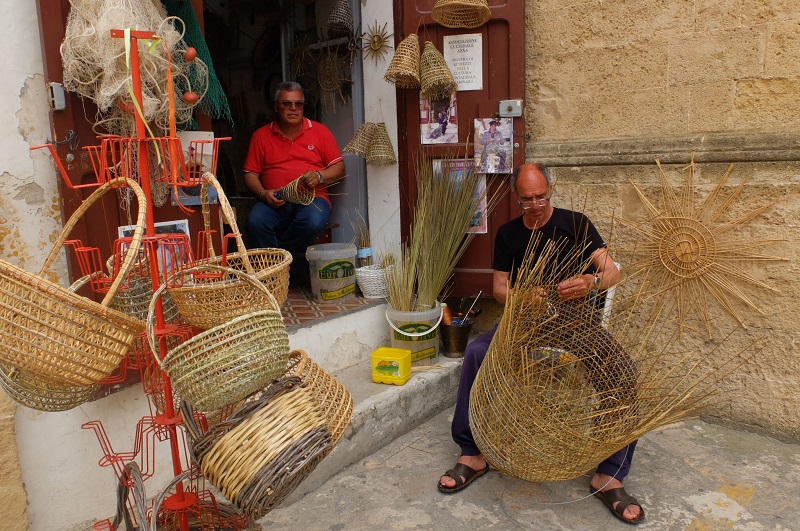 Once used for fishing nets, now they are sold to tourists for keepsakes, or lamps. Wandering Gallipoli's myriad streets, we stopped at Blanc, a creative contemporary design store and café in a formerly abandoned space, where anyone can pick up high-quality bags, home goods and select clothing. Mixing modern and old, it shows that there is more to this ancient place than meets the eye. 
Next stop was Otranto, UNESCO recognized and rated one of the prettiest towns in all of Italy - immortalized by Horace Walpole's 1764 novel, The Castle of Otranto. There is a vibrant buzz here, especially near the port area where locals gather for a drink under a falling sunset.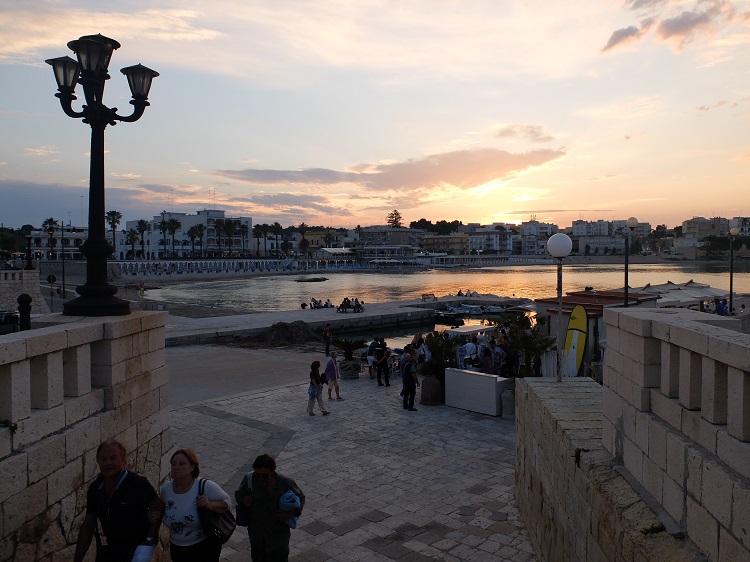 ITALY Magazine was a guest of Espressino Travel and their partners which covered flights, accommodations and meals. They offer boutique, curated small-group tours, with the knowledge of local insiders in Puglia. 
SaveSave