[Photo: Pumpkin ravioli are the classic Mantova dish.]
When talking about Italian food, the cuisine of Lombardy is usually not the first that comes to mind, yet the region offers a range of interesting dishes and ingredients made into such signature creations as risotto alla milanese, tortelli di zucca, pizzoccheri, and panettone.
Let's take a gastronomic trip around Lombardy to learn about some of the region's typical dishes.
Milan
Rice and corn are cultivated extensively in northern Italy, making risotto and polenta two popular dishes. Milan's iconic dish is in fact risotto alla milanese, which is flavored with saffron, giving it its typical yellow color. Risotto alla milanese may be served with another classic Milan dish, ossobuco alla milanese (which translates as "bone with a hole"), cross-cut veal shanks braised with vegetables, white wine and broth. Together, they make for a one-dish meal. Ossobuco may also eaten with polenta, a beloved wintertime recipe around the region, or mashed potatoes. Another classic dish, which is thought to have Austrian roots, is cotoletta alla milanese, a fried veal cutlet also known as costoletta: the cutlet is pan-fried in clarified butter and the meat must come from milk-fed veal
A typical Milanese winter dish is cassoeula, although not on everyone's favorite list: used to flavor cabbage stew, it employs poor cuts of meats such as pig ears, feet, tail and nose. It has its roots in peasant cuisine, a heavy dish to feast on occasionally after being hard at work in the fields all day long.
As we are getting closer to the holiday season, let's not forget about Panettone, the classic Italian Christmas cake (along with Pandoro, which hails from Verona). Panettone has a domed shape, with a soft and airy interior beneath a dark exterior. The cake dough requires several hours to make because it must be cured in a way similar to sourdough, rising and falling three times before being baked. Traditionally, it contains candied orange, citron, and lemon zest, as well as raisins.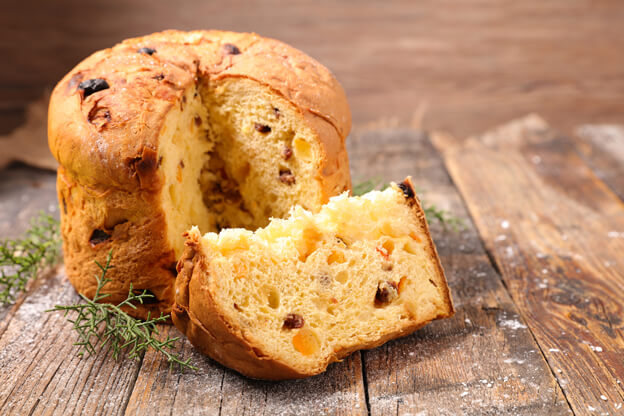 [Panettone is the classic Italian Christmas cake and hails from Milan.]
It can probably be asserted that no other city has mastered the art of the aperitivo as well as Milan. It is a tradition taken seriously around here: Milanesi love a good aperitivo at the end of the work day. Bars lay out a buffet filled with appetizers, pasta salads, rice salads, cold cuts and cheeses, frittata, savory cakes and pizza. Patrons pay a fixed price for a drink and can access the buffet at no additional cost. Some of the best areas where to enjoy an aperitivo in Milan include Corso Como, Corso Sempione and the Navigli.
Mantova
Mantova's signature dish is the tasty tortelli di zucca, ravioli stuffed with pumpkin, Parmigiano cheese, mustard, nutmeg and amaretti. A common seafood-based dish is the simple luccio in salsa, boiled pike seasoned with olive oil, parsley, garlic, capers and anchovies. As for desserts, you can't go wrong with sbrisolona, a traditional crunchy tart featuring almonds (sbrisolona means 'crumbly', and you are supposed to break it with your hands); it is great served with coffee or a glass of sweet dessert wine.
Bergamo and Brescia
Moving on to Bergamo: well, some of their classic dishes are definitely interesting, and surely not suitable for everyone: take polenta e uccelli for example: polenta made with fontina and toma cheeses, melted butter and Parmigiano – so far so good – to which spit-roasted birds such as thrushes and larks as added – not so sure about that. Or, how about cuore di vitello alla bergamasca, veal heart sliced and fried in butter with a sauce of parsley, basil and garlic.
Leaving the meats aside, the valley around Bergamo produces the soft and creamy Taleggio cheese. Because it melts so well, it is often used in risotto or polenta. It can also be eaten grated with salads such as radicchio or rucola, or with tomato on bruschetta.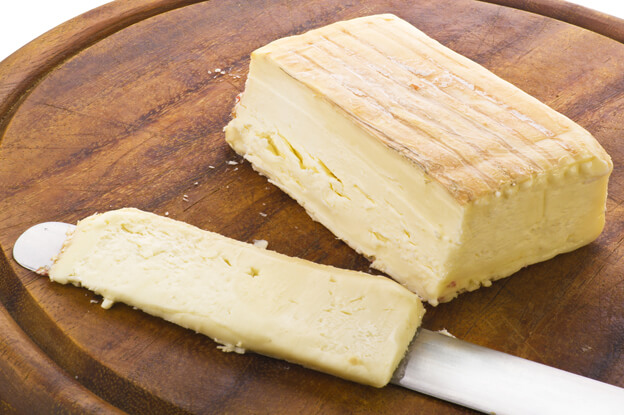 [Taleggio cheese is made in Val Taleggio near Bergamo.]
Leaving Bergamo, we continue our gastronomic trip around Lombardy in Brescia, which features two main dishes: casoncelli alla bresciana (or casonsei in the local dialect), stuffed pasta resembling a disk folded in two, filled with breadcrumbs, Parmigiano,  garlic, parsley, nutmeg, served with melted butter and sage leaves (the classic condiment known as burro e salvia, which you can use also for Mantua's tortelli di zucca).
As a second meat-based course, the typical dish is spiedo bresciano, skewers of different meat chunks, which include pork, beef, chicken and rabbit, or birds (must have a thing for birds around here), and potatoes, cooked over low heat for hours. The skewers are seasoned with melted butter, sage, lard and salt.
Cremona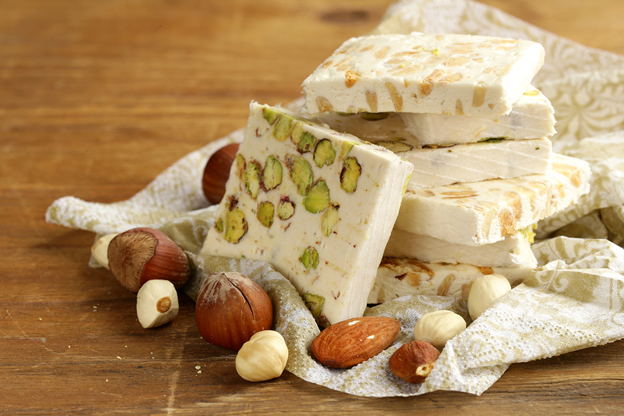 [Delicious torrone hails from Cremona.]
Cremona is typically associated with torrone, a classic of the holidays in Italy. Torrone (nougat) is made with egg whites, honey, sugar and filled with toasted almonds, hazelnuts or other types of nuts. There are two versions, the classic one, or the soft (tenero) one, based on the amount of egg white used. 
Cremona also boasts the famous mostarda, a tangy condiment made with candied fruit and a mustard-flavored syrup, served with bollito misto, a specialty of northern Italian cooking, which consists of boiled meat, game or poultry. Incidentally, Mantova also has its own version of mostarda, made from small, sour green apples called mele Campanine. Mostarda may also accompany cheese.
Traveling toward the mountains, we reach beautiful Valtellina, a vast area extending for 200 kilometers within the northern portion of the region, right in the middle of the Alps. Here, a Slow Food presidium protects the production of Bitto, a cheese made from whole cow's milk produced in the summer months, to which 10% to 20% of goat's milk is added. 
This is also where the buckwheat, an Alpine cereal, is cultivated, and it is used to make pizzoccheri pasta, a type of short tagliatelle cooked with greens such as chard and cabbage, cubed potatoes, layered with pieces of Valtellina Casera cheese and ground Grana Padano or Parmigiano Reggiano, and dressed with garlic lightly fried in butter. Simply delicious.
[Pizzoccheri from Valtellina.]
Finally, Valtellina is a wine-growing region, where four types of red wines are produced, from Nebbiolo grapes, known locally as Chiavennasca: Grumello, Sassella, Inferno and Valgella. The vineyards have been built on mountain slopes, at an altitude of 2,500 feet, and they make for quite a spectacular sight: dry stone walls support the terraced hillside vineyards built thousands of years ago to allow cultivation of the land (the winemaking tradition hails back to the 5th century). 
Need more Italian food inspiration? Check out our top picks for Italian cookbooks that will make your holiday season even tastier. 
And for the cooks among you, or in your life, browse our online shop for Made in Italy kitchen and dining products.