The thought of sampling vinegar dribbled straight into a spoon is enough to draw anyone's face into a squeamish pucker. But traditional balsamic vinegar of Modena, aceto balsamico tradizionale di Modena, is not just any vinegar, and it's anything but bitter. Instead, it's considered the king of vinegars and one of Italy's most important culinary legacies.  
Modena stands at the heart of Italy's breadbasket, the central region of Emilia-Romagna. The flat, sweeping farmlands between Parma and Bologna produce some of Italy's most prized culinary traditions, including world-famous Parmigiano-Reggiano cheese and prosciutto di Parma.
Traditional balsamic vinegar of Modena completes Emilia-Romagna's holy trinity of culinary delights.  
But for many families in Modena, traditional balsamic vinegar is more than a great culinary product. It's their livelihood, their life. "Traditional balsamic vinegar flows through my veins," Massimo Malpighi, one of the region's top producers, tells me. "My family has passed down this tradition for five generations. It's more than a job; it's a mission. It's part of my life."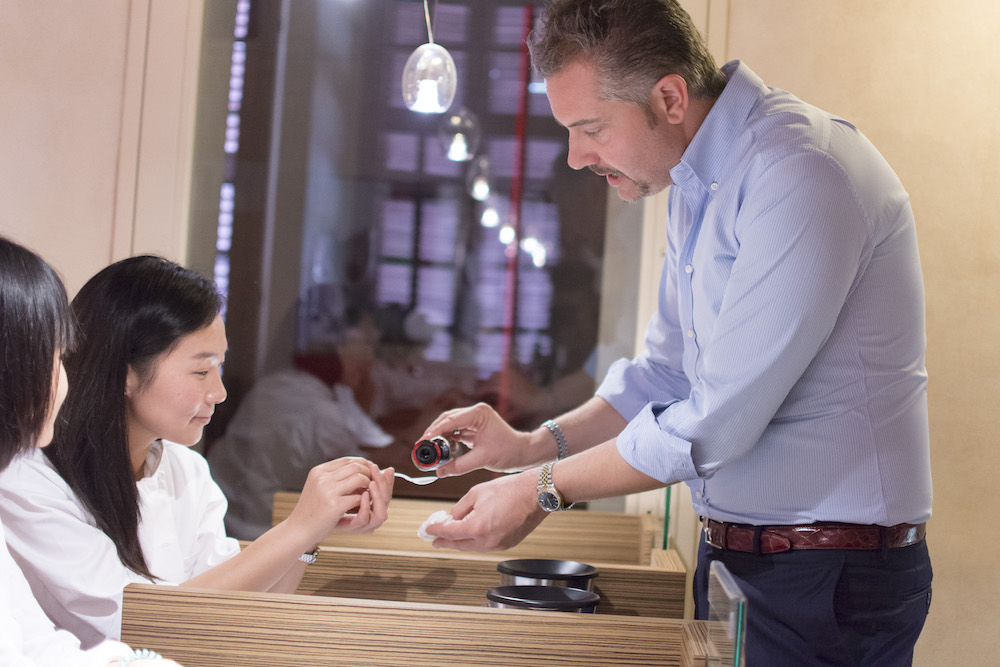 [Massimo Malpighi in the acetaia Courtesy Acetaia Malpighi]
Malpighi's great-great grandfather started with a few small barrels of vinegar in his attic in 1850. When it was finally ready—half a lifetime later—prized bottles were shared with family and friends. Ever since, making vinegar has been a Malpighi family affair, and today, their estate comprises a neat-as-a-pin brick villa, and a series of outbuildings housing rows of vinegar casks. Nearby, vines hang heavy with grapes, colorful pheasants forage beneath a grove of acorn trees, and white swans glide across a still pond. Behind its peaceful, unassuming façade lies one of Modena's leading acetaie, or producers of traditional balsamic vinegar.
But vinegar-making was going on long before Malpighi's ancestors poured boiled grape juice into their first barrel. Historical Modenese documents attest that aristocrats exchanged it on important occasions as far back as the eleventh century. Traditionally, the best balsamic vinegars were made at home and were considered the ultimate gift.  People willed the precious juice to their heirs, and it was even included in women's dowries.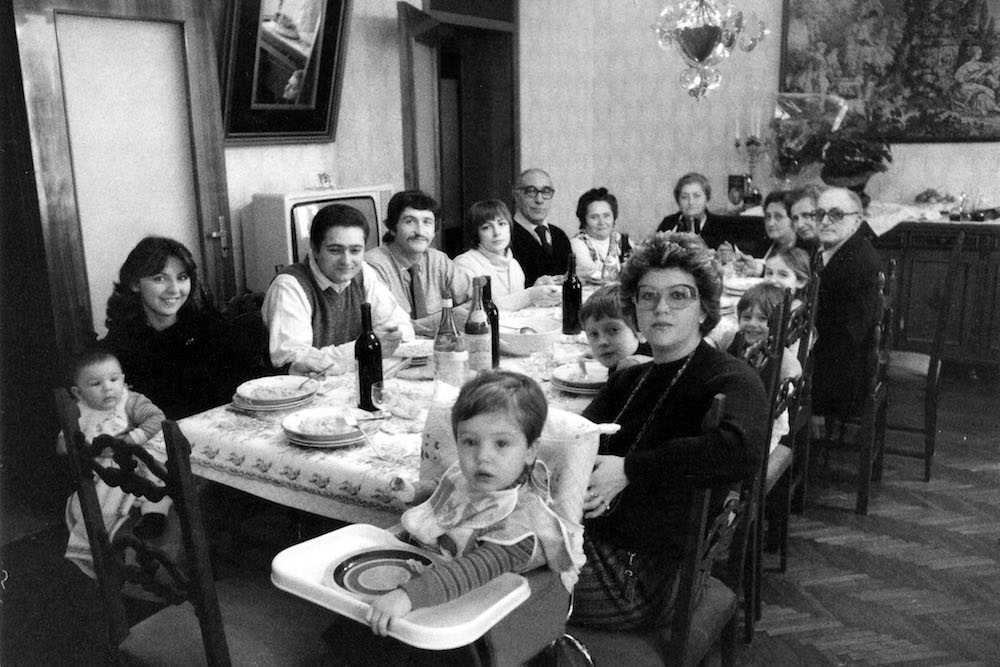 [Christmas 1978 Courtesy Acetaia Malpighi]
For me, one of the most fascinating aspects of traditional balsamic vinegar is that its success depends on future generations to carry it. The person who grows the grapes is trusting that his or her grandchildren are going to bottle the finished product!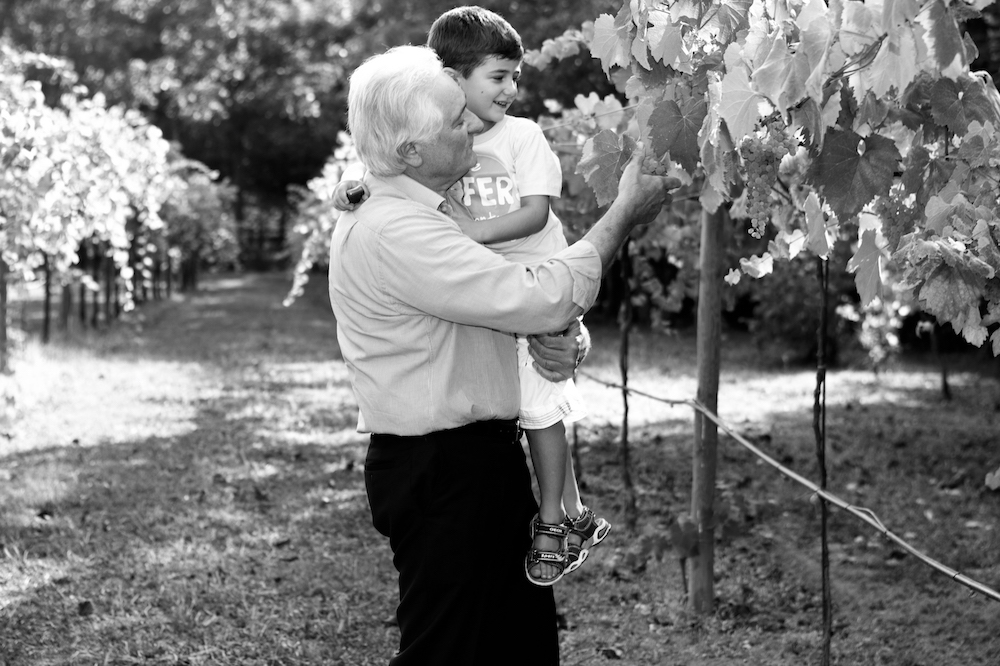 [Ermes Lorenzo Malpighi and grandson Courtesy Acetaia Malpighi]
So, what does it mean to carry the torch of vinegar-making tradition from one generation to the next, and how does this actually happen? It's all about involving the kids, the vinegar-makers tell me.
"We grew up with small bottles of traditional balsamic vinegar on our table," says Davide Lonardi, whose family acetaia, the Villa San Donnino, lies in an idyllic setting on the outskirts of Modena (Strada Medicina 25/1, 41126 San Donnino, 340/2579734). "It's always been clear that vinegar was a family matter."
"We try to inspire the children on a daily basis," Malpighi tells me. "We take them with us to the vineyard, letting them see, taste, and smell the product. Each of them has a dedicated row of barrels, with a small wooden plate overprinted that bears their name. If we transmit an important legacy, then it is clear that it should continue. It was like that for me, for my dad, for my grandmother, so I hope it can be like that for them too. In those moments, I see a great passion."
How Traditional Balsamic Vinegar is Made
Balsamic vinegar begins on the vine with ripe, white Trebbiano grapes.  The vinegar is made by boiling grape juice, and moving the juice year after year into increasingly smaller casks made of different kinds of wood, including oak, cherry and chestnut.  Each producer boasts a different combination of casks and woods, as it is the wood itself that affects the flavor and aroma of the final product. These carefully guarded family secrets hold the key to each producer's signature flavor and quality.
Often the barrels are stored in attic-level storage rooms, where they are exposed to summer heat and winter cold. As it ages, anywhere from ten to 25 years, the vinegar becomes more concentrated, richer in flavor, and more expensive. Rich, syrupy, fragrant, and almost black, its distinctive taste is immediately recognizable.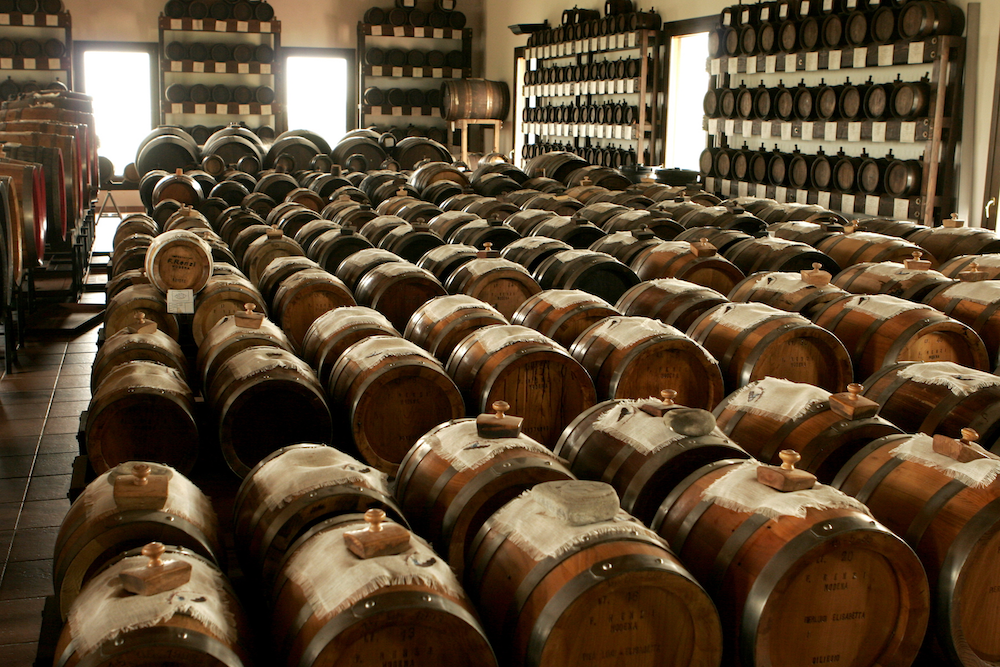 [Acetaia Sereni aceto balsamico (c) Scott Ashkenaz CC via Flickr]
In recent decades, traditional balsamic vinegar of Modena has come to be treated in the same way as fine wines--with highly controlled production and labeling methods. The local consortium monitors every producer from grape harvest to end product, assigning a designation much like the D.O.C. moniker for fine wines that serves as a quality symbol recognized around the world. Today, several dozen producers are authorized to carry the label, all in an 80-kilometer zone around Modena. Most, like Acetaia Malpighi and Villa San Donino, are family-run operations started by ancestors generations ago.  
Davide Lonardi emphasizes, "Traditional balsamic vinegar is an artisanal product. To produce it takes great dedication, passion, and competence. It is essential to pass on meticulously all the secrets of the trade. The next generation has the task of learning this tradition, following step by step in order to guarantee a continuous good quality of the final product."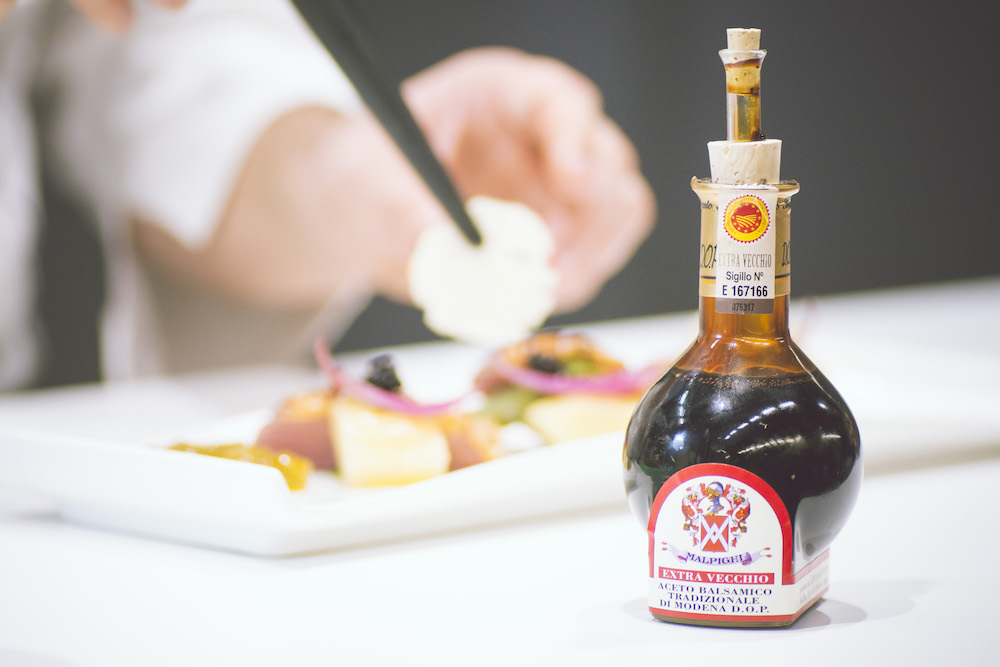 [Traditional balsamic vinegar Courtesy Acetaia Malpighi]
How to Tell if It's the Real Thing 
Labeling: Authentic traditional balsamic vinegar of Modena is not to be confused with the so-called "balsamic vinegar of Modena" that you find on supermarket shelves.What's the difference? It's the word tradizionale that's missing from the mass-produced vinegars—a small distinction, but a big difference. Look for the consortium logo, the distinctive packaging, and the words aceto balsamico tradizionale di Modenato assure you're getting the real thing.
Volume: Only about 20,000 bottles of the artisanal product a year are produced, compared to a huge production of 30 million bottles of the commercial product exported to supermarkets from Asia to North America. 
Color and Flavor: Commercial vinegars are made from wine, with added artificial colors and flavors. The real stuff is made with nothing more than aged, pure grape juice, accounting for its sweet, not bitter flavor.  
Price: You can pick up a small bottle of 25-year-old traditional balsamic vinegar directly from an acetaiain Modena for about half what it retails for in an American culinary catalog or retail store. In contrast, mass-produced vinegars go for just a few dollars or euro in a typical grocery store.  
Supermarket-grade vinegar is great for everyday use in cooking and salad dressings. Traditional balsamic vinegar breaks down when cooked, so you'll want to save it to use as a condiment instead. You can drizzle it over postage-stamp-sized shavings of Parmigiano-Reggiano cheese, or as a dressing for steamed vegetables, pan-fried frittate and meats for special dinner parties. One of the most surprising uses for balsamic vinegar is in desserts and sweets. You can even serve it over strawberries and vanilla gelato.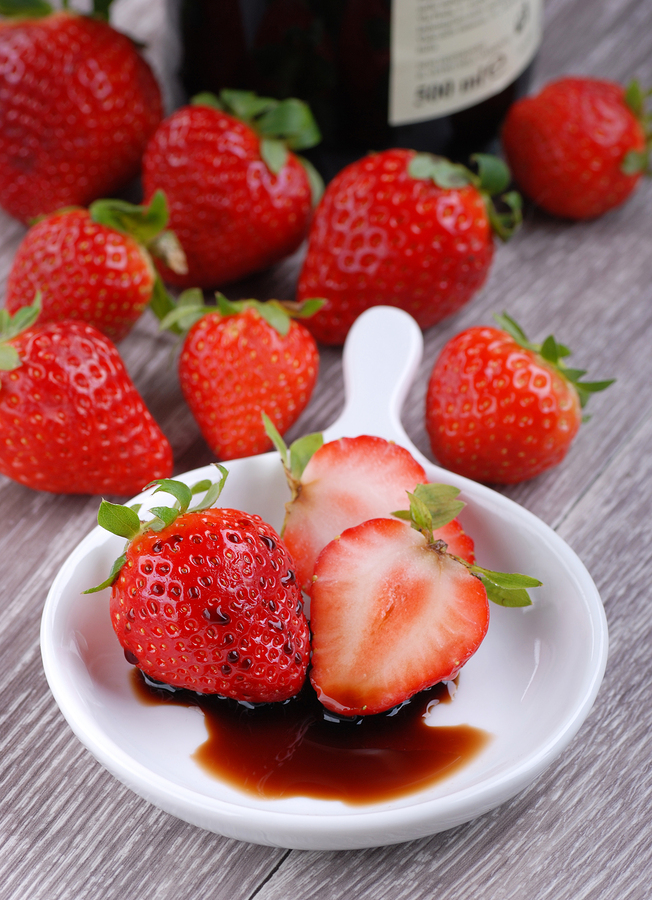 [Strawberries with balsamic vinegar]
Today, hundreds of producers of traditional balsamic vinegar call Modena home. Families proudly and lovingly carry the legacy of their ancestors by assigning a special place in their homes for the slow maturation of this luscious liquid. Today, we enjoy the final product thanks to family tradition and to those individuals whose passion and purpose carries it on to future generations.
"It is a job that cannot be carried out if there is no history, tradition, if there is not so much passion behind it," explains Malpighi. "Without the generations who preceded me, those who have transmitted this important legacy to me, I would not be what I am today. It takes so much time to produce a perfect traditional balsamic vinegar. Without passion, none of this would be possible."
How to Experience Traditional Balsamic Vinegar of Modena
According to Malpighi, understanding the difference between traditional balsamic vinegar of Modena from its imitations is all about being an educated consumer. "The best thing is to taste the product directly," he says. "Come to Modena, where every year we reach about thirty thousand people visiting our centuries-old acetaie."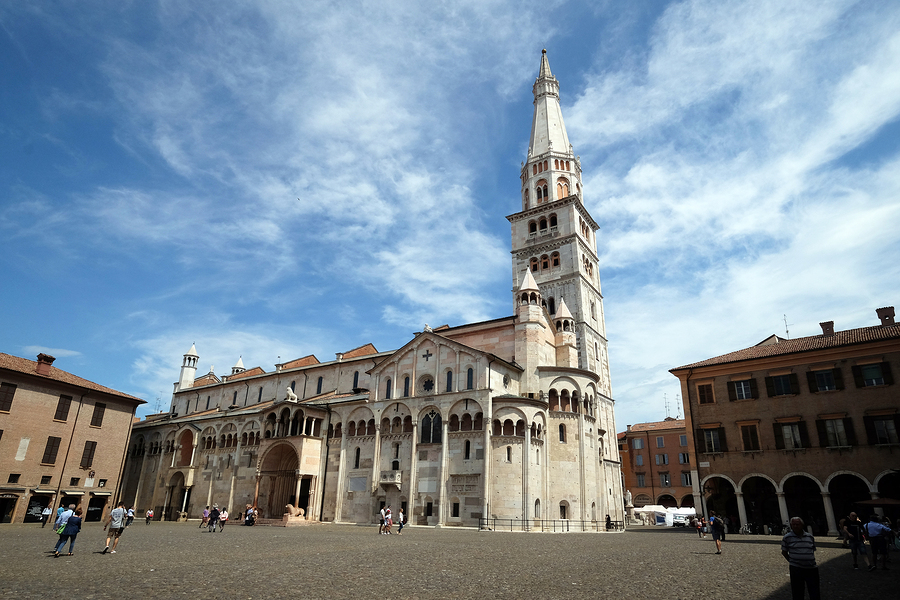 [The city of Modena]
If you want to experience traditional balsamic vinegar of Modena first hand, here's a start: