Easy & Elegant Summer Dessert: Gelato & Aged Balsamic Vinegar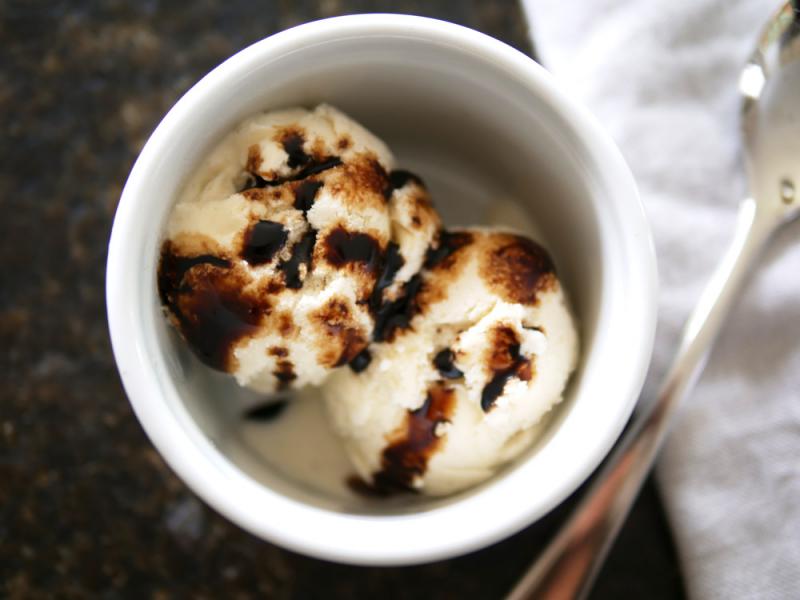 If you love hosting dinner parties in the summer but are always undecided on what to make for dessert to stay out of the hot kitchen, then this two-ingredient recipe is for you. Just drizzle a little traditional balsamic vinegar over a scoop of fior di latte or vanilla gelato for an easy, elegant and delicious dolce (dessert). 
For this simple recipe to work, you'll want to use the highest quality ingredients: all-natural gelato and Aceto Balsamico Tradizionale di Modena D.O.P. Don't try the runny grocery store balsamic vinegars that are often sold for under $10 and mass produced with caramel, sugar and other flavorings and preservatives. Instead, for special occasions, invest in a bottle of traditional balsamic vinegar. It is made with only one ingredient: cooked grape must, or mosto d'uva cotto, and has been aged for a minimum of 12 years in a variety of wood barrels. It is typically sold in specialty stores starting at around $80 per bottle, but a spoonful goes a long way.  This thick liquid moves like syrup and it's velvety texture and complex sweetness bursts in the mouth. Try it over gelato, fresh berries or for a savory variation, drizzled over a chunk of Parmigiano Reggiano cheese. 
Serves: 2
Ingredients
gelato
All-natural fior di latte or vanilla gelato
Aceto Balsamico Tradizionale di Modena D.O.P.
Instructions
Place one or two scoops of gelato in a bowl and drizzle a small amount of traditional balsamic vinegar on top. Buon appetito!