Italy boasts many regional Christmas recipes; in fact, each region has a different typical first course dish. As a general rule of thumb, on Christmas Day, meat is more prevalent in the north, seafood in the south. Let's have a look at the traditional Christmas primi of the 20 Italian regions (source: La Cucina Italiana magazine).  
Trentino-Alto Adige
The classic first course is canederli with cheese, melted butter, Parmigiano Reggiano and sage. An alternative is offered by casunziei, the region's ravioli with a crescent moon shape, stuffed with beetroot and potato puree, served after being sautéed with melted butter, poppy seeds and Parmigiano.
Valle d'Aosta
The tradition in this tiny north-western region calls for valpellinentze soup, made with cabbage, slices of stale bread, fontina cheese, broth, cinnamon and nutmeg.
Piemonte
Tajarin with porcini mushrooms is a classic of the Langhe area. Or how about tajarin with pancetta and the local Barbera wine? Another classic dish is agnolotti in broth, which, being in Piedmont, would also be good with white truffle from Alba.
Lombardia
Christmas lunch in Lombardy varies between two options: pumpkin tortelli from Mantua with amaretti and mostarda, or casoncelli (typical stuffed pasta of Lombardy) in broth from Bergamo.
Friuli Venezia Giulia
Potato gnocchi are the tradition here, served with montasio (a local mountain cheese) and leeks sauce.
Veneto
Riso (rice) of course is the star here: risotto alla trevigiana made with radicchio from Treviso and smoked bacon (pancetta), riso coe cappe made with clams, and the classic risi e bisi alla veneta, 'Venetian' rice with peas.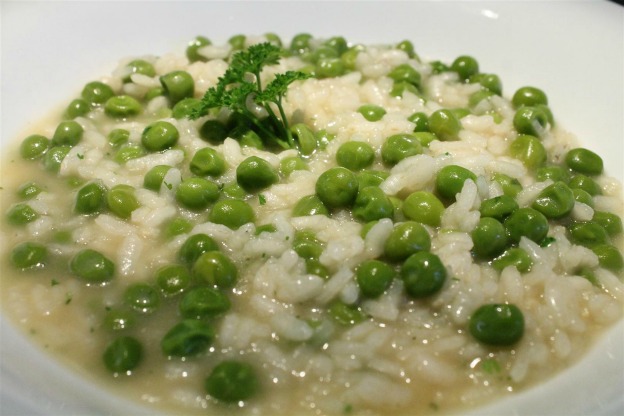 [Risi e bisi.]
Liguria
Natalini in brodo are the traditional first course in Genoa: long macaroni served with capon broth accompanied by small meatballs or bite-sized sausage.
Emilia-Romagna
Tortellini in brodo is a must, with hyperlocal variations.
Tuscany
Cappelletti in brodo (broth) is the classic first course. An original alternative recommended by La Cucina Italiana? Try them with the classic Tuscan sauce cacio e pepe.
Marche
Christmas eve in Le Marche is seafood-rich, from stockfish to stews, whereas for Christmas dinner, a wide choice of first courses includes passatelli, cappelletti in capon broth, the classic vincisgrassi marchigiani, a rustic and tasty baked pasta served with a mixed meat ragu sauce, and maccheroncini di Campofilone, egg pasta served with ragù.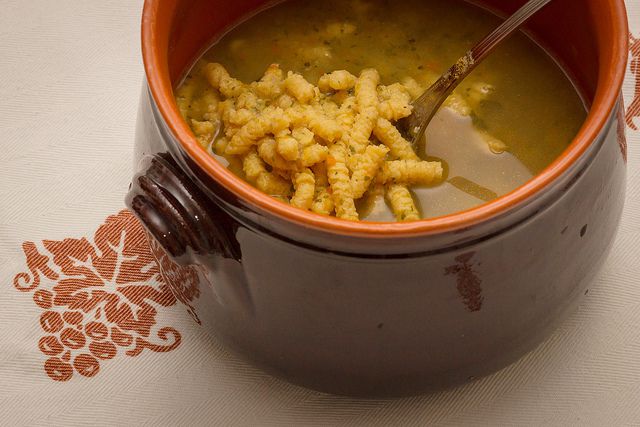 [Passatelli in brodo.]
Umbria
For the Christmas meal, Umbria is under the influence of neighboring Tuscany and Emilia-Romagna, in fact the traditional primo is cappelletti in broth. But because this is Umbria, why not season them with black truffle from Norcia instead, suggests La Cucina Italiana.
Abruzzo
Abruzzo features a seven-course meal, le sette minestre: chickpeas, lentils, fried cabbage, salted cod, pasta with tuna, capitone (large eel), white rice.
Lazio
Il cenone, Christmas eve dinner, is similar to the one of the Neapolitan tradition, and includes baccalà (salted codfish) and capitone (large eel). Classic first courses include spaghetti with clams, or quadrucci (pasta squares) with ray broth, or soup with broccoli and ray.
Molise
This little-known southern Italian region has a little-known Christmas first course: zuppa di Franz (Franz soup), small pieces of pizza made with eggs, Parmigiano and parsley, in broth; cardoon soup is an alternative, and can be found in neighboring Abruzzo as well.
Campania
The traditional first course on Christmas eve is spaghetti with clams. Variations include adding bottarga (fish eggs) or crumbs. You could also do spaghetti with seafood sauce (which must always include clams). For Christmas dinner, the classic is minestra maritata, a soup with chicory, endive, cabbage, borage and pork.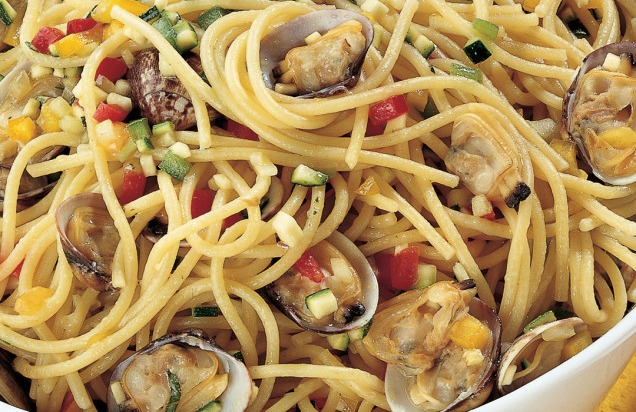 [Spaghetti con le vongole.]
Basilicata
If you want to be 100% traditional here, then go for spaghetti with anchovy sauce on Christmas eve, and strascinati pasta (similar to orecchiette but larger and more open, typical of Basilicata) with ragù on Christmas Day.
Puglia
In this southern Italian region, the heel of Italy's boot, orecchiette pasta is the star, with the classic orecchiette con cime di rapa (broccoli rabe), or as alternatives, orecchiette with broccoli, anchovies and sundried tomatoes, or orecchiette with tuna, tomatoes and onions. Spaghetti with anchovy sauce is another popular option.
Calabria
If you're up for a 13-course dinner, then head to Calabria, where the traditional Christmas Day meal features  no less than 13 portate, which include mixed fry with cauliflower and zeppole, stockfish stew, sausage with broccoli rabe, lampasciuni, baked pasta, spaghetti with bread crumbs and anchovies, meatballs, 'nduja, plus the leftovers from Christmas eve dinner.
Sicily
One of the most traditional dishes on Christmas Eve dinner is pasta con le sarde, pasta with sardines; while for Christmas Day lunch, it's lasagne cacate (a name that is definitely uninviting), prepared with tomato, sausage and pork rind.
Sardinia
Fun to pronounce and delicious to eat, culurgiones de casu are ravioli filled with fresh pecorino cheese, chard, nutmeg and saffron, served with tomato sauce and grated pecorino.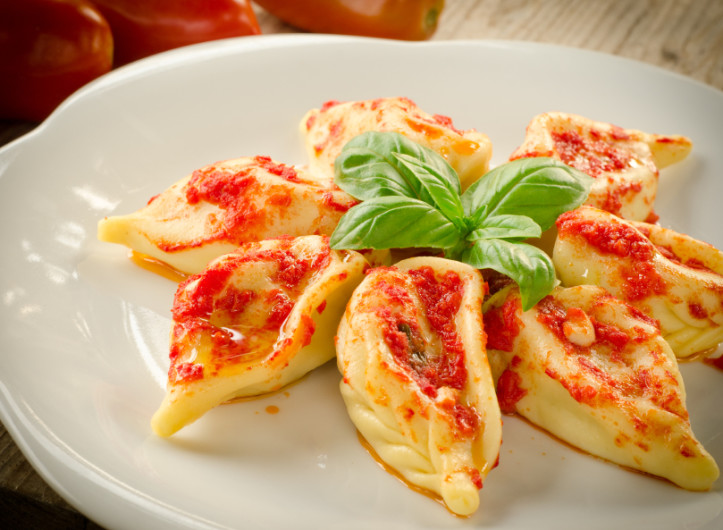 [Culurgiones from Sardinia.]