Corzetti with Marjoram Pine Nut Pesto: Corzetti al Battuto di Pinoli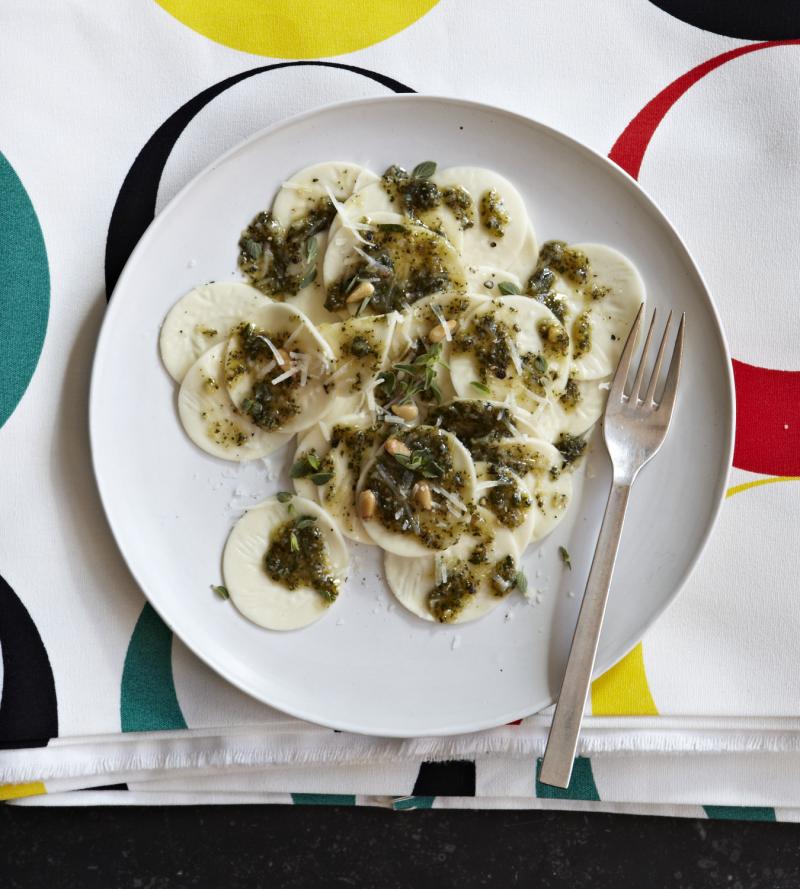 Italian pasta comes in all sorts of shapes, many with adorable, evocative names: elbows, butterflies, bow ties, worms, snails, ribbons, nests, ears, and wagon wheels.There are occhi di pernice--"partridge eyes" and tempestina--"little snowstorm." And it comes in all sizes, from the teeny tiny pastina to the gigantic boccolottoni. Regional pasta differences are both glorious and maddening. Sometimes the very same shape can have a dozen different names, depending on what province or town you find it in.  Corzetti (also called curzetti and croxetti), an especially uniquely shaped pasta, has been popular since the middle ages and get its name from corzetto, a 14th century Genoa coin.
Corzetti, which are made by pressing a circle of dough between two round wooden etched molds, creates a round of pasta that's embossed with a different design on each side. Corzetti are a specialty of the Liguria region and the Novi province of Piedmont. In the past the noble families of those regions would have their coat of arms carved into the stamps to create their own personalized pasta. Still today in Italy, there are a few artisans who custom-carve corzetti stamps, like Filippo Romagnoli whose family has been wood carvers for generations. He hand carves crozetti to order with designs that can vary from classic leaves, fruit, geometric patterns, and even initials, which are an especially popular wedding gift.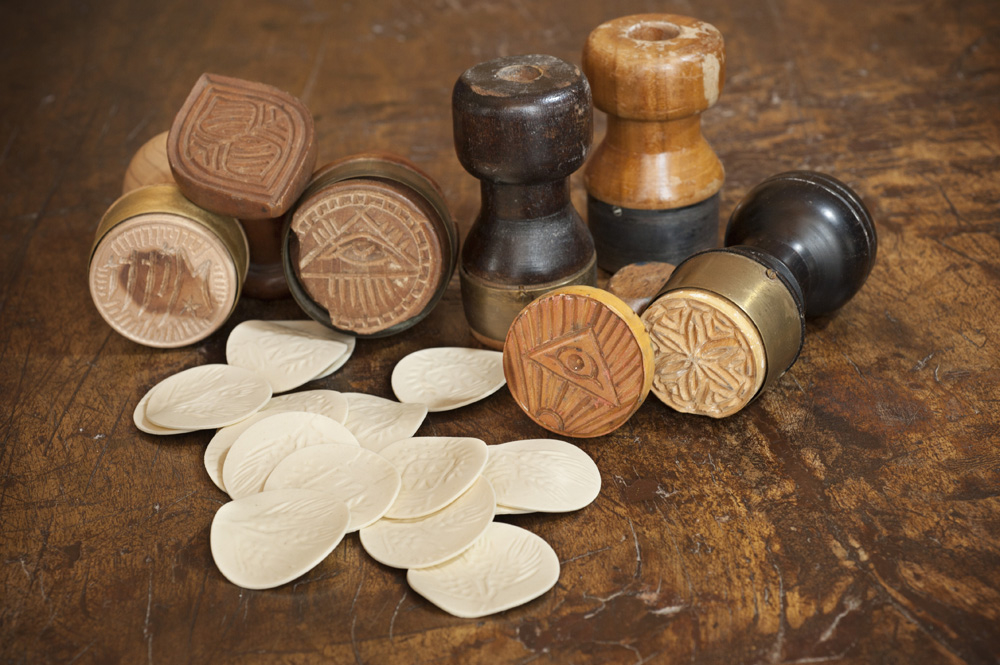 Corzetti, round pasta discs, are wonderfully toothsome, with pretty indentations embossed on both sides. They are terrific with virtually any sauce, which gets deliciously trapped by the pasta's rough surface, but are most traditionally served with an aromatic mix of fresh marjoram and pine nuts.  Dried corzetti pasta is available in many gourmet shops or online, but it's worth it to track down corzetti stamps and make them yourself. 

Serves 4
 
Ingredients
Pine nuts: 1/3 cup, toasted
Fresh marjoram: 1 bunch
Salt: as needed
Olive oil: 3 tablespoons, plus more as needed
Parmigiano-Reggiano cheese. 1/3 cup grated, plus more for serving
Corzetti pasta: 1 pound
Instructions
In a mortar and pestle or in a small food processor, grind the pine nuts with at least 3 rounded tablespoons of the marjoram leaves stripped from the sprigs and a pinch of salt until smooth. Drizzle in the olive oil, very slowly, and grind until the pesto is very creamy. Stir in the cheese, taste and add more marjoram or oil, if needed.
Cook the pasta in boiling, salted water until al dente. Drain serve with pesto, a drizzle of olive oil and garnished with sprigs of fresh marjoram.