Passatelli: Unique pasta specialty of Emilia-Romagna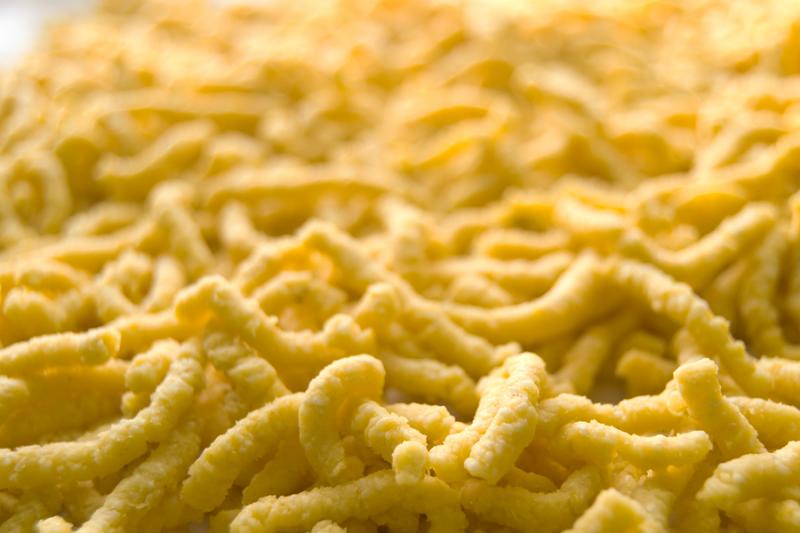 These toothsome strands of simple-to-make pasta are flavored with Parmesan, lemon zest and nutmeg. In the past the dough was prepared with handheld round multi-holed press called ferro per passatelli, "passatelli iron," but nowadays much like the Play-Dough you couldn't get enough of as a child, this intriguing pasta is made by extruding the dough through a potato ricer. The results are long, thick rods of pasta called passatelli, which means "passing through.'' A specialty of the Romagna section of Emilia-Romagna, passatelli are another of Italy's recipes that make wonderful use of stale bread, like pappa al pomodoro and panzanella. 
Chef Massimo Bottura, whose restaurant Osteria Francescana in Modena has been name the Best Restaurant in the world twice, founded Food for Soul  in 2016 with his wife Lara Gilmore to combat food waste through waste-free communal kitchens around the world.  He often creates passatelli for presentations and tastings around the world as a way to communicate his message that no food should be wasted, especially bread, one of the world's top 5 most wasted foods.  Bottura has made passatelli from with all sorts of bread, even stale pizza crusts and guests at his three Michelin-star Osteria Francescana are given his grandmother's recipe for passatelli as well as a bag of breadcrumbs made from the restaurant's surplus as a parting gift after their meal.
Passatelli, just like any pasta, can be served in hundreds of ways, livening up the flavor of any type of broth. They can also be cooked in boiling water, drained and topped with all sorts of sauces, especially popular in the summer is passatelli with clam sauce.
Ingredients
Parmigiano Reggiano
1 cup grated, plus more for serving
nutmeg
pinch, freshly grated
broth
Chicken, vegetable or other broth, 4 cups
Instructions
Place the breadcrumbs, Parmigiano Reggiano, lemon zest and nutmeg in a shallow bowl and mix. Beat the eggs and add to the dry ingredients. Mix together into a uniform ball of dough.
Bring the broth to a boil in a wide pot.
Place the dough in a ricer and press it directly into the boiling broth. Cook until the passatelli rise to the surface, 1 to 2 minute. Serve hot in a bowl full of broth.
Recipe courtesy of Food for Soul