Sicilian Sesame Cookies: Biscotti Regina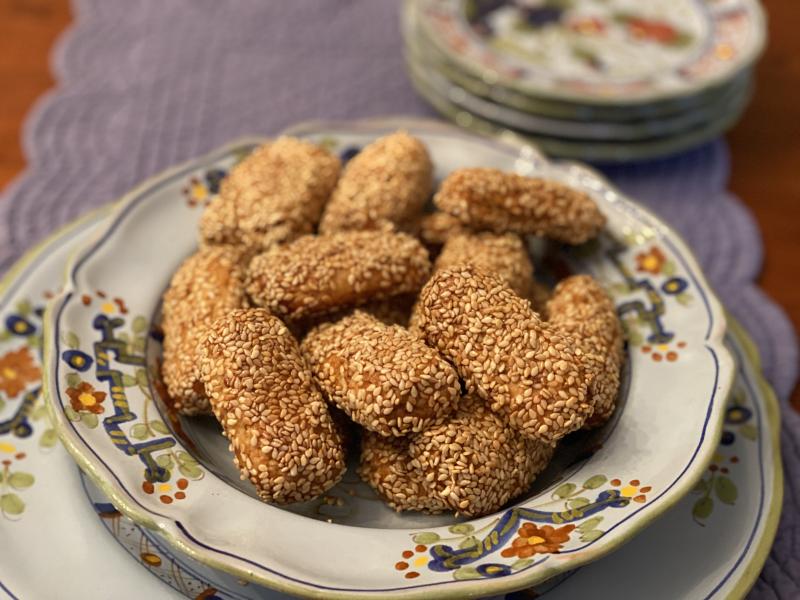 Cooking Time
30 minutes, plus 1 hour rest in fridge
A Sicilian classic! The various names for these cookies run the gamut from the elegant Biscotti Regina,"Queen's cookie", to the comical Strunzi di Sciocca, "Chicken's Shit" to the slightly irreverent Strunzi d'Ancilu, "Angel's shit".
The outer sesame seed crunch goes oh-so-well with the satisfying moist lemony center. A fool-proof recipe that produces pastry-shop perfect cookies every time. You can make these cookies with butter, lard or olive oil.  If you use lard, they'll be crunchier, while butter or oil will give them a softer center.  These cookies last wonderfully in the pantry for up to 6 weeks in an airtight container, like tupperware. 
Be sure to toast the sesame seeds in a skillet until a dark golden color before adding them to the cookies because the sesame seeds don't actually darken much while baking in the oven.
Makes about 2 dozen cookies
Ingredients Sections
All-purpose flour: 9 ounces, about 2 cups
Sugar: 1/2 cup
butter, olive oil or lard: 4 ounces
Eggs: 3, separated
Whole milk: 2 tablespoons
Honey: 1 tablespoon
Lemon: Zest of 1 lemon
Salt: 1/4 teaspoon
Sesame seeds: 3/4 cup, plus more as needed
Instructions
In a bowl combine the flour, sugar, and butter until it resembles coarse sand. Add the egg yolks, milk, honey, zest, and salt and knead until dough forms. Roll the dough into a ball, cover with plastic wrap, and refrigerate for at least one hour.  
Preheat the oven to 350 degrees. 
Toast the sesame seeds in a dry skillet until dark golden. Put onto a plate. Reserve. 
In a small bowl, using a fork, beat the egg whites with 3 tablespoons of water. Divide the chilled dough into 4 sections. Roll each section into a log about 1 inch wide. Cut the log into 1 1/2-inch sections. Repeat with the remaining dough. You should have about 24-26 cookies.
Dip each cookie in the egg whites then roll in the sesame seeds, covering all sides. Put the cookies onto a parchment lined baking sheet and bake for 30 minutes, until golden. Allow to cool and serve. 
These cookies may be stored in a sealed container for 6 weeks.