4 Tricks to Making Great Gnocchi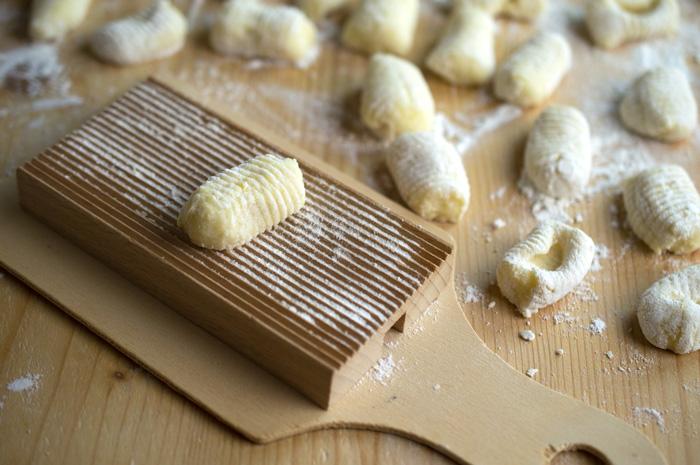 Making great gnocchi that melt in your mouth seems easy, after all there are only 4 ingredients. Yet, it can often be challenging to arrive at the right consistency. Here are four tricks to help you make fluffy, pillow-like gnocchi.
1. Choose the right potato. In Italy, you'll find sacks of potatoes labeled per gnocchi or "for gnocchi". Although you may not find that label where you live, what you should look for are starchy potatoes like russets. They are drier and retain less water.
2. Use cold water. Put the potatoes in a pot, fill with cold water then bring the water to a boil. With this method, the skins will be less likely to split open.  If the potato absorbs too much water when being boiled, it will also absorb too much flour.
3. The less amount of flour used, the better the gnocchi. Never dump the entire amount of flour into the potatoes, but gradually add it in. Stop when you are just able to form the dough.
4. Don't overwork the dough. Over-kneading the dough will create too much gluten, and will leave your gnocchi rubbery. Work the dough just enough so it comes together and you're able to roll it out, then stop. 
Ingredients
potatoes
2.2 lbs (1 kg) (like russets)
all purpose flour
2 to 2 1/2 cups (200-300g)
Preparation
Put the potatoes with their skins on in a large pot. Fill with cold water, then bring to a boil and cook until the potatoes can easily be pierced with a fork; drain. Let the potatoes cool to the touch then peel them. Now pass them through a potato ricer, letting them fall into a bowl.
Make sure the potatoes are cool to the touch, then add half of the flour, salt and egg; mix together until it's not sticky. Flour a large work surface and dump the partially formed dough out. Knead and add a little more flour at a time until the dough just comes together as a ball. Roll into a large loaf, then cut it in slices like you would a loaf of bread. Roll out each slice into a bread stick. Slice in small pieces.
You may cook them directly as they are, or to give the gnocchi texture so that the sauce still better to them, roll each piece off the back of a fork or off a wooden paddle for gnocchi (like shown in the photo).
Bring a large pot of water to boil then add coarse salt. Carefully dump the gnocchi inside and cook until the gnocchi float to the top, about 2-3 minutes. Drain the gnocchi, and serve with your choice of sauce and freshly grated Parmigiano Reggiano cheese. Buon appetito!