Abruzzese Lamb & Pepper Ragu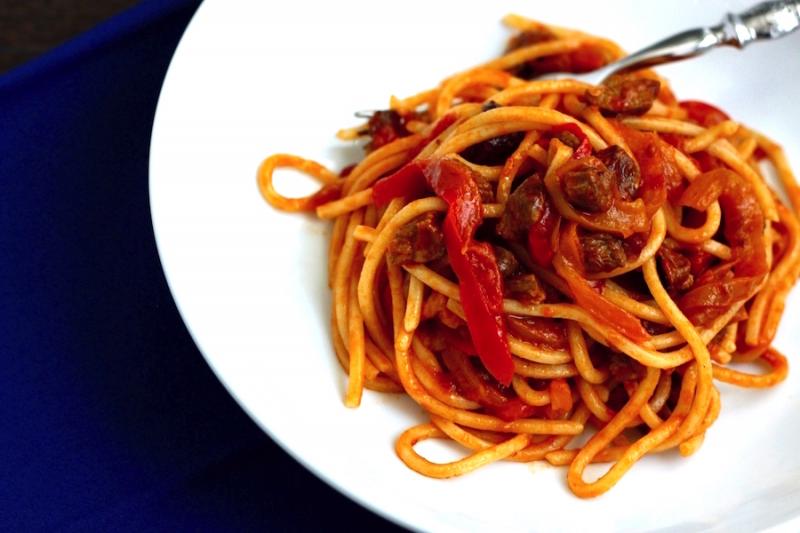 Cooking Time
2 hours 30 minutes
By: Sarah Dowling
Deep within the rugged mountains of Abruzzo, you'll find plenty of rustic and hearty dishes. Raw ingredients such as sheep's milk cheese, pork, lamb and handmade pasta, peppers are popular in this region, as is handmade pasta. Another common ingredient is dried chili peppers, which are called 'diavolicchio', a name that aptly comes from the Italian word 'diavolo', meaning devil.
Perhaps the most popular type of pasta in Abruzzo is 'maccheroni alla chitarra', thick, square spaghetti made by placing a thin layer of pasta dough over a 'chitarra', or guitar. Of course this isn't a real instrument, but rather a special pasta-making tool made of wood and guitar-like strings. If you don't have a 'chitarra', not to worry. Dry pasta such as spaghetti alla chitarra or bucatini work well too.
Rather than using ground meat, this sauce calls for sizable chunks of lamb, giving it a rather wholesome texture. Allowing the sauce ample time to cook will help the flavors from the peppers and onions to deepen, so it's an ideal sauce to prepare a day ahead of time. 
Servings: 4
Ingredients
onion
yellow, 1 small, thinly sliced
lamb shoulder
½ pound, trimmed of fat and cut into ⅛ inch chunks
San Marzano tomatoes
6 ounces (400 grams) canned & peeled
red bell pepper
1, seeds and stem removed, thinly sliced
yellow bell pepper
1, seeds and stem removed, thinly sliced
chili pepper flakes
½ teaspoon (optional, adjust quanity to your liking)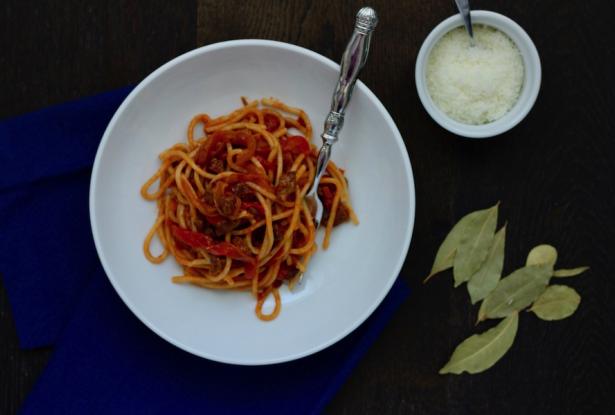 Instructions
Heat olive oil in large sautè pan over high heat. Add onions and cook until soft and translucent, about 5 minutes. Add lamb and cook until browned all over, stirring often.
Deglaze the pan with wine and allow it to completely evaporate, about 10 minutes. Add canned tomatoes, red and yellow peppers, bay leaves and chili flakes. Season with salt. Cover and let simmer for about 2 hours, stirring often. If the sauce seems dry, add a little water.
Discard bay leaves. If making sauce ahead of time, allow it to cool completely before covering and storing in refrigerator. Sauce will keep in the refrigerator for up to 3 days. Reheat when ready to serve with pasta.
Cook pasta until al dente. Using a slotted spoon, transfer pasta directly into the sauce. Stir well to completely coat pasta in sauce. Serve in wamr bowls with freshly grated pecorino cheese.