Abruzzo's Cheesecake | Fiadone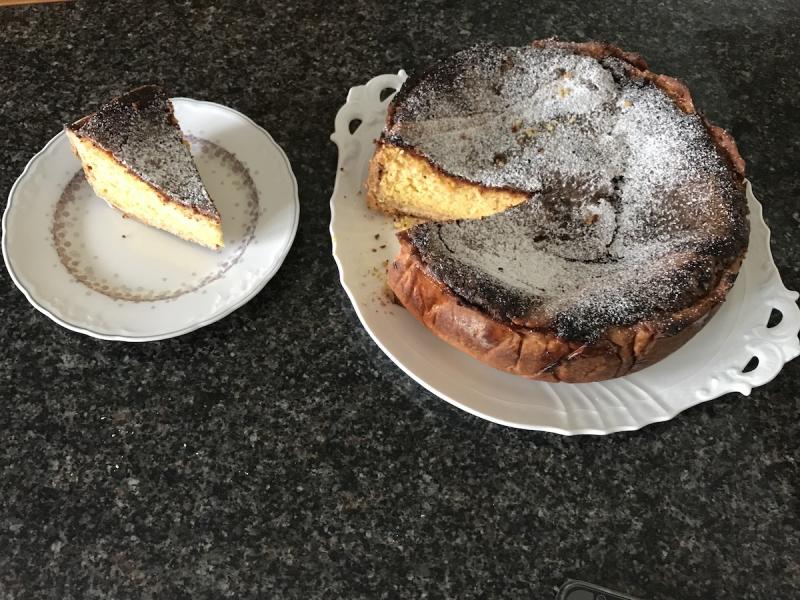 Cooking Time
1 hour, plus 30 minutes passive
This moist cheesecake is a classic Abruzzo dessert served at Easter and other special occasions throughout the year.
There are many variations of this cake throughout Abruzzo, including savory versions that omit the sugar and instead add pecorino cheese, ham, sausage or salami and even a touch of the region's famed saffron.  There are many variations of the sweet version too, including those that combine the cheese evenly throughout the batter or who put the filling into a crust, as in this recipe courtesy of Francesca D'Orazio Buonerba, an Abruzzo-born food writer, cooking instructor, table stylist and author of several cookbooks. 
"This is the version made in Gessopalena, a town in the Chieti province, and as with so many wonderful Italian dishes, it includes a unique local ingredient.  In this case a cheese called "macciocco" a fresh cow's milk cheese. Outside of Abruzzo, you can substitute ricotta ," notes Ms. Buonerba.  
Serves 8-10
Ingredients Sections
For the crust:
Butter: for greasing pan
All-purpose flour 2 ½ cups
Baking powder: 2 teaspoons
Salt: 1/2 teaspoon
Eggs: 3 large
Sugar: 3/4 cup
Extra virgin olive oil: 1/3 cup
For the filling:
Whole milk ricotta cheese 2 ½ pounds, if fresh put into a colander to drain
Eggs 15 small, beaten
Sugar 1 cup, plus 3 tablespoons
Lemons Zest of 2 lemons
Instructions
For the dough:
Preheat the oven to 400 degrees F.  Generously grease a 9-inch spring form pan and set aside.
Put the flour, baking powder and salt on a work surface, with a well in the center.  Put the eggs, sugar and olive oil into the well and beat with a fork. Slowly incorporate the flour into the egg mixture until dough forms. Knead the dough for a few minutes until smooth, form into a flattened disc, then cover in plastic wrap and let rest 30 minutes.
For the filling:
Combine the cheese, eggs, sugar and lemon zest in a bowl and mix with a fork until well combined. 
To finish:
Roll out the dough so that it lines the pan bottom and comes up to the top of the sides. Pour in the cheese filling. Lightly dampen a piece of parchment paper large enough to cover the pan and lay is over the top so it covers the surface of the cake. Bake for 40 minutes, turning the cake once, then lower the heat to 350 degrees F, remove the parchment paper (if the cake top is not too dark) and continue cooking until a toothpick inserted into the center comes out dry, about 20 minutes.