Arrivederci Antonio With a Recipe For a Lemon Ricotta Tart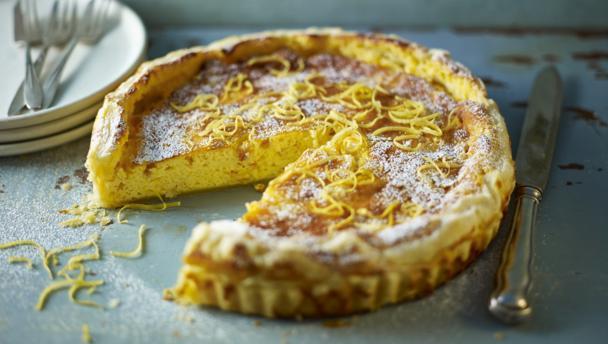 Cooking Time
15 minutes + 30 minutes baking
Despite being a blogger, I rarely use twitter. On Wednesday though I stepped into my account and read the very sad news of the recent disappearance of Antonio Carluccio, one of the most prominent figures of the Italian food in the UK. Born in Campania and grown up in Piedmont, Carluccio moved to England as a wine merchant. He then became the manager of Neal Restaurant where he had strong influence on young chefs like Jamie Oliver to then open up his own restaurant off Covent Garden. I was lucky enough to organize a work lunch there and sampled some truly authentic Italian food cooked with seasonal and regional ingredients; the saffron stuffed ravioli with squid and ricotta and dressed with lemon zest and cream were delicious (and not enough in my plate!). There my companions and I had the pleasure of chatting to him after our meal and listen to some of his jokes and stories over a glass of Dolcetto.
I had a second opportunity to meet Antonio Carluccio when I attended the launch of his book "A recipe for Life" organize by the Italian Chamber of Commerce in London. I was struck by his simplicity, genuineness, and friendliness. It felt as we were all sitting in Antonio Carluccio's living room waiting to move to the kitchen table and savour one of this many dishes. I think two of my favourites are the "zuppa di pesce", fish soup stew, and "torta di ricotta al limone", and lemon ricotta tart. Having a very sweet tooth I have decide to share with you the recipe of the tart. 
Ingredients
puff pastry
400g/14oz ready-made or fresh
flour
plain flour for dusting
Lemon
1, finely grated zest only
candied peel
200g/7oz roughly chopped
Instructions
Preheat the oven to 180C.
Roll the pastry out on a lightly floured work surface to a 3mm in thickness. Use the pastry to line a 25cm pastry case. Cover with a damp cloth while you make the filling.
In a large bowl, mix the ricotta, mascarpone and candied peel with 100g of the sugar and five of the egg yolks until smooth and well combined.
Whisk the egg whites in another large, clean bowl until fluffy. Whisk in the remaining sugar and continue whisking until stiff peaks form when the whisk is removed.
Using a large metal spoon, fold the whites into the ricotta mixture, then pour into the pastry-lined tart tin.
Beat the reserved egg yolk in a bowl. Fold in the overhanging pastry and brush with the egg yolk. Bake in the oven for 30 minutes, until the pastry is cooked through and the filling has a slight wobble in the centre. Set aside to cool for two hours, then sprinkle with lemon zest.