Artusi's Flourless Pumpkin and Almond Cake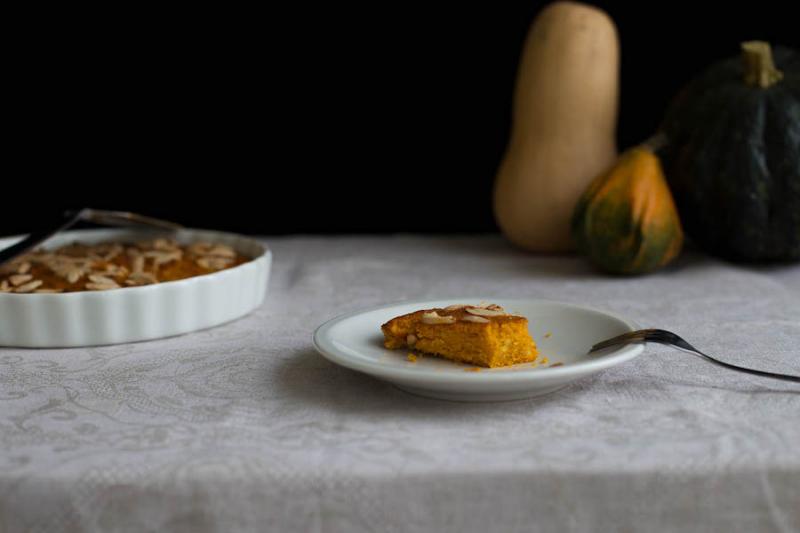 Cooking Time
50 minutes - 1 hour
Growing up in Australia, I used to associate pumpkins almost exclusively with North American cuisine and Halloween and Thanksgiving celebrations. That part of the world, after all, was their place of origin. Upon moving to Italy's north though, I was surprised to discover how fond the locals were of this orange-fleshed member of the Cucurbitaceae genus. Italians, particularly in the Veneto. Lombardy and Emilia-Romagna regions, have come up with a wide variety of ways of cooking with it since its introduction to Europe several centuries ago.
The signature starter dish of the Romagnol city of Ferrara is cappellacci di zucca, a tortellini-like pasta with a pumpkin, Parmesan and nutmeg filling. In nearby Mantua and Reggio Emilia, they make similar ravioli-shaped pasta called tortelli di zucca. In these cities, crushed amaretti biscuits are also included in the filling, giving these sublime dumplings the distinctly agrodolce or sweet-sour taste that was so sought after during the Middle Ages and Renaissance. Pumpkins are also commonly used to make gnocchi and to flavour soups and risottos. 
This week's recipe is one that highlights the pumpkin's sweeter attributes. It is inspired in great part by Pellegrino Artusi's (author of the seminal late nineteenth century cookbook, Science in the the Kitchen and the Art of Eating Well) recipe for torta di zucca gialla, or pumpkin and almond cake. With almond meal holding it all together, this flourless cake has a moist consistency not dissimilar to a pumpkin pie filling. Since pumpkins started appearing at my local market, I've made this cake several times, with a couple of variations on Artusi's original recipe.
There's the method for making the pumpkin puree, most notably. Artusi calls for the the very time-consuming task of grating raw pumpkin flesh, wrapping it in a towel and squeezing it until drained of almost two thirds its original weight.  I've simplified the method to some degree by cutting my pumpkin into large slices, roasting it in the oven until tender, scraping its pulp and passing that through a food mill. I then use a sieve lined with tightly woven  cheesecloth to remove the resulting puree's excess liquid. As a general rule, for every kilo of pumpkin used, your puree should be drained until it weighs 300 grams.
As for the variety of pumpkin, Artusi appears to be referring to butternut squash when he says zucca gialla but I've also made this cake with a drier-fleshed Red Kuri squash I found myself admiring while market shopping one day. The pink-skinned beauty I fell in love with yielded a wonderfully mellow, almost chestnut-like flavour and gave the cake a vibrant orange hue. So, in short, do feel free to experiment with the pumpkins you have on hand and the colours and flavours each bring.  
Ingredients
pumpkin
1 kilo or butternut squash
almonds
100g finely ground or almond meal
cornstarch
30g, dissolved in just enough cold water
ground nutmeg
½ teaspoon (preferably freshly ground)
butter
for greasing baking dish
flour
for dusting baking dish
almonds flakes
a handful slivered almonds, for decoration (optional)
icing sugar
for serving (optional)
Instructions
Preheat oven to 180 degrees. Cut squash/pumpkin in half and remove seeds from centre. Cut pumpkin into large pieces, place on baking tray and roast in oven until tender (45 minutes to 1 hour). Scrape the roasted pulp off the skin and pass in batches through a food mill. Transfer puree to a sieve lined with tightly woven cheesecloth and drain until all excess liquid has been removed and the resulting puree weighs 300 grams. Beat eggs with sugar until the latter dissolves. Add the almond meal, dissolved cornstarch, nutmeg and salt and mix until well combined. Stir in the cooled squash/pumpkin puree and transfer batter to greased and dusted baking dish. Smooth surface and, if using, sprinkle slivered almonds on top. Bake for 50 minutes to 1 hour, or until set, golden on top and with sides that have shrunken away slightly from the edges of your baking dish. Leave to cool and, if desired, serve with icing sugar dusted on top.