Blecs-Northern Italy's Naturally Gluten-Free Buckwheat-Cornmeal Pasta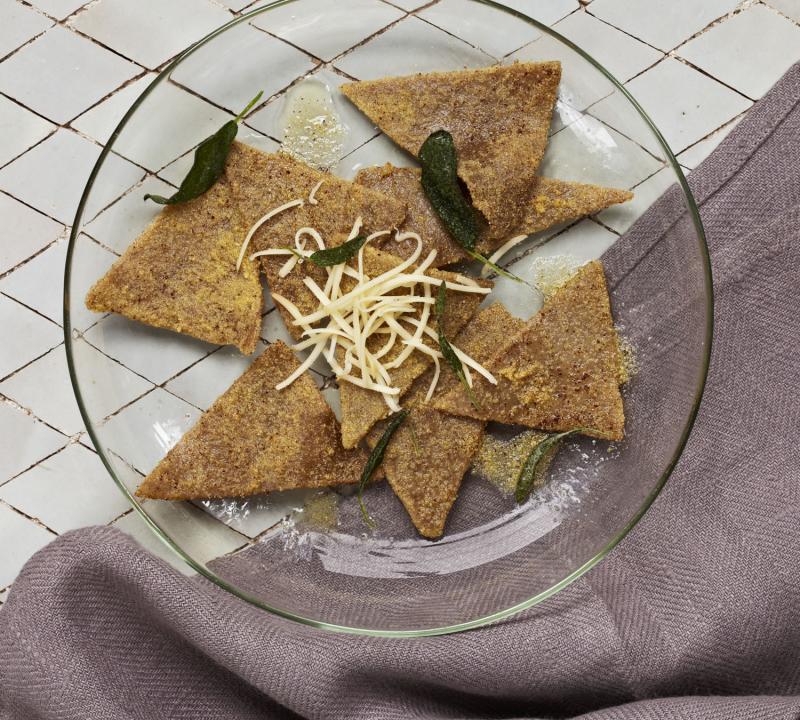 Blecs, a triangular shaped pasta specialty of the Friuli region, are not only easy to make, but are 100% gluten-free! Blecs are made with a mix of buckwheat and cornmeal flours; this use of several types of flour to make pasta was very common in the past in Italy, as it was an easy way to economize and not waste precious grains. The buckwheat-cornmeal dough comes together quickly and you don't even have to bother with a pasta maker. The dough is easy to roll out and can then be cut with a knife into rough triangles, like tortilla chips.
Not only do they look different than other pasta shapes, but the sauce is very unique, too: crunchy cornmeal seasoned with sage and topped with smoky grated cheese.
Serves 4
Ingredients Sections
Buckwheat flour, 3.5 ounces/100 grams, about 3/4 cup
Fine yellow cornmeal flour, 3.5 ounces/100 grams, about 3/4 cup
Rice flour, 3.5 ounces/100 grams, about 3/4 cup
Eggs, 2 large
Olive oil, 3 tablespoons
Salt, 1/4 teaspoon
Bay, leaf 1
Instructions
Mix the flours in a large bowl. Make a well in the center and fill with the eggs, olive oil, and salt. Slowly incorporate the flour into the liquid until dough forms. Add a little water, about 60 ml/2 oz, and knead until smooth. Roll out the dough as thin as possible and cut into triangles about 2 inches long.
Put the bay leaf in a large pot of salted water and bring to a boil.  Cook the blecs for about 3 minutes. 
Meanwhile, put the butter and sage leaves in a skillet over very low heat. Once the butter has melted, remove the sage leaves and add the corn meal. Stir with a wooden spoon continually until the mixture is a lovely golden color. Season to taste with salt and pepper.
Drain the blecs, discard the bay leaf, and toss in the cornmeal mixture. Serve topped with grated smoked cheese.